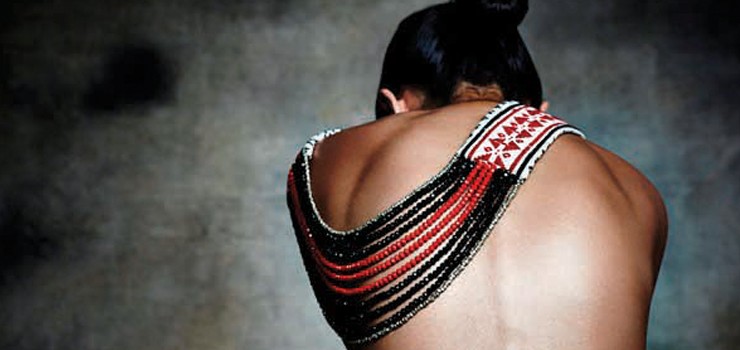 Gina Joseph tells us how staying rooted to our ancient culture makes her jewellery brand, Zola, one of a kind.
For an artist, Gina does not surprise us with the many places she has visited, and the many people she has met. From these experiences, she accumulates inspiration from various elements
including Western art, temple architecture, crafts and rural art, and cultural heritage that finally end up as statement pieces of jewellery dangling from a woman's ears or rest with pride on her décolletage. We catch up with Gina who shares stories on how her jewellery is adorned with rich cultural history and craftsmanship that has lived through many generations.
Zola is an interesting name. What is the story behind choosing this name?
Zola, in Italian, means a piece of earth. Inspired by the art, architecture and culture of India, I fuelled it with my passion for jewellery designing and worked towards a small collection along with the wood carvers of Raghurajpur in Odisha. It was exciting to create these uniquely-styled and artistically-beautiful necklaces for my Indian Art project and I wanted to explore further. As a result, Zola was born.
You said that you prefer to wear art rather than own art. What's your intrinsic connection with jewellery?
I have always believed that jewellery is one of the most powerful vehicles of self-expression and celebration of your personal style. Jewellery in India has always fascinated me and the tales from its rich cultural heritage and folklore; from colours, from emotions, from passion, from fine workmanship, from seamless Indian beauty – all that I wanted to explore with Zola.
Using influences from Western and Indian art, how are they both fused and distinct at the same time while designing your jewellery?
I have studied both Indian and Western art when I did my post graduation in Arts Management. But my work for Zola has been based on only Indian arts and crafts with an exception of one collection that I created drawing inspiration from some of the famous works of Western art over different periods. I consciously work only with the traditional motifs, techniques and colours that the craft has been originally used in over the years. Only the form changes; necklaces, earrings, neck collars, waistbands, etc. I feel it is essential to keep the craft intact and not tampered with as each piece of Zola has anything between 500 to 5,000 years of history that comes from our country's rich art and craft heritage.

From Dhokra to Pattachitra to Toda embroidery, there's a stunning trace of craftsmanship. How were you inspired by these art forms? Any indelible experience and lessons from your travels?
My most memorable experience with Zola has to be my first workshop in Orissa which happened quite by chance when I went to the Crafts Council Of India (CCI ) office to show some of my pieces to the Chairperson Gita Ram. She liked my work and asked me to go for a five-day workshop to Bhubaneshwar, Orissa. I had no prior experience of jewellery design or conducting workshops with
artisans. It was her trust in me and my work that was the stepping stone for Zola.
I was really nervous initially but once I was right there working with the 10 women artisans, things just flowed naturally and we created about 70 new designs of earrings, necklaces, chokers and anklets in those five days. It's been almost two years since I started Zola. Very recently one of my artisans told me that he could now afford better education for his two children and also improve his standard of living significantly after he started working with me.
Another artisan from Andhra said he has started paying part of his house loan from the earnings of Zola. In Orissa, the women artisans I work with have promised to continue sending their daughters to school as a part of the income goes towards the girl child's education.
You have played an important role in conducting workshops to showcase the talent of rural and folk artisans. In  turn, what lessons were you able to grasp from them?
Working with rural crafts like leather puppetry and Patachitra has made me realise how important it is to preserve culture and heritage and this will happen only if we provide employment
opportunities for the craftsmen. Giving these artisans grants and funds is like putting a band-aid on the issues and not a solution, so it is very important to educate the public about crafts and arts of our country.
We are not taught cultural history in schools but only the political history is focused upon. Preservation is not just the job of art museums or organisations, it starts from the very grassroots, in your own homes by educating yourself and your children about it.
Art is so intertwined with architecture and culture. What common thread have you found?
My first collection was inspired by the beautiful women found in Indian temple architecture The common thread in all my jewellery is India – its culture, history, literature, colours and architecture. I have always been inspired by motifs that emerged from these themes.
How would you like to define the woman who chooses and adorns Zola?
What sets her apart Zola aims to break the present day culture fixated on certain ideas of 'beauty' and make women less vulnerable to outside approval and more confident in their own skin. A
woman who celebrates her uniqueness, freedom, sensuality and individuality is the Zola woman.
Quickies
A movie that had an iconic
jewelry piece you cannot resist?
Jodha Akbar. Also, Mira Nair's
Kamasutra, the jewellery in the
movie was very sensually used
for adornment.
If you had to work with a
different medium apart from
metal, what would you look into?
I already work with wood, seed,
textile and leather. I would like to
explore glass and ceramic too.
Celebrities with good taste of
jewellery?
Beyonce, Rekha, Vidya
Balan, Sonam Kapoor
A great tip for pulling off jewelry?
Just be yourself and totally own
the look!
Words by Atheena Wilson and Photos by Various Sources