A Wedding Cake May Not Be as Simple as You Think, Says Georgia Green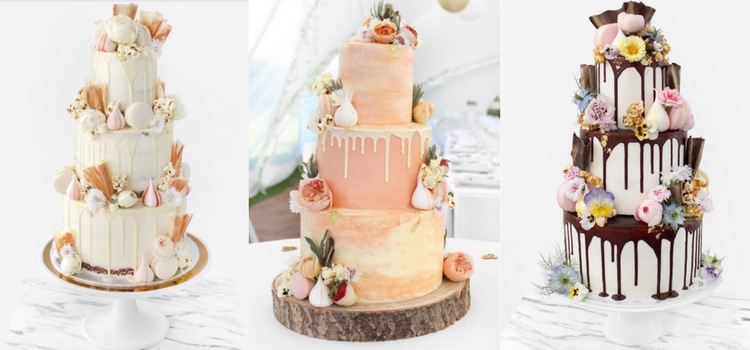 London-based Georgia Green of Georgia's Cakes, is on the fast track to becoming Britain's leading lady of baking. In an exclusive interview with FWD, she gives expert advice to couples choosing wedding cakes
Words by: Georgia Green    Photographs from: Georgia's Cakes
Designing your own wedding cake for your special day is part of the fun, but there area few factors to consider. Quite often, people ask me for a specific cake and by the time the wedding comes, the cake is completely different to how they first imagined. This is mainly because choosing a wedding cake may not be as simple as you think…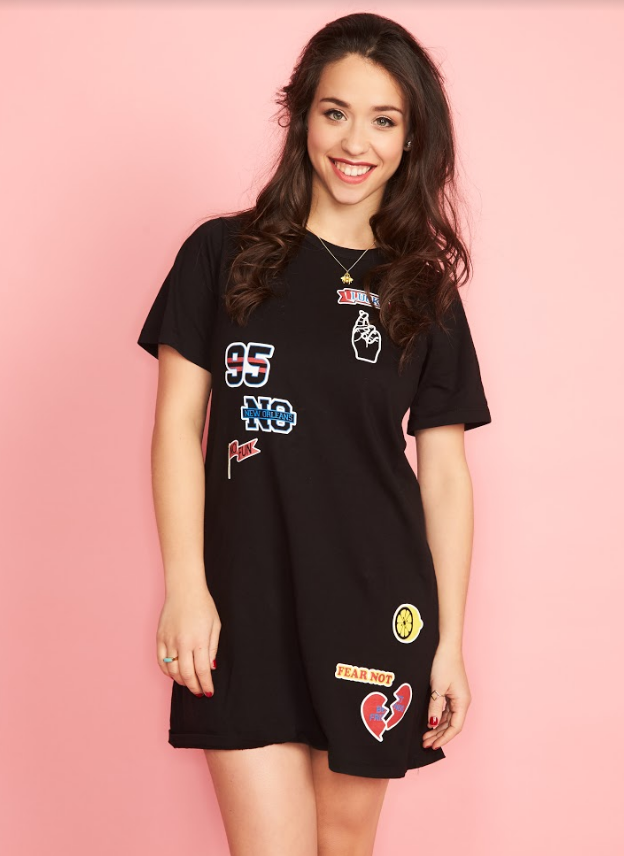 Firstly, design. The 'naked' wedding cake has definitely become a huge trend in the industry (this is where the cake is completely un-iced so you can just see layers of cake and icing in the middle). It is a beautiful cake, hence why it has become so popular, but because the sides of the cake are exposed, the cake dries out. For this reason, I persuade people to choose a semi-naked design (where the outside is slightly masked with buttercream) and therefore the cake stays fresher for longer.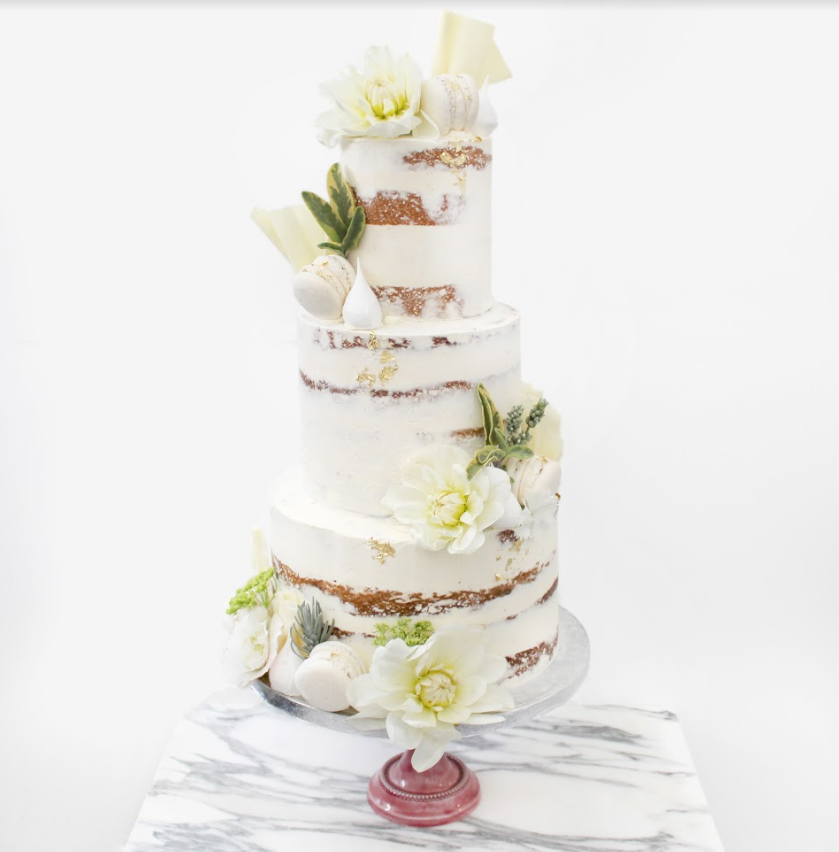 Clients also tend to have a colour theme throughout their wedding and it's a great idea to incorporate this into the wedding cake too, for example, using the same or similar flowers to decorate the cake, or match the colour of the icing. I would also advise people to embrace the cake designer's style and use it to your advantage, rather than ask for something that they don't usually do. I have quite a distinct style of cake, so would rather incorporate themes and ideas into my natural style rather than create something I wasn't necessarily comfortable with, as I would want the cake to be the best it can be.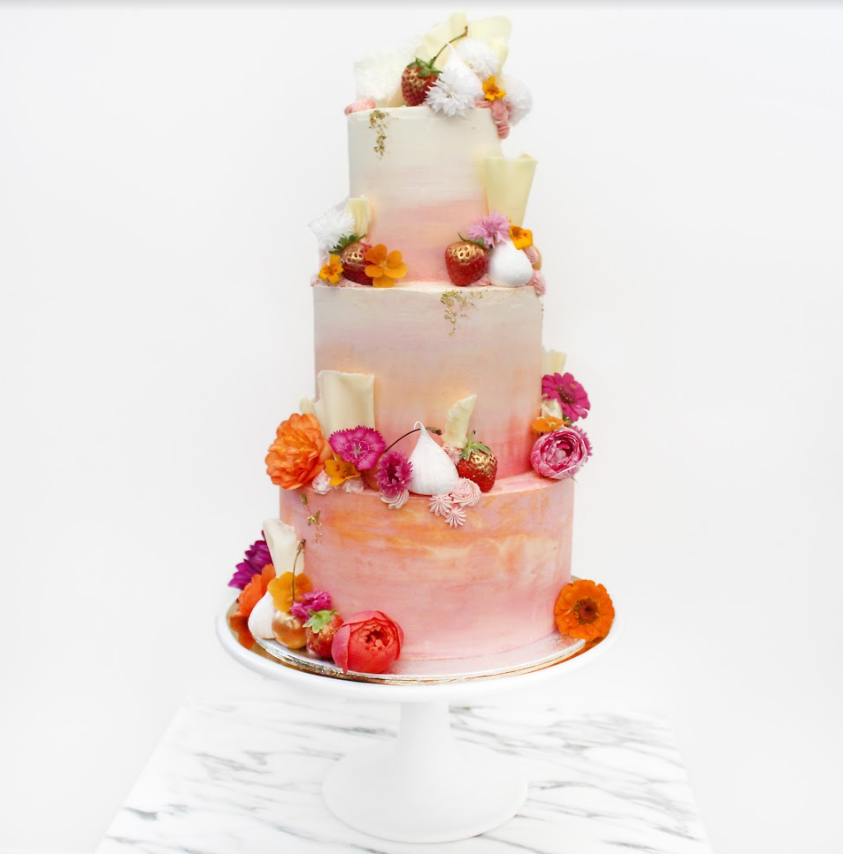 My advice when choosing your flavours of cake is to try to keep them simple. Some clients request flavours such as matcha and rose, however remember you'll be feeding a lot of people and particular flavours will only satisfy a few people! Flavours such as Victoria sponge, lemon and coffee may sound too ordinary but after a full course meal, your guests will only want a small amount and sometimes there's nothing better than a simple lemon cake to refresh your tastebuds!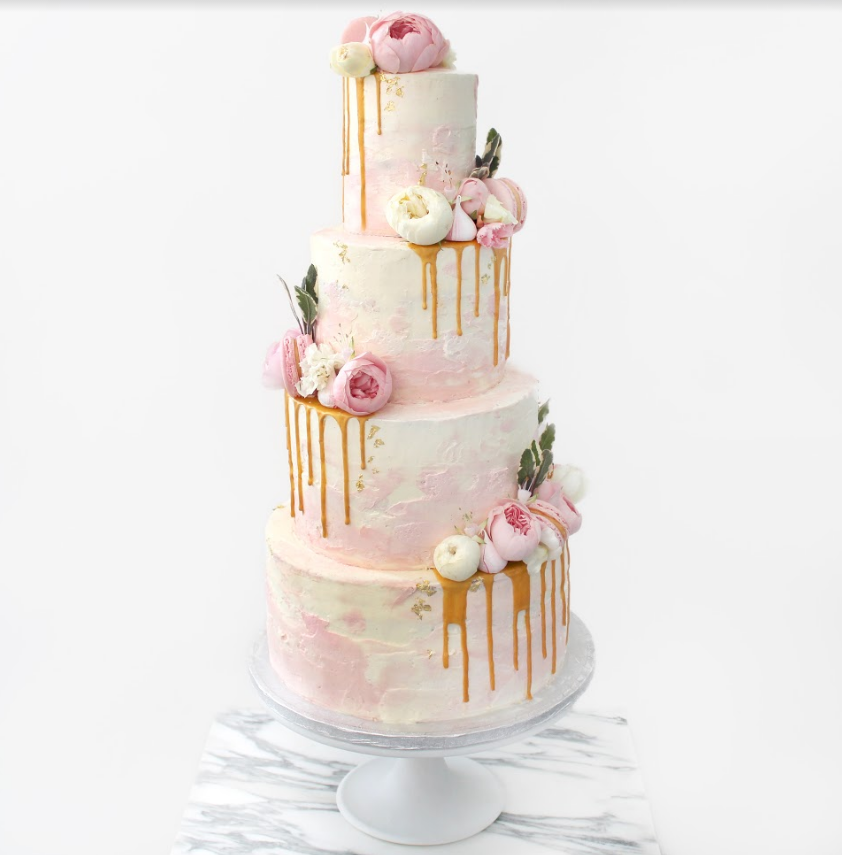 The size of the cake is usually determined by how many guests you are having. Generally speaking, the cake designer will have a portion guide to show how many slices of cake can be served. Some people like to have a larger cake that is needed to serve the right amount of guests, and therefore can have dummy layers of cake as an option (made of polystyrene). On the flip side, if you only want a small wedding cake, you can also get a 'cutting cake' which is given straight to the kitchen to provide extra slices of cake to feed all the guests.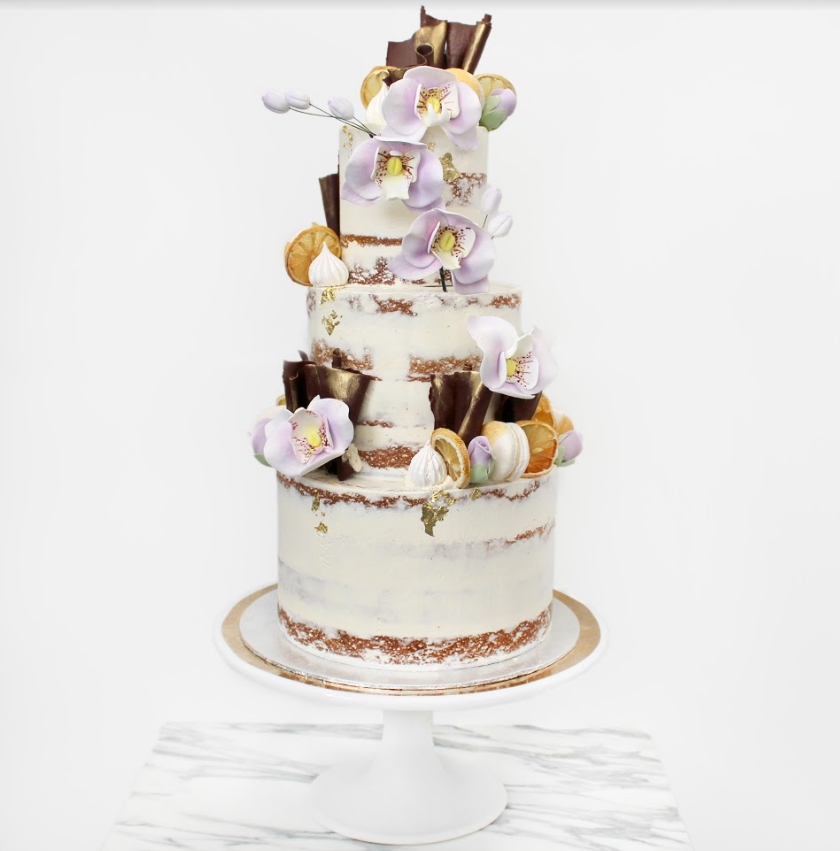 Lastly, an important factor is where the cake will be during the actual wedding. The reception? Dinner? Just appearing when you cut the cake? Whenever this will be, you need to remember that the cake has a fairly limited shelf life. Seeing as I personally don't make fondant covered cakes, the buttercream can only withstand being on display for a few hours, preferably somewhere cool. Fresh flowers will also only last a few hours so this may determine when to showcase the cake! The main objective it for it to look amazing and taste even better, so organise the timing carefully!
For booking and enquiries, visit Georgia's website, https://www.georgias-cakes.co.uk/contact and follow her on Instagram, https://www.instagram.com/georgiascakes/?hl=en , to stay tuned to the latest news from Georgia's Cakes.
This Christmas try some irresistible delights by Meera's Kitchen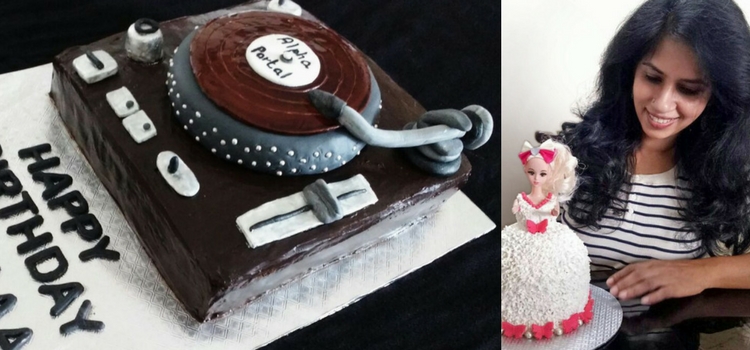 Find out the journey of Meera's Kitchen from being a homemaker to a professional baker
Text Credits: Shibul Pavithran                         Image Credits:  Meera Manoj
Meet Meera Manoj, a graduate in economics and a professional baker. She never dreamt of being an entrepreneur and her ambition was to do higher studies in management. She got married and went on to build a family. Meera always had a passion for cooking and used to experiment with her culinary styles. Most of the people who tried her food really appreciated the taste and her cooking skill, which gave her the encouragement to explore further. She remembers herself as a perfect hostess as she took great pleasure in entertaining guests and serving them with a creative menu.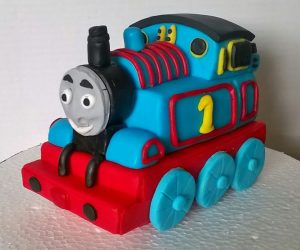 It was at that time that Meera ventured into baking. She was an amateur at that time and knew just the basics of baking. Her mother-in-law used to bake cakes on a small scale and it was from her that Meera imbibed the passion to bake. Initially, Meera's friends tasted her cakes and in turn, she received good feedback and it was through word of mouth that she started receiving orders. It was then that she chose to become a baker and finally did a course in baking, with an aim of becoming a professional. She puts her heart and soul into whatever she creates, making every bite irresistibly tasty. "Life has taught me that there are no shortcuts to success; you have to walk the tightrope to reach the destination. Love, trust, and reliability are the only ingredients needed to climb uphill in any profession," says Meera.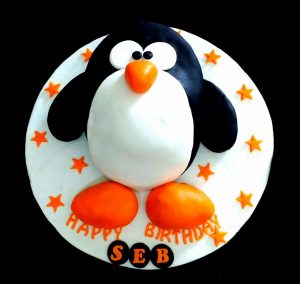 How did you get into professional baking?
I was inspired by a few of my friends who were into baking which led me to learn it in a professional way. I have completed almost all the levels right from basics to advanced courses in baking from the best baking school in Cochin – Manna the Cookery School – run by the pioneer baker Anitha Isaac.
What do you think are the most important skills one needs to have as a baker?
The most important quality in a baker should be patience. She or he should also have the willingness to learn the latest techniques, as well as possess creativity.
Which is the best product by Meera's Kitchen and how is it different from others?
The most popular item is Ultra Moist Carrot and Dates cake which almost tastes like Royal Plum cake but without any trace of the ingredients, once baked. It's butter free and completely healthy, being made of vegetable oil.
What do you love about your work?
I feel proud when I'm able to accomplish a design exactly or even better than the requirements of the customer. Since it's my passion turned profession, I love each and every moment working on a designer cake. Each new design is a new lesson for me.
'Selfieccino' – Your face on your coffee!
We all love to have a hot cuppa coffee. And what's better than a hot cuppa with some cool latte art on it?
Text Credits: Nimisha S
Most of you would have seen the latest coffee trend that took Instagram by storm. It's 3D latte art!!!To add on to this trend, A cafe in London is taking barista art to a new level by giving customers the chance to sip on their own self-portraits.
Source: japantimes
Following the viral sensation that was the Selfie Coffee café in Singapore, which digitally prints out customers' headshots and selfies on foamed milk and whipped cream, London has opened its own version of the "Selfieccino" café.
Patrons send their headshots via an online messaging app to the barista and are given the choice of either a cappuccino or hot chocolate as their canvas.

The image is uploaded to the "Cino" machine while the drink is placed in position. The picture is then scanned and reproduced onto the froth using a flavorless food coloring.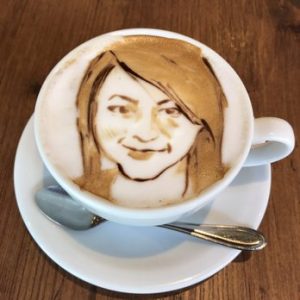 Coffee-lovers in London have yet another reason to go for their customary cuppa at this London cafe.
Want to get your face printed on a hot cuppa coffee, check this place out!!
Fun things to do if you are alone this Christmas!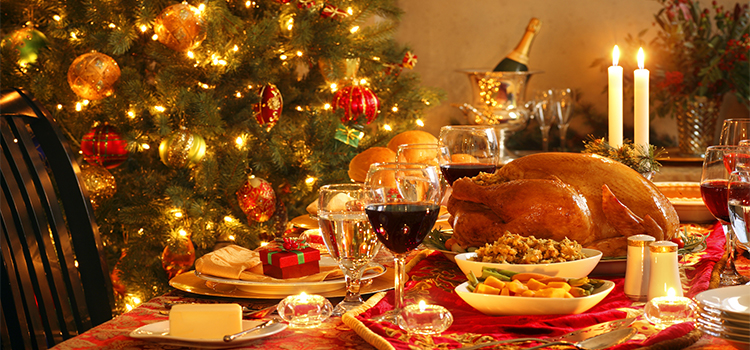 What do you do when, by choice or chance, you are one of the millions of people around the world spending Christmas day alone?
Text: A.Ankitha
It's natural to feel a mix of emotions around the holidays. But, even if you are by yourself, you can still enjoy every minute of it! You can be just a little selfish and experience a celebration of your independent self. We at FWD tell you just how!
'Surprise' yourself with a present!
Image Source: Giphy
Yes, yes! Buy a gift for yourself this Christmas! After all, you've come so far this year and you deserve it! Love that bright orange lipstick you saw online? Or did you see a book that you badly wanted to buy? Go ahead and splurge on a 'surprise' for yourself and happify yourself!
Dress up and get going!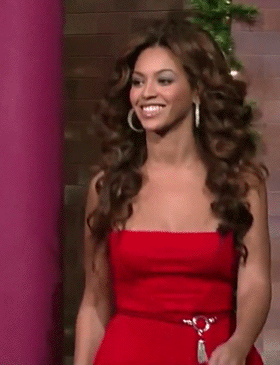 Image Source: Giphy
Being alone doesn't mean you have to sit at home and be glum. Wear your favorite red dress (Festive spirits, you see) and a pair of high heels and go to your favorite restaurant and treat yourself! Don't forget to try out our list of restaurants at Wtzup City!
Binge watch your favorite Christmas movies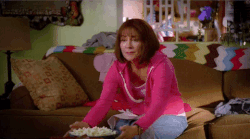 Image Source: Giphy
Remember that movie you watched every Christmas with your family? How long has it been since you watched it? This Christmas, bring back your childhood memories with your favorite movies and that mug cake!
Psssst! Here's a list of our favorite Christmas movies for you to choose from (You're welcome)!
Home Alone
A Christmas Story
A Christmas Carol
Love Actually
Miracle on 34th Street
A Very Harold and Kumar Christmas
For more such movies you can binge watch, click here.
Drink away!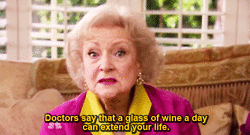 Gif Source: Giphy
Cant't you just smell that yummmmmy wine from the kitchen next door? Too shy to go spend Christmas with them? Order your favorite wine this Christmas and savor the lingering taste while reading your go-to book on the couch.
Grab that phone!
Festivals are the days when you call your friends and family whom you haven't called in a looooong time (Mostly, since last Christmas). Grab that phone and make the calls! Spend some time with them, even if not physically.
Bake the easiest cake possible!
Since you're alone and probably wouldn't want to bake an entire cake (I won't judge if you want to), try baking this simple mug cake, that'd take only minutes to cook! Okay, so you're probably so over mug cakes and you're probably rolling your eyes at me right now, but STOP! I promise you this isn't like any other mug cake out there. This is the moistest (Yes, not spongy, but moistest!) mug cake ever! Go on, give it a try.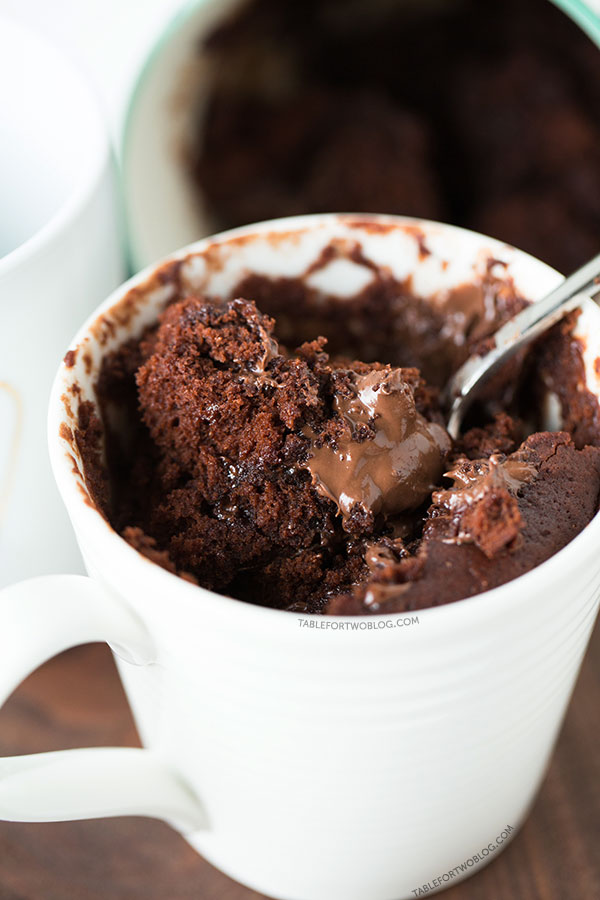 Here's what you need:
 

1/4 

cup maida

 

2 

tablespoon cocoa powder

 

1/4 

teaspoon baking powder

 

2 

tablespoon sugar (you can add 1 tbsp. more if you like it a bit sweeter)

 A pinch of 

salt

 

1/4 

cup + 1 tbsp. milk

 

2 

tablespoon vegetable oil

 

1 

tablespoon chocolate spread
How to make it:
In a bowl, whisk together the dry ingredients.
Mix in the milk and vegetable oil until all ingredients are combined and batter has no clumps.
Pour batter into a microwave-safe mug.
Add 1 tbsp. of chocolate spread in the middle of the batter.
Place a paper towel into the microwave and set the mug on top (this is to catch any batter if your mug cake overflows).
Microwave mug cake for 70 seconds on high
Carefully remove from microwave and enjoy!
Do let us know how it tastes in the comments section below.
Indulge in a 3 course Meal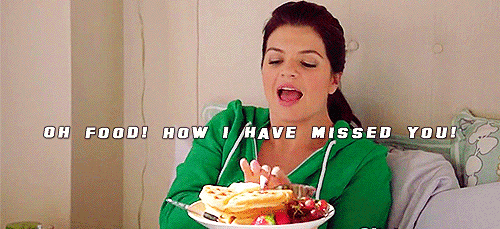 Image Source: Giphy
If you're craving some scrumptious meal instead, let the chef in you come out and cook the yummiest meal possible! There is nothing better than food! We have suggested a couple of 3 course meal ideas for you to try this festive season.
Appetizer
Cucumber Avocado Caprese Salad, 15 minutes. Caprese sounds fancy but is secretly effortless. For this recipe, slice, mix, and admire your work.
Beer Cheese Dip, 15 minutes. You can't go wrong with beer and cheese.
Main Dish
Baked Herb Fish Fillets, 15 minutes. This recipe is easy to customize – simply use whatever white fish you find at the grocery store (salmon would work too), put the fish in the oven, and stir up a 2 minute herb sauce.
Creamy Avocado Pasta, 15 minutes. If you can make pasta, you can make this dish. It's vegetarian, vegan, and can easily be made with gluten-free pasta.
Dessert
Healthy Strawberry Frozen Yogurt, 5 minutes. Do you have strawberries, honey, yogurt, and lemon in your fridge? With these four ingredients, you can create fruity magic.
Healthy Chocolate Peanut Butter Fudge, 10 minutes. You need a food processor for this recipe, but if you have that tool, the fudge only takes a few minutes to make.
Pamper yourself in a homemade spa
How often have you wanted to take a break and just unwind in a spa? This Christmas, make your very own home spa and indulge in the goody goodness of various exotic ingredients like coffee, cocoa powder, or even some berries and fruits! We love you too much and so, here's our favourite coffee facial recipe for you to try!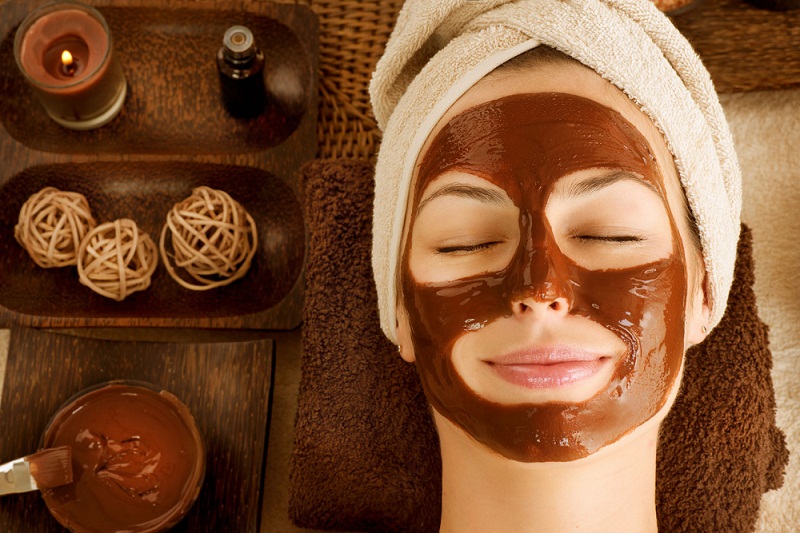 Coffee, Oatmeal and yogurt face pack
Coffee and oatmeal both have exfoliating properties, yogurt and oatmeal also soothes and softens skin.
Take one tbsp of coffee and add in 1 tbsp of powdered oatmeal powder and yogurt.
Mix well, you can add honey also.
Apply on face and neck, keep for around half an hour and rinse off.
We wouldn't judge if you lick some off the side of your lips *yummm*.
So now you know what to do this Christmas to make it your best one yet! Go on and tell us your favorite things to do on Christmas in the comments section below.