A Wedding Cake May Not Be as Simple as You Think, Says Georgia Green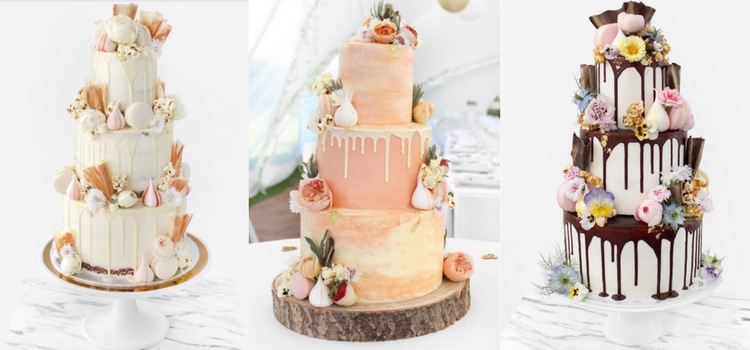 London-based Georgia Green of Georgia's Cakes, is on the fast track to becoming Britain's leading lady of baking. In an exclusive interview with FWD, she gives expert advice to couples choosing wedding cakes
Words by: Georgia Green    Photographs from: Georgia's Cakes
Designing your own wedding cake for your special day is part of the fun, but there area few factors to consider. Quite often, people ask me for a specific cake and by the time the wedding comes, the cake is completely different to how they first imagined. This is mainly because choosing a wedding cake may not be as simple as you think…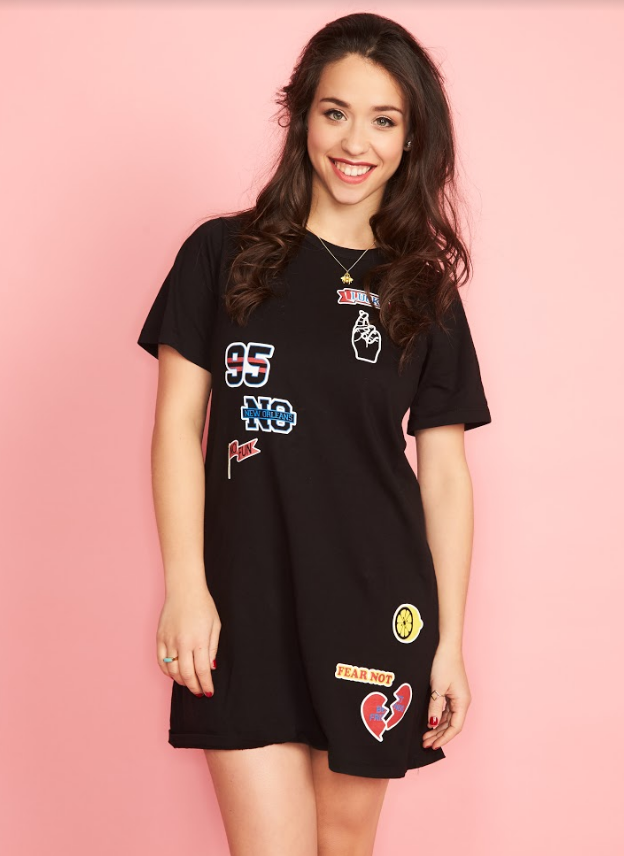 Firstly, design. The 'naked' wedding cake has definitely become a huge trend in the industry (this is where the cake is completely un-iced so you can just see layers of cake and icing in the middle). It is a beautiful cake, hence why it has become so popular, but because the sides of the cake are exposed, the cake dries out. For this reason, I persuade people to choose a semi-naked design (where the outside is slightly masked with buttercream) and therefore the cake stays fresher for longer.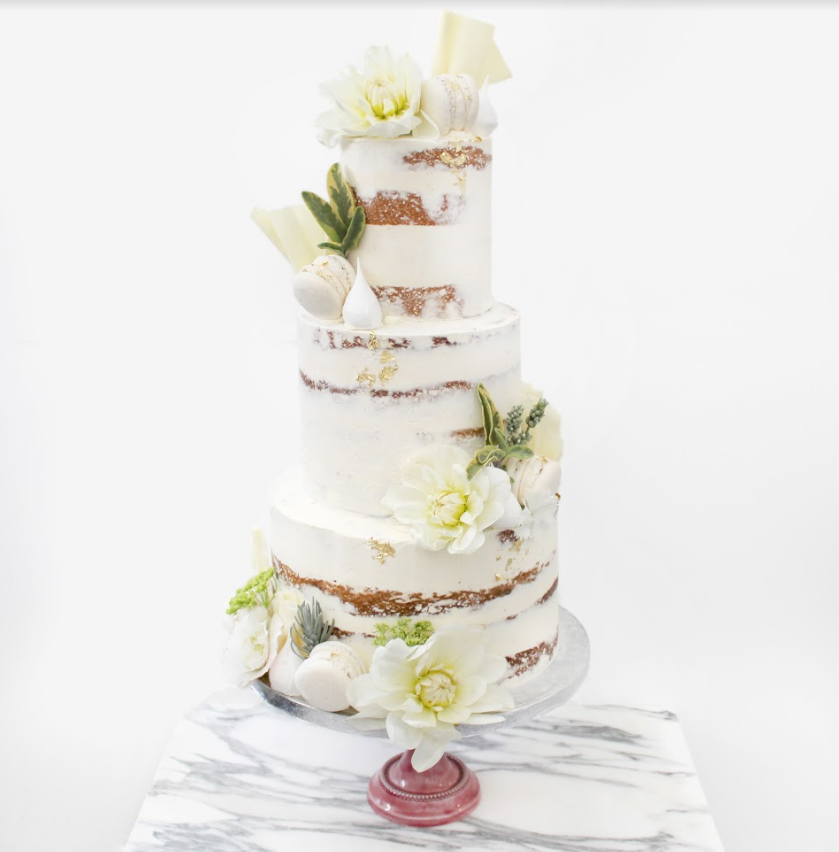 Clients also tend to have a colour theme throughout their wedding and it's a great idea to incorporate this into the wedding cake too, for example, using the same or similar flowers to decorate the cake, or match the colour of the icing. I would also advise people to embrace the cake designer's style and use it to your advantage, rather than ask for something that they don't usually do. I have quite a distinct style of cake, so would rather incorporate themes and ideas into my natural style rather than create something I wasn't necessarily comfortable with, as I would want the cake to be the best it can be.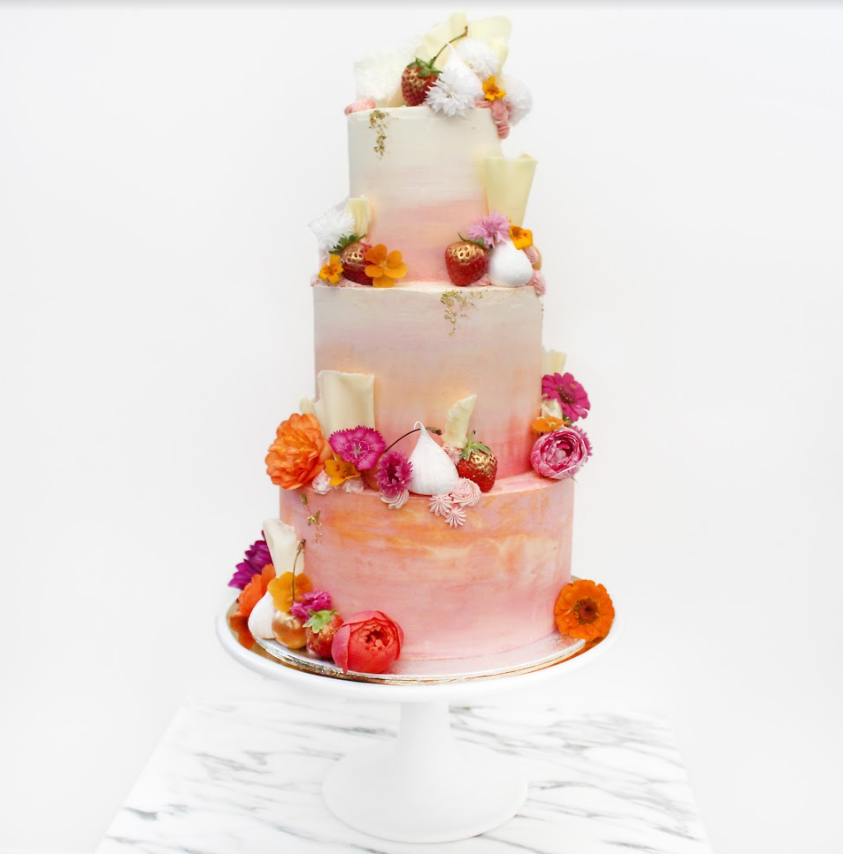 My advice when choosing your flavours of cake is to try to keep them simple. Some clients request flavours such as matcha and rose, however remember you'll be feeding a lot of people and particular flavours will only satisfy a few people! Flavours such as Victoria sponge, lemon and coffee may sound too ordinary but after a full course meal, your guests will only want a small amount and sometimes there's nothing better than a simple lemon cake to refresh your tastebuds!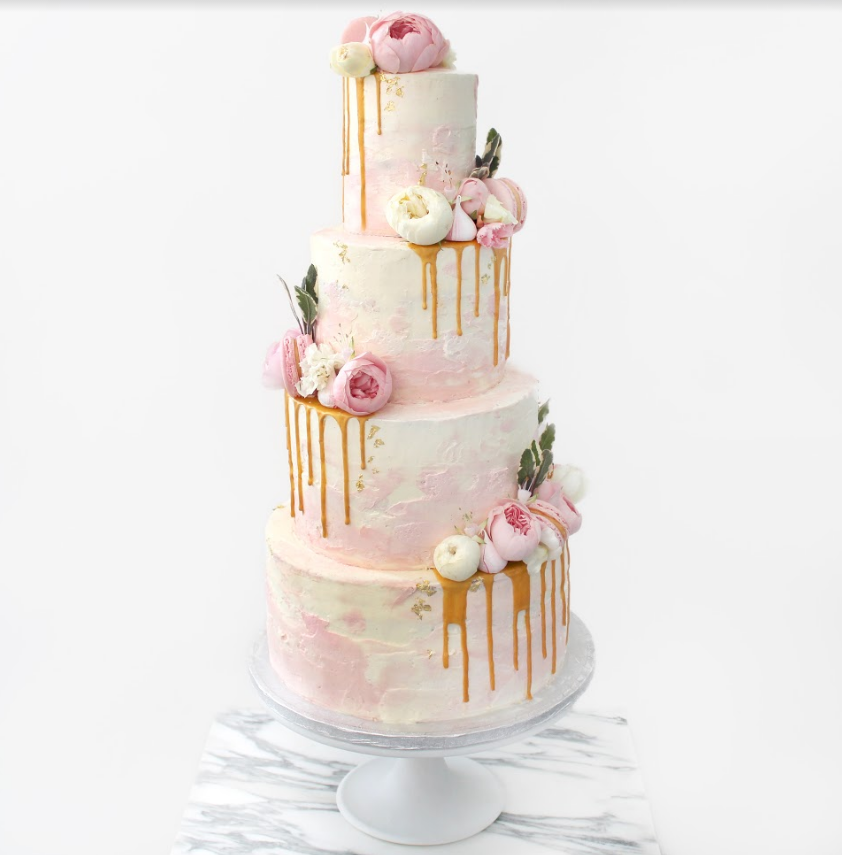 The size of the cake is usually determined by how many guests you are having. Generally speaking, the cake designer will have a portion guide to show how many slices of cake can be served. Some people like to have a larger cake that is needed to serve the right amount of guests, and therefore can have dummy layers of cake as an option (made of polystyrene). On the flip side, if you only want a small wedding cake, you can also get a 'cutting cake' which is given straight to the kitchen to provide extra slices of cake to feed all the guests.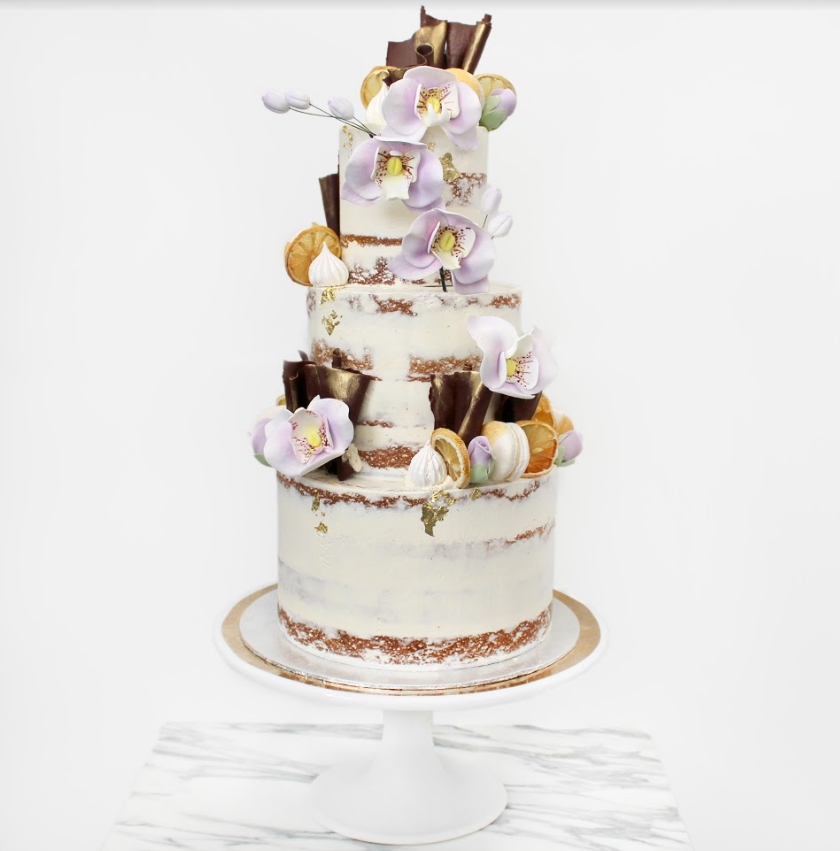 Lastly, an important factor is where the cake will be during the actual wedding. The reception? Dinner? Just appearing when you cut the cake? Whenever this will be, you need to remember that the cake has a fairly limited shelf life. Seeing as I personally don't make fondant covered cakes, the buttercream can only withstand being on display for a few hours, preferably somewhere cool. Fresh flowers will also only last a few hours so this may determine when to showcase the cake! The main objective it for it to look amazing and taste even better, so organise the timing carefully!
For booking and enquiries, visit Georgia's website, https://www.georgias-cakes.co.uk/contact and follow her on Instagram, https://www.instagram.com/georgiascakes/?hl=en , to stay tuned to the latest news from Georgia's Cakes.
Top 7 Super Foods You Should Try This Summer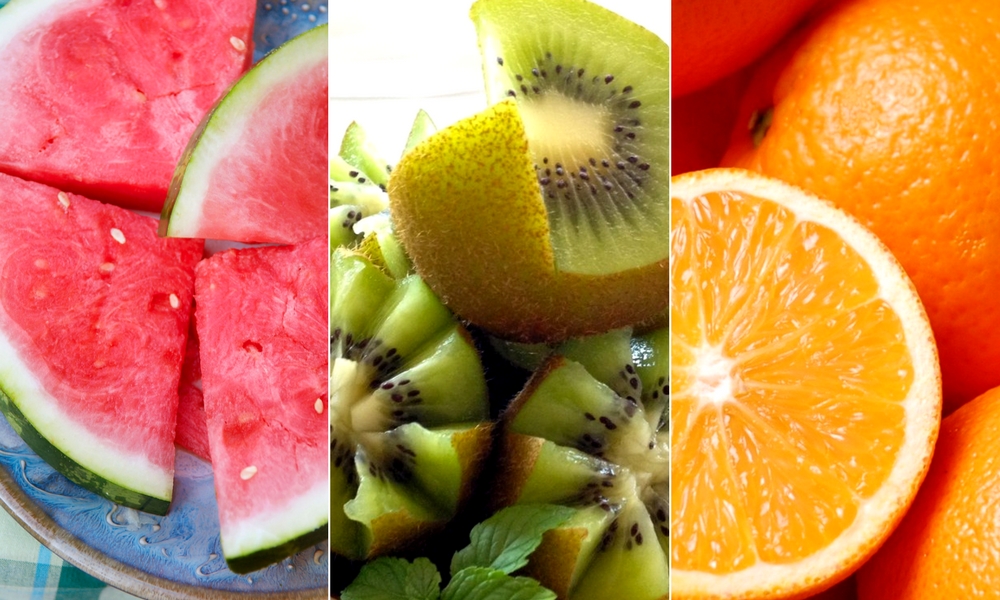 As the mercury levels are constantly rising, we all are looking for innovative ideas and techniques to keep ourselves cool this summer. Avoid dehydration, body heat and other deficiencies with these nutrient-packed superfoods
Text Credits: Shibul Pavithran
You know summer's the perfect time to switch from shoes to sandals, but did you know it's also the right time to change your diet? Being outdoors more often and sweating increases your risk for health problems such as dehydration, skin sensitivities, and vitamin and mineral deficiencies. Therefore, our primary goal should be to include summer foods that fulfill the criteria.
Wondering what to eat in summer to keep your body cool? We have shortlisted 7 superfoods to let you enjoy this summer vacation in the most healthy way.
Watermelon:
Source: seattletimes.com
Watermelons are recommended throughout the year, nothing beats a glass of watermelon juice or just pieces of this wonder fruit in replenishing the water levels of your body. They also contain lycopene that protects the skin from possible sun damage and helps keep the body hydrated during summer. Moreover, due to its high water content, it will keep you full for a long time.
Tomatoes:
Image Source: chatelaine.com
Tomatoes are filled with antioxidants and Vitamin C, they also contain beneficial phytochemicals such as lycopene, which contribute to chronic diseases—especially cancer.
Peaches:
Source: Terradouro
Juicy fruits are a blessing during summers they make sure you keep the body hydrated. They are always known to be good for the skin, peaches also come with a healthy dose of Vitamin A and C. They are a good source of antioxidants and fibre, which improve digestion. It contains bio-active compounds that help fight metabolic syndrome, a combination of risk factors that cause inflammation, obesity and heart problems. Consuming peach on a regular basis helps control cholesterol content in the blood.
Strawberries and blueberries:
Source: 4.bp.blogspot
Sweet, juicy berries are filled with flavonoids, powerful disease fighters found in many fruits and vegetables. Among their other pros, they increase blood flow to skin and decrease sensitivity to light, which improves skin's appearance, structure, and texture.  They're also an excellent source of fiber, folate and potassium.
Kiwi:
Source: inetfarms
They are one of the best fruits for summer as they have a unique cooling effect on the body and packed with Vitamin E, potassium, and fibre as well. This exotic fruit with its attractive green colour contains actinidain–a protein-dissolving enzyme that helps in digestion.
Oranges:
Source: blog.halegroves
Nothing can be good thirst quencher than a juicy orange. A low calorie and high-fibre fruit, oranges are suggested to be very good for weight loss. Oranges have significant amounts of antioxidants, the most important one being hesperidin, as it has shown to lower high blood pressure problems. Oranges also have strong anti-inflammatory properties. In fact, oranges work wonders on skin too especially keeping it clean and oil free during summer. Moreover, oranges also contain 80 per cent water so they will also keep you hydrated during your sweatiest summer days.
Papaya:
Source: 1.bp.blogspot
Papaya can be eaten as a fruit, a smoothie or even a milkshake. Papaya contains an enzyme called papain which aids in digestion. It is rich in potassium, Vitamin C (for building collagen to provide texture to skin and hair), Vitamin K (for bone health)), and Vitamin A (for healthy hair and glowing skin). Papayas also contain enzymes like arginine and carpaine. Arginine is essential for male fertility and carpaine is considered to be good for the heart.
13 Insta Accounts That'll Make You Wanna Try Harder At Baking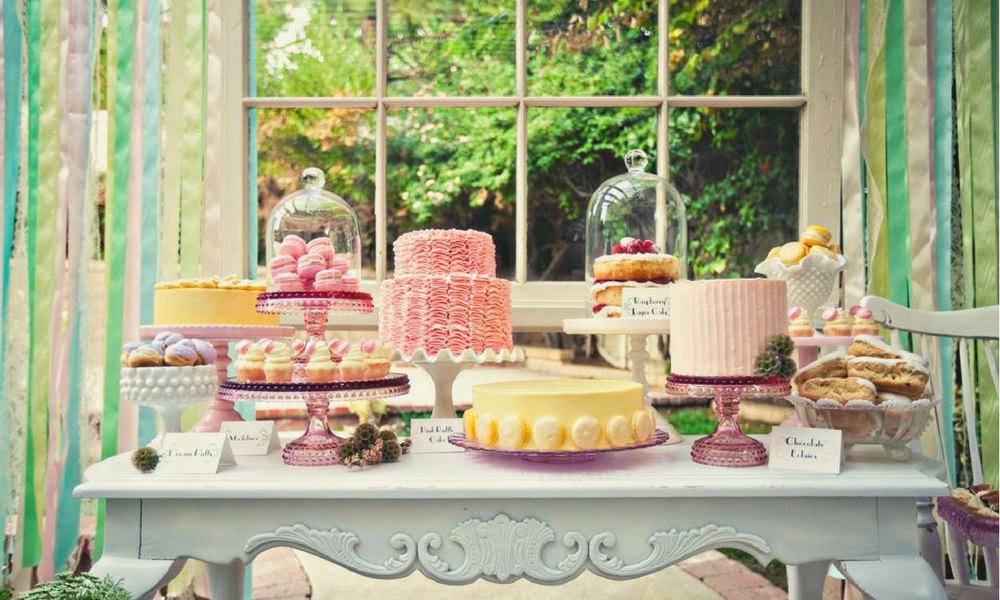 Inspiration rich Instagram yields up thirteen accounts that are sure to rev up your baking. So, you budding bakers, what are you waiting for?
Text Credit: Rheanna Mathews
When the cakes suck, when the pies burn, and I'm feeling sad, I simply remember these Insta Accounts, and then I don't feel…so baaaaad…..(Horribly executed Sound of Music reference right there, but you get the drift.)
So here's the thing. When Friday the 13th means that things are going horribly wrong while baking, or you're bored out of your mind making the generic vanilla sponge cake, what you need is a bunch of inspiration. And Instagram is a cornu-frickin-copia of it. Down below is a list of Insta accounts that are sure to buoy you up and tide you over till your next crisis.
If you like the vintage and the rustic, not to mention great photography,
If you like flowers, good old fashioned bread and pasta added to that mix,
If patterned cookies are more your thing,
In every shade on the Pantone spectrum,
Or assorted pastel confections,
And if you like matte pastel wonders and dollhouse kitchens,
Or a friendly smile that achieves quirky wonders,
For a variety of baked inspiration,
Or a variety of pie inspiration,
From someone who does everything,
To those who go basic in a big way,
For those who like cheeky,
And those of you who like some candy with that cake,
So dig into that treasure trove and let us know what you come up with! And if you need a handy list of baking tools, that won't blow a hole in your pocket, to do it, well…we've still got you covered!
Why Do You Think The Jackfruit Is Such A Big Deal Today?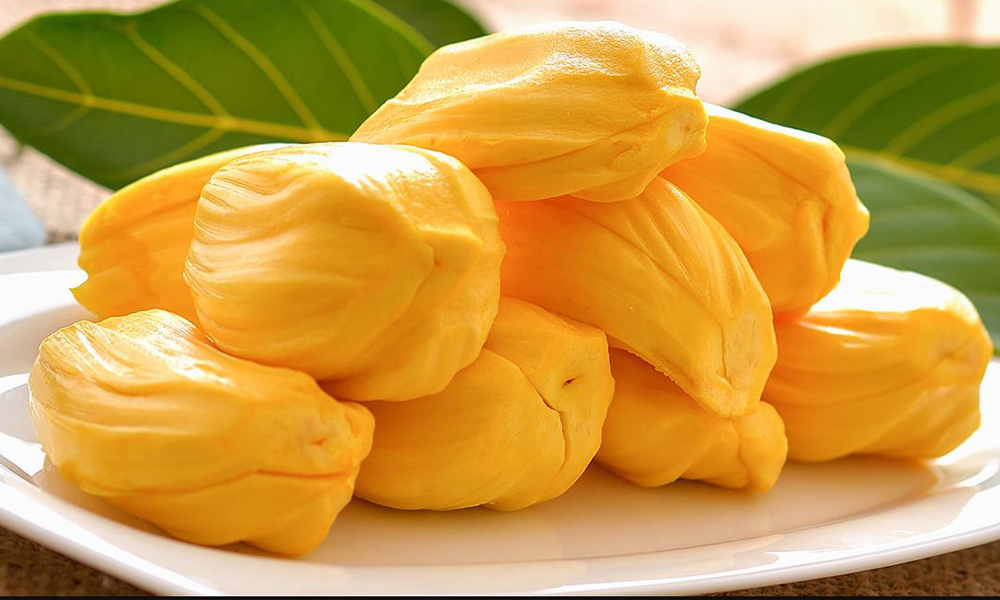 The jackfruit, rather unoriginally, is called the jack of all fruits, and small wonder that Kerala has made it the state fruit. What makes this tropical tree fruit so special?
Text Credit: Rheanna Mathews      
Kerala is not the first state to recognize the jackfruit as something special. It was already state fruit to Tamil Nadu and national fruit to Bangladesh and Sri Lanka, but has been a fixture in Kerala culture and cuisine for generations. So, come, let's take a look at a few facts about this tropically ubiquitous fruit that delights young and old alike.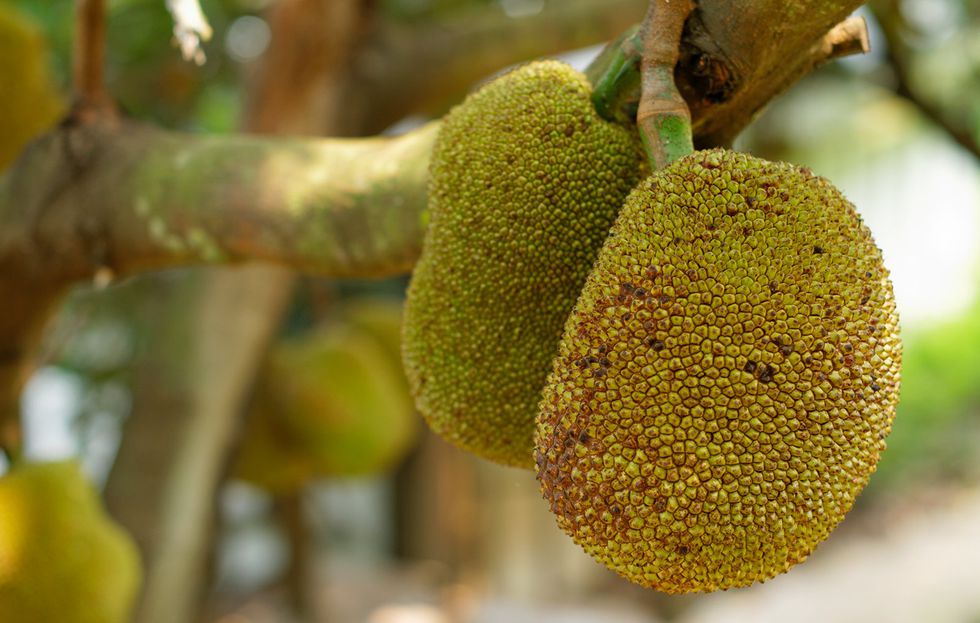 Source: in.pinterest.com
The jackfruit is said to have originated in the Western Ghats, and then spread to the rest of Southeast Asia. It is believed – and archaeological findings supposedly prove this – that jackfruits were cultivated in India as early as 3000 to 6000 years ago. A chart topper fruit if ever there was one.
The jackfruit is gaining quite the fan following out in Europe, but the Portuguese were the first to have contact with the giant fruit. In fact, etymologically speaking, the very name "jackfruit" is said to have originated from the Malayalam word for it, chakka, passing through Portuguese as jaca.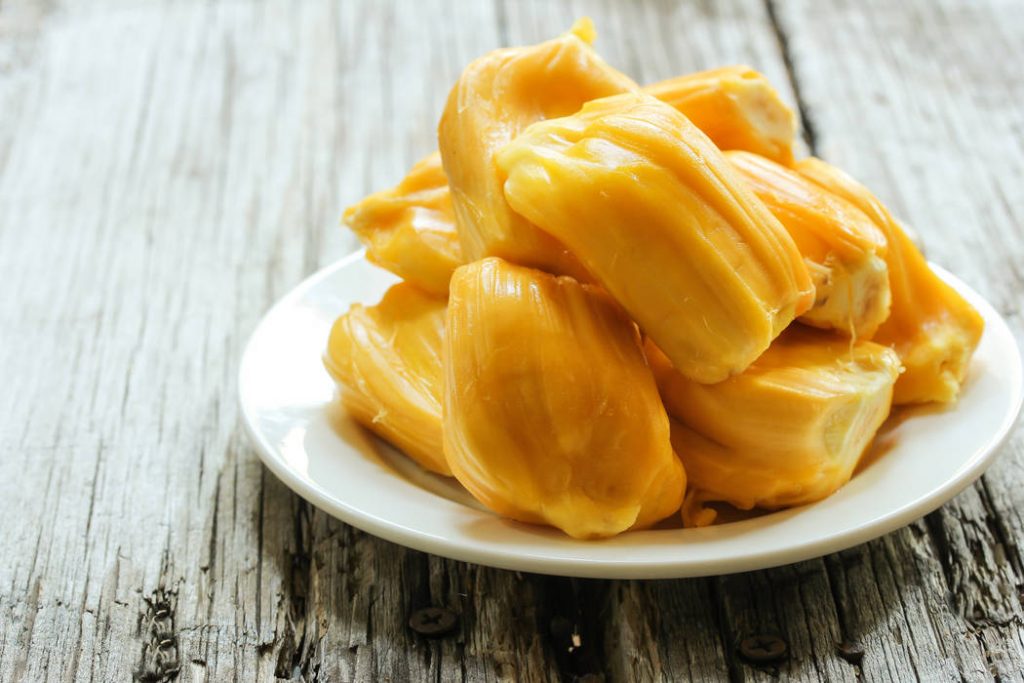 Source: reviewjournal.com
Called a "miracle fruit", the jackfruit contains a winning combination of vitamins and mineral that help the body fight all kinds of diseases. Even cancer, to an extent.
If you talk to your mums and grandmums, they're sure to tell you the same: you can use every part of the jackfruit. Hardly surprising, given the tenet of "no wastage" that's been drummed into our collective consciousness.
What we, here in Kerala, might find surprising is that vegans use the jackfruit as a substitute for meat. This little factoid gave me pause too. Apparently the texture is similar to that of pulled pork. Go figure.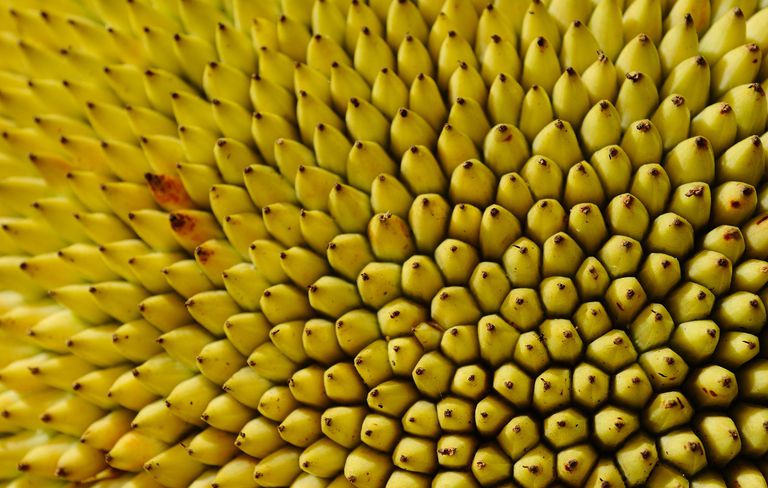 Source: menshealth.com
And while this last fact is not about the fruit itself, it has to do with the wood of the jackfruit tree. Not only is it used in making the ceremonial seat of temple priests and considered sturdier than even teak in some circles, the wood of this spiky fruit is used in making musical instruments like the veena and mridangam.
So this Vishu, let's give the chakka pride of place as we celebrate the coming of the new year.