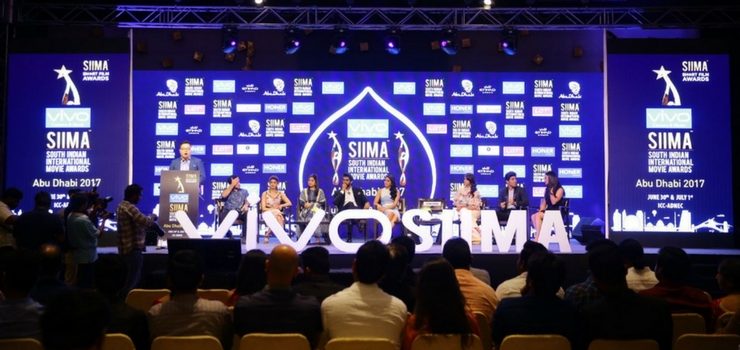 With categories ranging from Best Short Film to Best Music Director in Kannada & Telugu, the short film awards served as an encouragement to new and upcoming talents in the industry
Words: SIIMA   Images: SIIMA
VIVO SIIMA hosted its first ever Short Film Awards for the Telugu and Kannada languages in Hyderabad. The awards ceremony was a glittering affair and saw in attendance the who's who of the Telugu and Kannada film industry who had turned up to support the budding talent.
Since the awards were announced, there was a huge enthusiasm which was seen amongst the short film makers who had sent in their films for nominations. The jury had a tough time going through hundreds of short films and were amazed at the talent which had remained untapped.


The awards ceremony saw in attendance Rana Daggubati, Lakshmi Manchu, Regina Cassandra, Allu Sirish, Pranitha Subhash, Shradha Shrinath, Mrs.Brinda Prasad – Chairperson SIIMA and Mr. Vivek Zhang – CMO Vivo Mobile and many more and was hosted by Navdeep. The awards were judged by a highly distinguished jury and awards were given away in 8 categories in each language. The awards for short filmmakers in Tamil and Malayalam language will be given away on May 28th in Chennai.
Talking about the first SIIMA Short Film Awards, Adusumilli Brinda Prasad Chairperson SIIMA said "It gives us great pleasure in setting up yet another platform "SIIMA SHORT FILM AWARDS" to promote and celebrate talent covering the Digital Space. This space has been booming with young talent sprouting with creativity and have a promising future in the world of entertainment."

SIIMA 2017 is supported by its Title Sponsor Vivo Mobiles, Official host destination- Abu Dhabi, Airlines Partner – Etihad Airways, Lot Mobiles, Honer Homes, Abhibus and overseas partner Era Entertainment.
Here's the list of the short film Award Winners
Telugu: Best Short Film – VindhyaMrutham; Best Director – Lakshman Krishna (Krishnamurthi Garintlo); Best Actor – Shiva Kumar R (Indian Age 25); Best Actress – Darshini Sekhar (Krishnamurthi Garintlo); Best Supporting Actor – Ankith Koyya (Yedhane Vadili Vellipomake); Best Supporting Actress – Jahnavi Dasetty (Prematho Peechumittai); Best Comedian – Ravi Sai Teja Paila (Prematho Peechumittai); Best Music Director – Kabir Rafi (Konchem Istam Chala Kashtam
Kannada: Best Short Film – Chowkabara; Best Director – Arjun Kumar S (Panmandri Cross); Best Actor – Poornachandra Mysuru (Patinga); Best Actress – Akshatha (Phanmandri Cross); Best Supporting Actor – Gopalakrishna Desshapande (Present Sir); Best Supporting Actress – Nandini Patawardhan (Chowkabara); Best Music Director – Raghu Dixit (The Last Kannadiga)