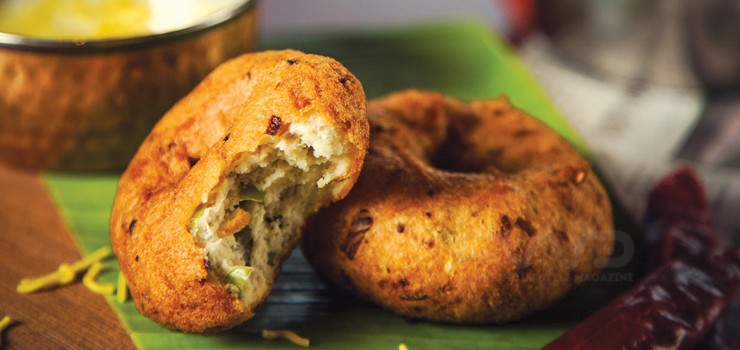 Three chefs reveal their culinary innovations based on nostalgic street food they grew up eating
Sample this: a fresh scoop of dahi vada ice cream sprinkled with some sev; grilled anchovies with coconut puree and sundried pesto; fondant potatoes slow-cooked and stewed in stalk and thyme paired with light snapper goujons. Would you ever imagine seeing these on the menu when you go scouting for street food while on holiday? Here is street food with a twist as from the kitchens of three leading chefs of Kochi who went on a trip down memory lane and brought it back for us on a plate, as curated gourmet dishes.
The Not so Small Natholi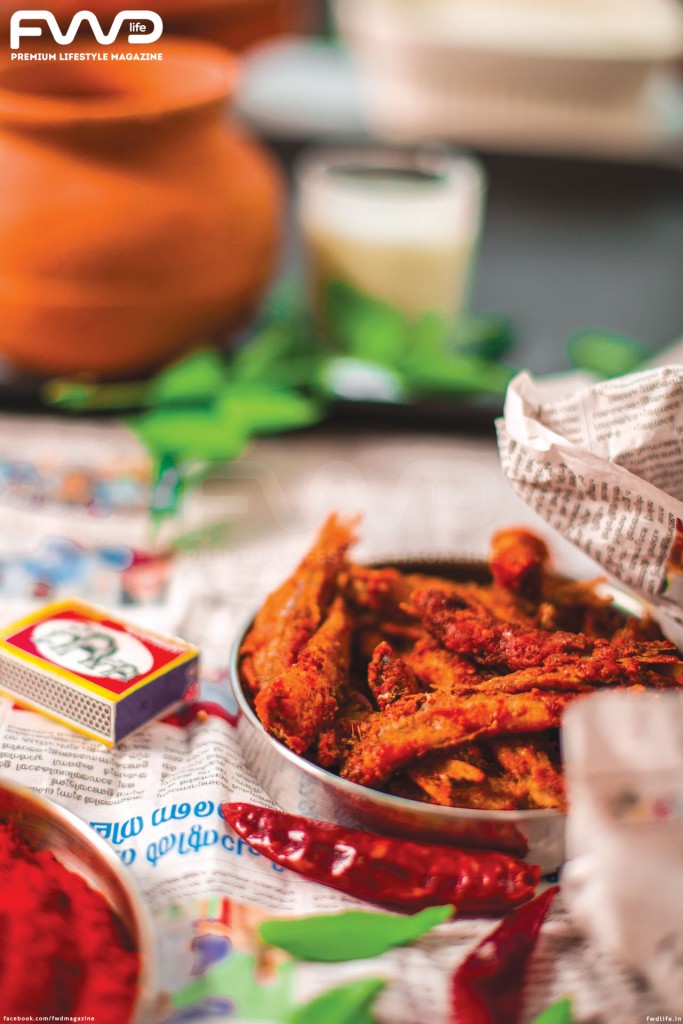 Natholi (anchovies) and chala (sardines) are staple choices of fish in the coastal haven of Kerala. Smelling pungent, but tasting divine, they are delicacies people relish both both at home, and outside.
These are served on on sheets of paper, and a glass or bottle of toddy or palm wine. This, added with the aesthetic feel of the thatched roof of a toddy shop, and the sea breeze (if located on a beach) is a muchrevelled dining experience in the state. We asked chef Asif to reinterpret his favourite dish. Fine dining is easily misconstrued as something too swanky, but chef Asif believes that the art of balancing taste with health comes with a lot of experimentation while overlooking the dubious notions of being overpriced.
As the saying goes, "natholi oru cheriya meen alla" (natholi is not a small fish), what made it catch your attention?
I have always enjoyed street food which is available in beaches, like fish stalls of Marina Beach in Chennai and the chat stalls of Bombay Chowpatty. In Kochi, I think of quick fried food and what comes to mind immediately is
natholi.
For something that just requires deep frying, what was your signature take on it?
I believe that food is only tasty if healthy. So while trying to reinterpret natholi, I wanted to ensure that none of the omega 3 fatty acids are lost and it's preserved to the fullest without denaturing it. When fish is deeply fried the nutrients are lost. It is also very unhealthy because it carbonises the masala and the fish.
How would you explain your reinterpretation on natholi?
The biggest challenge was maintaining the crispiness without using the technique of deep frying. Thus, I brought in a contemporary spin by creating a Natholi wafer that's toppled with sundried pesto and coconut curry leaf pesto. I can enjoy it with one bite and it's also made to be crisp using a sandwich grill.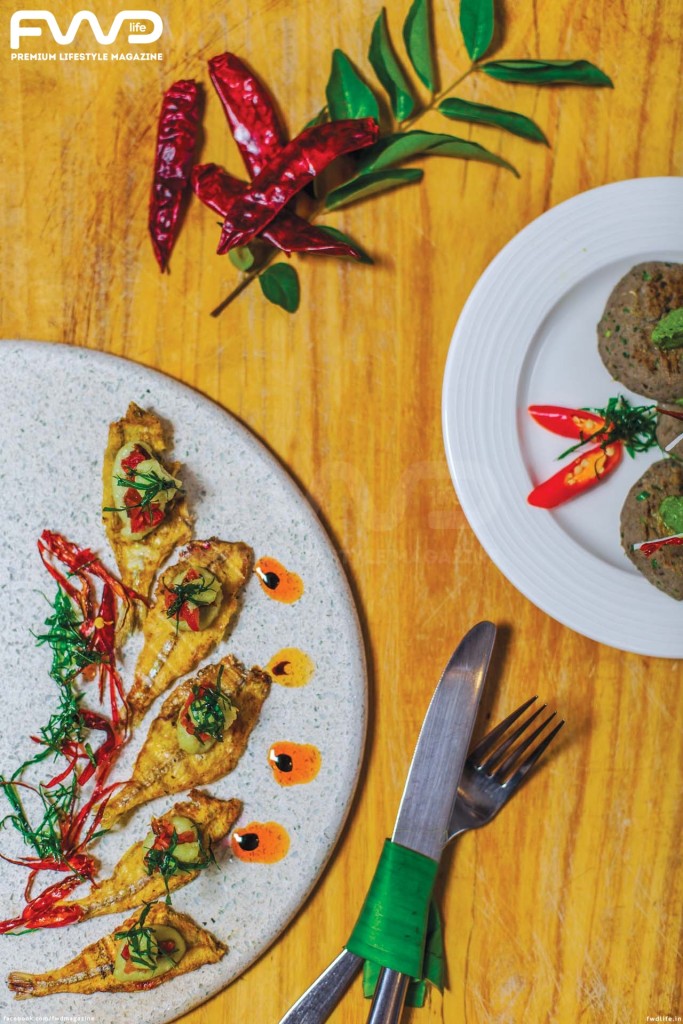 What other fish do you experiment with?
Sardines is another common food that's enjoyed in street food shops. It is best enjoyed when charred. What I did was medium cook the sardine meat by first mincing the fish with the bones, mixing it with green masala (ginger, garlic, shallots and kandari), wrapping it in aluminum foil and then steam it. It can be presented in the form of a kabab.
What would like to say about street food?
Healthy food can also be tasty. I hence try to experiment with street food while also remaining committed to my principle.
The Humble Piping Hot Vadas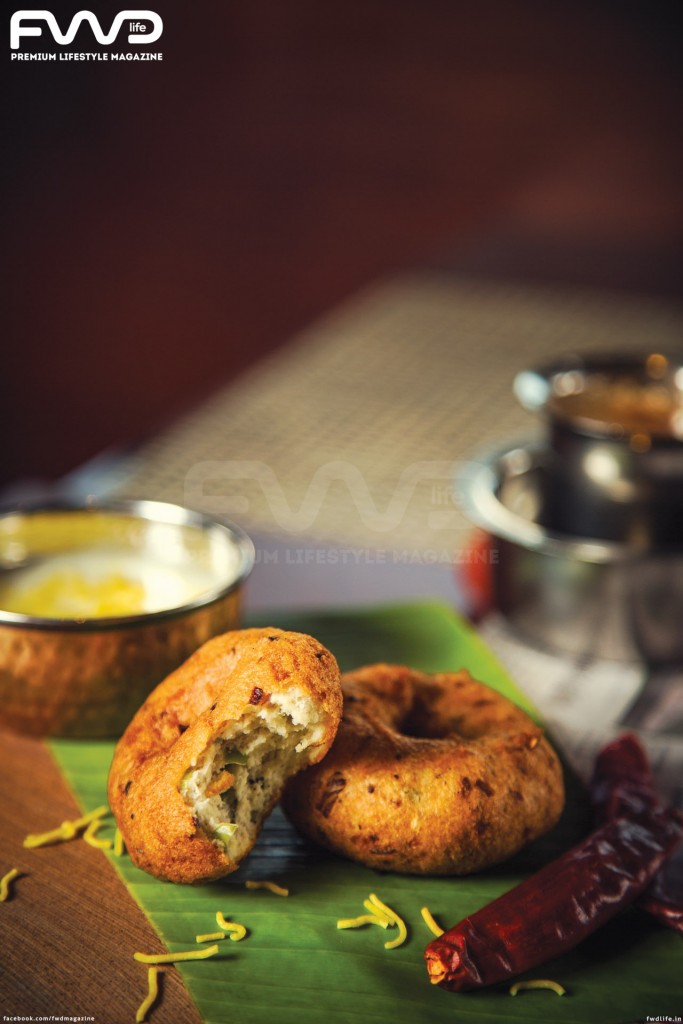 As many would travel around the world with a suitcase, or camera, chef Michael travels with his beloved pack of cutlery. It is his companion on explorations around streets and lanes, for local street food and so his tales are often infused with trademark ingredients. Reinterpreting a dahi vada ,he brings a dish to the shores of Kerala that has bowled us over.
How did the humble vada entire your life?
During my 12th grade tuition days in Indore , my friends and I would go for leisurely strolls to indulge in street food. There was one stall that sold sumptuous items.My most favourite was the dahi vada (dahi is yoghurt), and loved the way the cook prepared it. The consistency was just right and he always made it according to my taste, and often would be his treat. His son runs the stall now.
From vada to ice-cream?
The greatest joy for a chef is to innovate and present food that has a great visual appeal. When I thought of vada it immediately took me to the dahi vada. I thought of making a smoother version. I whisked the yoghurt until it got a smoother consistency, then I made a scoop out of it and stored it in the freezer.
So what's the scoop about your treat?
It was an idea that I had in my mind for a while and wanted to experiment. It worked out on the first trial. The general conception is that dahi vada can only be enjoyed when the vada is immersed in a bowl full of yoghurt. I wanted to change this perception. While making the ice cream the trick is to use mild yoghurt, and not too sour. The acidity has to be balanced with tamarind sauce made from fresh tamarind pulp. It should be served at room temperature, and the ideal time is to serve it 30 minutes after removing it from the freezer, so you won't have a thawed dish. (he slides the spoon through the scoop)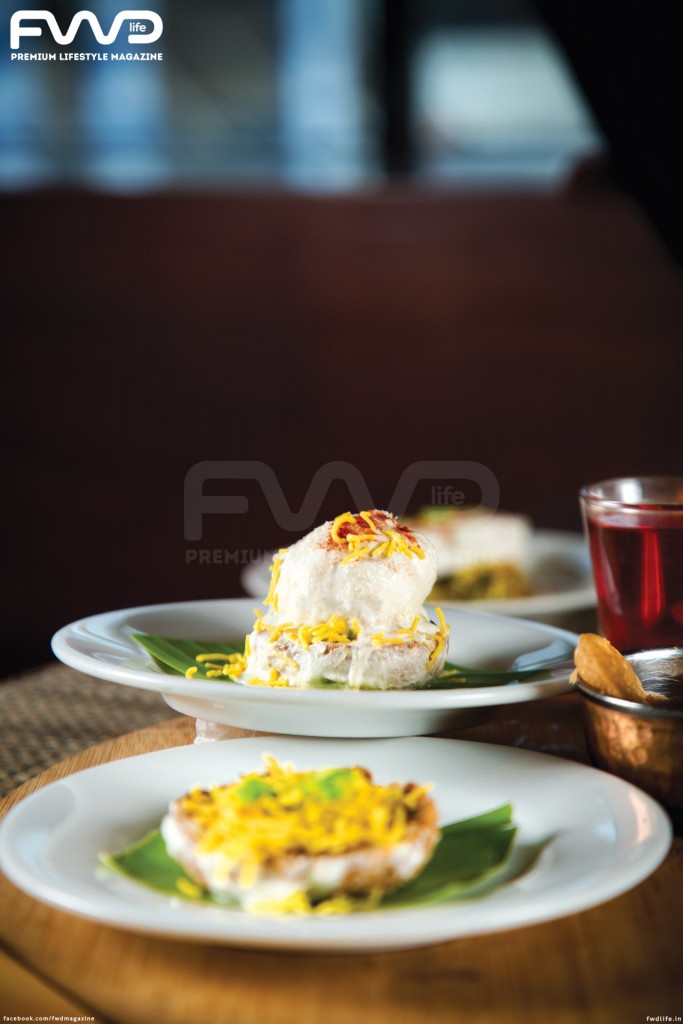 What is the one thing you truly appreciate about street food?
People say that street food is not hygienic. One thing I appreciate about street food is that their ingredients are fresh since they do not have storage facilities like a fridge. I have noticed the pani or water used for the pani puri will be fresh, while dahi is purchased every day, I must say that's one thing that makes their food immensely tasty.
Which place fascinates you most for its street food culture?
Raised in Madhya Pradesh, I was fascinated by its diversity of culture. When you take a walk down the streets, there are food stalls brimming with all sorts of delicacies.People appreciate and enjoy these different varieties. I grew up with the belief that taste should never be compromised and customised to a particular place or cuisine. The best piece of advice I have received is, 'you can compromise on your clothes but not on your food'.
Coastal Pride: Fish and Chips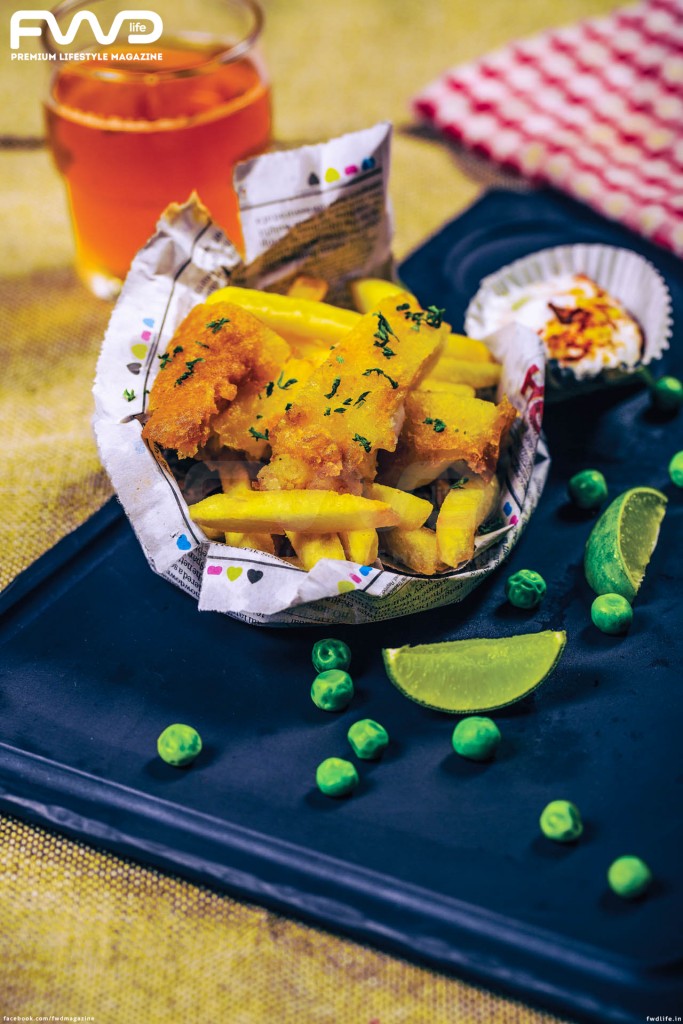 When chef Rajeev mentioned fish and chips for his innovative recommendation, we imagined a trip to London to enjoy what the British love – good old fish and chips; a perfect accompaniment to the sultry shades of cool weather. Smothered in some salt and soused with vinegar, the quintessential British dish instantly won over his palate. For the eight years he spent in London, and we were thrilled to see his interpretation.
Where did you find the most memorable order of fish and chips?
Croydon Market used to be a interesting place, especially on Sundays. I used to love the fish and chips there; they usually serve it with mushy peas and something local called malt vinegar which helps reduce the grease that is found in the fish. Borough Market, situated right under London's railway lines and near the King's Bridge. It is known as the melting pot of global cuisine.
How did fish 'n chips make it from the street into a room with four walls?
Earlier, fish and chips wasn't a meal that was very common, rather a dish that was enjoyed in the coastal areas. However, when the railways got built, fish became more accessible inland and could be transported to markets
in and around London. Soon, fish and chips grew popular in the mainland too.
How do you reinterpret the classic fish and chips?
I looked more into the technique used and the customisation of flavour. Instead of mushy peas, I prepared a purée that was fused with some mint. Fries are common; so I prepared it as fondant. In this French technique, the potatoes are slowly cooked in butter and stock and then placed into the oven. Much of the stock evaporates while only a residue remains in a mixture of garlic, thyme and chicken. Separately, the snapper fish was lightly fried as goujons. This was served with blanched tomatoes, for a hint of acidity.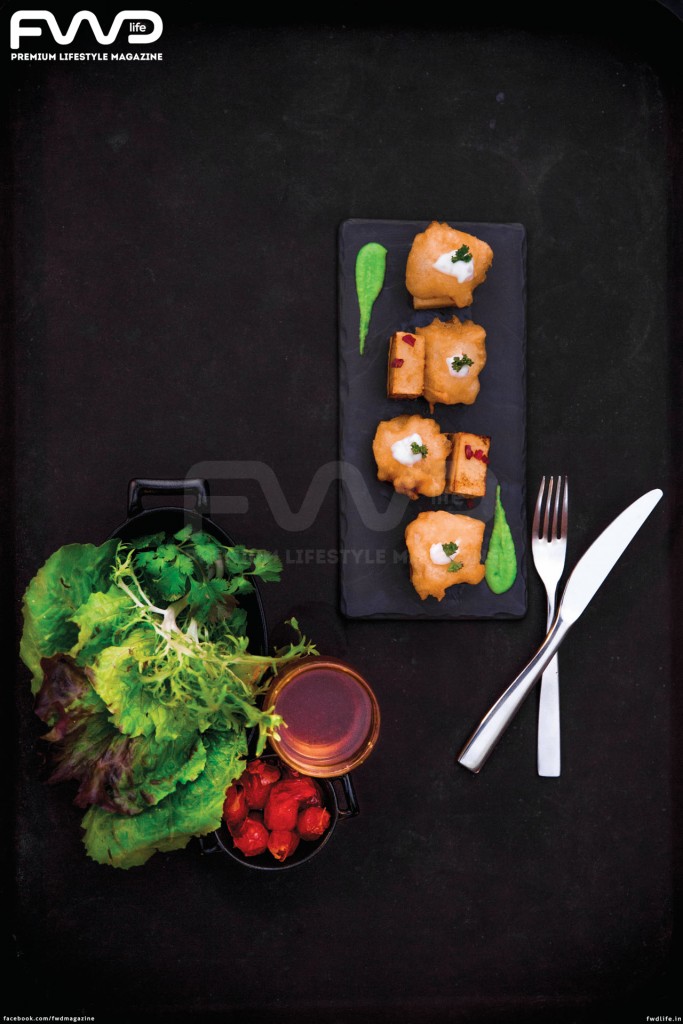 If you had to reinvent the dish, how would you do it?
Fish and chips roll would be interesting; the roll would have a spread of tartar sauce paired with a nice and crisp salad. What is your signature ingredient? For really good fish and chips the secret is the batter; it must be light. My signature ingredient is a pinch of turmeric. The barter looks more golden and the taste is not affected.
What do you love about street food culture?
When it comes to fine dining, things are so complicated, especially with the techniques. Street food is uncomplicated and simple and easily available, that's a good thing for uncontrallable cravings.
Words, Styling and Conceptualisation by Atheena Wilson              Photographs by Arun Menon