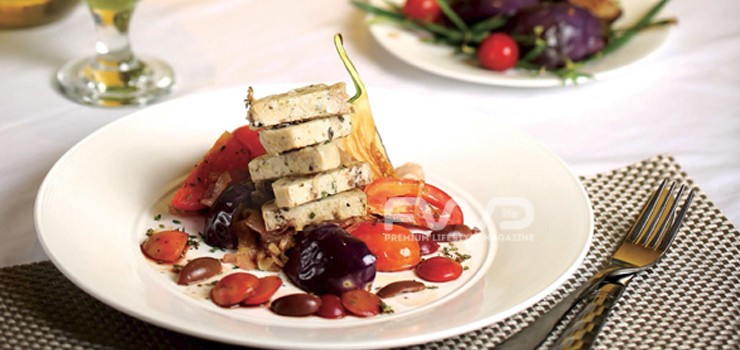 Group corporate chef of Fragrant Nature,Kochi, Johns Mathew, shows us what a royal feast is all about
When cruising through the lackadaisical streets of the hippie-haven, Mattancherry, one is charmed by how it's gracefully aging with antiquity. Only, however, until you spot a handsome colonial building, starkly in contrast to its neighbours.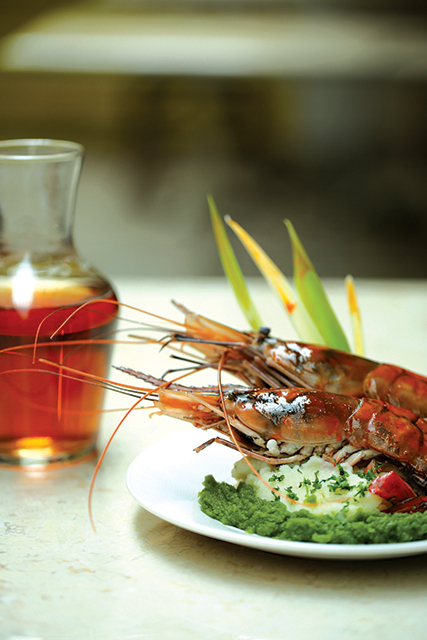 Five-star boutique hotel, Fragrant Nature, boasts of a scenic harbour view as well as its trove of historical stories and remnants of dusty charms of the East India Company. As the rustic doors are opened, you are welcomed into something that is breathtaking and luxuriant. For those who may have seen it, a photographic moment of the Trevi Fountain in Rome may come to mind. For everyone else, the hotel offers  images of a castle with  checkered marble floors and decadent sets of plush furniture. You then wonder how will the restaurant look?
Turning Tables
The All Day Dining multi-cuisine restaurant is a treat to an artist's eyes. With a touch of Dutch artist Van Gogh's sunflower yellow walls, and oval-rimmed chairs upholstered  with classic awning stripes, the room reverberates of French interiors. Through sheer curtains, you get splendid views of the tromp l'oeil  painting by English artists Gary Myatt and Mel Holmes. The painting, Indian Street Market', incorporates the architecture of bygone ages, a
suggestion of English colonialism, and the eclectic mix that would be found in a port at the heart of a busy  trading route. The artwork showcases the rendezvous among Portuguese, Dutch and English culture with and an underlining of Kerala's culture too. In resonance with the painting which was an illusion in depth, chef Johns  created a menu that had varied sets of flavours that is as surprising as the hotel's cosmopolitan culture. From the infusion of olives in pumpkin purees with tomato juice and shiitake mushrooms, to poached scampi with fennel emulsion, the lunch was a feast, prepared in a healthy, old-fashioned slow cooking method.
C'est la Vie
As we took a seat, a cheerful waiter presented us with a menu that touted French cuisine, with a spoonful of grandiloquent terms. Our entrée was salad avocado and thyme mustard seed served with some vinaigrette. The shrimps had a fresh glaze of coating and gave a bolt of acidity due to the mustard.
Through the glass doors, the patio's scarlet walls juxtaposed beautifully with the French bistro chairs. Sharing a playful shade, the garnet-hued poached pears had a brush with a Parisian scent of cinnamon. The pear was set on the plate with cut pieces that fanned out.
While seated, however, it is hard not to admire the way the table has been set. Just like the setting had its undertones of sophistication, we were served a very lavish Polish dish, chicken galantine which is derived from the word, "galant" which was a connotation for something sophisticated. The poached meat was spiced moderately accompanied by roasted eggplants, beady plums, and kalamatas (Greek olives).
In with the New
French gourmet is a muchspoken about cuisine. The terrine (a meat/veg/fish loaf made in an earthen casserole) may sound a bit alien, but the technique and composition of preparation are fascinating. If you thought the main course was always warm, a terrine is served cold. Very similar to a jelly pâté it looks like a cassata of beetroot, green beans, and good cheese. This was served in a fusion style, with bok choy or chinese cabbage.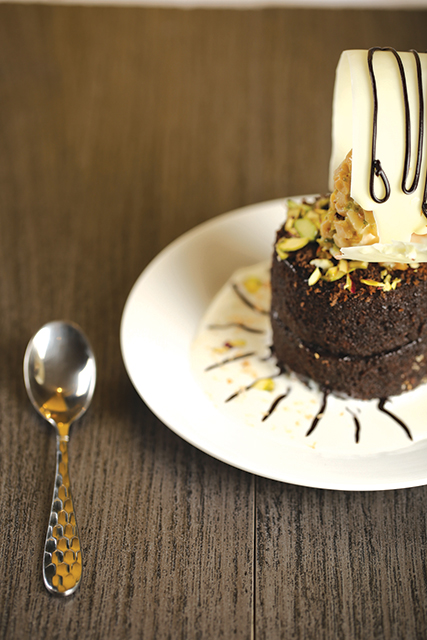 For dessert, chef Johns served a classic chocolate-coconut cake with ice cream and sprinkled with pistachios. Boasting an ambience that eschews royalty, the hotel gives you the chance to dine like a medieval king, with a taste of colonial finesse. Unlike the illusion of the tromp l'oeil, taste can never just be a figment of your imagination.
Words and Styling by Atheena Wilson      Photographs by Arun A Menon
Location Courtesy Fragrant Nature, Mattancherry