A wedding gown is the most special and memorable garment in a woman's life time. Even though a bit late to accept the gown tradition, Keralite brides have started accepting it with both hands and gowns are becoming a top notch style statement in wedding fashion. May be due to the allure and beauty of a Christian bride; to the surprise, even non-Christians in the state now demands for wedding gowns!
Call it a liberal attitude, western fixation, or just a measure of the changing times and trends; more and more Keralite brides are making enquiries for gorgeous gowns. NRIs as well as Kerala based Christians and non-Christian now comes to Kochi and meticulously choose wedding gowns. Hindu brides whose engagement and receptions are being held at resorts and hotels, selects gowns of pastel shades like off white and subtle gold. As Muslim custom don't prohibit wearing gowns, they too opts for white as well as coloured gowns for mehendi functions just like Arabic weddings.
Few know that eight out of ten wedding gowns you find in the top retail outlets in our metros come from the remote northern corner of Kerala, where a designer, unleashes her creativity with utmost passion and proved that geographical limit is never a hindrance.
Most of the branded clothing shops have noticed this upcoming bridal trend and so orders are pouring in at Kanate Creations in Thaliparamba. "We sell 300-400 gowns a month to shops and retail outlets across Kerala and the price varies from Rs.4000 to 1lakh" says Shine, owner and designer at Kanate Creations.
In hi-end thematic weddings, gowns for the flower girls and bride's maids too have to be matched with the wedding theme and style.  Shine recounts the costume she did for a Vintage thematic wedding were an exotic champagne coloured chantilly lace was chosen for the bride. The dress had an A line silhouette  with a scalloped   hem line, high neckline, full sleeves and a soft silks sash at the waist  to enhance  the figure. The veil was lovely tulle bunched at the nape of the neck edged with lace, seed pearl and rhinestones. The maids and flower girls too dressed in a combination of chantilly and champagne coloured chiffon. "It was challenging and fun trying to create the perfect vintage look for the bride" she recalls.
"As available materials for wedding gown purpose are also very few in India, they are being imported" says Shine. Gowns with fine quality laces like Chantilly, Thai silks, Dutchess satin etc are in great demand with hand sewn crystal embellishments, Indian hand embroidery, Swarovski crystals, faux pearls and rhine stones.
It is a fact that as the trend is upsurging, more and more shops and 'gown' boutiques have cropped up in Kochi. But Shine reveals that Keralites still prefer conventional styles. "Gowns with sleeves are preferred, and broad back or off shoulders are yet to be a style statement." Many want something different showcasing an Indo- Western fusion, especially those who live overseas and into cross-cultural marriages.
Shine opines that gowns that have the same volumes of a lehenga, or a mermaid line can accentuate femininity. A personalised touch of a designer can highlight a slim silhouette or hide any unseemly bulge with draping techniques," she says. And if you're still thinking a white gown is too common,  jazz it up with traditional embroidery patterns and motifs. This especially fits for Hindu brides.

Handy Hints
• If you are slim around shoulders and heavy at hips, a fitted look at the top and a voluminous bottom which is high on drapes and nets, will work wonders.
• Combination of tight waist and rich volume bottom line makes a beautiful figure.
• V-line basque waist gets a slender impression.
• A-line gown suits any type of physique.
• Gowns with mermaid line highlights the body line and thereby an creates elegant shape
• High waists are recommended for plum brides.
• For brides with wheatish skin colour, it is better to avoid white.
• White goes perfect with wear diamond jewellery while off-white is great with gold
• Low waist gowns are good for tall and slim brides.
Know this DreamWeaver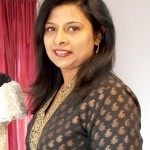 With a background in textiles and garment designing, Sine Benaven started her career after settling at Taliparamba, in the year 1996 with a single machine unit. Very soon Kanate Creations has been registered as a hi-fashion kids wear manufacturer.
In 2005, after going through the stringent design and quality evaluation, she was chosen as the sole supplier from Kerala for West side – India's leading retail store chain. She was also a preferred supplier for Globus, Lifestyle & Reliance Trend.
Find her on Facebook www.facebook.com/shine.benaven
[schema type="product" url="http://www.fwdlife.in/wedding-gowns-and-brides-of-kerala/" name="Sine Benaven" description="A wedding gown is the most special and memorable garment in a woman's life time. Even though a bit late to accept the gown tradition, Keralite brides have started accepting it with both hands and gowns are becoming a top notch style statement in wedding fashion. May be due to the allure and beauty of a Christian bride; to the surprise, even non-Christians in the state now demands for wedding gowns!" brand="Wedding Dress, Wedding Gown" manfu="Sine Benaven" single_rating="5″ agg_rating="5″ condition="New" ]