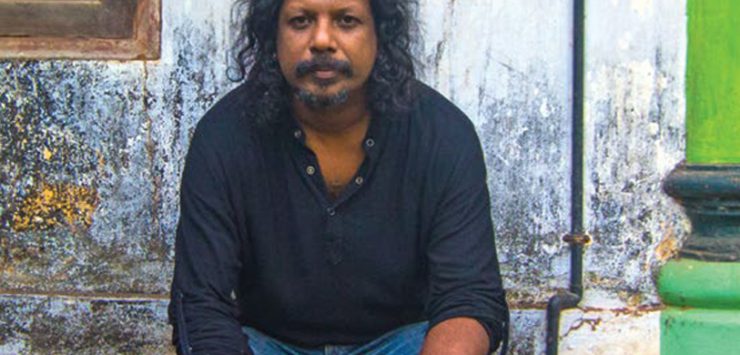 FWD gets in conversation with guitar virtuoso Baiju Dharmajan, the string whisperer.
Words by Likhitha P Nair    Photographs by Aghil Menon
Almost four years ago, while straying online in search of some interesting music, I stumbled upon 'Sacred Science' – a track that blends Njeralath Harigovindan's sopanam with Karsh Kale's percussion, bridged breathtakingly by the tone of Baiju Dharmajan's guitar. Being a three-time winner of the Jack Daniel's Annual Rock Award in association with Rolling Stone India, Baiju has redefined the music taste of every Malayali, adding some sprintz. For over a decade that he worked with Kochi-based rock band 'Motherjane', but has most remained as an independent artist. Baiju who started his life as a performer when he was five, has jumped genres and borders, while staying loyal to the heartfelt music he creates. Currently, he leads the music of 'Baiju Dharmajan Syndicate' – a four-piece carnatic rock band.
Walking into his jam room gave me a cultural shock. Drum sets and guitars camouflaged into the walls of a wornout centenarian home that screamed metamorphosis. Birds chirping and the afternoon breeze in-sync with Baiju's strumming seemed like poetic justice. His latest album 'Sweet Indian Child of Mine' is a well-tended rendition of the Guns N' Roses classic, set in a malayali background of greenery and paddy fields.
Behind the Indian Child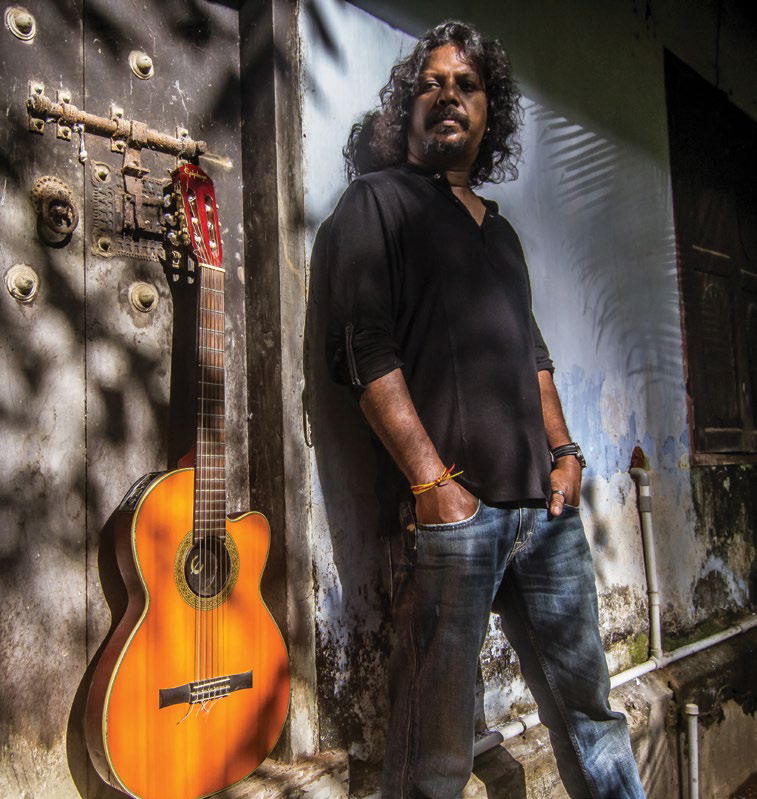 The 10-second commercial on a national music channel where "Sweet Child of Mine" is played on a sitar was Baiju's accidental inspiration to make 'Sweet Indian Child of Mine'. Then he met Gireesh, a musician honoured to possess the voice of rocker guru Axl Rose. When Baiju heard Gireesh at a concert a few years ago, he became an instant fan. "I went and met him right away. This was couple of years back". 'Sweet Indian Child of Mine' was born out of this bond that the duo formed."I had initially made an electronic version of the song, with distortion. It didn't seem right." Later, he decided to make the track entirely acoustic. The song borrows sounds from a guitar, gajra and base guitar. "Production is my latest craze. It excites me more than playing just one instrument. The scope that programming offers to a musician is fascinating," adds Baiju.
Soul Music
"When I think about my music, my father's vinyl records with old movie tracks and ghazals rush to my mind. I will be at ease playing a malayalam song compared to a Jimi Hendrix one. Western music is what I acquired. I work to perfect it, and I take pride in the process involved. But the music I have experienced is far from it, and I always think that has kept me rooted to my soul." Listening to his old tracks and new projects, sitting in his jamroom was an enlightening experience. It was as if his music was scattered in the dim-lit rooms of the house, waiting to march at his command. "A band is both a curse and a blessing for a musician. While it teaches you to tolerate and accomodate different styles and brings in a certain discipline, a band is also a box – a genre box that you are hesitant to break out of," he adds.
Between the Strings
Baiju has worked with a spectrum of artists from all over the world. "Most of them come live with me. Creativity doesn't happen when you are shut inside a room, at least not for me," he says. "Karsh used to tell me that Pandit Ravishankar is someone I must definitely meet. Apparently when you tell him about your music, he treats you like an equal. That is how simple an artist should be. Talent should make one enthusiastic and humble". I remember preparing for this interview with utmost anticipation. But I left Baiju Dharmajan's jam room with gratitude and affection, the satisfaction of having shared thoughts with an unapologetic musician and modest human being. One could rephrase Elliot's words to describe his passion – "he is the music, till it lasts".