Telugu Actress Sri Reddy Goes Topless To Fight Casting Couch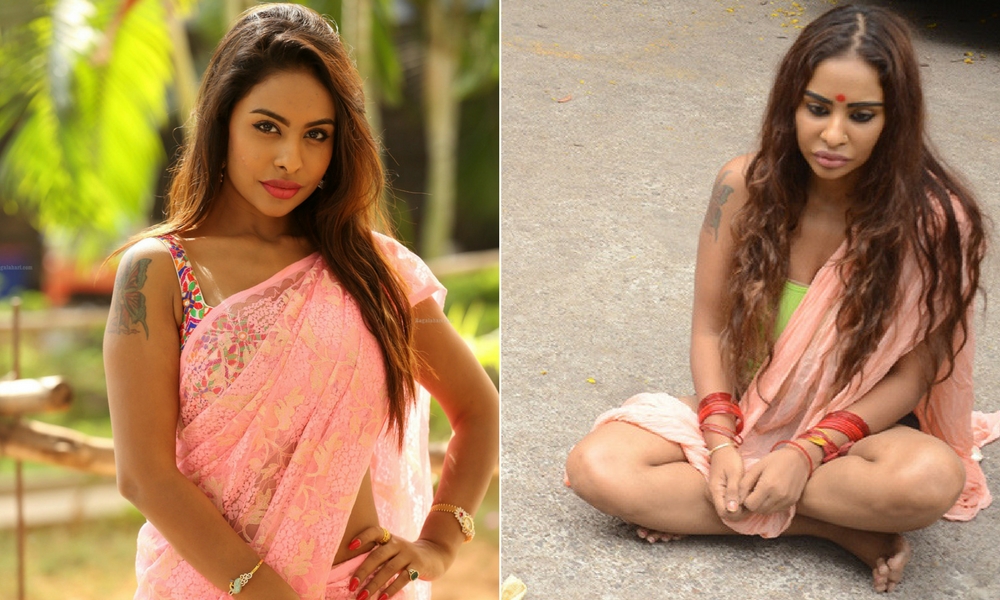 Aspiring actress Sri Reddy strips on the streets of Hyderabad to protest against the casting couch trend in the Telugu movie industry. The actress also accuses Movie Artistes Association (MAA) for denying her membership for being vocal on the issue
In recent times, India has witnessed shocking revelations on casting couch by actors from both South India and North India. An add-on to the list, Telugu actress Sri Reddy has taken a step forward by revealing her experiences. She protested against the trend by staging a public-stripping act last week.
On the afternoon of April 7, Sri Reddy demonstrated her disapproval of casting couch in Telugu Film industry by stripping on the streets of Hyderabad. The actress who arrived at Telugu Film Chamber office at Jubilee hills removed her clothes and became partially naked in front of the public.The protest took place two days after she posted on Facebook her need to meet Chief Minister  K Chandrashekar Rao to discuss the issue. She threatened to strip in public if her need is not considered.
Addressing the media present there, Sri Reddy stated that the dissent is her way of expressing grief. She said that despite being nude in front of several people in the industry, she is still being denied roles. At the same time, directors give roles to actresses who are imported from Mumbai and Chennai after using them for their sexual needs. In spite of being talented, local actresses like her remain the same, she added.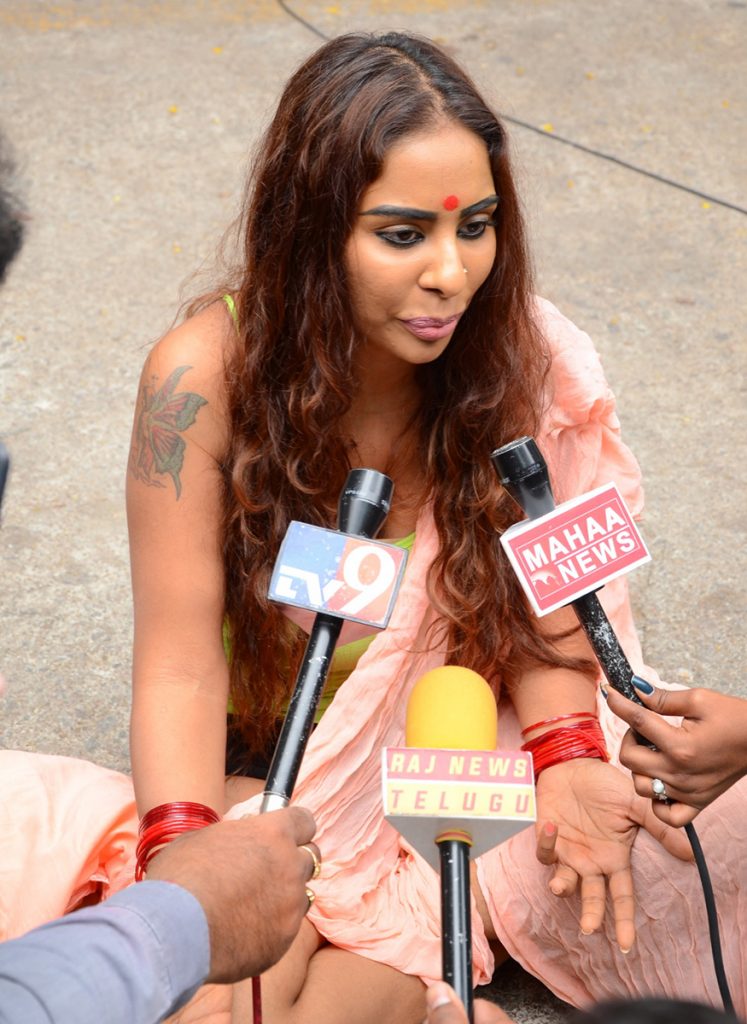 Source: news18.con
The actress also claimed that she was denied the membership in Movie Artistes Association (MAA)  for being vocal about the prevalent casting couch trend. The police, who rushed to Jubilee Hills, took the actress into custody. Even though the police officials suggested her to lodge a complaint on the allegations, she denied. Later, citing this act, MAA  stated that Sri Reddy will not be given membership anymore.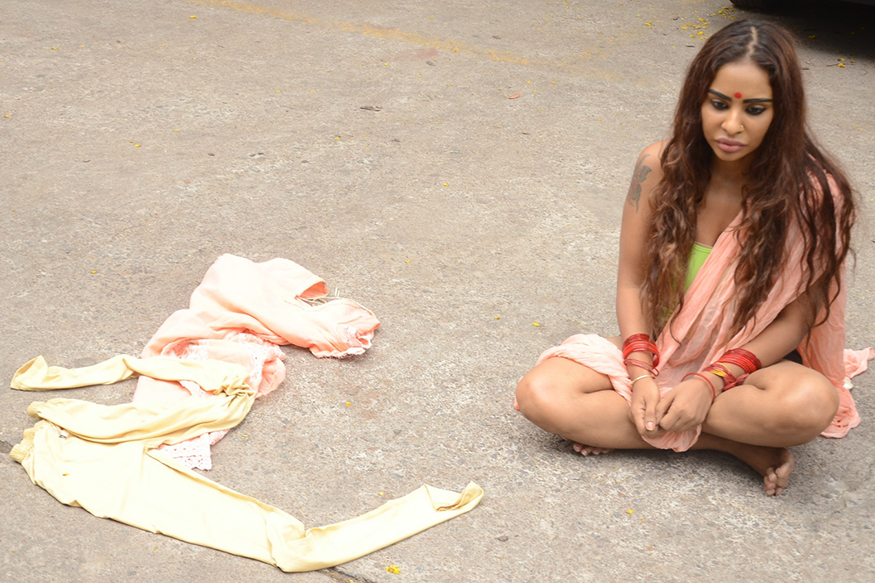 Source:news18.com
Sri Reddy began her career as a newsreader and later appeared in a number of Telugu movies. For the past one month, the actress was quite vocal on casting couch through Facebook. She was sharing various screenshots of people from film industry approaching her for sexual favours. She claims that many of them have asked her to send inappropriate photographs.
Sri Reddy was honest in admitting that she had accepted some of the demands but says that she was denied the roles even after. Naming a few, she accused Kannada director Shekhar Kammula on the issue, who later threatened her to take legal actions for defamation.
After the protest, the actress had to face a huge media backlash. Only a few of her followers in social media came to her support and the rest considered this as her trick to be famous overnight.
Tovino Starrer Kaadhale From Maradona Is Creating Romantic Ripples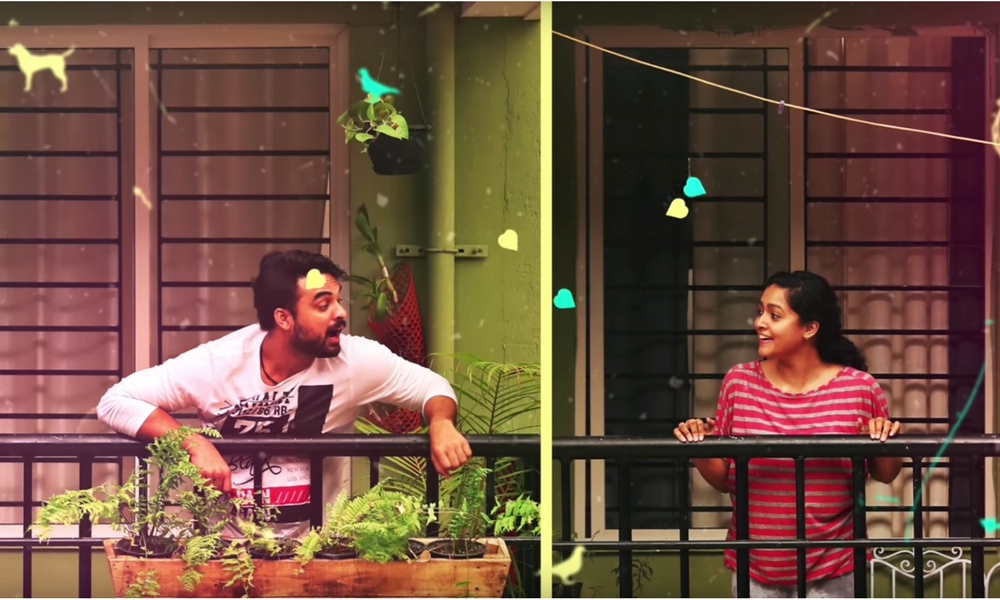 The song talks about the sweet moments when two people entering a relationship. The lyrics show the attraction and appreciation between Tovino Thomas and Sharanya, which grows like a blossoming flower. Romance is the main idea which surrounds the song
Text Credit: Shibul Pavithran 
The film, features Tovino Thomas, and debutant Sharanya in the lead role. Maradona is directed by Vishnu Narayan and is bankrolled by S Vinod Kumar under the banner Mini Studios. The film's story and screenplay have been written by Krishna Moorthy. Its song 'Kaadhale,' crooned by Sruthy Sasidharan is a mellow romantic track written by Vinayak Sasikumar, for  Shyam Sushin's tune. The song has a very romantic feel to it, and quite beautifully describes the fantastic period of getting into a relationship.
The others stars in the film include Chemban Vinod Jose, Leona Lishoy, Tito Wilson, Kichu Tellus and Jins Baskar, with Deepak D Menon handling the camera and Saiju Sreedharan being its editor.
While the title gave rise to speculations that it may be a sports drama centred around football, apparently it is not the case.  Maradona will be an action-packed romantic drama, the film is all about a youngster, played by Tovino, who raises his voice for his people. The movie is expected to hit the theaters by May.
Beyond The Clouds: Revealing Mumbai Like Never Before!
Beyond The Clouds is a movie that runs deep into the social lives of ghettos. It is about how someone in search of making quick money lands into the nasty game of the underworld in Mumbai. This movie explores the noir and sensitive aspects of playing the jackpot. It's a story about love, loss, and realisation
Text Credits: Shibul Pavithran    
Oscar-nominated Iranian filmmaker Majid Majidi, known for social realism in festival favourites such as Children of Heaven and Baran, might have travelled far from home for his latest venture, Beyond the Clouds, but his spirit of storytelling survives the jet lag. The film stars Ishaan Khatter and Malavika Mohanan and was shot extensively in Mumbai, will be released April 20th, across theatres in India.
The film revolves around two siblings, living in the Dhobi Ghat and going about their lives, when suddenly tragedy strikes. From hiding a pack of drugs to a gruesome arrest, leading to the struggle to break free, which seems to be the main crux of the film. After we watched the 2:16 minute trailer, our hearts were forced to feel the emotions of the relationship between Ishaan and Malavika's character, but in the bargain the story seemed to miss our attention. One second watch, it's easier to understand the plot that revolves around the want to make quick money and a boy who gets himself involved with a dangerous drug cartel to earn a quick buck.
It is highly unsubtle and impassioned Mumbai melodrama where Majid takes an unexpected leaf from the Bollywood book in his first step towards Indian cinema.  However, it is inevitable to draw a comparison between the feel of Beyond the Clouds and Slumdog Millionaire.
Source: youtube
Mumbai city also plays a very central character in the movie. Cinematographer Anil Mehta's (Secret Superstar, Lagaan, Veer-Zaara) lens glides, soars and dips through the dingy streets and jungle like structures with adequate majesty and filth, making it look raw and beautiful at the same time. The film pays tribute to this sleepless city, like countless films have done before — Vidhu Vinod Chopra's classic 1989 film on the underworld, Parinda; Mani Ratnam's 1995 inter-faith love story Bombay, Ram Gopal Verma's Satya, and more recently, Anand Gandhi's 2013 debut film, Ship of Theseus. Beyond the Clouds stands to join this impressive list on an equal race.
Also the music is composed by A.R Rahman and has a very entertaining and magnetic feel to it.  The film certainly has many factors that make it a must watch!
Racism? Not Really, Says Star of Sudani From Nigeria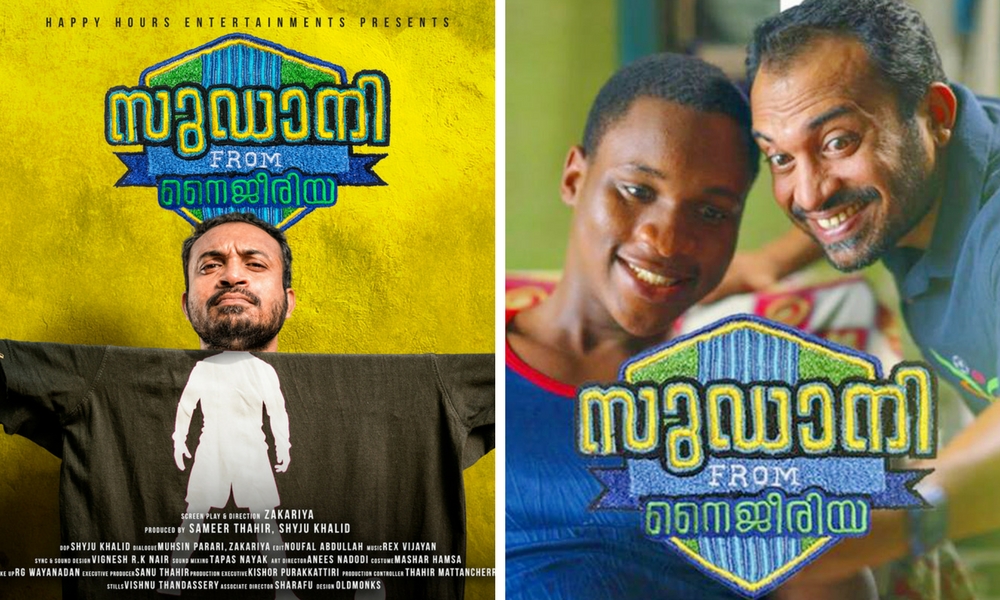 Samuel Robinson, star of hit movie, Sudani from Nigeria, who sent shock waves across Kerala last week, has retracted his allegations of racism against Happy Hours Entertainment. Apparently, it was all just a big ol' misunderstanding
Given how the commercial hit, Sudani from Nigeria, was all about the message of universal love, everyone was shocked a few days ago by what Samuel Abiola Robinson had to say. A Nigerian actor of some note, he accused the producers of having misled him regarding the movie budget and paying him a discriminatory amount. He surmised that racism might be the reason for this.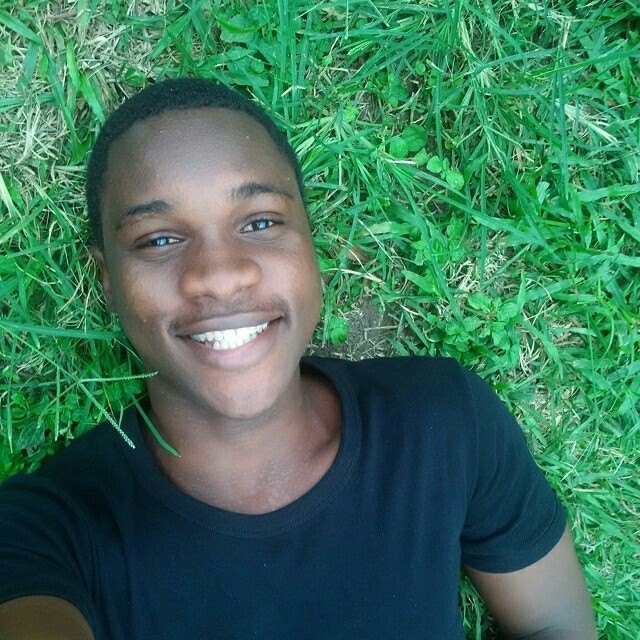 Source: Facebook
Opinions flew thick and fast, with director Ganesh Raj one of the loudest detractors of Samuel's claim. Meanwhile, many others spoke out in support, saying the matter deserved looking into, as he wasn't a newcomer but an established actor in his home country, and deserved to be paid as such.

However, it seems that matters have been solved. Samuel posted another message on Facebook saying that he had been recompensed adequately. Apparently the entire hullabaloo was caused by "misunderstanding, miscommunication and misinformation". He specially thanked Minister T M Thomas Isaac, and asked the public not to think ill of "Shyju Khalid, Zakariya, Sameer Thahir or anyone involved with the Happy Hours Entertainment", for they had all been like family before the controversy. He even said that "Kerala is one of the friendliest places in Asia for an African to visit".

And now, all is well. The world is right again. And those of us who haven't watched the movie yet, can now do so without any moral misgivings.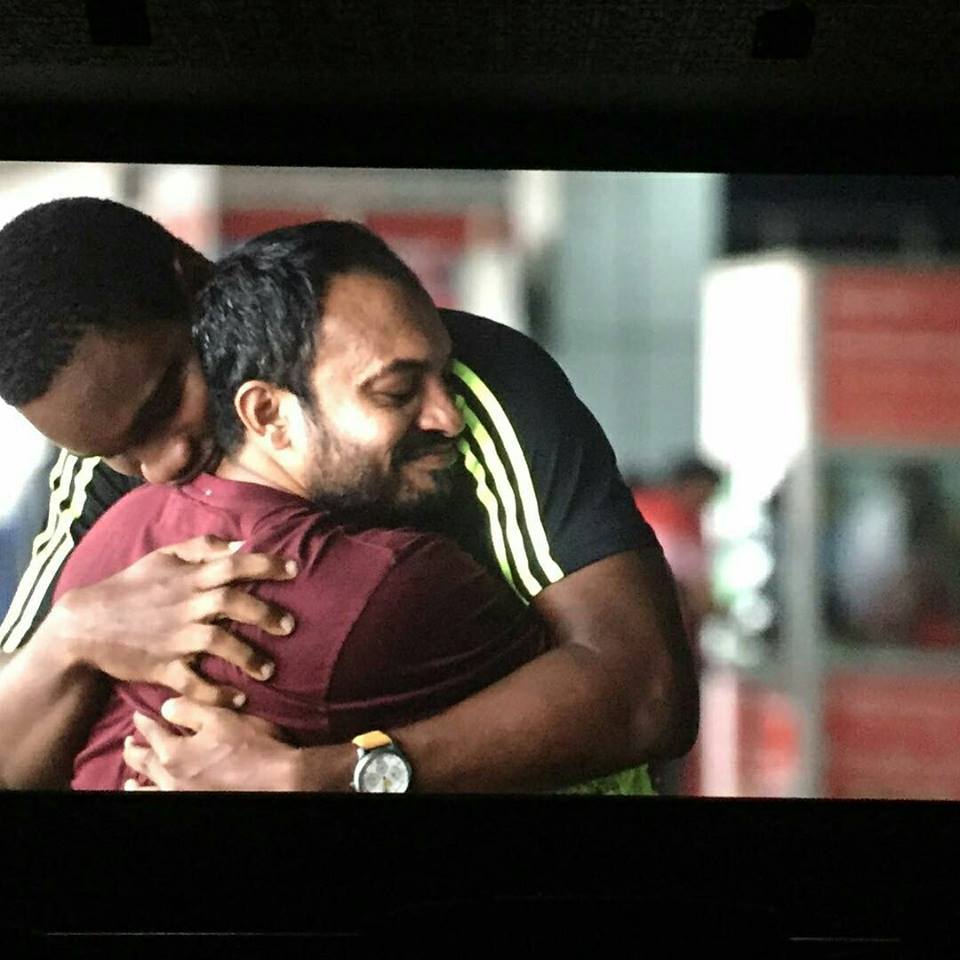 Source: Facebook