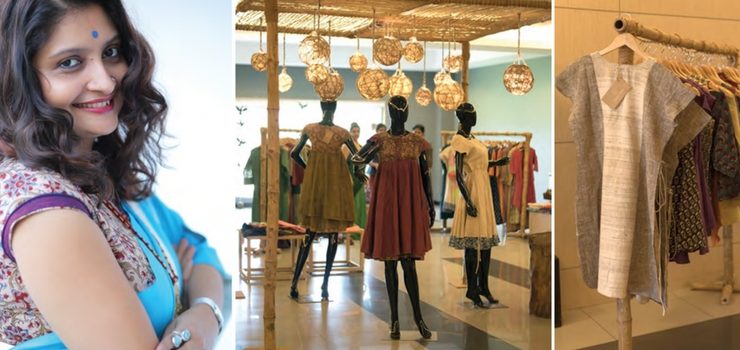 Anjali Varma is known for her beautiful, elaborate bridal and formal outfits
Text: Fathima AbdulKader   Photos: Various Sources
While there are many expos and exhibitions occurring every other day featuring a myriad of apparel and lifestyle accessories, fundraising expos are not as common as they ought to be, considering the purpose they serve. For Anjali Varma, the contemporary Malayalee designer and mother of two, her latest expo titled Khadi Tale; Reunion of Organic Era, was aimed at raising funds for the worthy cause of pediatric cancer.

Weaving tales
Anjali Varma is known for her beautiful, elaborate bridal and formal outfits under her brand Anjali Varma Be Mine Bridal Studio, but she opted for more casual pieces to make it appealing to the attendees at her recently concluded fund raising expo that prominently featured handloom attire. Showcasing beautiful indo-western pieces in handloom fabric with Kalamkari and other traditional works, she attempted to highlight the beauty of organic fabrics and tried to promote environment friendly material at Khadi Tale. As Khadi is the best suited fabric for the Kerala climate, it was a part of each aspect of the expo, from the pieces on display to the décor and accessories.
Organized at the clubhouse in Sobha City, Thrissur, the event was held on 13th and 14th May and was inaugurated by T.S. Kalyanaraman, chairman of Kalyan Jewelers. With a remarkable turn out that helped raise a substantial fund for the cause at hand, the proceedings from the event were given to the acclaimed NGO SOLACE led by social worker Sheeba Ameer. The event was organized in association with BMW EVM Autokraft, Asset homes and ESAF Bank. After witnessing the positive response to the event Anjali Varma was quick to say in an interview that more such fundraisers are in the books, starting with the next one in Kochi. As a mother and socially aware citizen, doing something for cancer stricken children is something she has wanted to do for a long time and marrying this cause with her passion for design resulted in the success of the Khadi Tale.
Digital Version: https://goo.gl/Bs9vlq