Sunny Wayne and Reba John: Up close with the future of Malayalam cinema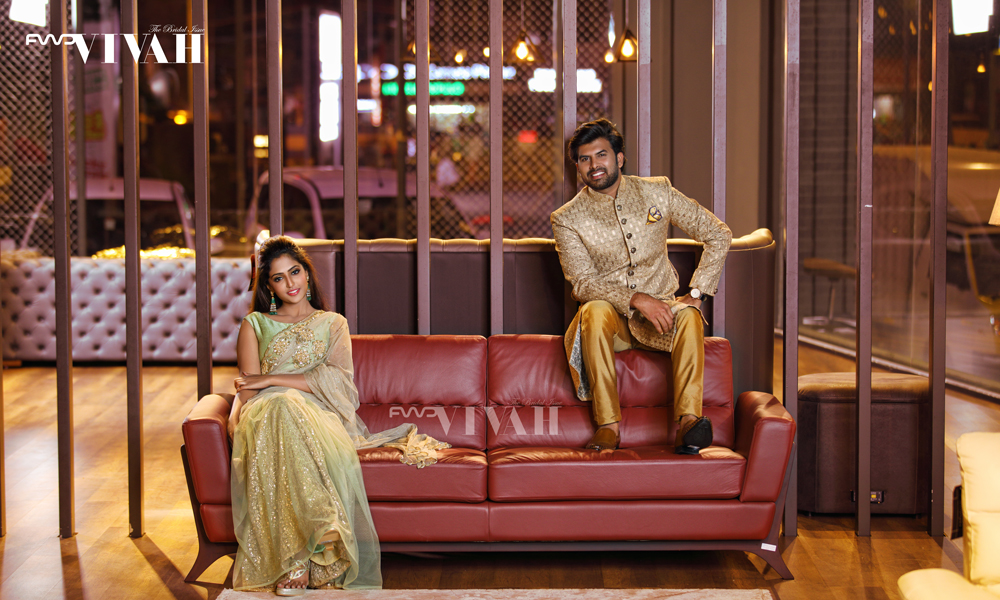 Actors Sunny Wayne and Reba Monica John talk about their journey in film industry and share their thoughts on weddings and relationships for FWD Vivah
Words by: Shibul Pavithran
Sunny Wayne has acted in many big movies as lead and supporting actor. Some of his memorable performances were in movies like Second Show, Annayum Rasoolum, Neelakasham Pachakadal Chuvanna Bhoomi, Aadu Oru Bheegara Jeeviyanu, Annmariya Kalippilannu and Aadu 2. He is a trusted name in the Malayalam film industry and is known for his versatility and genuine portrayal of his character.
Reba Monica John has the ability to perform diverse roles with grace with effortless ease. She stands out in the list of newcomers in the Malayalam film industry. Reba rose to fame with her debut role in Jacobinte Swargarajyam. And in her second movie was Paipin Chuvattile Pranayam, in which she donned a very different role as compared to her previous film. She currently has plans to venture into Tamil Cinema
FWD Vivah asks both the actors some pertinent questions about their film career so far, their personal preferences and some questions about their wedding plans. Buy our latest copy to read the full-fledged interview with the charming stars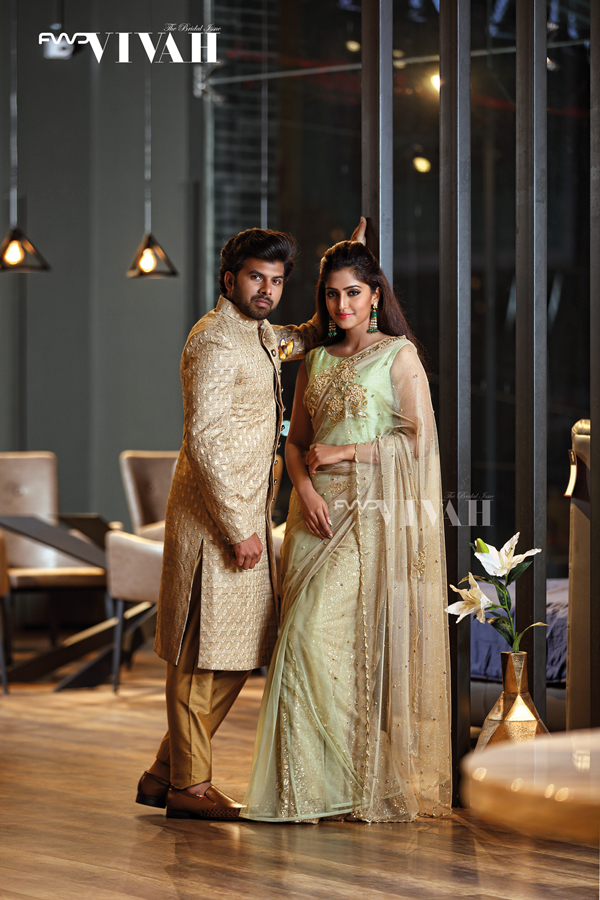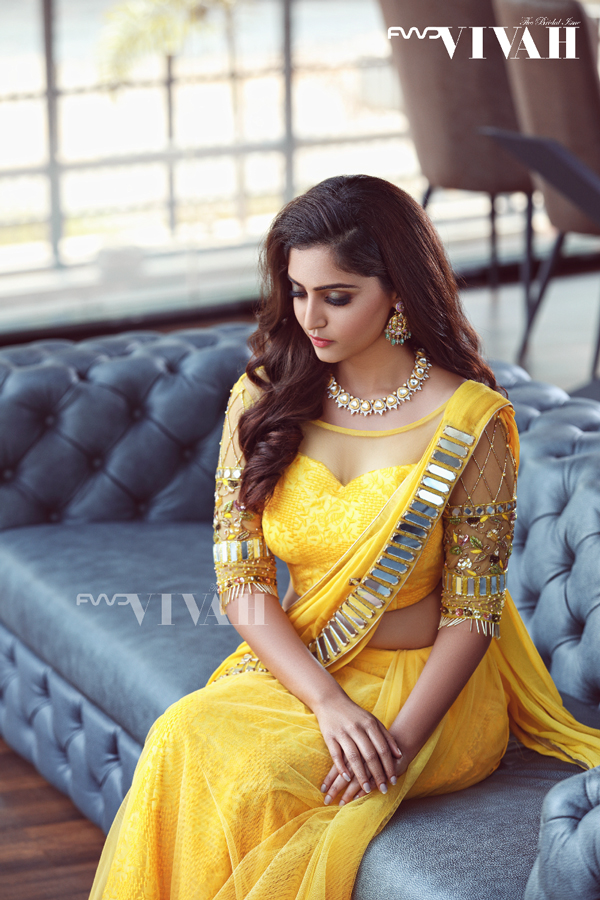 Models: Sunny Wayne & Reba Monica John
Photographer: Jinson Abraham
Styling: Namrata George
Makeup & Hair: Unni Ps
Retouch: Jemini Ghosh
Location: Homesoul Theyyampattil, Ernakulam
Production: Maxxo Creative
Costume – Reba John: T&M By Maria.Tiya.Maria, Kochi
Sunny Wayne: The Raymond Shop, M G Road , Marine Drive, Lulu Mall and Tripunithura
Jewellery Courtesy: M.O.D Signature Jewellery, Kochi
Footwear: Sylcon
Triumphing Over the Odds – Vijay Babu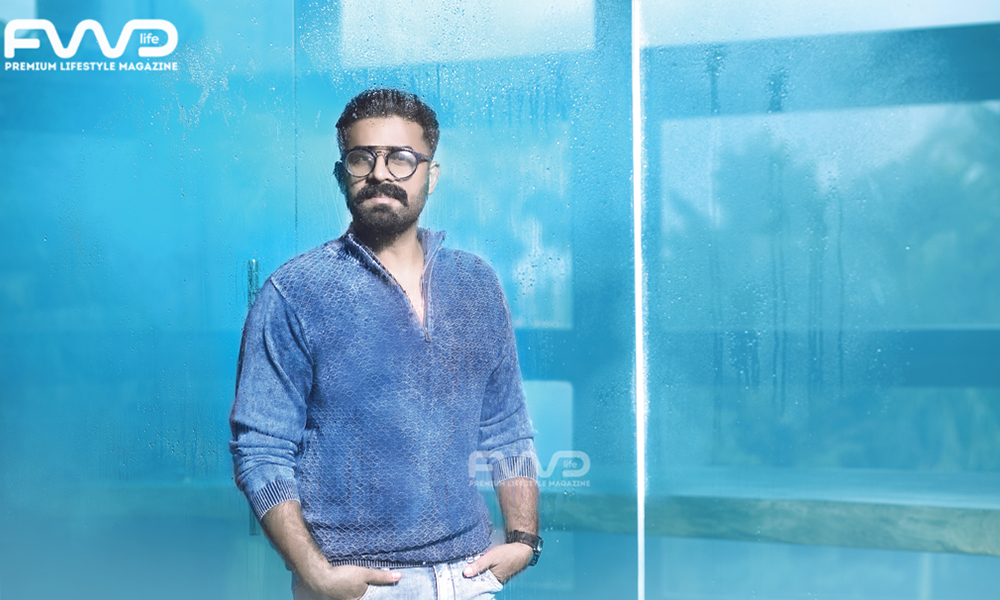 Vijay Babu is a tower of confidence, having established himself as a producer with his company Friday Film House, and is on the way to making it big as an actor
Words by Charishma Thankappan                                                Photographs by Jinson Abraham
"When you go through a lot of pain and then achieve a huge success, it is extremely rewarding." And none other than producer and actor Vijay Babu can vouch for this truth of life. After facing a setback with the initial release of the film Aadu Oru Bheekara Jeevi Aanu, 2015(Aadu), Vijay is now basking in the success of Aadu 2, a product of his production company Friday Film House. Riding high on the wave of accomplishment, the past year was one of the best for Vijay, who was part of one of the biggest hits of 2017 – Angamaly Diaries.
Read on to learn Vijay Babu's experience in the Malayalam film industry so far, in the latest issue of FWD Life, Dec-Jan 2018 edition
The Lucky Pair – Jayasurya and Ranjith Sankar
This awesome twosome, Jayasurya and Ranjith Sankar, reunite to make yet another movie, Punyalan Private Limited
Words by Rheanna Mathews   Photographs from Jinson Abraham
No Malayali is unfamiliar with Mollywood's power combination of much loved actor Jayasurya, and Ranjith Sankar, a director who has a number of successful movies on his mantel. Their fourth movie together, Punyalan Private Limited, released this November, as delighted audiences saw the actor revisit the role of Joy Thakolkaaran, from Punyalan Agarbattis.
Conversation with the duo goes as any fan would expect, with Jayasurya being his humorous, yet no nonsense self and Ranjith, with his gravitas, being a perfect foil to the actor. They spoke little about the new movie, believing their work would show for itself when theatres across the land screened it to the public, but were more forthcoming about their creative collaboration, on and off set, and the camaraderie they share with each other in real life.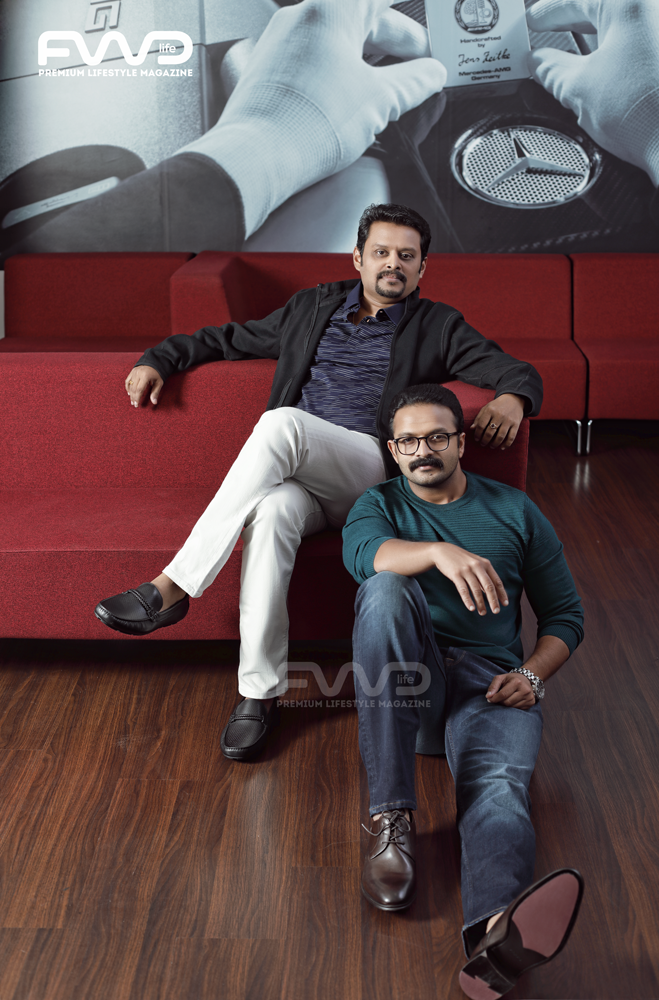 One is offered a true, but brief, glimpse into the relationship that an actor and director build over the years, perhaps offering a formula for what goes as success in the Malayalam film industry.

Find out who is the bigger foodie between the two, and who is more of a gadget geek; how does Ranjith Sankar go about his shooting schedules, and what would Jayasurya have been doing in a parallel universe. Read about all this and more in the November issue of FWD Life magazine, in stands now.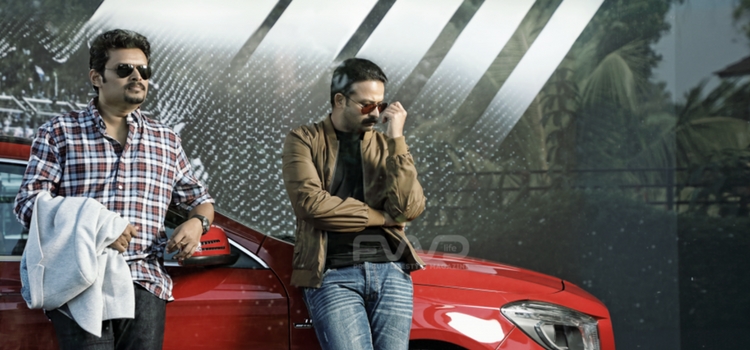 Photographed by Jinson Abraham
Makeup: Kiran Peter
Styling: Namrata George
Costumes: Marks and Spencer
Accessories: Top Grain
Watches: Oris, Swiss Watch Boutique
Shoes: ALDO Shoes – India
Retouch: Jeminighosh S
Location Courtesy: Mercedes-Benz Rajasree Motors, Aluva
Production: FWD Media
Destiny Steered her Career, Says Kajal Aggarwal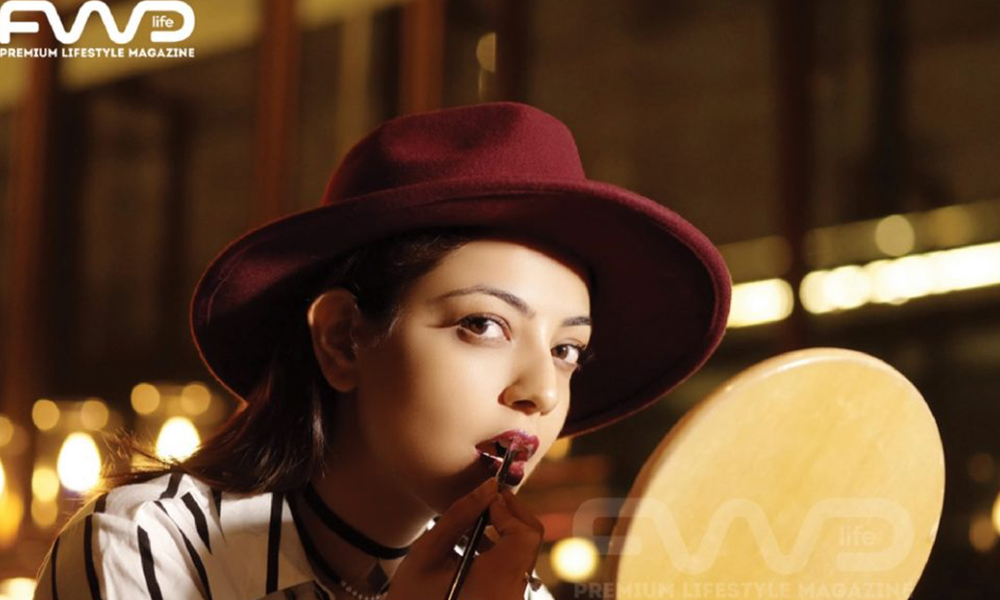 The actress speaks to FWD Life about her life, roles and success, in between promotions for Nene Raju Nene Mantri and Vivegam and shooting for Mersal
Words by: Rheanna Mathews    Photographs from: Rahul Jaghania    Makeup and Hair: Loveleen Ramchandani 
If a busy schedule is the sign of success, Kajal Aggarwal has achieved it, and then some. Amidst a whirlwind of promotions for her two upcoming movies, in between airport sprints and a few precious moments of quiet relaxation, we were able to chat over the phone.
A full plate
With two movies, Nene Raju Nene Mantri with Rana Daggubati and Vivegam with veteran actor Ajith Kumar, releasing back-to-back and shooting for a third movie, Mersal with Tamil heartthrob, [Joseph] Vijay, in between promotions, Kajal has her plate full. But her upbeat personality seems pretty elastic, as even from her conversation, one feels that she is raring to go, to do more. Her years in the industry also seem to have honed a native talent for diplomacy, for when asked who her favourite co-star is, she easily sidesteps the baited question, as "all three of them are very special in unique ways".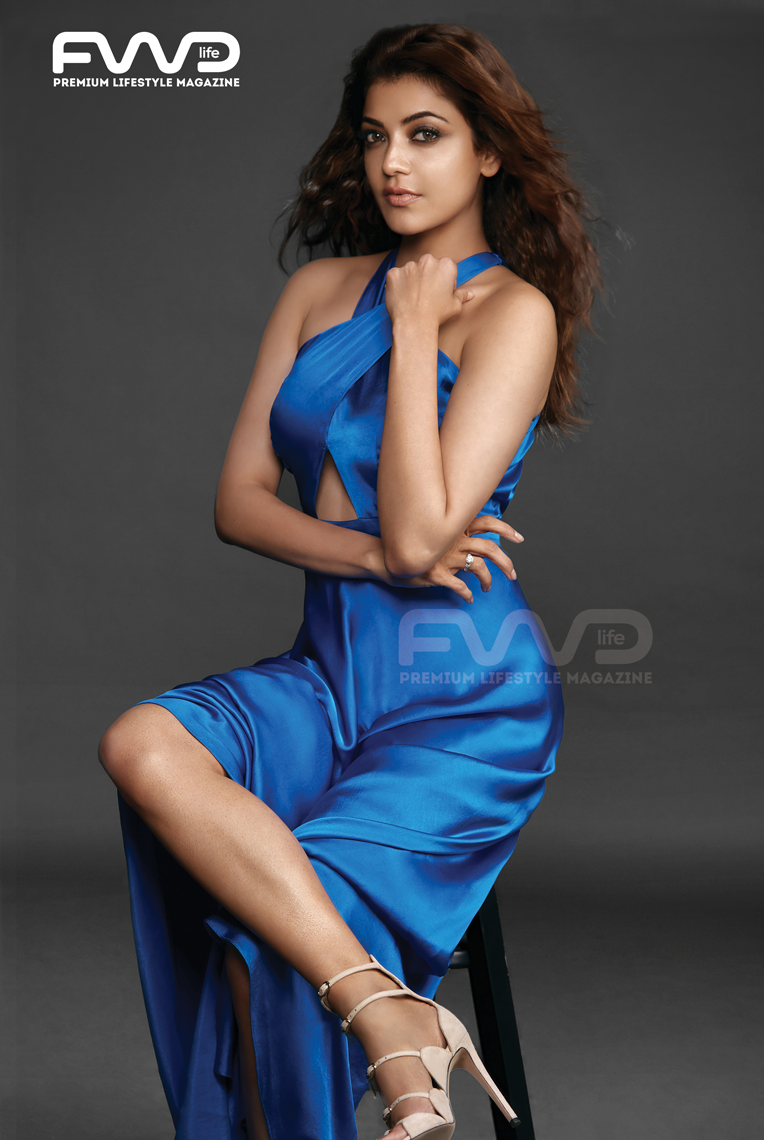 With a range of movies in different languages under her belt, Kajal has never felt language to be a barrier when it comes to acting. Whether Telugu, Tamil or Hindi, she places importance on the craft, and when that happens, a different language simply becomes a stepping stone to newer experiences and wider horizons. Then how come she hasn't stepped into the Malayalam film industry, you ask? Missed opportunities, clashing dates and that busy schedule again. Kajal reiterates that Malayalam too is a language she'd love to work in, with the industry being famous for its "technicians, stories and amazing scripts. The directors have the most creative ideas; very out-of-the-box scripts. So of course I'd like to collaborate!"
As one would expect from an actor with a decade of movies in her portfolio, Kajal places importance on quality rather than quantity, expressing a wish for roles that satisfy her creatively, with a different sort of stories and performance oriented roles that, again, places emphasis on the craft. In terms of genre, she is looking to do action and comedy movies, perhaps, in order to stave off the typecasting that we are all wont to do.
Describing her childhood self as 'Kajal the Menace', a bratty child who needed her mother's constant supervision to stay out of trouble, Kajal says that although acting was always a passion and a hobby, she never imagined in her youth that she would pursue it as a career. "I'm totally Destiny's child", she says as she credits serendipity, pure chance, for the choice of her profession.
On the meaning of 'success'
By all accounts, Kajal is scaling the heights. Counted among the stars of the industry, Kajal is much sought after, loved, and perhaps more importantly, respected, by the populace and the film industry. How does such a person define success? Is it by the sheer amount of movies generated? The people one works with? Or by the trappings of success – the designer clothes, the jet-setting lifestyle, the luxury villas and sedans, the glitz and glamour of tinsel town? Maybe a combination of all the above?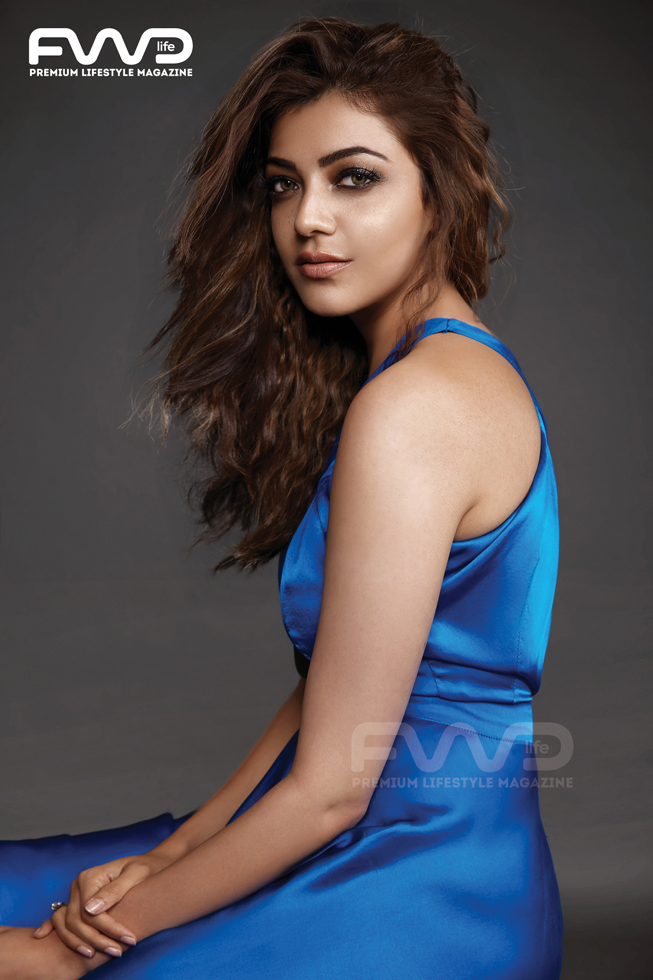 Kajal is unsure if she can chart her success with just her career graph. She looks at success as something fleeting. There a moment, gone the next. For, as fallible as human nature is, one's wants and desires keep changing. As soon as you achieve something, there's something a little further down the road that you want more. A little bigger, a little better. So then, given this constant state of desire, when do you really succeed? She says, "Maybe I'll look back in a couple of years and feel happy about my career so far, but I wouldn't call it one of the most successful runs either. Of course, I've done great films, worked with fabulous people and I'm proud of all that I've done. I have no regrets. But, I equate success to something deeper than that. It is a very personal feeling, and the minute you are able to grow in some manner or able to change yourself at any level, then, you are truly successful. This lasts longer too."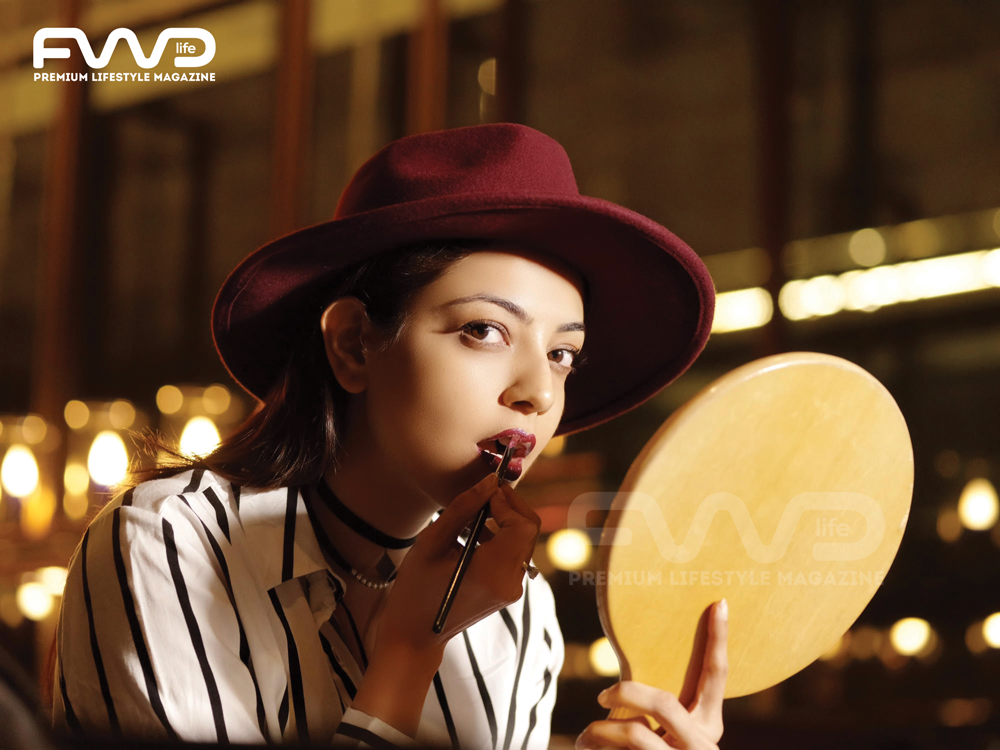 Looking now to remake the Hindi movie, Queen, Kajal is still unsure of the long term plan. She takes it as it comes, wishing to live a balanced life, and trusting to Destiny, who has steered her well so far.