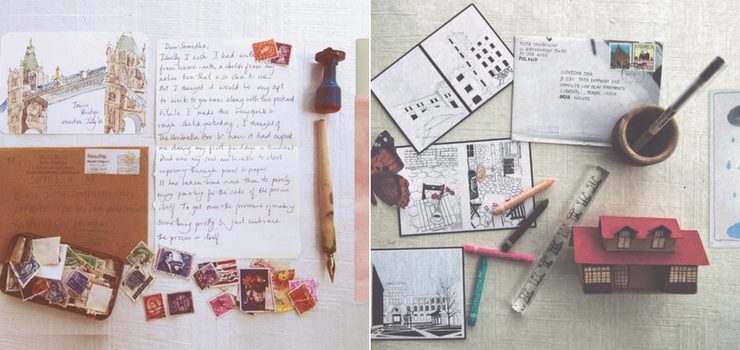 Mumbai-based artist Sumedha Sah is bringing back the practice of handwritten letters through The Snail Mail Project
Words: Charishma Thankappan      Photographs: Sumedha Sah
At a time when modes of communication are constantly transforming – from 140 characters, emojis, to updating the current status in life via feelings, activities, or stickers; there is little remorse about the death of expression through words and language. While our fingers have learned to type at breakneck speeds, and often without even having to look at the keyboards; what our fingers have ceased being able to do is actually write with a pen on paper.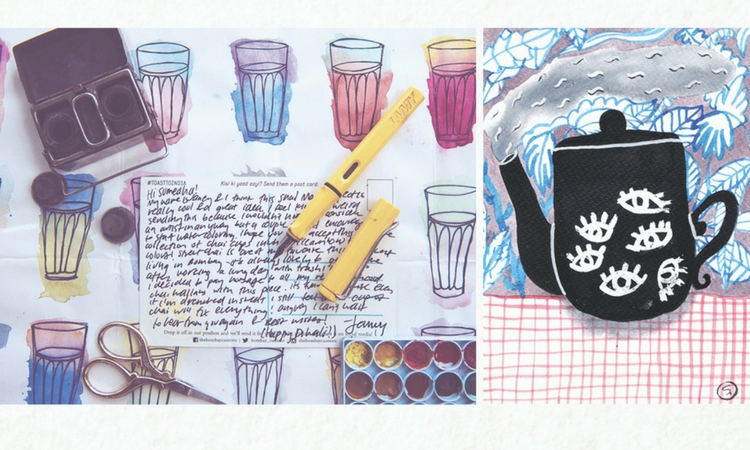 Amidst the chaos of an age that is scaling the peaks of technology for communication; one person is making a concerted effort to keep alive a dying tradition. The practice of writing letters – on the threshold of being relegated to a historical period in the evolution of humanity, is being kept alive by Sumedha Sah, a Mumbai- based artist.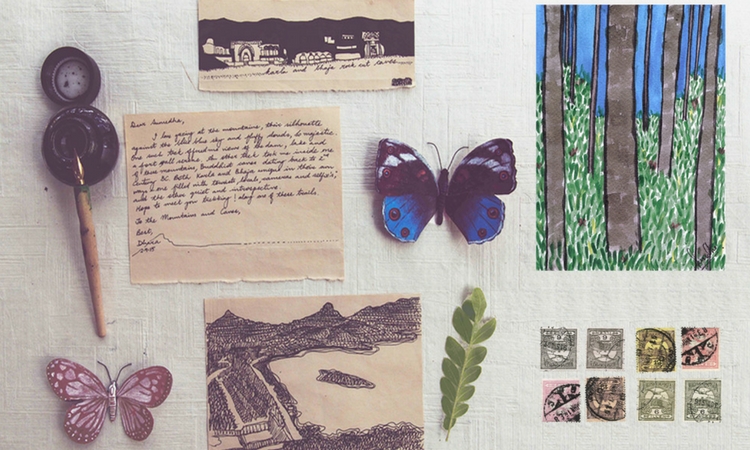 'The Snail Mail Project' is a personal initiative by Sumedha, where she invites anyone to send her a handwritten mail. In return, she replies with an original illustration. Sumedha calls the initiative "an exchange of thoughts, ideas and art". It is for everyone who shares a love for letter writing, she says. "The letter may be about anything, a book they're reading, places they've been or their ideas about the world. It can be anonymous; a paragraph or a page; a letter or a postcard. They may send a doodle or a photograph; a pressed flower or a broken leaf; a word they love or a phrase they hate. I urge people to send me anything that engulfs their imagination or anything that they feel is worth sharing with the world," says Sumedha.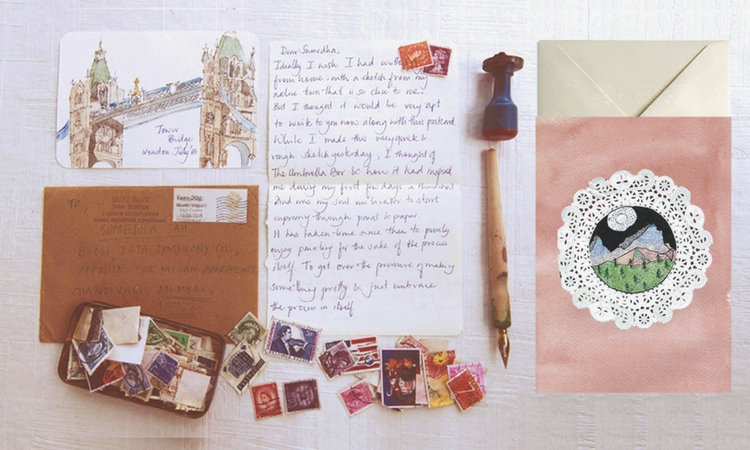 Having grown up in Nainital, she cherishes her memories from her childhood. Exchanging letters with her father when she was young is what inspired her to conceptualise this project. "Nostalgia has been quite important in what I do." So does her project stem out of a social responsibility to bring back a dying culture? "My attempt here is not to be an activist or a model to bring back a culture; it is in fact a deeply personal project and I am fascinated to find many people identifying with it, not just in India but all across the world," avers Sumedha.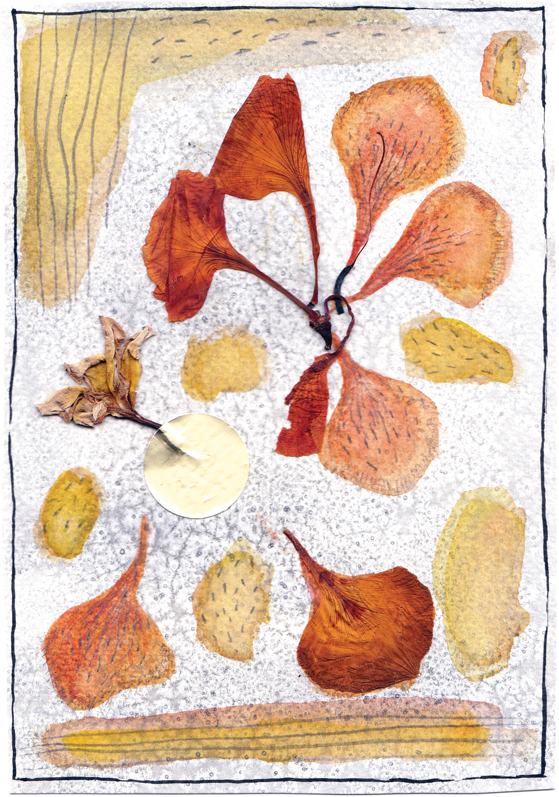 About the purpose and relevance of handwritten letters in today's time, which evokes a conscious attempt at writing; as against the mindless ramble on instant messaging, Sumedha says, "There is something deeply humane about putting pen to paper. Letters and postcards remain to be read, appreciated and preserved years after they have been written. The electronic age may be faster but the charm of a letter in your postbox can never be compared to receiving an e-mail. A handwritten letter is immensely powerful; its value lies not only in its permanence but also in the fact that it helps us connect with our minds. Letter writing is personal and requires our undivided attention, it forces us to live in the present moment and contemplate our thoughts and ideas without other distractions."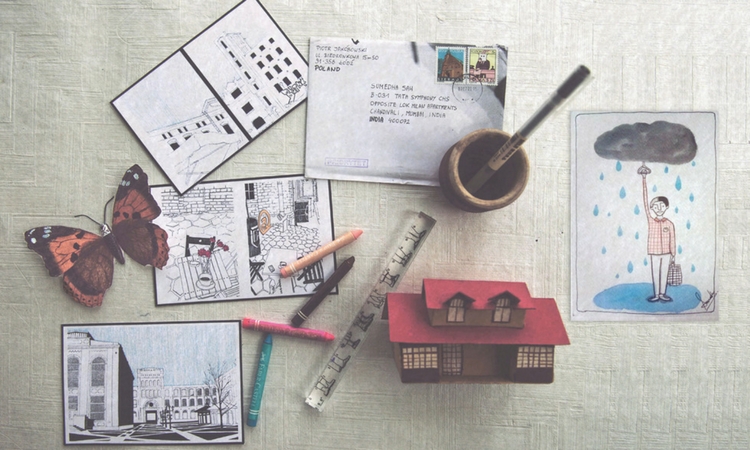 Sumedha says that the letters she receives are quite varied in content. "Some are descriptive like travel accounts, life stories or incidents, and some are more creative like poems, illustrations and even recipes," she says. "The most common themes are love and travel." She has even received letters of anguish, as in the case of an Australian national living in Mumbai who was vexed about the questionable behaviour of Indian men towards women. Sumedha says that she found it difficult to respond to this letter and did a lot of research and reading to come up with an appropriate reply. "However, in the end, I was left without an answer but only a few words I read somewhere long ago – 'A society which disrespects its women is bound to fail'," she says.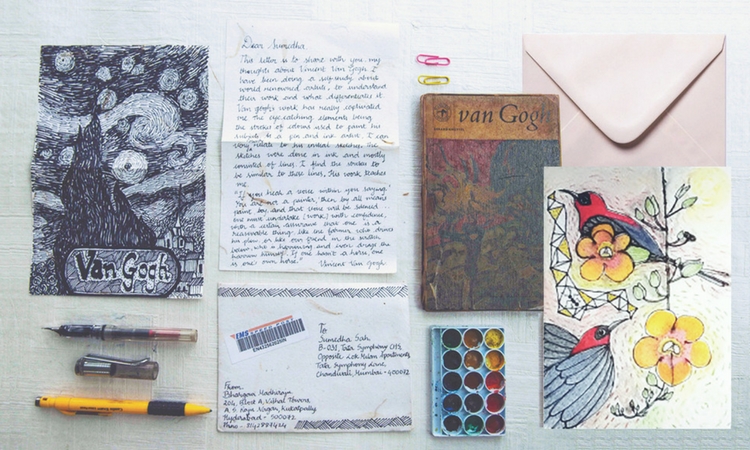 So has she found any regular pen pals through this activity? "The project moves away from the idea of a pen pal and rather focuses on something more relevant in today's time. The essence of the project is to share your thoughts and ideas. Every letter is a onetime exchange and its popularity lies in its fundamental idea – to exchange, connect and co-create. All of us, busy bodies are looking for a way to slow down and connect with our world and ourselves. The Snail Mail Project enables one to take a breath, sit down in solitude, reflect and create." To participate in The Snail Mail Project, you can contact her at [email protected]