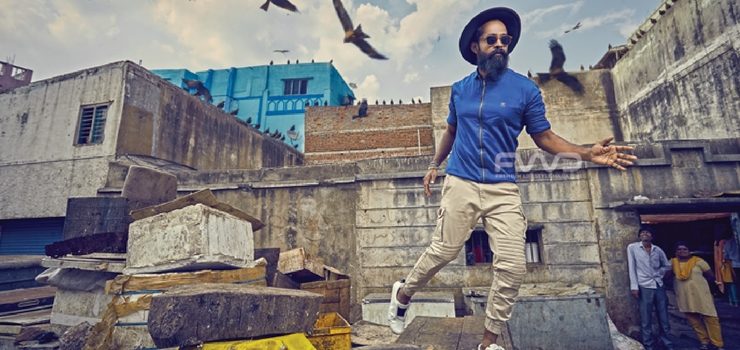 Transcending beyond the runways and the spotlights, fashion and photography take to the streets and find their place amidst grimy back alleys and bustling marketplaces
Text: Susmitha Suresh    Photos: FWD Media
Fashion, Photography & the Streets. Staying sharp in casuals that are stylish and upbeat is no easy deal. Maybe that's why most fashion shoots happen behind close doors, and on runways where the glamor is reflected off of the models with spotlights and camera techniques. Transcending beyond that, Kochi born celebrity photographer Sanoj Kumar shot a series on the theme 'Step Up To Fashion' with Shani Shaki as the model. With over 17 years in the field, his choice of the backdrop for the shoot was not specifically tailor made for the shots. They were grimy back alleys and bustling marketplaces, all bright with life but seemingly devoid of the glamor of fashion. The streets gave you the freedom to break out of stigma, the team explored it in fashion that defined the wearer no matter where they were.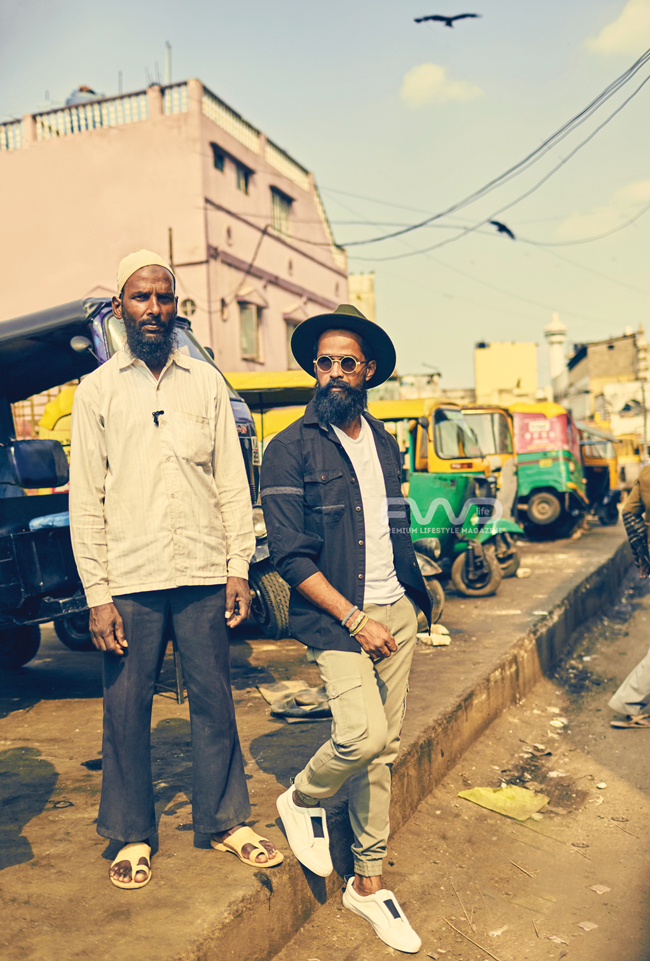 Step off the pavement in white loafers that attracts all eyes. The streets are never too grimy for a splash of white.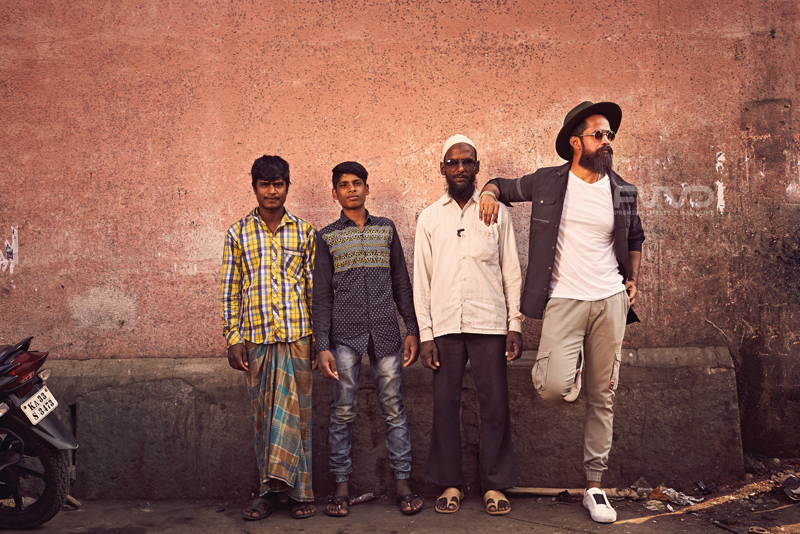 With his leg up against the wall casually striking a pose of ease, the model stands out against the blant brown backdrop in his trendy simplistic attire.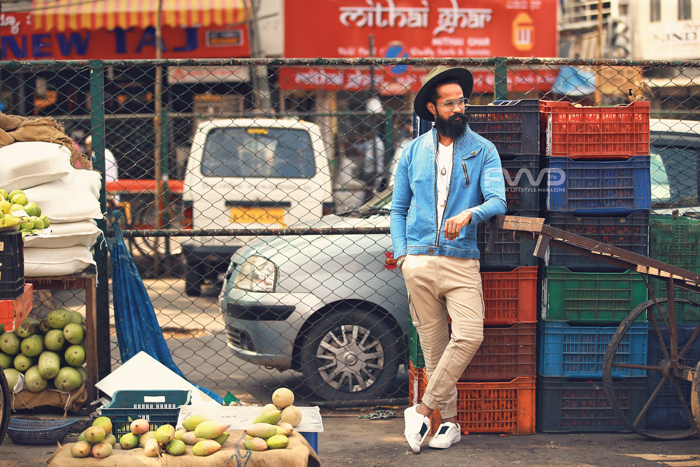 When everyday gets a little too monotonous, why not spice it up by adding a denim jacket to your style.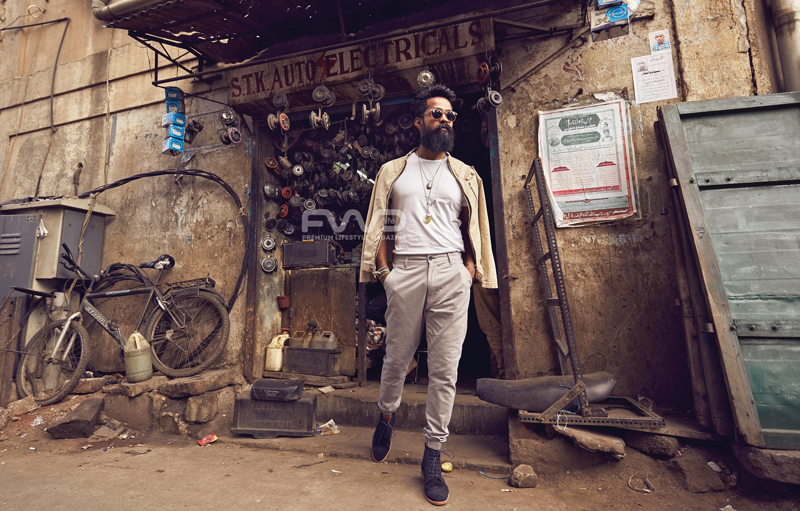 The walls may be faded, there might be rust all around, yet style always makes it presence known.
Your style defines you, mark your presence in denim and light coloured casuals. Wear a pair of shades for that extra dash of oomph.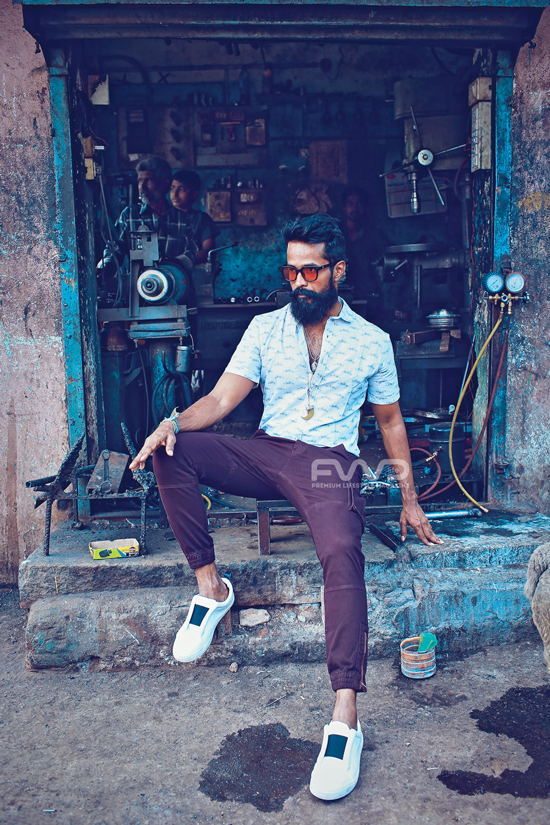 Amidst iron, oil and rust, the white loafers and the printed shirt mark a contrast. Fashion and photography can bring out glamour even in grimy, gritty, raw backdrops.
The costumes for the shoot from True Life was styled by Jackie. The model, Shani Shaki, being a photographer himself, knew how to pull off each look, even against the unusual backdrops he had to shoot in. An altogether multi talented personality, he recently ventured out into a new business called Dos Caminos Picture Company, a production house along with Director Vinay Govind. His style, and ease of carrying off the garments combined with the skilled photographers careful and artistic shots gave life to an array of photographs that are eye catchy and undeniably trendy.
Digital version : https://goo.gl/HGTOLN