Shashi Kapoor- The legend who never missed a beat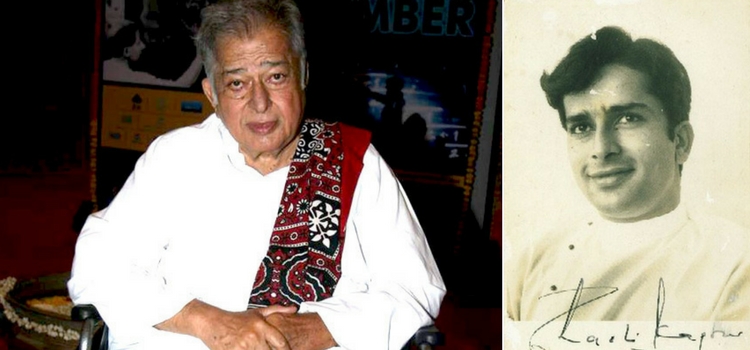 Veteran Bollywood actor Shashi Kapoor bids farewell at the age of 79
Text: Nikhil Wilson
Legendary veteran actor Shashi Kapoor passes away at the age of 79 and here are a few facts about this great actor.
1) Balbir Prithviraj Kapoor was his real name and later he changed his name to Shashi Kapoor.
2) He started his film career as a child artist.
3) He has worked not just as a Film actor, but also proved his talent as Film Director, Assistant Director and Producer.
4) He is known as the Bollywoods Romantic hero and here is a video of Shashi Kapoor showing the world, he really knows how to flirt in the movie 'Trishul'
5) He has acted in more than 100 films during his film career
6) He has been awarded the Padma Bhushan award along with other major awards.
7) He never invested his money in any other business than the film industry and theatre.
8) He has played almost every character in the Bollywood film industry and most of the times it was a romantic hero .
The world has suffered yet another great lose, with Veteran actors bidding farewell. Here are a few of the many songs which made Shashi Kapoor Bollywoods Romantic hero
– Sharmeeli
– Aa Gale Lag Jaa
– Deewar
– Aa Gale Lag Jaa
– Haseena Maan Jaayegi
Cochin, you owe this award, says Mr. Krishnamachari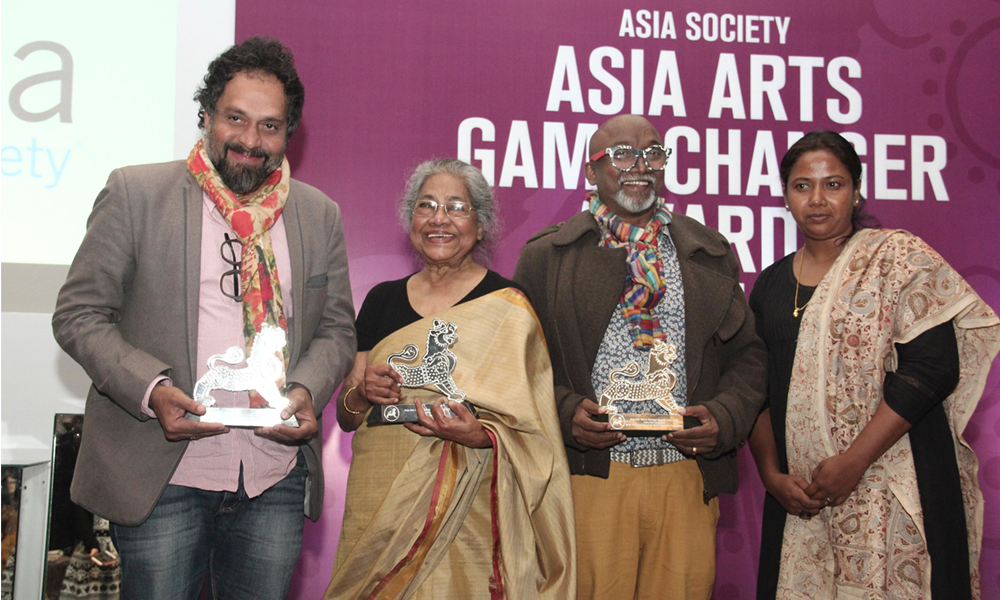 Kochi Biennale Foundation bagged  Asia Arts Game Changers Award 2018
Text Credit: Silpa Rajan
Asian Society Center honoured Mr. Bose Krishnamachari and Mr. Riyas Komu, the founders of Kochi Biennale Foundation with Asia Society Asia Arts Game Changers Award 2018, on Thursday at Delhi, for their priceless contribution in the development of modern and contemporary art.
The felicitation was conferred with Asian Arts Vanguard award. Mr. Krishnamachari, the director of KBF said that both of them were glad for receiving such an honour. He added that " The project is only possible through the support of an ever growing art eco-system in India and we are proud of an ever-growing art eco-system in India and we are proud to play a role in its evolution. Our work and mission continue and we hope this award will encourage greater philanthropy, corporate giving and government support for the arts across India".
Mr. Komu, the Director of Programmes, while expressing his happiness said that he would like to dedicate the award to the people of Kochi, a  community which lives and celebrates the diversity of human existence. He also congratulated the other three winners.
The event honours artists and art professionals, who had made a significant contribution to contemporary art. This signature event also collaborates major art collectors, artists, gallerists, dignitaries from the world of art.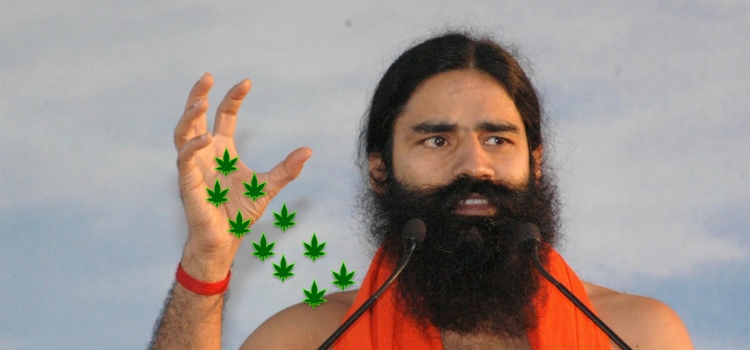 Baba Ramdev wants legalization of marijuana. Patanjali Cannabis?
Text Credit: Shibul Pavithran 
Never did we imagine we would find the words 'Patanjali' and 'cannabis' in the same sentence. Until now! In a country like ours where even the mere mention of weed and marijuana is enough to make some people feel awkward, the legalization of it seems way too far-fetched. But strangely, Baba Ramdev's 'Patanjali' is making efforts towards the same and trying to make most of our population's dreams come true. There have been been many issues which have been bouncing up and down in our country nowadays, like controversial movies, National Anthem, Beef-love/hate and many more. But 'Pot-Anjali' is definitely going to have some mixed reactions from the public. With a huge population of youth in the country using marijuana, Baba Ramdev is surely going to hit the market immensely. Patanjali's is India's highest selling consumer goods makers and their last year's turn over was a whooping 10,561 crores.
It was only last year that India handed out the first ever license to grow and study the medicinal properties of cannabis was granted to the Council of Scientific and Medical Research (CSIR), in partnership with Mumbai-based firm, The Bombay Hemp Company. The research aims to study the many purposes medicinal marijuana could serve in the treatment of epilepsy and cancer — a notion often contested globally. Co-founder of The Bombay Hemp Company (BOHECO), Avnish Pandya, stated specifically, "It won't be raw cannabis; it will be an actual product in the form of extracts, pills and patches."
Image Source: Acharya Balkrishna
Now Patanjali is pushing for the same. Acharya Balkrishna, CEO of Patanjali, has voiced his opinion on the matter before, noting that by criminalizing marijuana, the nation was being denied 'a full-fledged business opportunity'. In an  interview with Quartz,Balkrishna said, "In ayurveda, since ancient times, parts of cannabis (hemp), for instance, have been used for medicinal purposes. So, we are looking at various formulations. We should ponder over the benefits and positive uses of the cannabis plant." He went on to list how the seeds of the plant were useful, the fibre could be used for clothes and so on; the only issue is with the toxic part known as THC — Tetrahydrocannabinol, the element inducing the high often experienced due to consumption of marijuana.
But before you get all excited and hope that you'll soon be able to get your hands on 'Patanjali Stash' in the market, then we hate to break it to you that it won't really give you the 'high' that you crave. 'Toxic parts' like THC or Tetrahydrocannabinol will be removed from the cannabis oil to make it fit for medicinal use.
Nevertheles we are happy to see that the country is finally making some efforts to give the positive aspect of cannabis a chance. Who knows, it might even prove to be a boon for the country's economy.
The need for Padman Challenge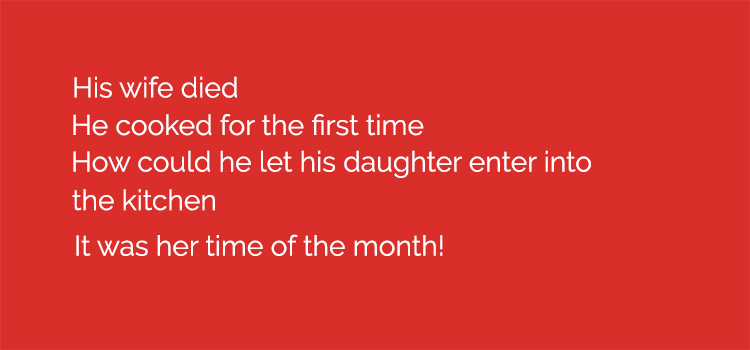 Beating the Taboo with Padman Challenge
"Take care not to touch any of these clothes when you pass through. These kids, nowadays never care to put themselves closed in a room, during their menstrual cycle", Grandma used to say while I was having my periods. It was so horrible in her days, but as we started to 'progress', such customs started to vanish. Today my Amma doesn't resist me from sleeping on a mattress or entering the kitchen. But still, there are things that haven't changed. I have never in my entire life got an opportunity to touch any Holy books or attend to a sacred gathering or visit a temple during those days.
We are still following some fallacies without knowing that they indeed are misconceptions. Proper awareness and destruction of stigma is inevitable for balancing the society. In such a situation the relevance of R. Balki's Padman is beyond words. Padman is an upcoming comedy-drama written and directed by R.Balki, based on Twinkle Khanna's book "The Legend of Lakshmi Prasad", which was inspired by the real life of Arunachalam Muruganantham, a social activist from Tamil Nadu.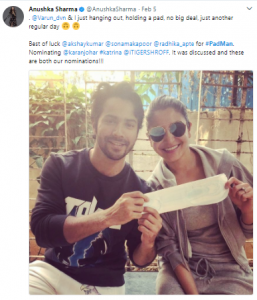 The Padman Challenge has reached a wide range of people via Twitter. Many celebrities including Sonam Kapoor, Aamir Khan, Farhan Akhtar, Karan Johar, Deepika Padukone, etc have taken part in the campaign by posting a selfie of themselves with a sanitary napkin.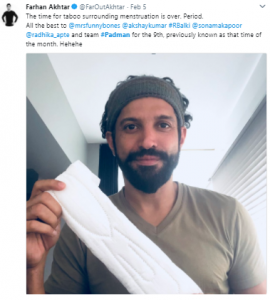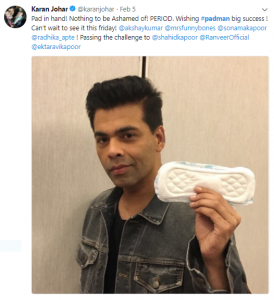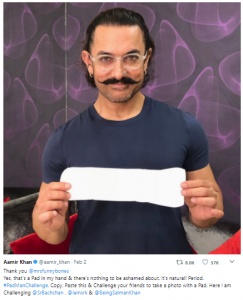 During the Sabarimala season of 2015, a conductor of a KSRTC bus asked a few women to step out of the bus, because in case if they have some untouchability(menstruation) it could spoil their Vritham. On what grounds did the conductor deny the right of a citizen to travel on a public transport system? How can a someone deny the civil rights of a group of women, just because they are Women? If we seek the actual cause of this problem, one thing is clear. The cause of the problem has started from decades. Even though we argue that this is a different era, things haven't changed at all, it just took some new forms. The entry of women at Sabarimala is still a talk of debate.  As women tend to bleed for every five days a month they can't follow the mandatory fasting, because menstruation is something against sacredness.  How can it be cursed? It's because of this curse the world still survives!
Let the taboo and stigma behind menstruation reduce with the Padman Challenge. However, applause to the team and all others those who participated in the challenge. Let these small moves be a part of drastic changes.
Text By : Silpa Rajan