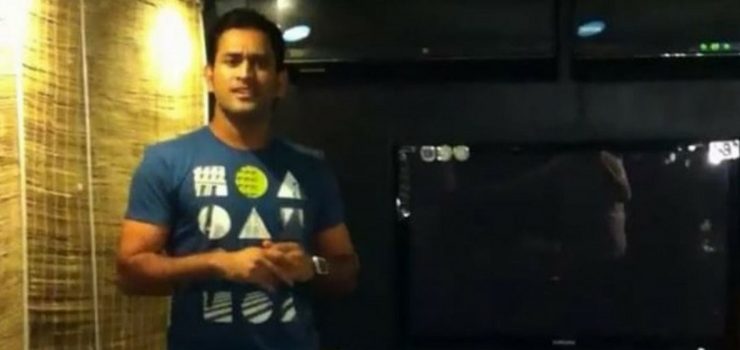 Dhoni who has been handling criticisms that he is too old proves the critics wrong with some cool dance moves
Text Credits: Nikhil Wilson        Featured Image
It wasn't long back, when MS Dhoni's daughter Ziva's, took the world by a storm with her adorable singing of the evergreen Malayalam song 'Ambalapuzha unni kannanodu nee' taught by her nanny.
Sapna Bhavnani, a hairstylist and a good friend of Dhoni posted a video of Dhoni dancing on her Instagram wall and the world has been going crazy over it.
Dhoni is seen ready to bust some cool moves as his wife Sakshi and his friend Sapna is cheering him on. As the song starts, he waits for the first lines of the song and he pulls out some great dance moves and is seen walking out of the frame, smiling.
Dhoni has been facing a lot criticism about his retirement and that he should let the youngsters take his position, claiming that he is too old for this game, even after Dhoni successfully completed every tests that required every bit of mental and physical strength. Indian cricket team captain Virat Kohli who has been supporting Dhoni, claiming that he is as fit as anyone in the team and with Dhoni's latest video of him dancing is proving his critics wrong.