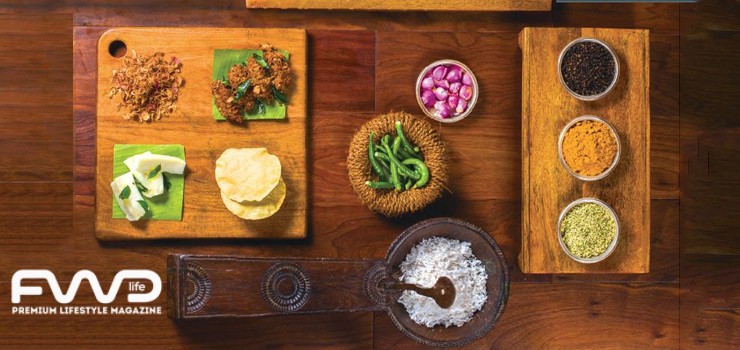 Chef Saji Alex – Sous Chef of Cassava surely got a crackling Kerala cuisine panned out for us this month.
It would be fi tting that you would think of Kappa as the home styled and soused dish with spicy fi sh curry, never a crunchy one with chili and fried pappadams. But away from the ordinary, Cassava as a restaurant and the meal had a different story. The morning prologued with a suprising setting of a regal restaurant with Victorian table settings and stunning gilded crockery. It didn't seem ethnic at fi rst, but as you take a seat and see the open kitchen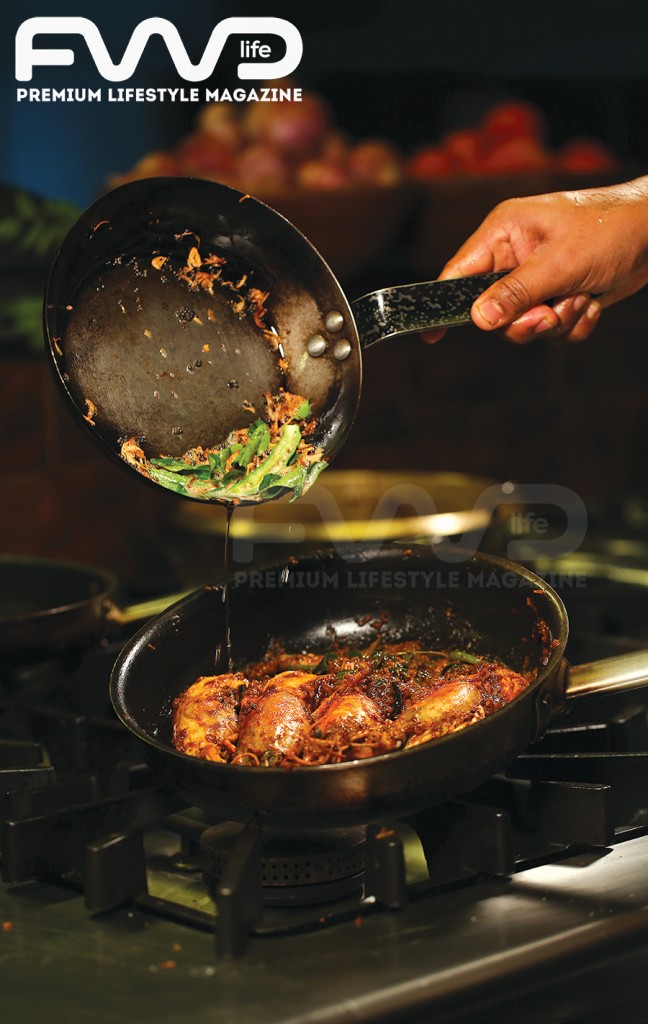 come to life, that's when you truly feel at home. Enveloped and lured by the smell of tempered shallots and the view of glistening scampi, I knew my story could only be written in the hallway of the kitchen. On an ink trail and
food quest, I stumbled upon a secret ingredient. But that's hidden in this article just like the simple ingredients in Chef Saji's spicy chutney.
Way Back in Time
Chef Saji was walking around with a fresh root of Cassava. But before stirring up a meal, he literally got to the root of it with his little anecdotes. "During the reign of Sri Vishakham Thirunal Marthanda Varma, Kerala was suffering a time of starvation. There was a dearth of rice because the rains over fl ooded the paddy fi elds. In a great predicament, the King sought advice from the Portuguese. They mentioned that they discovered something in Brazil that's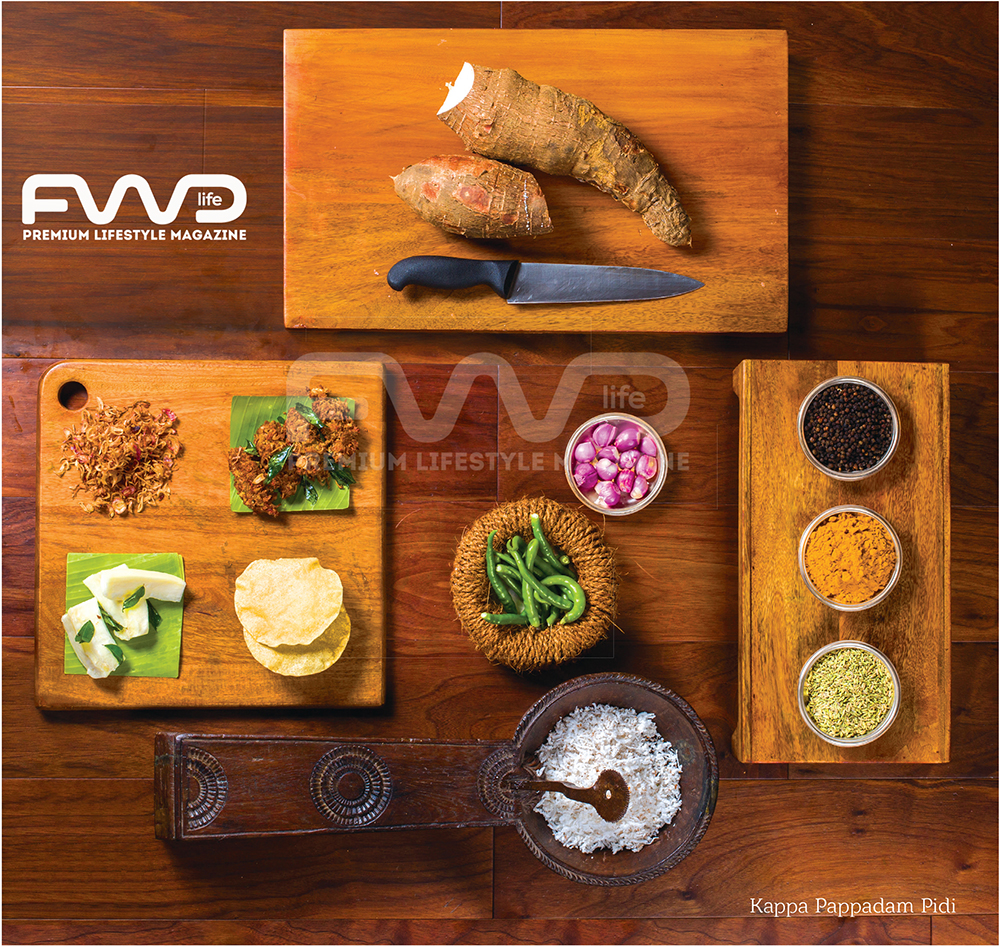 quite rich in carbohydrates. As promised, they brought the stem of the plant. When they planted the cassava in the king's compound, they put a warning sign not to trespass. Curious the villagers were, so they jumped over the wall
and they started stealing and planting it in their gardens. Then that became our famous Kappa." Portuguese origin or not, when we had a bite of the Kappa Pappadam Pidi, we fi gured it hailed from Elamangulam, where Chef Saji's grandmother taught him the crux of cooking. In the kichen, you'll spot a beautiful black rustic 'chatti' and old wooden ladle among the terracotta clay pots in the kitchen. It belonged to his grandmother, and it has been his piece of good luck for twelve years of his culinary journey.
Spoon Full of Spice
After having the spicy scampi and lamb, it would be inevitable to miss the duet of coconut and the simmering curries. Chef Saji joked,"Perhaps it's because we near the sea, our food is always swimming in curries." For all I know, it's worth drowning in a mélange of spices in the Vendaka Mappas curry.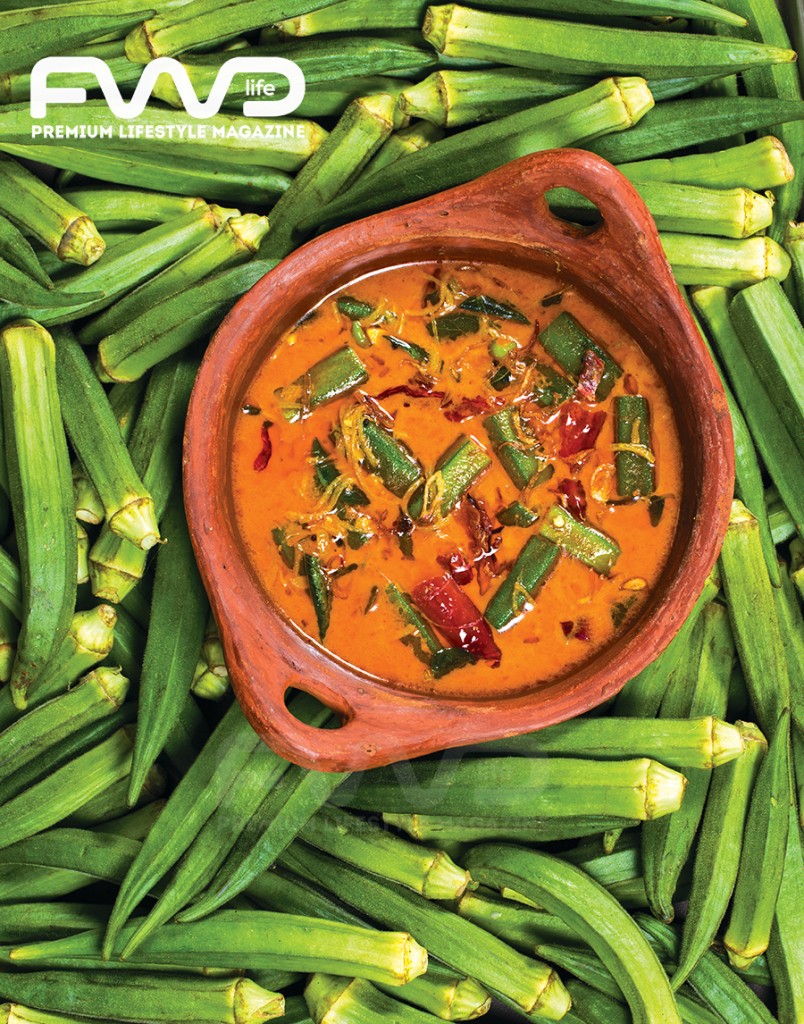 With another interest bubbling in the cauldron, the heated blue fl ames stayed calm but the fi ery chilis fl ared with pride in the Meen Manga Piralan. A spoonful of it led to an indelible taste: an acidic burst of raw mango later lingering with the sweet taste of coconut milk.
Inclined to Dine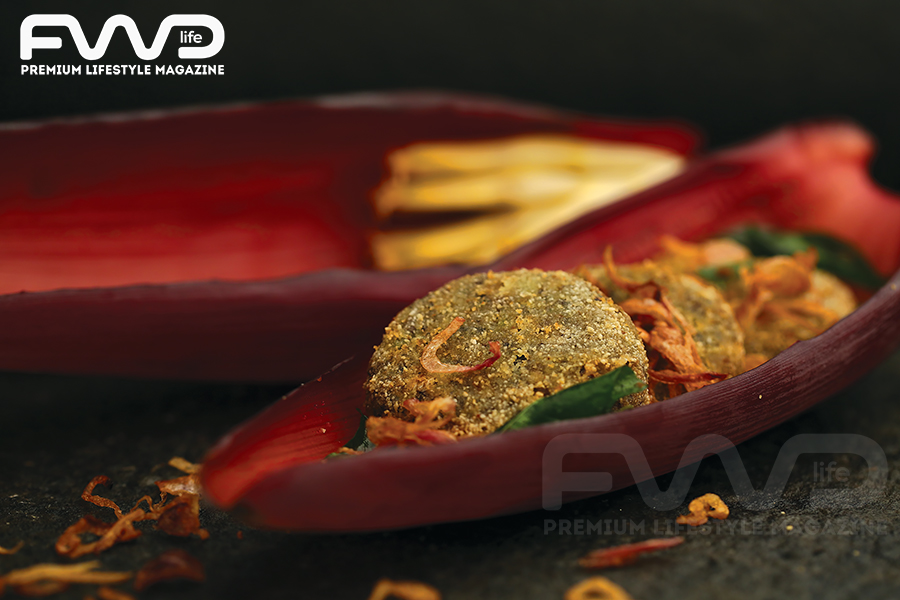 From the fusion of Vazhapu with semolina croquettes to the classic jaggery with egg custard for his famous Vatallappum, Chef Saji blended some new to old school. Rewinding to the golden years of music, he hummed a few retro Malayalam songs every time he prepared or even made a fi nal touch to the meal. I assume it's a special condiment that's got us tuned to his taste. He said, " The mood you're in always refl ects in the taste of the food." At Cassava, I felt I was invited to Chef's grandmother's family dinners but this time garnished with a pinch of my 'memories'.



Text: Atheena Wilson      Photos: Jinson Abraham      Location Courtesy: Kochi Marriott Hotel