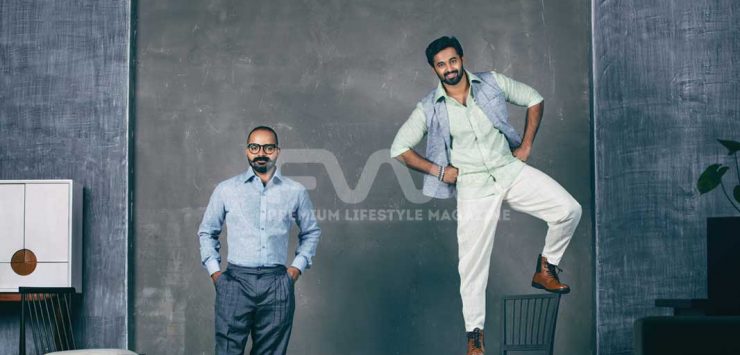 For Unni Mukundan and Vinay Forrt, life and acting are two sides of a coin; from years of lust for cinema, to finally lighting up the big screen.
Words by Likhitha P Nair and Photos by Jinson Abraham
As they moved about at the shooting location, Unni and Vinay were all cheers. When I mentioned the theme of this interview, they broke into a smile. 'Nostalgia' is a paradoxical term – one that is to each, his own. After long discussions about pasts and presents, I realised that for Vinay, it is the streets of Fort Kochi that injected art into his blood, while Unni carved his out of being Malayali away from Kerala. Movies have, forever been living, breathing memories for every artist. Frames made and diffused closely – scribbled on crumpled sheets that reek of coffee, dampened by sleepless nights – thought, rethought and reflected. They are, for the lack of better words, dreams packed in reels that travel time and space.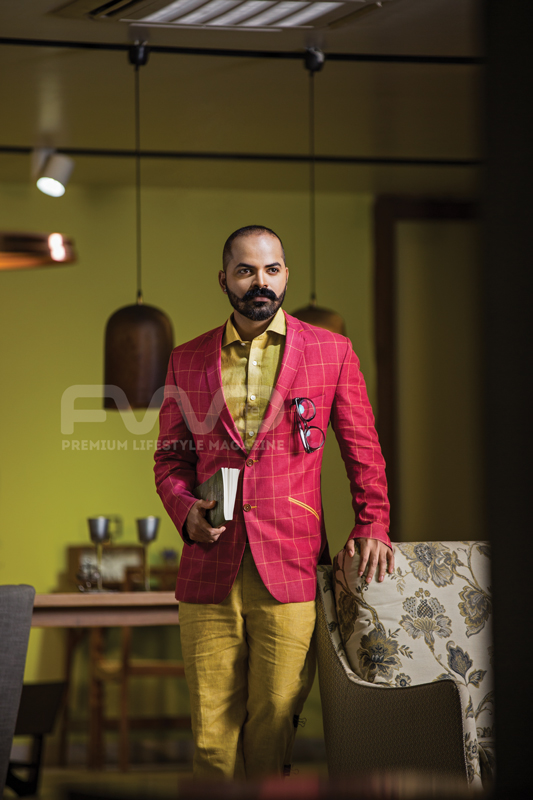 On Vinay: Sunset Yellow Linen Shirt, Trousers andCoral Pink Check Linen Blazer from KIM India
"Avarude Ravukal" is a story of three men who end up in a new city. Despite being burdened by difficulties in life, they meet a man who shows them the silver lining, thus reinforcing faith in destiny – a sanguine manifestation of Murphy's law. Vinay Forrt and Unni Mukundan have brought to life two lead roles in the movie, and they take time out to tell us about their work and worship.
Back in the Days
Unni was born and raised in Gujarat in a very Malayali home. Yet he didn't enjoy coming to Kerala much as a child. "My friends were all back in Gujarat. And my Malayalam was really bad. So I used to pray for vacations to be short!" All through, he had dreamed of being a director, but fate, and his dashing looks, had other plans for him! While Unni only started admiring his ties with his hometown Thrissur during his late teens, Vinay was born into Kochi's canvas. This Fort Kochi boy has only loved acting his entire life. "I was in the fourth standard when I decided I am going to be an actor. I have never looked back since then."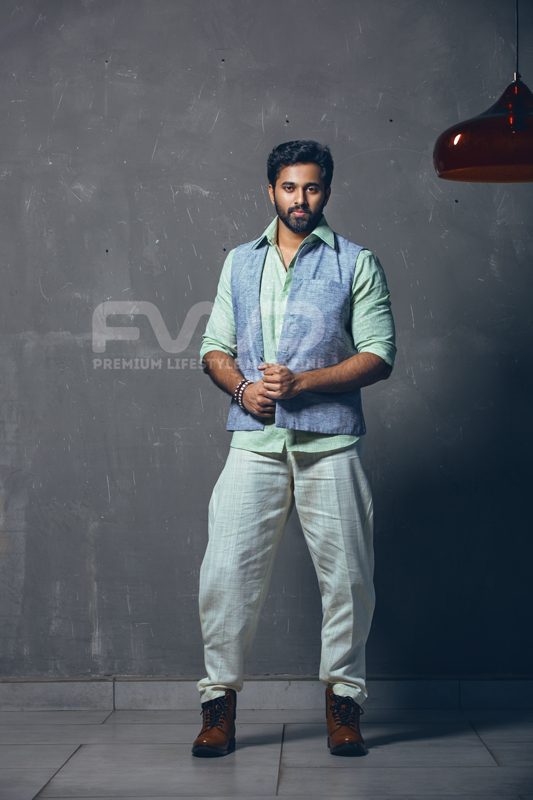 On Unni: Fern Green Linen Shirt, Carolina Blue Linen Vest, and Limestone Side Pleated Pants from Aham, Belfair Leather Boots from Metro
Nevertheless, there are bits of home that always stays with a man. The epilogue left by flavours and fragrances that he holds close. "My mom used to feed me till I was 21 years old. I don't think that is embarrassing. I consider it a privilege instead. I am grateful for those subtle blessings." "Childhood is all about home for me. I remember my mother bringing me food, and being taught school lessons by her.." in a moment of silence that followed, Vinay found his nostalgia too. To him, culmination of life isn't happiness, but peace. "Live and let live is the most compassionate way to exist. My years growing up has conditioned me to never hurt another person," he says. Unni remembers the Malayali food that never missed a turn on the dining table in Gujarat. His father supported Unni's love for the movie Industry. "It is a responsibility. Even now when I choose to do a movie, I wonder if my parents would enjoy it," he says.
Where the Heart is
"I was the only one in my batch at the Film & Television Institute of India (FTII) in Pune to return home to Fort Kochi. The roar of a big city was exciting, but my dreams always had the backdrop of my hometown," says Vinay, who has never regretted the choice he made.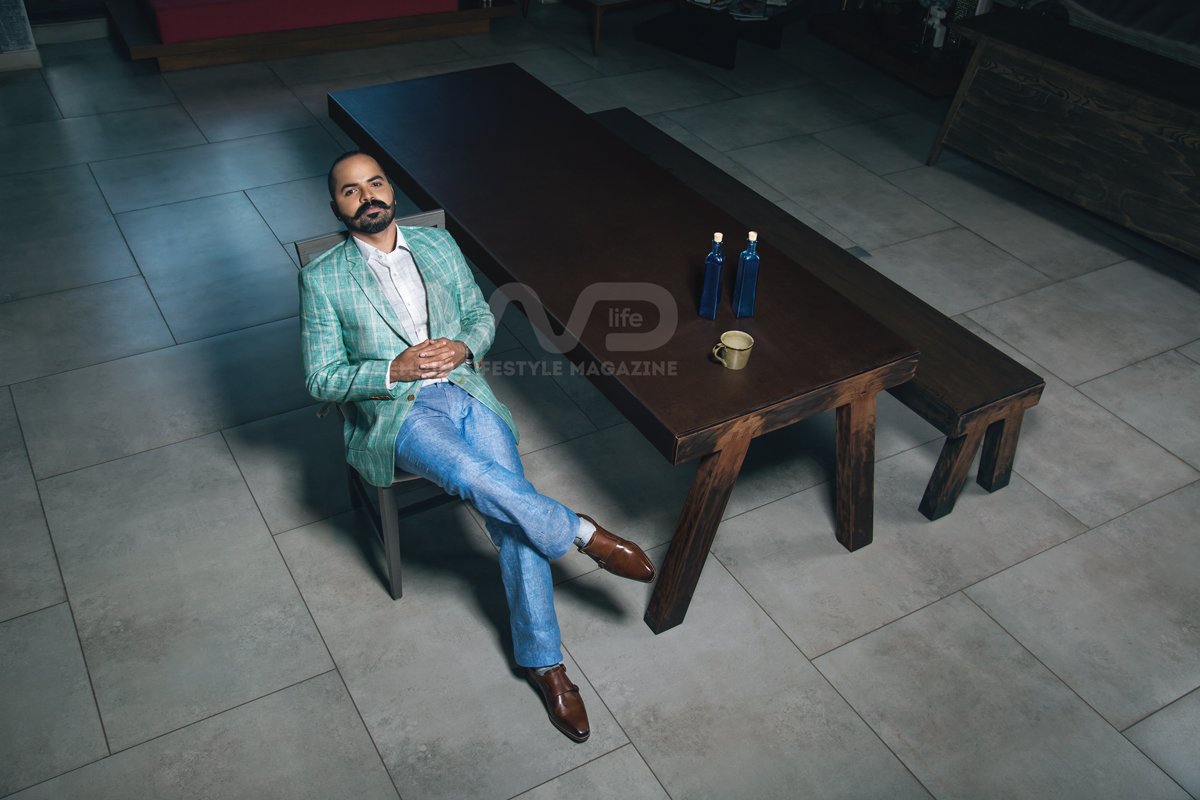 On Vinay: Ceramic Blue Linen Trousers,Cobalt Green Check Linen Blazer and Lamp White Linen Shirt from KIM India Monkstrap Oxford from Metro
Even as he was being raised in a different culture, Unni's sentimentality remained solid too. "I think our Malayali group used to celebrate Onam better than most Keralites here in Kerala. We had the grand fare sadya, dressed up in finery, revelled in music and dance. I think being away from home gets you more attached to it."
Off the Celluloid
Italian film maker Fellini called a pearl the oyster's autobiography. For an actor, his pearl is the character he immortalises. But "Avarude Ravukal" seems to have established an intimacy with the lives of these young artists, on how life opened doors for them when they needed it most. Some would call it a stroke of fate, but for Unni, his cursive lessons took him to the crossroad. "I remember sending out letters to many big names in Indian industry expressing my interest in movies. Lohitadas Sir replied because he liked my handwriting. That brought me hope. My career and success as an actor pivoted on that reply."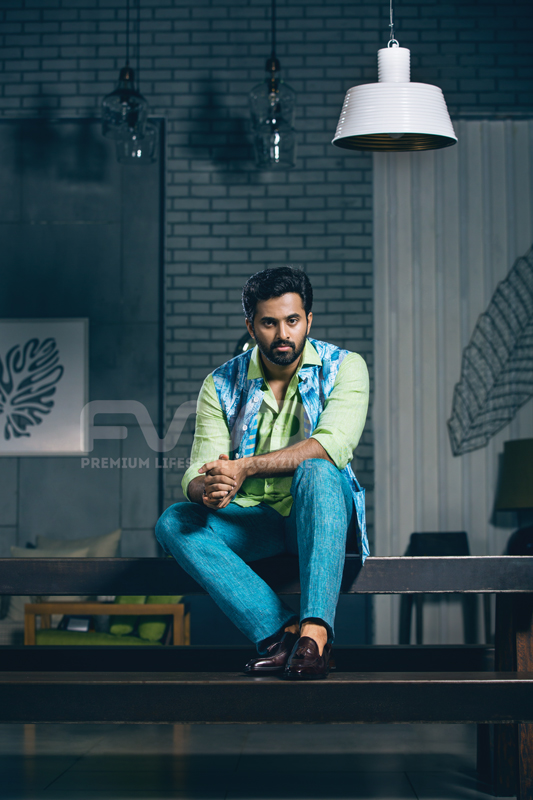 On Unni: Spring Green Linen Shirt, Ceramic Blue Linen Trousers and Brick Print Vest from KIM India Leather Tassel Loafer from Metro
Fate reached out to Vinay when he was struggling through college. Toiling away during midnight shifts at a call centre, he attended college through the day, and did theatre rehearsals during evenings. While hope was the only bright light at the end of the tunnel, he met Chandramohan Nair, head of acting department at FTII at an acting workshop in Kochi. "That acquaintance was followed by my decision to join the institute, and it ended up changing my life." It is rarely that you can heartily converse with people you are only meant to interrogate and interview. This was the charm about Vinay and Unni. They are acutely comfortable with the people they really are – simple and convivial. The fact that they found time to share a laugh with our photographers while striking a pose, or pour their hearts out about their life's nuances makes them good people, and soulful artists.As they left the shooting location, a myriad of fans surrounded them. Most of them wanting a 'selfie' with the actors, or wanting to have a few words. Patiently, the duo smiled for every frame, shook hands with every man and boy, and left with one last suave smile.
Models: Unni Mukundan & Vinay Forrt
Photographer: Jinson Abraham
Styling: Lakshmi Babu
Makeup & Hair Styling: Blessy Mary Chacko
Costumes: Aham Designer Boutique, KIM India
Retouch: Jemini Ghosh
Location Courtesy: DTALE Decor, Kakkanad
Production: FWD Media
Special Thanks: Metro, LuLu Mall Kochi