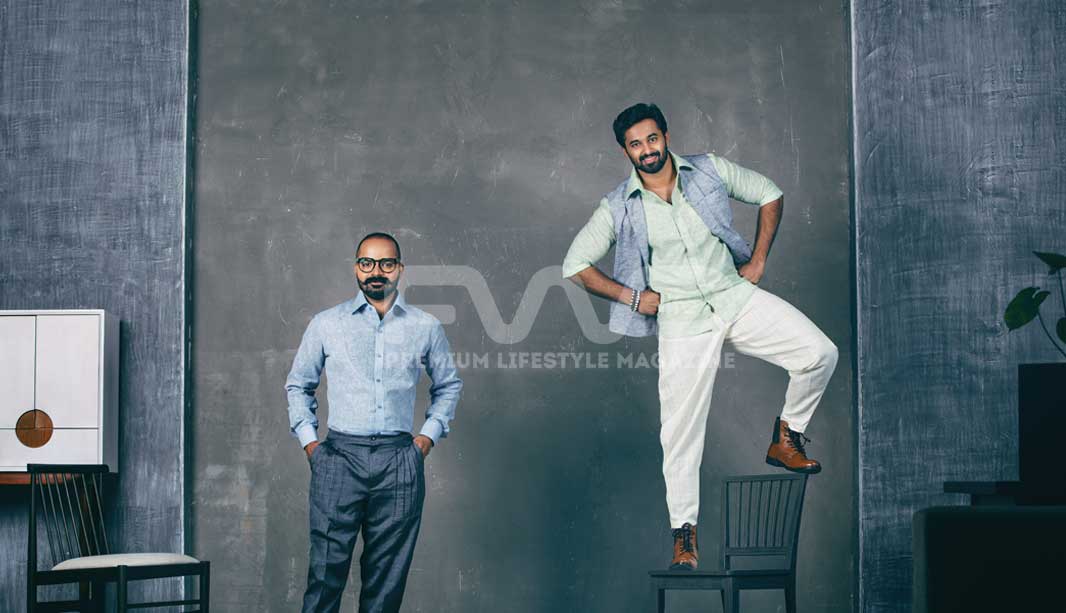 For Unni Mukundan and Vinay Forrt, life and acting are two sides of a coin; from years of lust for cinema, to finally lighting up the big screen.
Words by Likhitha P Nair
As they moved about at the shooting location, Unni and Vinay were all cheers. When I mentioned the theme of this interview, they broke into a smile. 'Nostalgia' is a paradoxical term – one that is to each, his own. After long discussions about pasts and presents, I realised that for Vinay, it is the streets of Fort Kochi that injected art into his blood, while Unni carved his out of being Malayali away from Kerala. Movies have, forever been living, breathing memories for every artist. Frames made and diffused closely – scribbled on crumpled sheets that reek of coffee, dampened by sleepless nights – thought, rethought and reflected. They are, for the lack of better words, dreams packed in reels that travel time and space.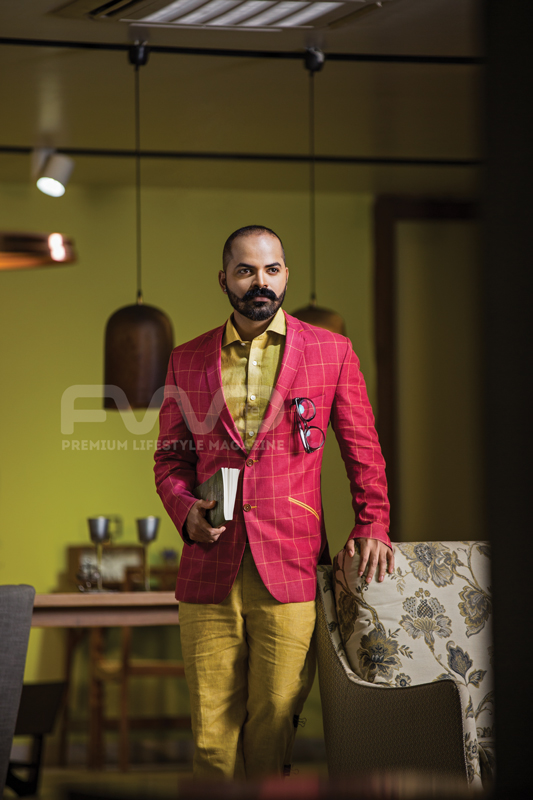 On Vinay: Sunset Yellow Linen Shirt, Trousers andCoral Pink Check Linen Blazer from KIM India
"Avarude Ravukal" is a story of three men who end up in a new city. Despite being burdened by difficulties in life, they meet a man who shows them the silver lining, thus reinforcing faith in destiny – a sanguine manifestation of Murphy's law. Vinay Forrt and Unni Mukundan have brought to life two lead roles in the movie, and they take time out to tell us about their work and worship.
Back in the Days
Unni was born and raised in Gujarat in a very Malayali home. Yet he didn't enjoy coming to Kerala much as a child. "My friends were all back in Gujarat. And my Malayalam was really bad. So I used to pray for vacations to be short!" All through, he had dreamed of being a director, but fate, and his dashing looks, had other plans for him! While Unni only started admiring his ties with his hometown Thrissur during his late teens, Vinay was born into Kochi's canvas. This Fort Kochi boy has only loved acting his entire life. "I was in the fourth standard when I decided I am going to be an actor. I have never looked back since then."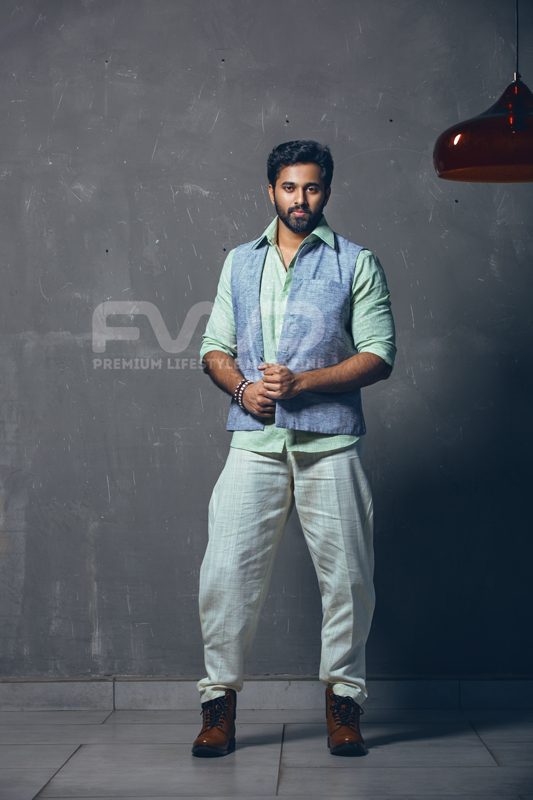 On Unni: Fern Green Linen Shirt, Carolina Blue Linen Vest, and Limestone Side Pleated Pants from Aham, Belfair Leather Boots from Metro
Nevertheless, there are bits of home that always stays with a man. The epilogue left by flavours and fragrances that he holds close. "My mom used to feed me till I was 21 years old. I don't think that is embarrassing. I consider it a privilege instead. I am grateful for those subtle blessings." "Childhood is all about home for me. I remember my mother bringing me food, and being taught school lessons by her.." in a moment of silence that followed, Vinay found his nostalgia too. To him, culmination of life isn't happiness, but peace. "Live and let live is the most compassionate way to exist. My years growing up has conditioned me to never hurt another person," he says. Unni remembers the Malayali food that never missed a turn on the dining table in Gujarat. His father supported Unni's love for the movie Industry. "It is a responsibility. Even now when I choose to do a movie, I wonder if my parents would enjoy it," he says.
Where the Heart is
"I was the only one in my batch at the Film & Television Institute of India (FTII) in Pune to return home to Fort Kochi. The roar of a big city was exciting, but my dreams always had the backdrop of my hometown," says Vinay, who has never regretted the choice he made.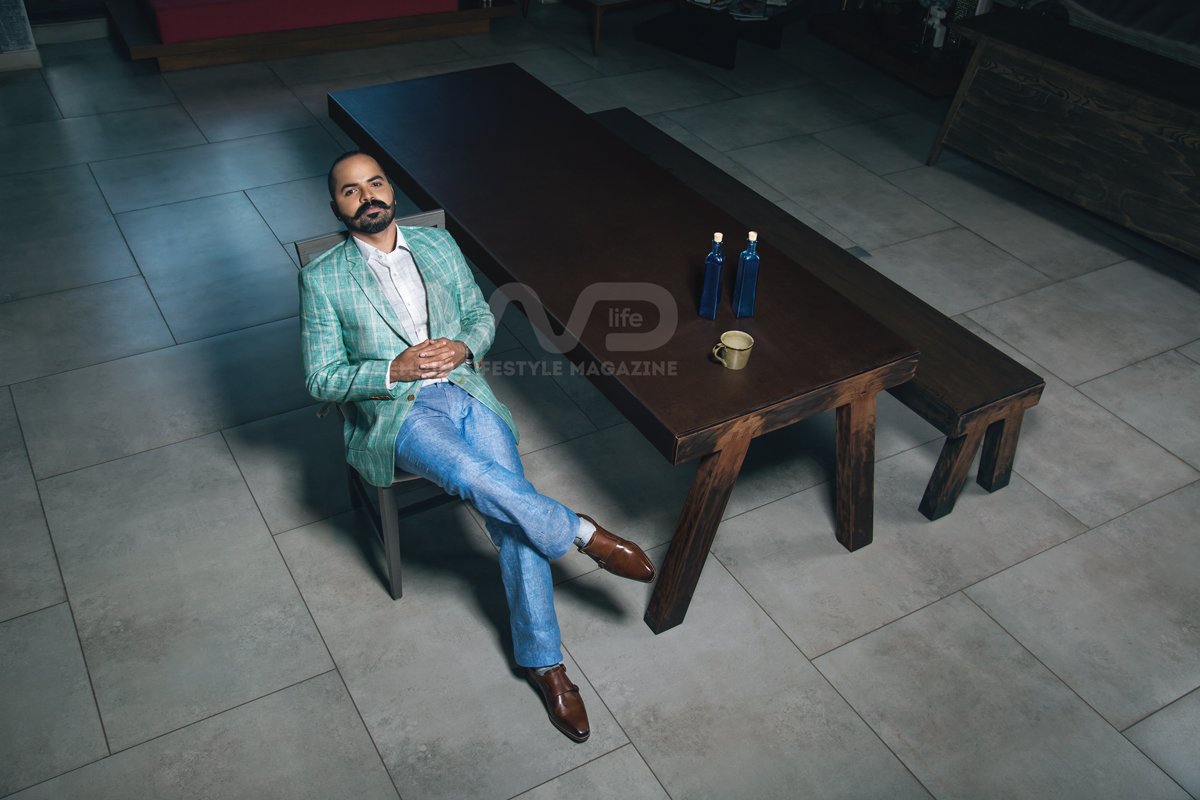 On Vinay: Ceramic Blue Linen Trousers,Cobalt Green Check Linen Blazer and Lamp White Linen Shirt from KIM India Monkstrap Oxford from Metro
Even as he was being raised in a different culture, Unni's sentimentality remained solid too. "I think our Malayali group used to celebrate Onam better than most Keralites here in Kerala. We had the grand fare sadya, dressed up in finery, revelled in music and dance. I think being away from home gets you more attached to it."
Off the Celluloid
Italian film maker Fellini called a pearl the oyster's autobiography. For an actor, his pearl is the character he immortalises. But "Avarude Ravukal" seems to have established an intimacy with the lives of these young artists, on how life opened doors for them when they needed it most. Some would call it a stroke of fate, but for Unni, his cursive lessons took him to the crossroad. "I remember sending out letters to many big names in Indian industry expressing my interest in movies. Lohitadas Sir replied because he liked my handwriting. That brought me hope. My career and success as an actor pivoted on that reply."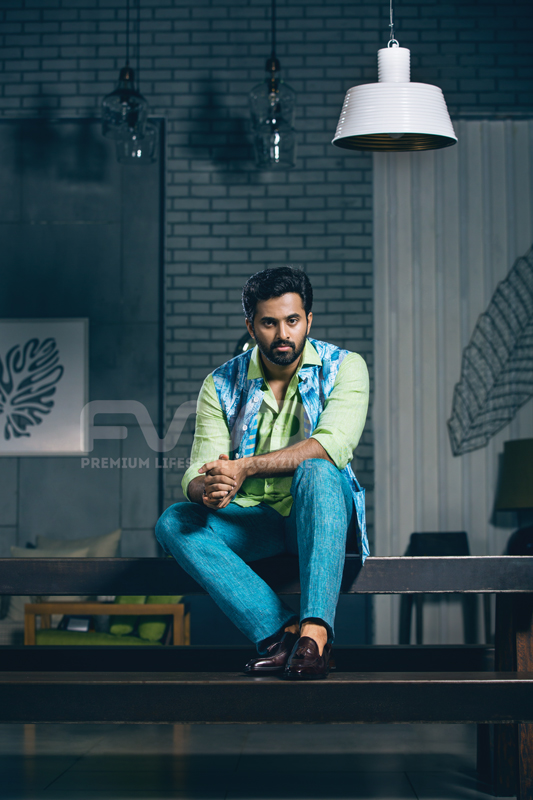 On Unni: Spring Green Linen Shirt, Ceramic Blue Linen Trousers and Brick Print Vest from KIM India Leather Tassel Loafer from Metro
Fate reached out to Vinay when he was struggling through college. Toiling away during midnight shifts at a call centre, he attended college through the day, and did theatre rehearsals during evenings. While hope was the only bright light at the end of the tunnel, he met Chandramohan Nair, head of acting department at FTII at an acting workshop in Kochi. "That acquaintance was followed by my decision to join the institute, and it ended up changing my life." It is rarely that you can heartily converse with people you are only meant to interrogate and interview. This was the charm about Vinay and Unni. They are acutely comfortable with the people they really are – simple and convivial. The fact that they found time to share a laugh with our photographers while striking a pose, or pour their hearts out about their life's nuances makes them good people, and soulful artists.As they left the shooting location, a myriad of fans surrounded them. Most of them wanting a 'selfie' with the actors, or wanting to have a few words. Patiently, the duo smiled for every frame, shook hands with every man and boy, and left with one last suave smile.
Models: Unni Mukundan & Vinay Forrt
Photographer: Jinson Abraham
Styling: Lakshmi Babu
Makeup & Hair Styling: Blessy Mary Chacko
Costumes: Aham Designer Boutique, KIM India
Retouch: Jemini Ghosh
Location Courtesy: DTALE Decor, Kakkanad
Production: FWD Media
Special Thanks: Metro, LuLu Mall Kochi
Sunny Wayne and Reba John: Up close with the future of Malayalam cinema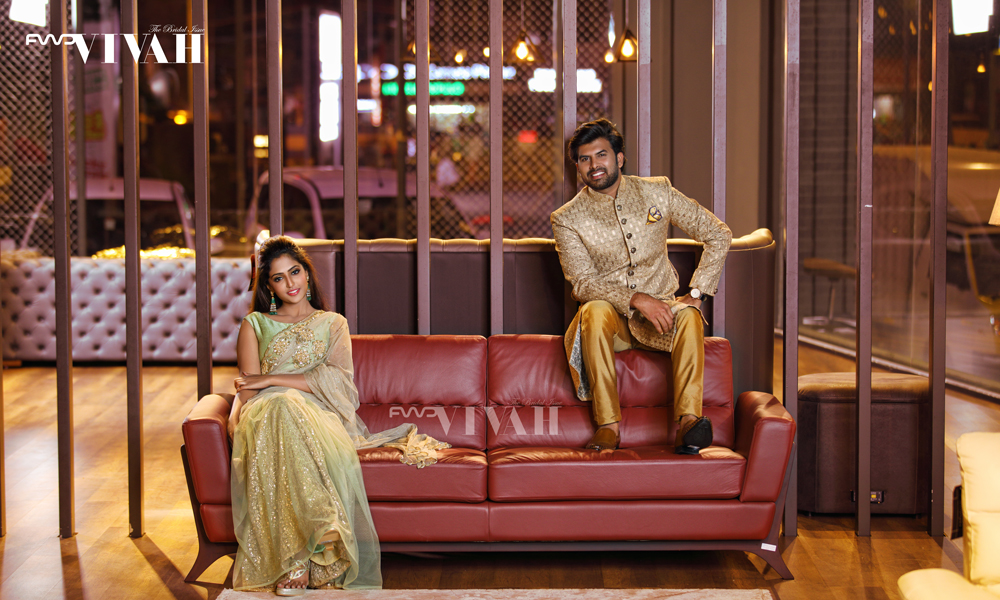 Actors Sunny Wayne and Reba Monica John talk about their journey in film industry and share their thoughts on weddings and relationships for FWD Vivah
Words by: Shibul Pavithran
Sunny Wayne has acted in many big movies as lead and supporting actor. Some of his memorable performances were in movies like Second Show, Annayum Rasoolum, Neelakasham Pachakadal Chuvanna Bhoomi, Aadu Oru Bheegara Jeeviyanu, Annmariya Kalippilannu and Aadu 2. He is a trusted name in the Malayalam film industry and is known for his versatility and genuine portrayal of his character.
Reba Monica John has the ability to perform diverse roles with grace with effortless ease. She stands out in the list of newcomers in the Malayalam film industry. Reba rose to fame with her debut role in Jacobinte Swargarajyam. And in her second movie was Paipin Chuvattile Pranayam, in which she donned a very different role as compared to her previous film. She currently has plans to venture into Tamil Cinema
FWD Vivah asks both the actors some pertinent questions about their film career so far, their personal preferences and some questions about their wedding plans. Buy our latest copy to read the full-fledged interview with the charming stars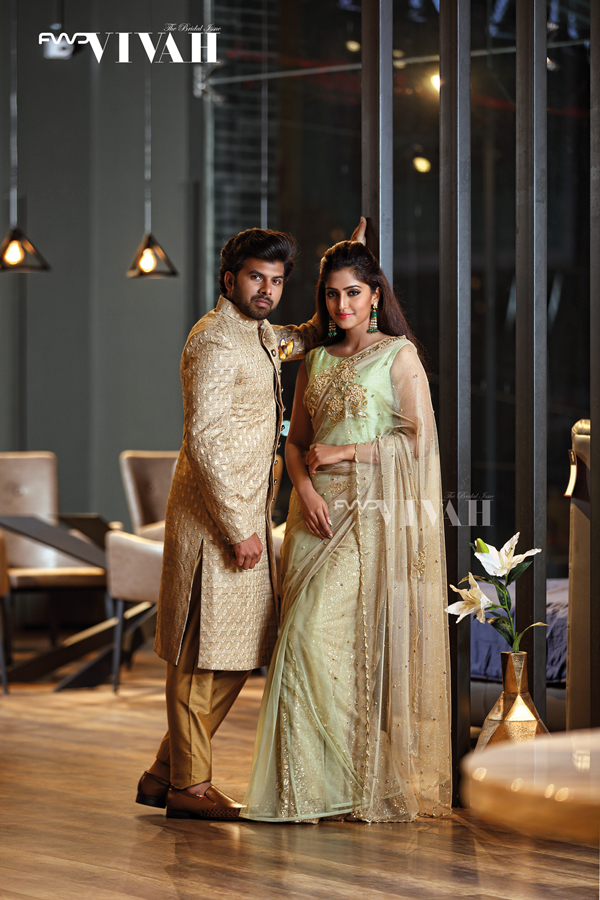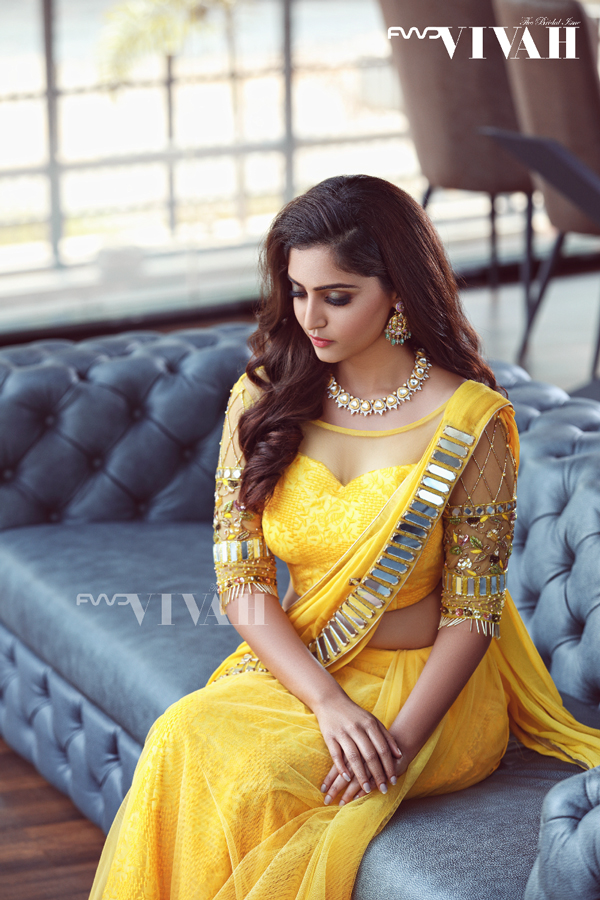 Models: Sunny Wayne & Reba Monica John
Photographer: Jinson Abraham
Styling: Namrata George
Makeup & Hair: Unni Ps
Retouch: Jemini Ghosh
Location: Homesoul Theyyampattil, Ernakulam
Production: Maxxo Creative
Costume – Reba John: T&M By Maria.Tiya.Maria, Kochi
Sunny Wayne: The Raymond Shop, M G Road , Marine Drive, Lulu Mall and Tripunithura
Jewellery Courtesy: M.O.D Signature Jewellery, Kochi
Footwear: Sylcon
Triumphing Over the Odds – Vijay Babu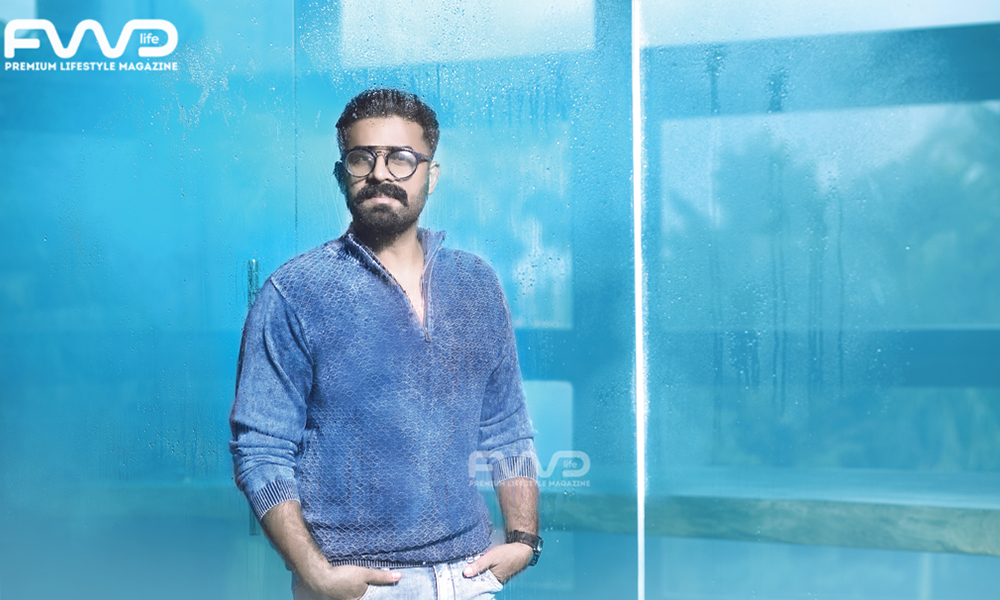 Vijay Babu is a tower of confidence, having established himself as a producer with his company Friday Film House, and is on the way to making it big as an actor
Words by Charishma Thankappan                                                Photographs by Jinson Abraham
"When you go through a lot of pain and then achieve a huge success, it is extremely rewarding." And none other than producer and actor Vijay Babu can vouch for this truth of life. After facing a setback with the initial release of the film Aadu Oru Bheekara Jeevi Aanu, 2015(Aadu), Vijay is now basking in the success of Aadu 2, a product of his production company Friday Film House. Riding high on the wave of accomplishment, the past year was one of the best for Vijay, who was part of one of the biggest hits of 2017 – Angamaly Diaries.
Read on to learn Vijay Babu's experience in the Malayalam film industry so far, in the latest issue of FWD Life, Dec-Jan 2018 edition
The Lucky Pair – Jayasurya and Ranjith Sankar
This awesome twosome, Jayasurya and Ranjith Sankar, reunite to make yet another movie, Punyalan Private Limited
Words by Rheanna Mathews   Photographs from Jinson Abraham
No Malayali is unfamiliar with Mollywood's power combination of much loved actor Jayasurya, and Ranjith Sankar, a director who has a number of successful movies on his mantel. Their fourth movie together, Punyalan Private Limited, released this November, as delighted audiences saw the actor revisit the role of Joy Thakolkaaran, from Punyalan Agarbattis.
Conversation with the duo goes as any fan would expect, with Jayasurya being his humorous, yet no nonsense self and Ranjith, with his gravitas, being a perfect foil to the actor. They spoke little about the new movie, believing their work would show for itself when theatres across the land screened it to the public, but were more forthcoming about their creative collaboration, on and off set, and the camaraderie they share with each other in real life.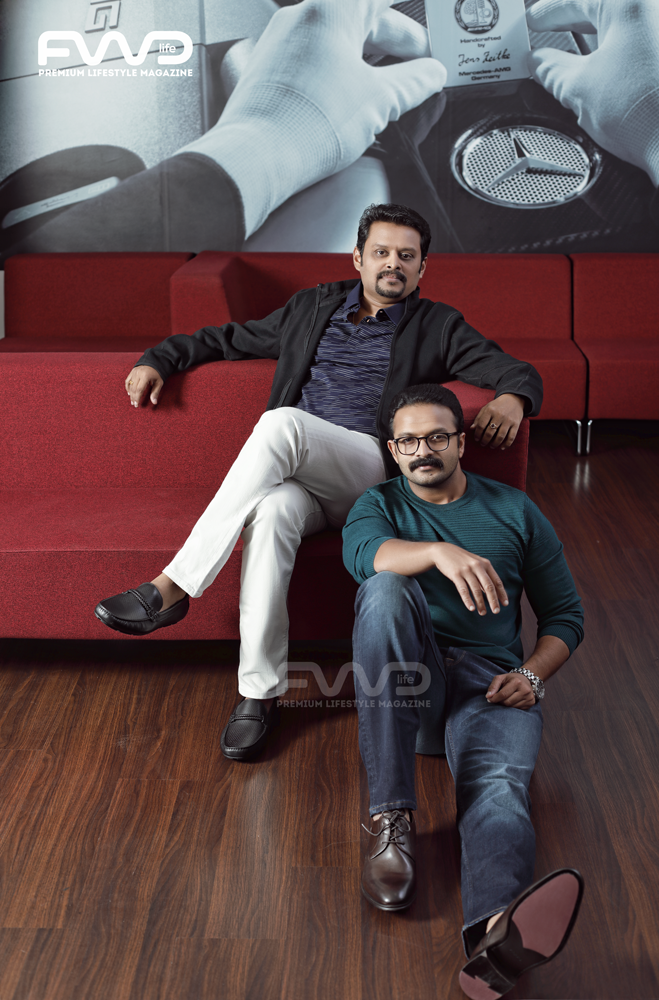 One is offered a true, but brief, glimpse into the relationship that an actor and director build over the years, perhaps offering a formula for what goes as success in the Malayalam film industry.

Find out who is the bigger foodie between the two, and who is more of a gadget geek; how does Ranjith Sankar go about his shooting schedules, and what would Jayasurya have been doing in a parallel universe. Read about all this and more in the November issue of FWD Life magazine, in stands now.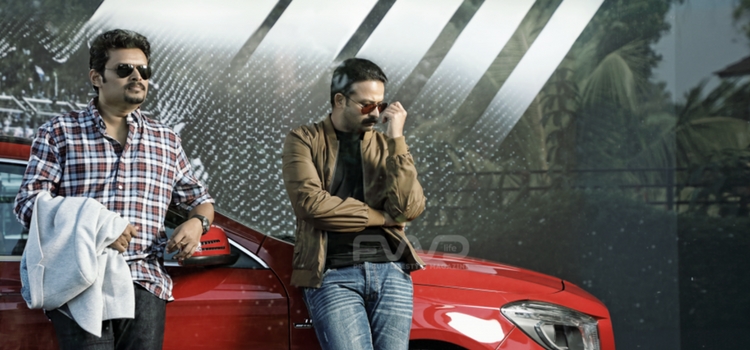 Photographed by Jinson Abraham
Makeup: Kiran Peter
Styling: Namrata George
Costumes: Marks and Spencer
Accessories: Top Grain
Watches: Oris, Swiss Watch Boutique
Shoes: ALDO Shoes – India
Retouch: Jeminighosh S
Location Courtesy: Mercedes-Benz Rajasree Motors, Aluva
Production: FWD Media