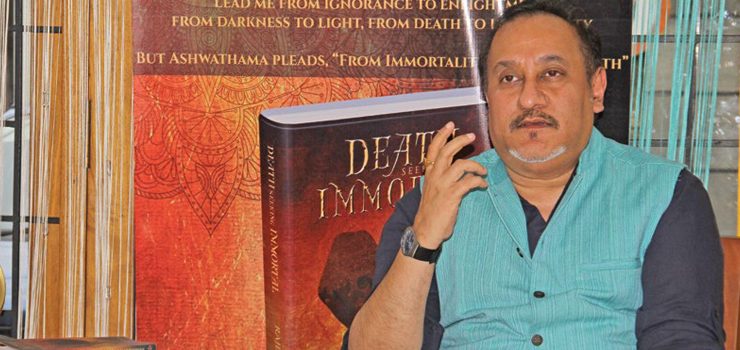 Rajiv Balakrishnan's 'Death Seeking Immortal' is a book talking about the darker of a history we are partially oblivious to.
Words by Sangeeta Bhattacharya    Photographs by Aghil Menon
There are always two sides to every story or sometimes way more. One that we grow up listening to and the rest are those what we conceive of it, as adults. Mahabharata has always been about the protagonists Pandavas, growing up I have only heard the glorious side of them in the epic fiction of great Sage Vyasa. And since mythology has been a lesser interest further inquisition rested futile, till the Sunday evening when I attended Rajiv's 'Death Seeking Immortal' book release at Ledhi art café in Kochi.
I caught up with the author right before the launch, for a short interview to understand the inspiration behind him being a story-teller and why he chose the character of Ashwathama as the protagonist for his first book, who has been seldom mentioned in the main story of Mahabharata. Rajiv Balakrishnan's first inspiration was his father who was a renowned writer. His second inspiration came in 2010, when a senior from Loyola College, impressed by his narrative skills encouraged Rajiv to start writing. His first book is a short story collection called 'Grains of Sand' which will be released shortly but 'Death of Immortal' is his first serious novel. An observant man who is fascinated with the multi-faceted, unique characters of human beings and their behavior, Rajiv believes that people are not only black or white but has various shades of personality. With his strong hold over mythology and absolutely smitten by the characters created by Vyasa, he states that the great epic was written for us to debate on what our personal understanding of Mahabharata is. And since taking up challenges is what gets him going, he wanted to write a completely different perspective to the story that has already been told and retold a million times. A reprise from Ashwathama's point of view seemed to be the most exciting.
As I finished reading 'Death Seeking Immortal' after a week, I recalled Rajiv telling me about how his readers praised him on the book being unputdownable, which indeed is. The sheer 6 months of research that has gone behind the book is commendable. The book is entirely from the point of view of Ashwathama who was exiled and cursed with immortality by Lord Krishna. The story starts from the middle of the great Kurukshetra war, the day Dharma Putra Yudhisthir lied about the death of Ashwathama the person and not the elephant to their Guru Dronacharya. Frenzied by anger and sorrow of his father's demise, Ashwathama saw only death of the Pandavas as a revenge. As one reads through, the characters of Pandavas and Kauravas are seen in complete new light, the stark difference between good and the bad dissipates. Even the role of Krishna is questioned, which has never been done earlier. In the Interview with Rajiv, I remember him specially mentioning about how he was asked by few critiques with regard to how Lord Krishna could be shown in an unfavourable light. To which he had calmly replied, "Probably you have put Lord Krishna on a pedestal and you worship him as an external force but I have placed him inside me. I tend to look at myself objectively, and it is very different. In the book, Ashwathama did not see god in Krishna, he saw him like any other person."
About the Author
Strategic Communication is the forte of Chennai based Rajeev Balakrishnan who stays with his wife Madhu, an artist by profession and his equally talented two daughters, Sarvathmika and Sathvika.