Manish Arora – The Heartthrob of Indian Fashion Scene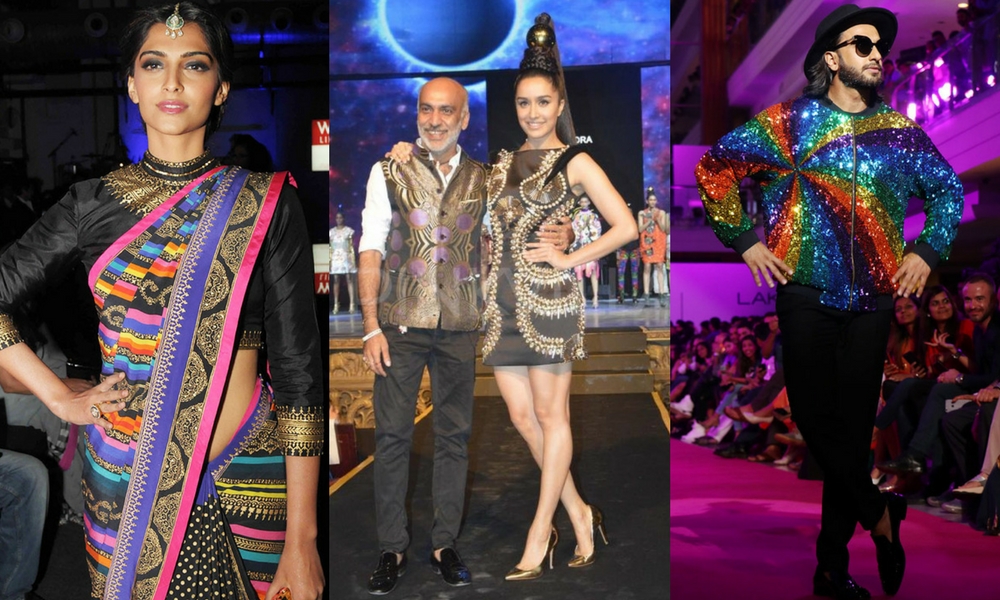 While his splash of colors and work of embellishments have been the talk of the town, Manish Arora becomes the first Indian designer to have showcased his collections at Paris Fashion Week for 10 consecutive years.
Text Credit: Roshan D
Manish Arora is one of the veteran names in the Indian fashion industry. Known for the usage of vibrant colors and vintage-inspired prints, he is the only Indian designer to have been a part of Paris Fashion Week for the last 10 consecutive years. Marking his decade of success in the international fashion scene, he recently celebrated a retrospective installation of all his favorite garments from the shows across 20 seasons at his newly opened studio in Delhi.
Widely known as every celebrity's favorite designer with the quirky touch of colors and patterns to his design, he has collaborated with various international brands including Walt Disney, Swarovski, Nespresso, MAC Cosmetics, Amrapali and many others. Among the popular international faces, his designs were worn by Rihanna, Lady Gaga, MIA and Katy Perry.
With the signature style of a sprint of colors with Indian motifs and western cuts, Manish Arora is one the most loved designer in the Indian and International entertainment scene.
Here are some insiders to his collections at the most prestigious Paris Fashion Week.
Amazon India Fashion Week Autumn Winter '18 – A Fashion Affair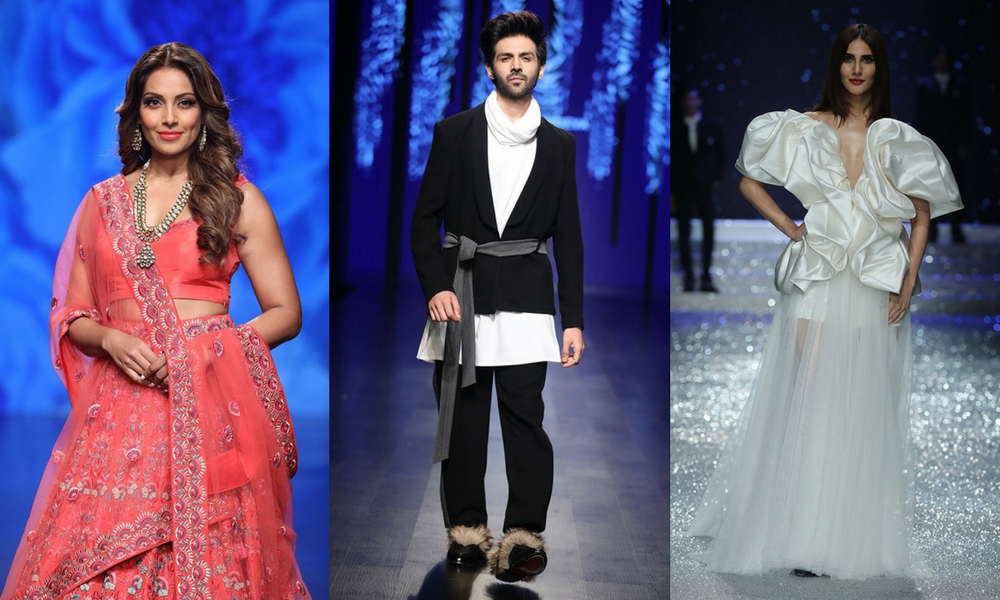 Amazon India Fashion Week Autumn Winter '18 proved to be one of its kind with collections from homegrown creators, showcasing marvels in the field of design
Text Credit: Roshan D
The national capital of the country recently wound up India's premier fashion affair, Amazon India Fashion Week Autumn Winter '18 and saw an extraordinary display of designs by a mix of designers with creative mastery. The event saw a wide range of designers from Abraham & Thakore to Pero to Samant Chauhan, who gave life to their creative imagination through their unique designs on fine fabrics with exotic prints and embellishments.
As this fashion extravaganza sure did give people fashion inspirations, we have brought forward our favourite picks from the event to boost your appetite for trends.
Abraham & Thakore
As a prominent name in the fashion industry, Abraham & Thakore showcased its study from the streets of Delhi in their collection named #SadakSmart, influenced by the city's colours and art, the collection gave street fashion a whole new different dimension.
Shyamal & Bhumika
This Gujarat based label is a strong reflection of their passion for craft and heritage. Set against the backdrop of a dark forest, their collect at AIFW AW'18 showcased the drama of autumn. With hues of heavy green and wine coloured velvet fabric, their collection wowed spectators with silhouettes that spoke the language of autumn. Diana Penty, dressed in a velvet top and bottle green skirt with elaborate botanical embroidery, completed the proceedings complementing with the shades of autumn.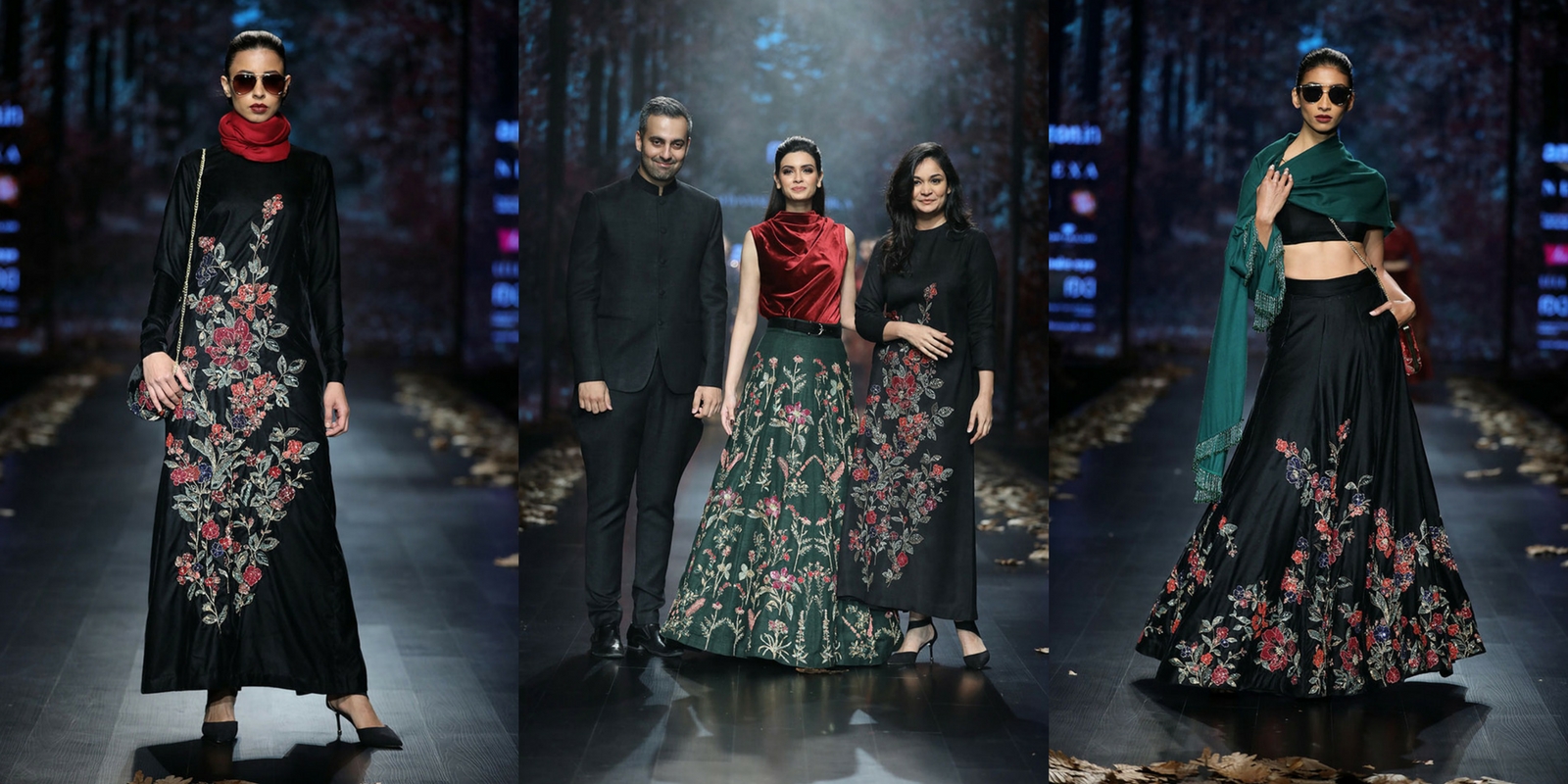 Patine
As a label that believes in merging artisanal crafts with contemporary silhouettes, their AIFW AW'18 collection sketched inspiration from the culture of Uzbekistan. While the Uzbek patterns and embroidery gave a profound look to their designs, the little statements the designs carried gave a phenomenal finish, which added to the contemporary style.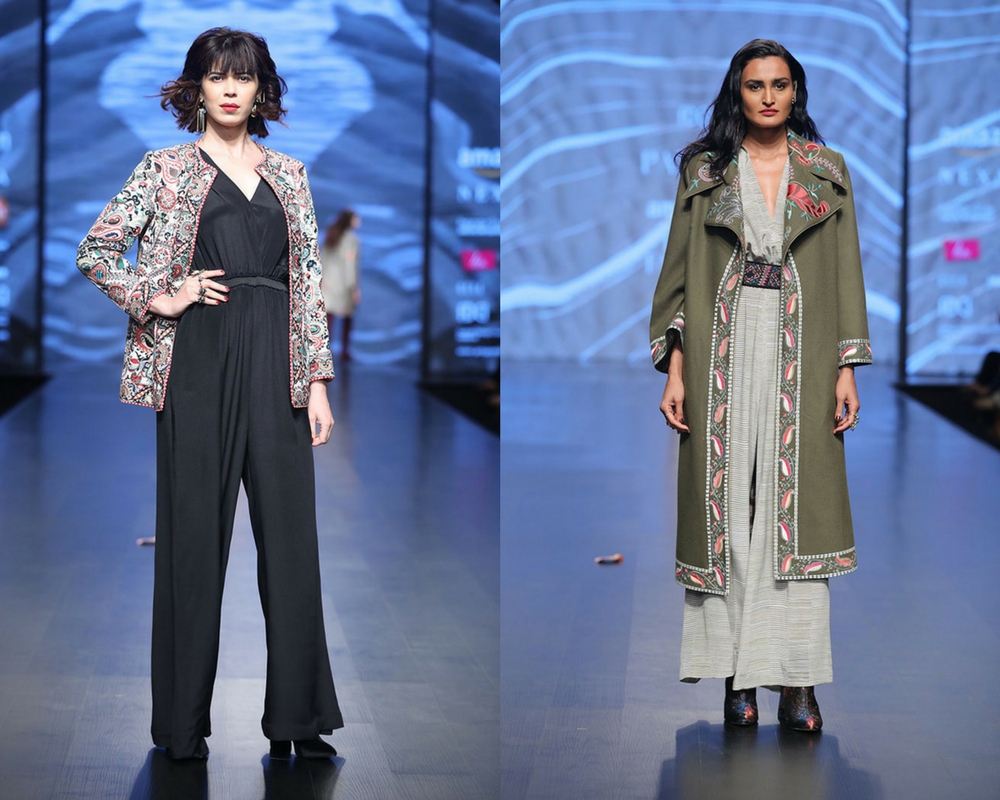 Anupama Dayal
As a designer who loves the use of unusual colours and prints, Anupama worked her twist on the famous traditional weave of Lucknow – Chikankari. Her AIFW AW'18 collection saw different types of silhouettes swapped between colours and white, had something for everyone's taste.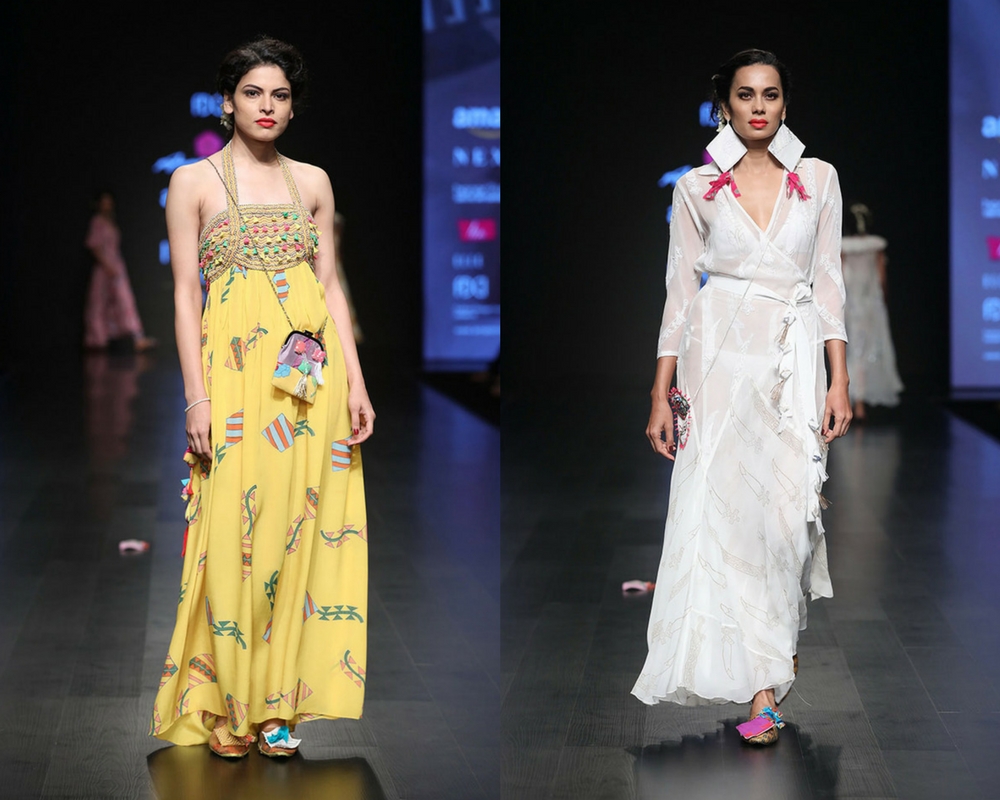 Samant Chauhan
A label that portrays couture in a grandeur, Samant Chauhan painted his designs on white canvases, elaborating it with colours and textures that act as the sequence between light and dark. A spectacular vision of the contemporary, his collections showcased the absence of colour with an amusing play of darkness in contours.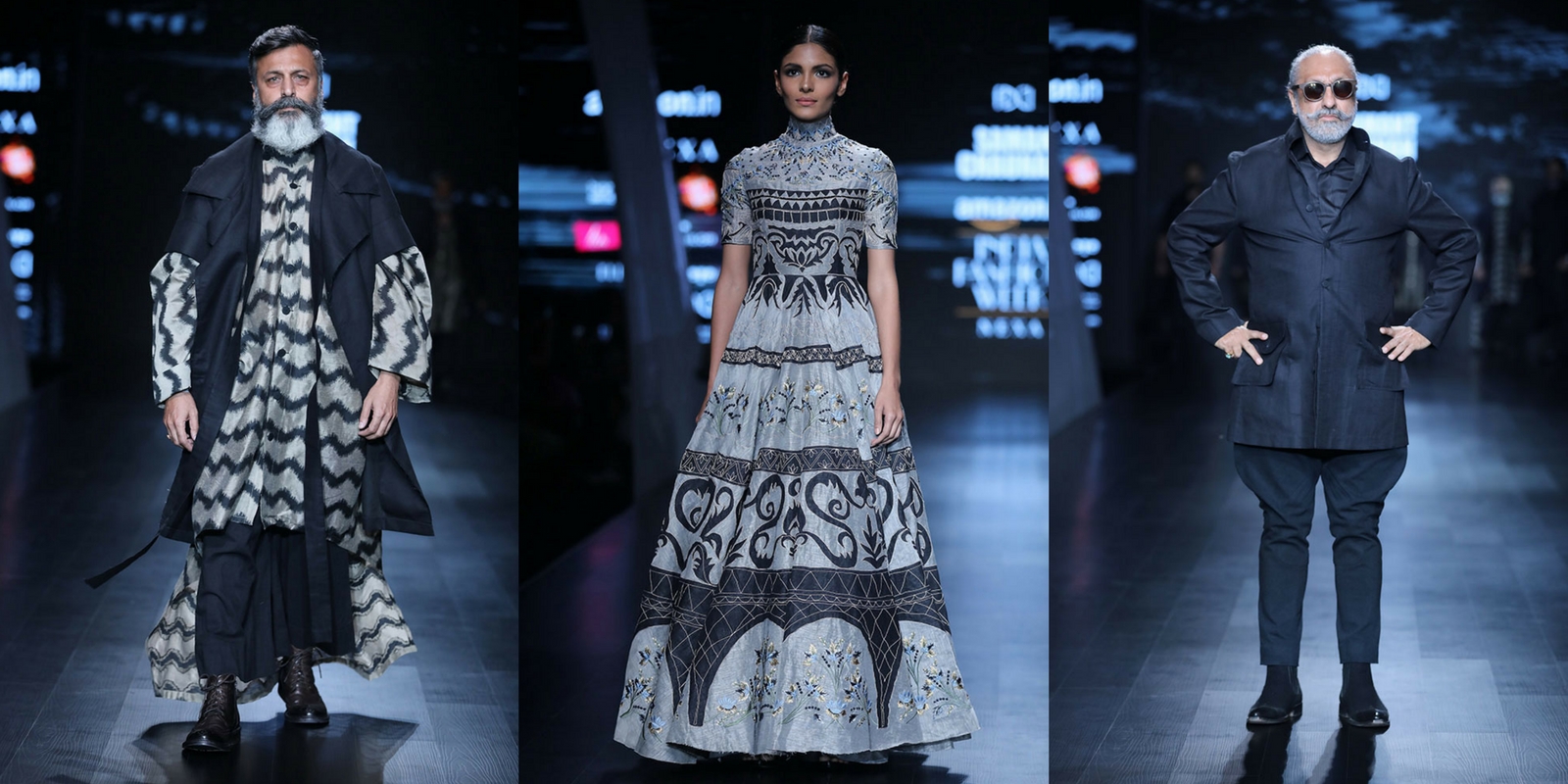 Ashish N Soni X Gauri & Nainika
Ashish N Soni X Gauri & Nainika was one of its kind at AIFW AW'18. For the first time in the history of AIFW, two prominent designer labels showcased their collection together on the runway. While Ashish N Soni flaunted the stage with his collection of pitch black and pure white for men, and Gauri & Nainika graced the runway with powerful feminine designs, Vaani Kapoor glamourised the runway by walking for both the designers.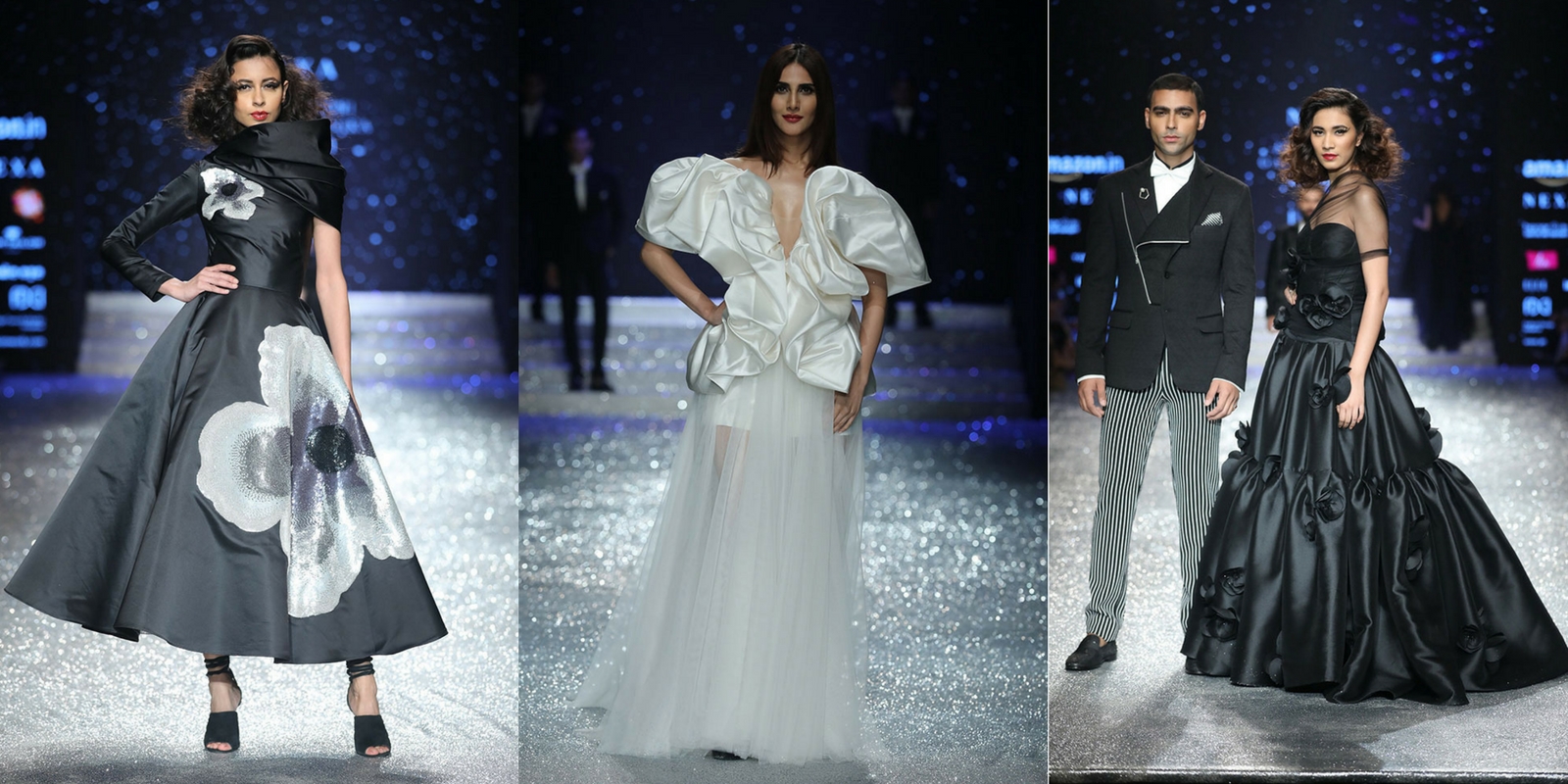 Shivan & Narresh
Inspired by the 17th century Edo Art aesthetics fused with elements from the Eden of the world – Seychelles, Shivan & Narresh portrayed the essentials for a wedding trousseau. Different from the usual, their collection showcased a perfect play of colours and patterns that painted a clear picture of its influence.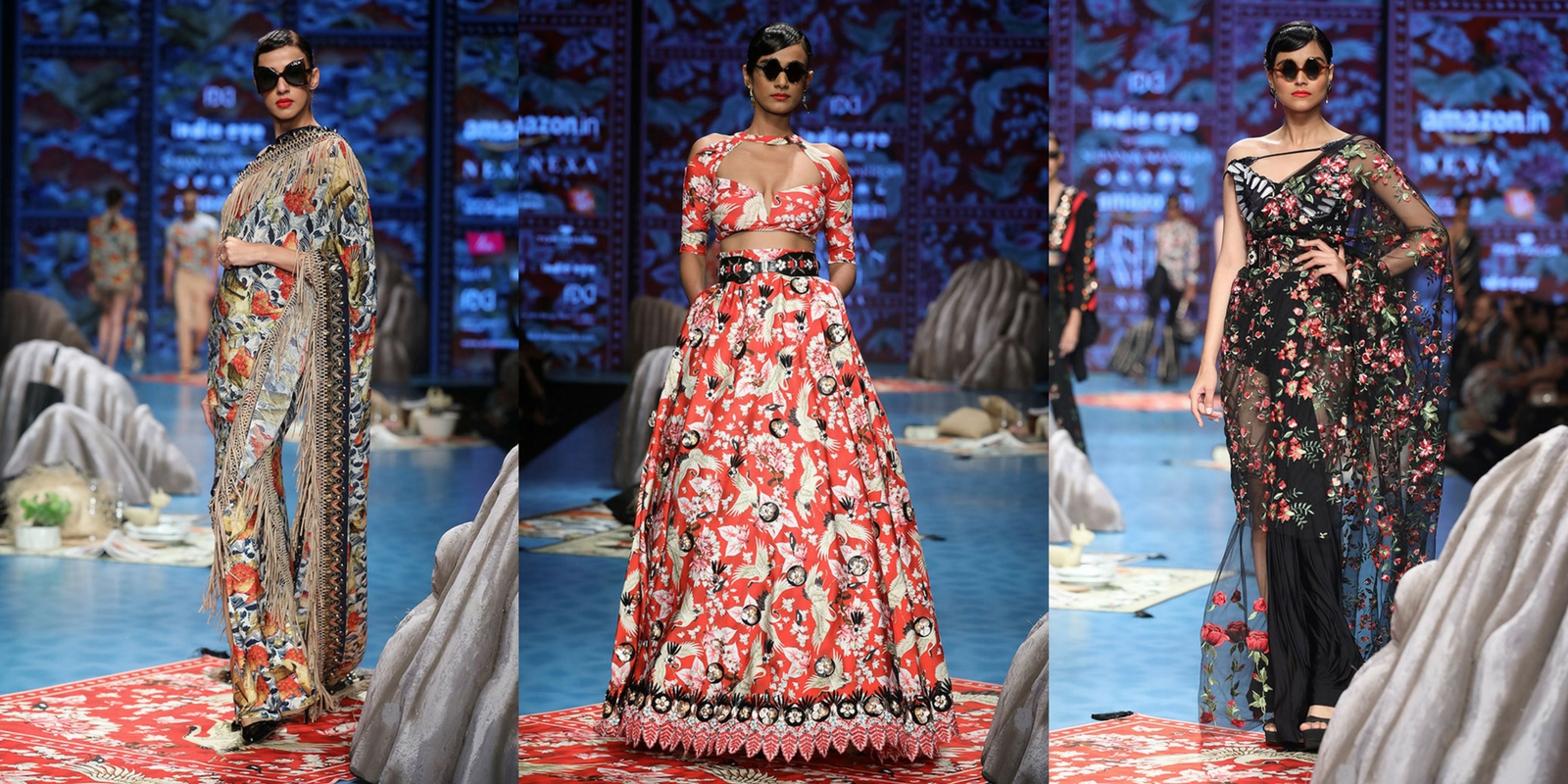 Tom Tailor
This high street fashion label is not a foreign name in the Indian fashion scene. With their main aim being comfortable clothing for all, their collection at AIFW AW'18 focused on three diverse categories of the brand – Historic Romance, Bossgirl, and Rock & Roll.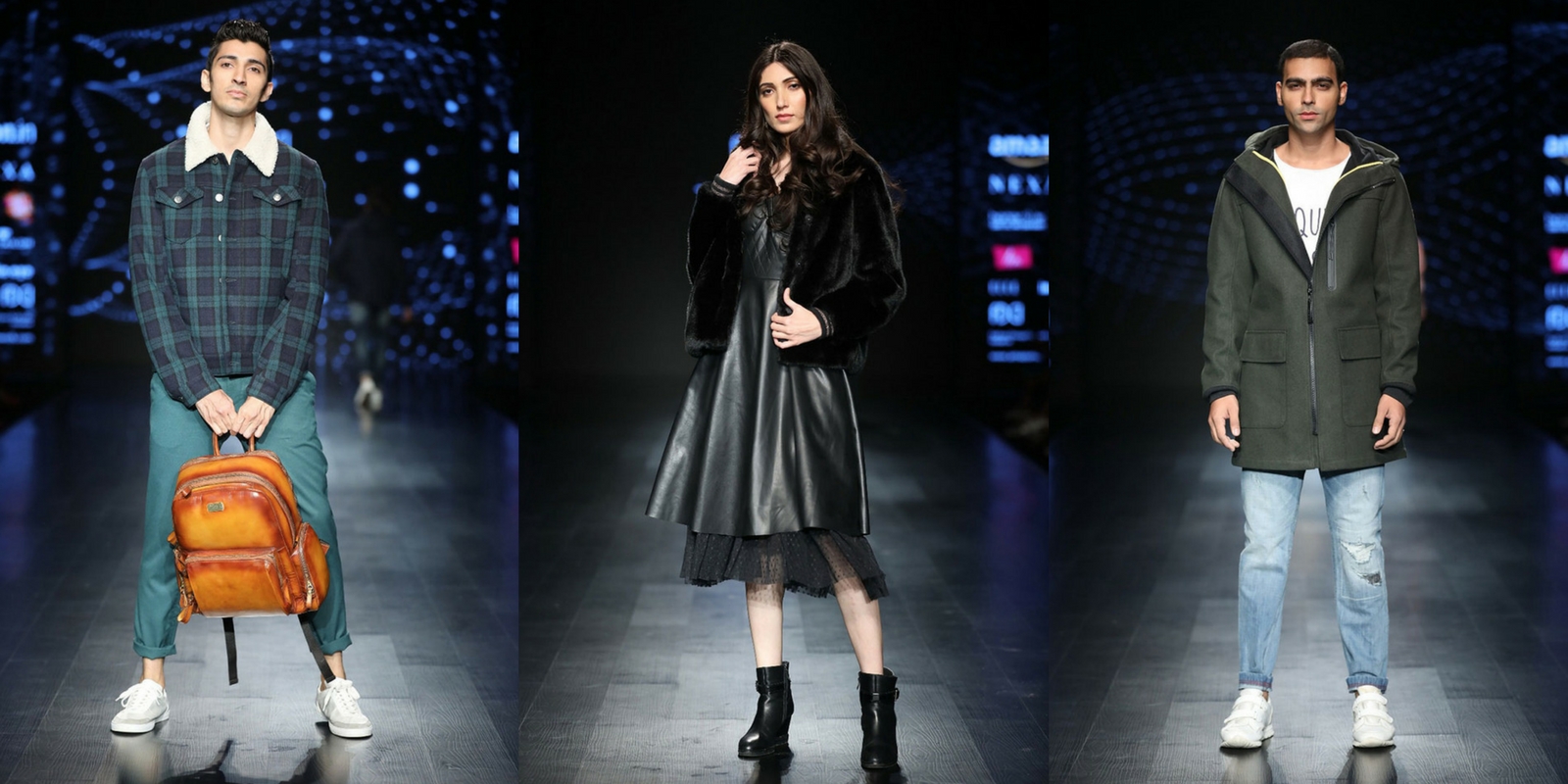 Karishma Deepa Sondhi
Indian attire at its elegant best is Karishma Deepa Sondhi's style. With lehengas, saris, dresses, and jumpsuits, the label had something for every kind of girl. The collection titled, Rasbhari played with colours and fabrics to create statement worthy looks. While this amused the spectators, Bipasha Basu graced the stage wearing a hot pink lehenga and it was a sight to behold.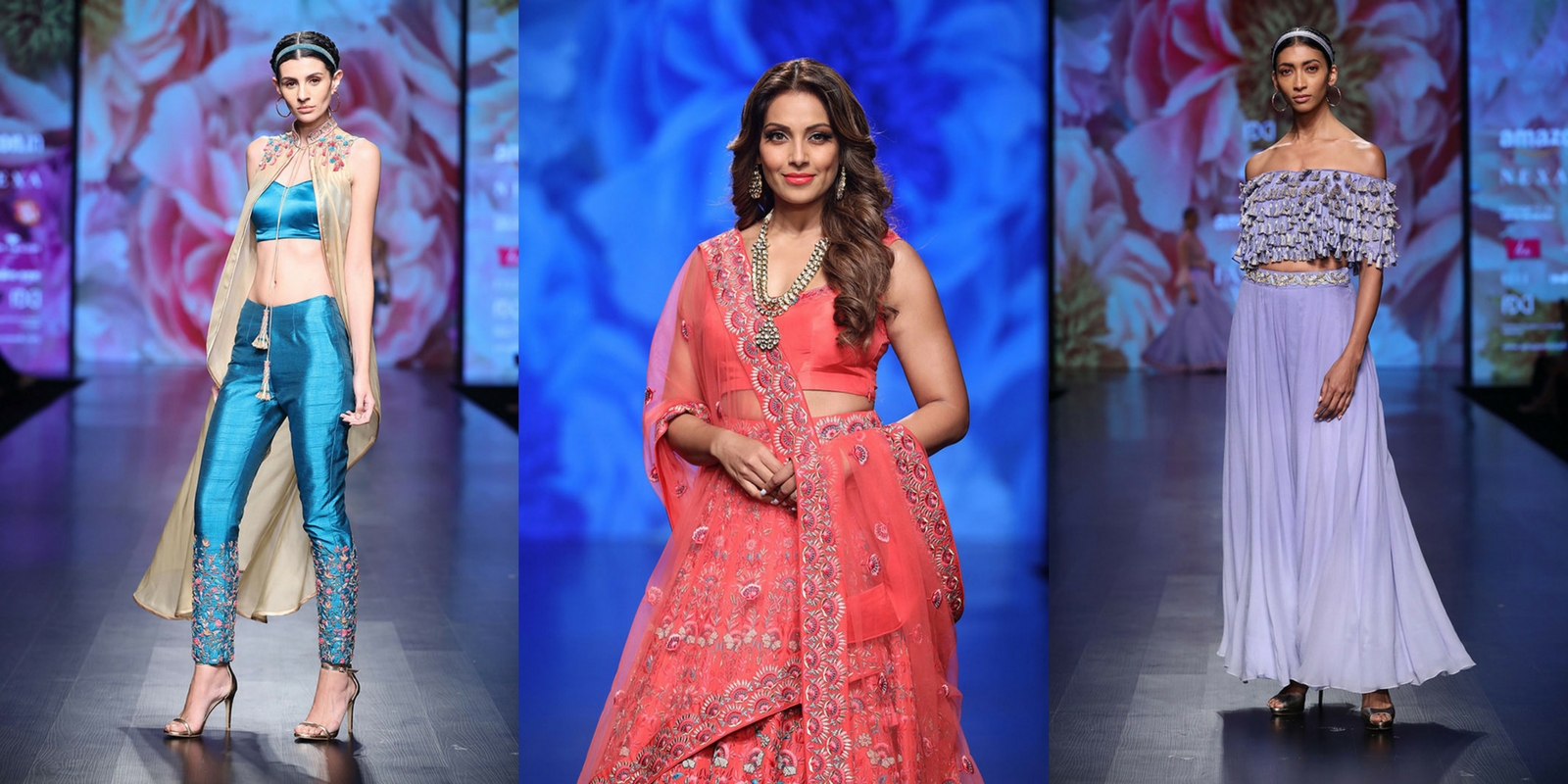 Pero
This internationally acclaimed Indian brand is one of its kind. Pero redefined the autumn-winter with its fresh take on winter palette, with hues of pink, proving that there is no such thing as too much pink. While the shades of pink dominated the silhouettes, the floral print on chequered wool and hand embroidery, and ornamental needlework on appliqued flowers added depth to the designs.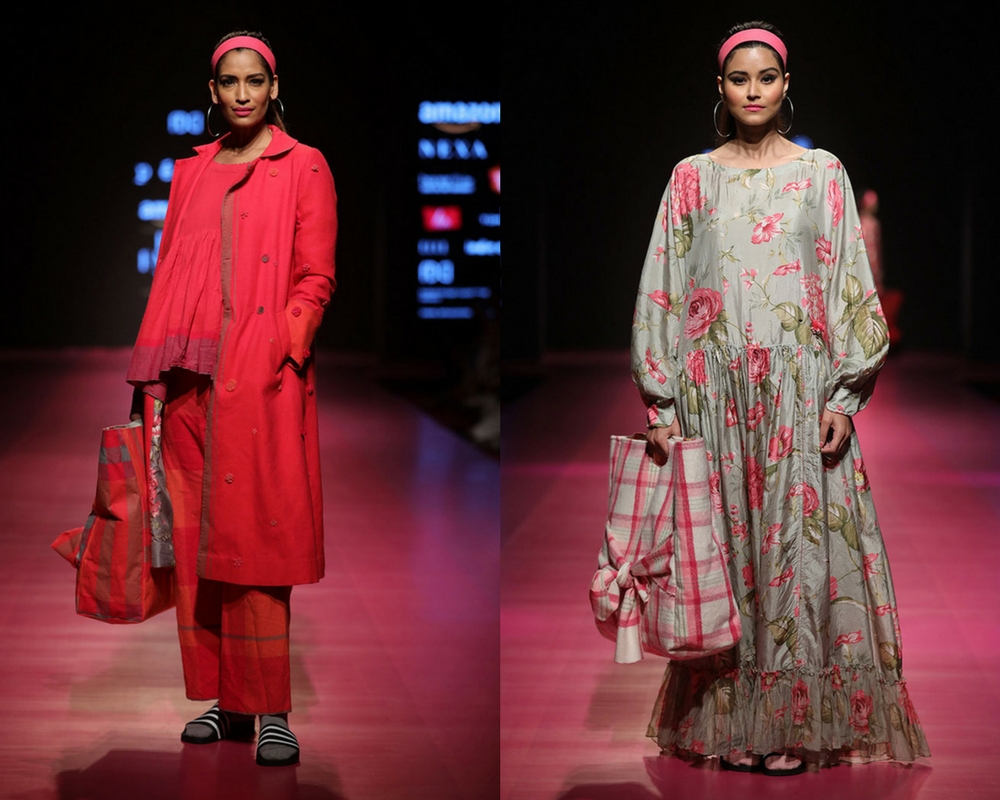 Pawan Sachdeva
Known for his perfect fit and design sensibilities, his label specialises in minimal essentials that are refined, elegant, and versatile. While his excessive research in the field of fashion adapts to the needs of modern men, Kartik Aaryan took over the stage with his charm, justifying the designer's couture. While he gave the spectators some serious outfit goals, he sported a monochrome attire from Pawan's autumn winter line.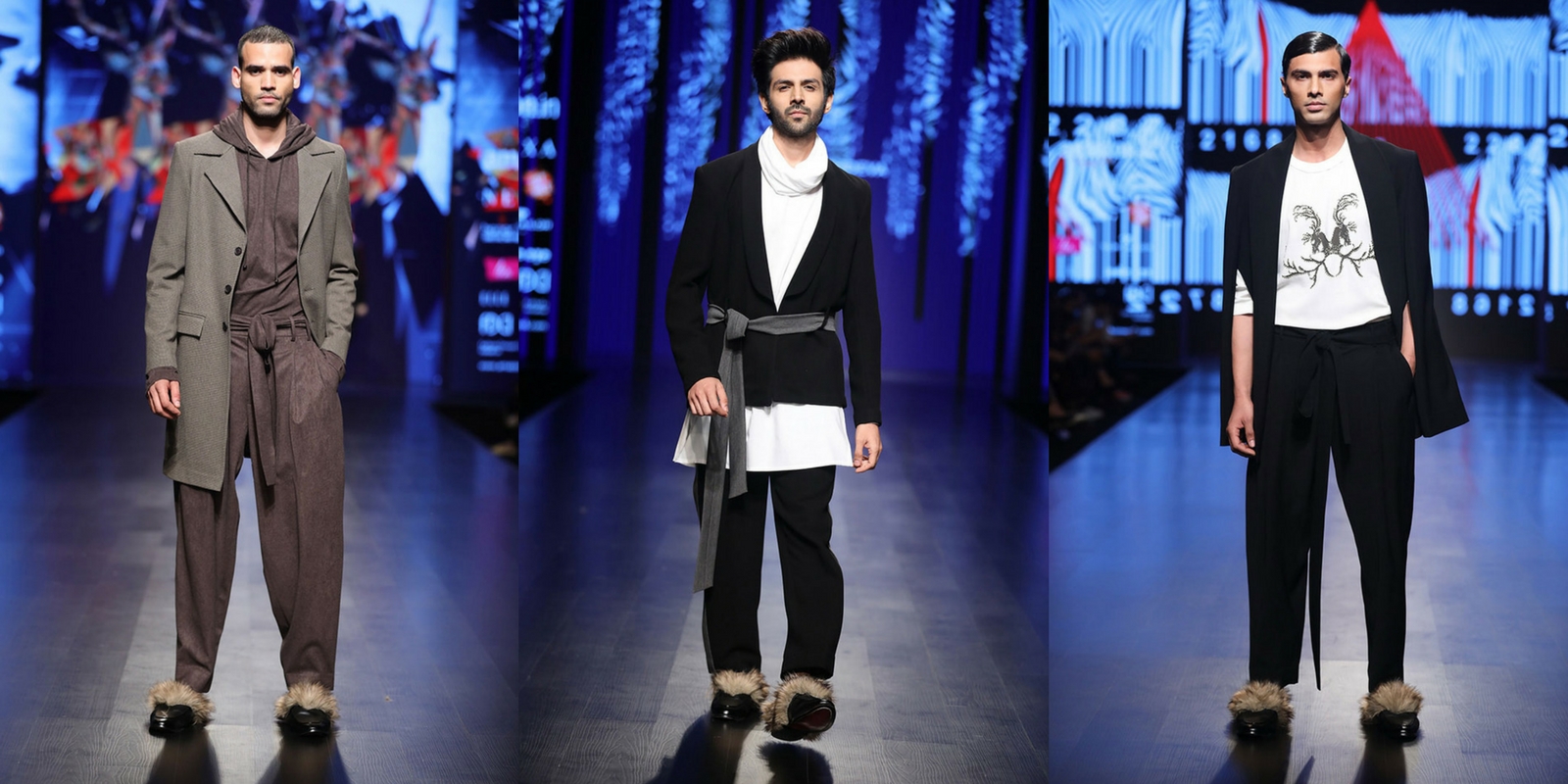 Malini Ramani
A twist, a change, and a difference are always looked upon in a creative art form and during AIFW AW'18, Malini Ramani grabbed everyone's attention with her uniqueness that she put forth with her designs. While lycra dresses, cape saris, and kaftans added grace to her collection, these exclusive pieces of fashion marvels captured the imagination of the spectators.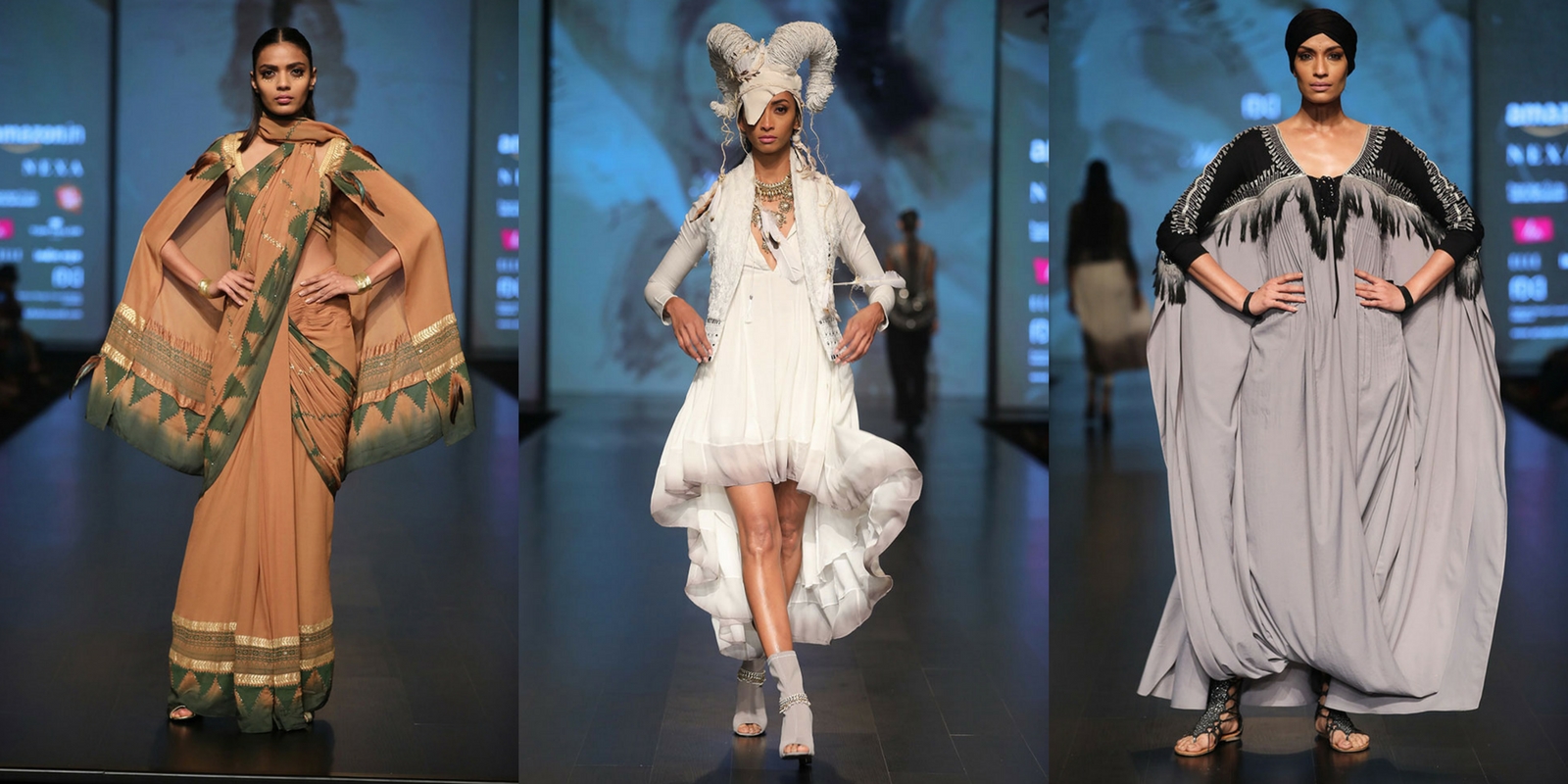 Madhu Jain
This Delhi based designer is known for her fusion of fashion with that of Indian paintings and art. While her collection at AIFW AW'18 explored combinations of weaves from different grandeur, her designs are known to make a mark in the sustainable fashion industry, truly being a source of inspiration.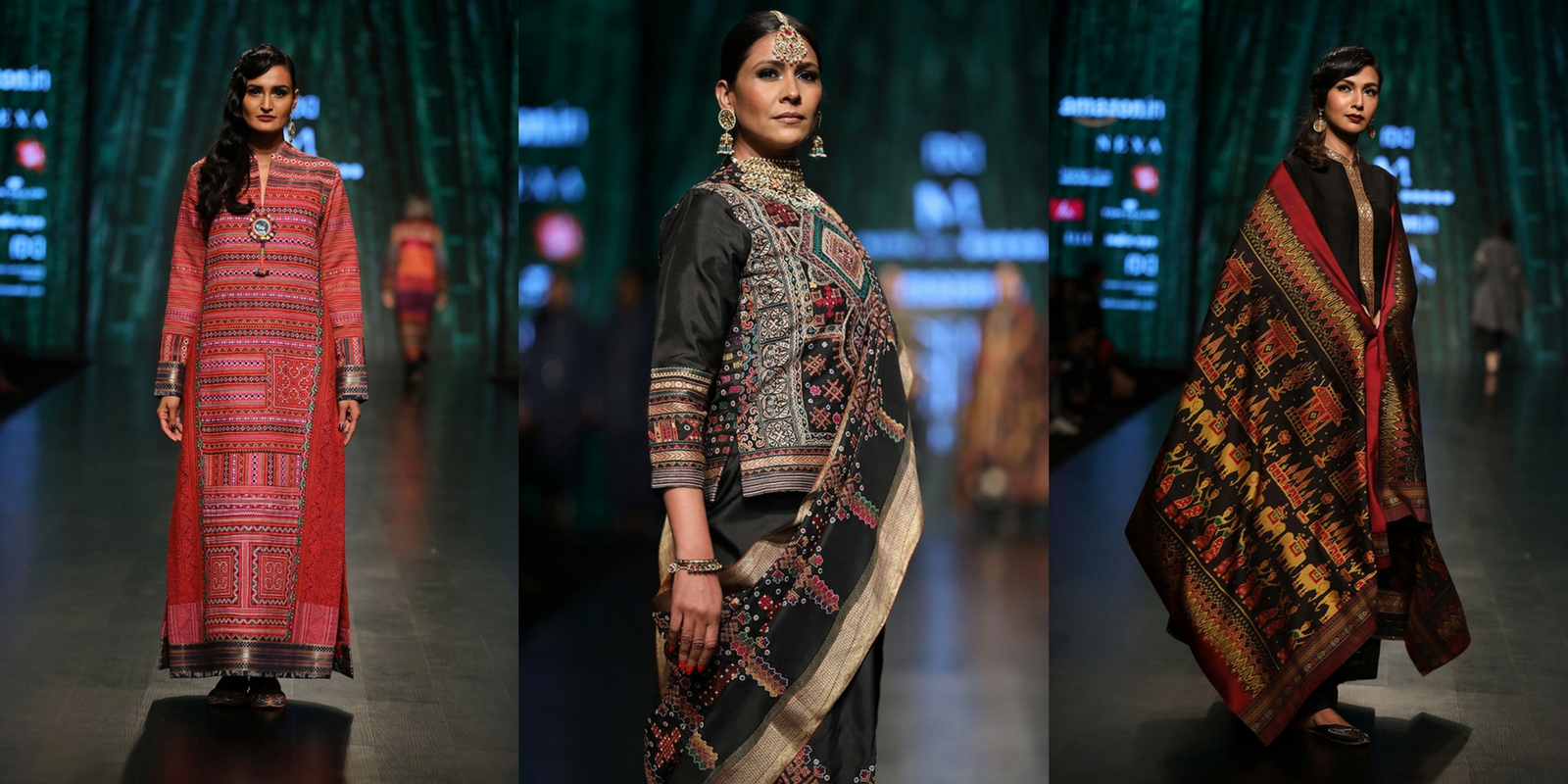 To read more about Amazon India Fashion Week Autumn Winter '18 and its trend, click here.
Major Trends to Take Away from Amazon India Fashion Week AW' 2018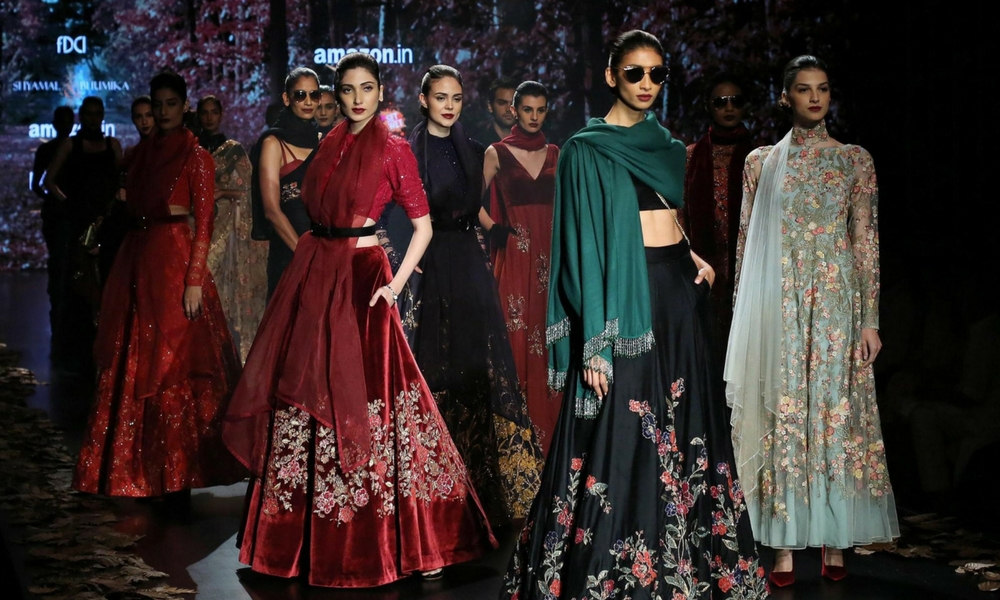 What trends from the Amazon India Fashion Week Autumn/Winter 2018 should we introduce to our own wardrobes? Here's a glimpse at major trend elements that are sure to look good off the ramp as well!
Text credit: Rheanna Mathews
The recently concluded Amazon India Fashion Week was chock full of inspired designers and their inspiring designs. FWD takes a look at the ensembles as they were sashayed down the ramp, picking out details that anybody can add to their wardrobe, to transform into a style phenomenon.
Sheer fabrics have been trending for a while, and it seems they're sticking around this season too. Designers Sahil Kochhar, Gauri & Nainika, Rabani and Rakha, Rina Dhaka and Namrata Joshipura used sheers abundantly in their collections.
Ruffles and pleats are still going strong with tiered variations also seen among the collections of brand  Pero by Aneeth Arora, Gauri & Nainika, Not So Serious by Pallavi Mohan and Rabani and Rakha, to name a few.
The Autumn/Winter, understandably, is seeing a lot of enhanced sleeves, some long and billowing, others sheer and full. Designers Madhu Jain, Diksha Khanna and brand Pinnacle by Shruti Sancheti were noticeable in this regard.

In keeping with enhanced sleeve trend of the season, but with a twist of their own, designers Wendell Rodricks, Rina Dhaka and brand Nikasha showcased one-shoulder outfits.
Rina Dhaka, Aarti Vijay Gupta and Shruti Sancheti, among others, also opted for closed necklines on their costumes, drawing attention to the graceful column of the neck.
Uneven, unmatched and layered hemlines are quite popular this season, with designers Anju Modi, Diksha Khanna, Anupamaa Dayal, brand Nikasha and a number of others using flowing fabrics in shades ranging from vibrant to pastel to nude.
Floral motifs are still all the rage, a trend we've been seeing for a few seasons now.  Whether embroidered or appliqued, flora is here to stay, say Shyamal and Bhumika, Pero, Siddhartha Tytler and Sahil Kochhar.
A closer look at the fabrics in ensembles by Pero, Dhruv Vaish and Vineet Bahl will also reveal that checks are a huge trend element this season, with floral-check combinations ruling the ramp.
The wintry shades of white and beige, and rich, dark velvets were interspersed with pops of colour in mustard yellows, rusty reds, pinks and even metallic magenta and teal. And what this means is simple: don't be afraid to wear bright colours if the mood strikes you!
Ten Times Sonam Kapoor was Her Fashionista Self on Instagram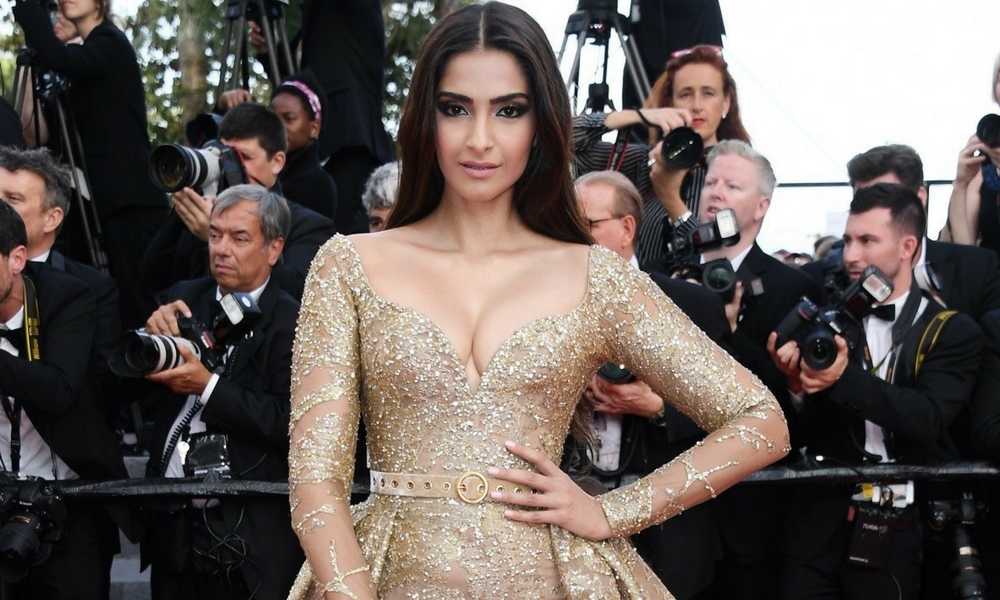 Let's take a look at all the times Sonam Kapoor's Insta posts proved what a veritable fashionista she is, at times channelling her inner glamazon and at others a more subdued beauty
Text credit: Rheanna Mathews         
Sonam Kapoor's Insta handle is a cornucopia of fashion inspiration, further evidence of impeccable taste which quickly made her a beauty beacon at Cannes. Here are a few of her recent gush-worthy ensembles that all women, from pampered princesses to corporate queens, will gush over:
The veritable princess doll dipped in gold
A classic beauty in ruffles and tulle
The Hollywood diva in jewel toned silk
Ready to give even Cleopatra a run for her money
Amping up the saree with diamonds and pearls, not to mention, kohl-rimmed eyes
Sleek and stilettoed, with corporate checks down pat
The free spirited cosmopolitan woman
The chic, modern woman with bohemian leanings
Making even relaxing with a hot drink look put together
With this sense of style making her the darling of shutterbugs, is it any wonder that she and her sister have launched their own brand of affordable luxury, Rheson? We think not. However, whether the brand reflects the exact same sense of style, is another story.
Find out more about her latest project with Malayalam's darling, Dulquer Salmaan, here.