Kochi On Track: Kochi Metro Inaugurated By PM Narendra Modi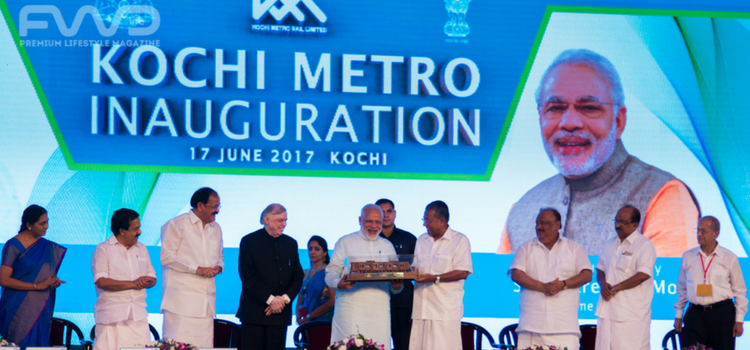 Phase 1 of the Kochi Metro was inaugurated today by the honourable Prime Minister, Narendra Modi at the Jawaharlal Nehru Stadium, Kaloor at 11:00 AM in the presence of Justice (Retd.) P. Sathasivam, Governor, Kerala; Shri Pinarayi Vijayan, Chief Minister, Kerala; Shri M. Venkaiah Naidu, Union Minister of Urban Development, Housing & Urban Poverty Alleviation and Information & Broadcasting; Ramesh Chennithala, Leader of Opposition in Kerala Assembly; K V Thomas, Ernakulam MP and the metro man himself, E Sreedharan, mentor of Kochi Metro project.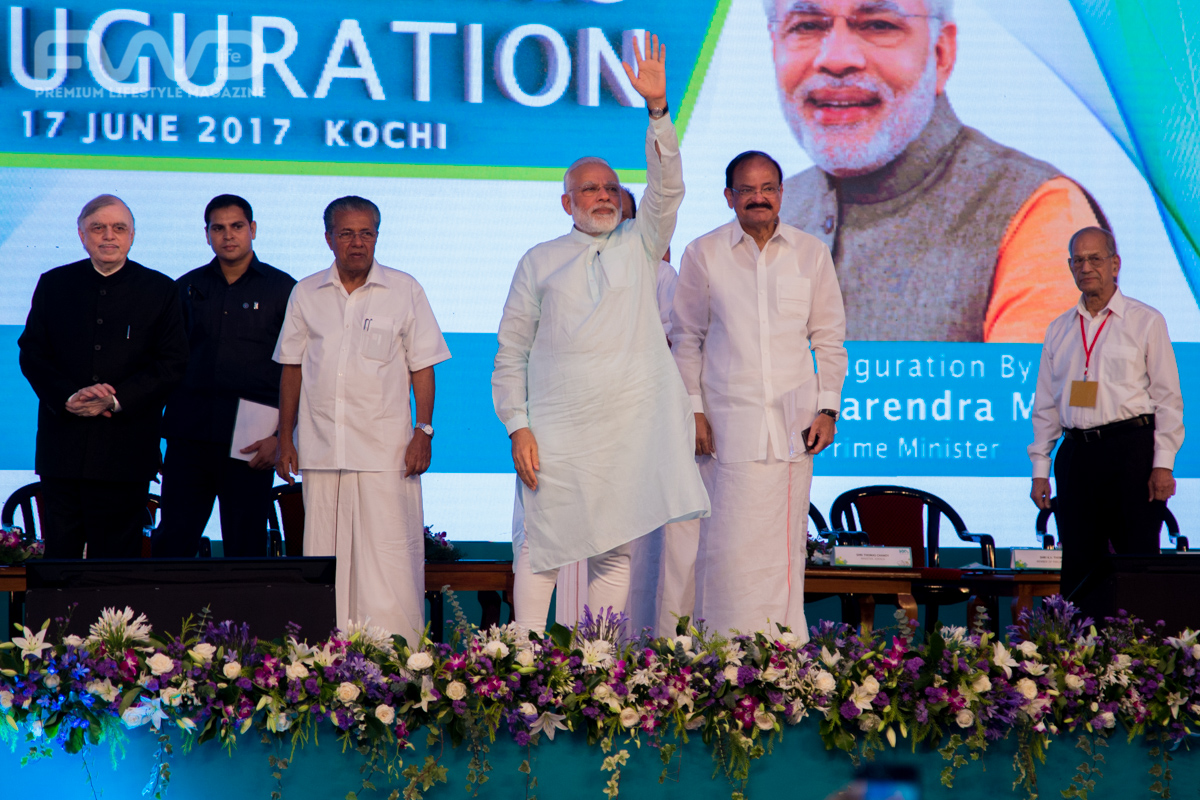 The PM flagged off the maiden run of the Metro by traveling via the Metro from Palarivattom station to board the Metro to Pathadipalam, returning back to Palarivattom, from where he went to the Kaloor Stadium. Earlier on in the day, he had arrived at the Naval base in a special aircraft to be received by Sathasivam and CM Pinarayi Vijayan.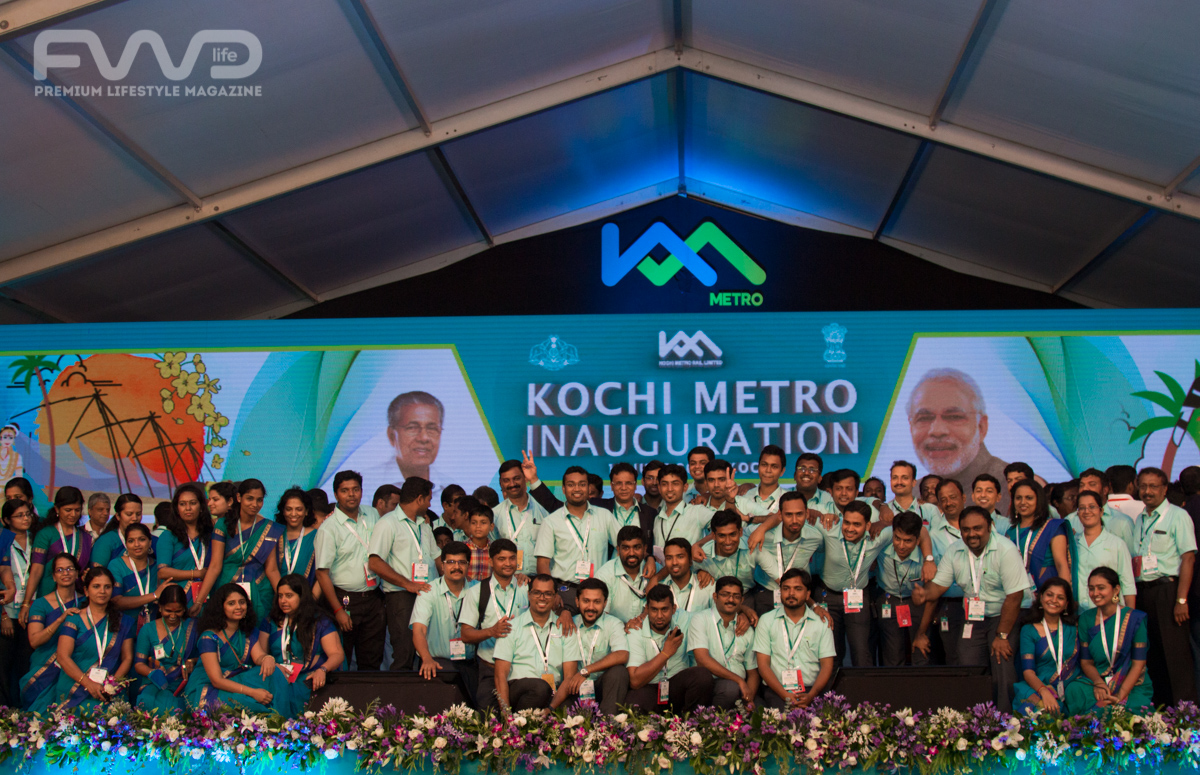 KMRL has been making headlines for the last week, setting examples and pioneering in new though and inclusivity. Employing 23 transgenders, hiring a workforce consisting of 80% women, Solar paneled roofs at the station, introducing the Kochi-1 card for integrated travel, the novelties of the Metro are many.
Sufjan Stevens, Andra Day and many more will be performing at 90th Oscars 2018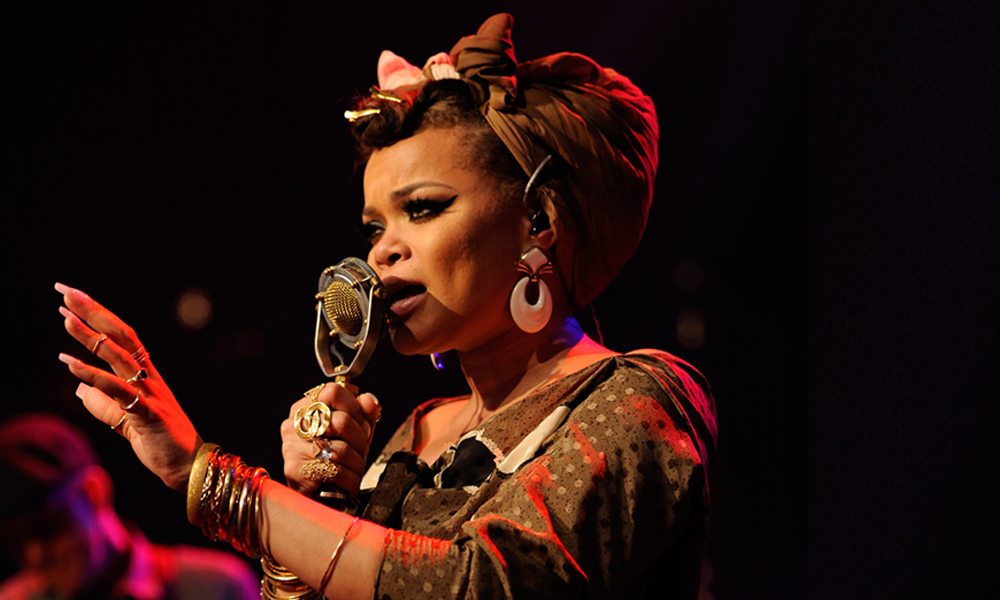 The 90th Oscars will have a live performance of this year's best-nominated songs
Text Credits: Nikhil Wilson
The 90th Academy Awards is sure to be a magical ride as some of the great names in the music industry will be seen performing the Oscar-nominated songs during the event. Gael García Bernal, Mary J. Blige, Andra Day, Natalia LaFourcade, Miguel, Keala Settle, Sufjan Stevens and Common will perform the Oscar-nominated songs at the 90th Oscars. With a huge number of talents competing for one of the most prestigious awards, these performances are sure to give the competitors a change of  ambiance. Here is the list of songs and artists that will be seen performing at the 90th Oscars
Remember Me from the movie 'Coco' by Gael García Bernal, Natalia LaFourcade, and Miguel
Mighty River by Mary J. Blige
Stand up for Something from  'Marshall' by Common and Andra Day
This is Me from 'The Greatest Showman' by Keala Settle
Mystery of Love by Sufjan Stevens
The Announcement was made by the Academy Awards show producers Michael De Luca and Jennifer Todd. Late night show host Jimmy Kimmel will be seen hosting the 90th Oscar awards.
Justin Trudeau Is In Town And This Is All You Need To Know
Canadian Prime Minister Justin Trudeau visits India along with his wife and children, and we LITERALLY can't stop talking about it.
Text Credit: Roshan D
If India is gushing about something right now, it is the Canadian Prime Minister, Justin Trudeau's visit to India along with this wife Sophie Gregoire Trudeau and children Hadrien, Ella-Grace Margaret and Xavier James Trudeau. The Trudeaus landed in Delhi as the first stop of their week-long visit to India, which is expected to deepen the ties between India and Canada. Making a halt at Agra on the first day of their visit, he visited the iconic Taj Mahal along with his family. With a nostalgic caption to his image on his personal Instagram page, he recollected his first trip to Taj Mahal that he made almost 35 years ago.
Following their visit to Taj Mahal, the Trudeaus flew to Gujarat and visited Mahatma Gandhi's Sabarmati Ashram and paid respect in front of a portrait of Mahatma Gandhi. During his visit to Gujarat, he, along with his family also visited the famous Akshardham Mandir, which is considered to be an architectural marvel which was built from 6,000 metric tons of pink sandstone. He and his sons, along with the religious leaders paid tribute to Swaminarayan and his life and teachings at Gandhinagar.
Making Mumbai the next stop on his visit to India, he met with various leading business leaders of India including Kumar Mangalam Birla, Chairman of Aditya Birla Group, Natarajan Chandrasekaran, Chairman of Tata Sons, Salil Parekh, CEO of Infosys and Chanda Kochhar, CEO of ICICI Bank, and spoke about the importance and benefits of women empowerment in a country. They spoke about the key investments that these Indian business tycoons have made in Canada, resulting in increased number of jobs for Canadians and more than $1.1 billion in contracts and deals. Though this is a great news for Canada and its people, it is no less of a news for us as it has strengthened the Indo-Canadian partnership to a greater extent.
Really insightful session with the leaders at our roundtable on women in business today in Mumbai with @ICICIBank CEO Chanda Kochhar. When governments support women who push their dreams forward and succeed, we all benefit. pic.twitter.com/KSxRjugmS2

— Justin Trudeau (@JustinTrudeau) February 20, 2018
Today's announcements mean more than 5,800 new jobs in Canada, and more than $1 billion in contracts and deals. Great news for the Canada-India relationship. pic.twitter.com/iAjAprMizb

— Justin Trudeau (@JustinTrudeau) February 20, 2018
While a meeting with PM Modi is scheduled on February 23, where the two leaders are expected to focus on trade, defense, civil nuclear cooperation, space and education, he made up time to meet the notable faces of Hindi film industry, while he was in Mumbai. While he was decked up in a traditional Indian Sherwani, his wife Sophie draped a detailing off-white saree, making the heads turn. Many celebrities from the Bollywood film industry attended the meeting including Farhan Akhtar, R Madhavan, Anupam Kher, Kalkhi Kochelin and the king of Bollywood, SRK himself. This marked and celebrated a stronger and new co-production opportunities between Bollywood and the Canadian film industry.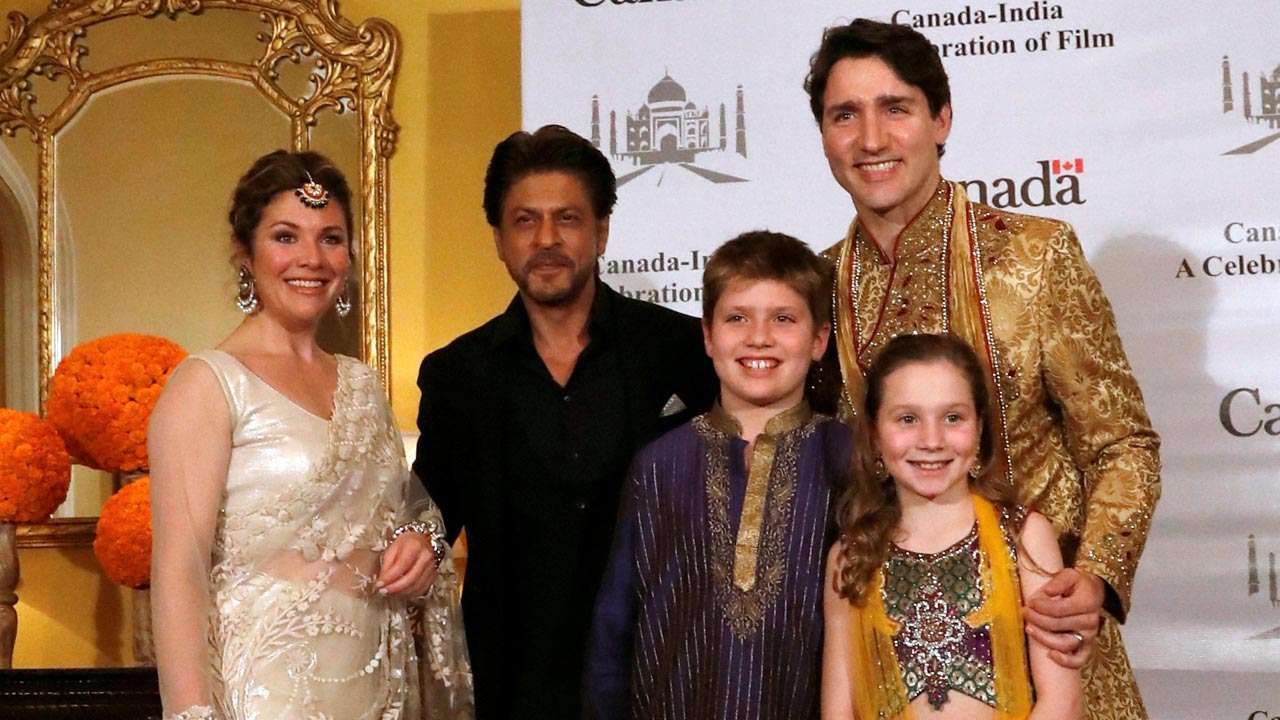 @JustinTrudeau such a pleasure and honour meeting you sir. Your relatability, grace and charm was most endearing and its easy to see why you are the Pride and toast of Canada.Have a lovely rest of the tour.🙏🙏 pic.twitter.com/yNpZV6l4Vo

— Ranganathan Madhavan (@ActorMadhavan) February 21, 2018
Although people on social media can't stop gushing about the Canadian Prime Minister's meeting with the Bollywood celebrities, the Trudeaus have landed in Amritsar, as the next destination of their week-long India visit. His family and he were received by Hardeep Singh Puri and Navjot Singh Sidhu at the airport. Later, he visited the Golden Temple along with his family and attended langar, the community kitchen at the Golden Temple. It is stated that the Shiromani Gurdwara Parbandhak Committee has arranged a specially crafted 24-carat gold-plated portrait of the shrine and a gold-plated 'Siri Sahib" (a small six-inch sword) to be presented to the Canadian Prime Minister along with 'siropa' (robe of honor) and a shawl.
Techno Extravaganza with Ash Roy, Dj Ram Nair and DJ Nash
Atma brings producer and DJ Ash Roy, DJ Ram Nair and DJ Nash to one platform at Casino Hotel on Feb 17, 2018
Text Credit: Shibul Pavithran
Atma is a event label which brings the top electronic music artists from all over the world to Kochi.
They have done many successful events over the past several years in Kochi, which was attended by countless  music and art lovers.
Atma is conducting a techno dance music event at, Casino hotel, Willingdon Island , Kochi on the Feb 17 2018. World famous DJ and Producer Ash Roy from Berlin, will be playing some pumpy baselines and minimal techno beats to get the temperature rising at Casino Hotel, along with DJ Ram Nair aka Modul 8, DJ Nash aka BIAR(boy in a room) from Kochi and Visual Jockey: Bee Vee from Bangalore.

Ash Roy: Ash Roy's illustrious 20 year career has seen him perform around the world, including Germany, USA, India, Sweden, Netherlands, Canada, Malaysia, Singapore, Dubai, Denmark, Nepal, Sri Lanka, Bahrain and more!
In the year 2014, Ash Roy also won two prestigious awards – MyFav India's 'Best Techno DJ' for the year 2014, as well as VH1 Sound Nation's 'Best Electronic DJ'. These coveted awards along with his acclaimed release on Trapez Ltd. were the highlights of Ash's career in 2014. Also has performed at the magnificent Burning Man festival, which is one of the best electronic festival in the world.
Ash has shared headliner space with The Chemical Brothers, Prodigy, Modeselektor and Carl Cox, played with the likes of Richie Hawtin, Sasha, Cari Lekebusch, Fergie, Nic Fanciulli, Ambivalent and Kasey Taylor individually and appeared on publications such as Rolling Stone, Euphoric mag and more. He is a big daddy in the electronic music industry and originally has his roots from Kolkata, India.
Ram Nair aka Module 8: A South Indian So(u)ldier of Sound, Ram has been owning the decks for over 10 years, playing electronic dance music in over 15 cities in India. Highlights include United by Music Carnival, Café Rasta, Bangalore, Dunes Dessert & Music Festival, Rajasthan, Spring Zouk Music Festival, Malpe and Go Madras Music Festival – the largest music festivals in India catering to electronic dance music. Within his hometown Kochi, Ram has played an instrumental role in building the electronic music scene, Playing the latest tracks from deep house, techno and trance from around the world packaged with his superior mixing skills.
Ram has played with high-profile international artists such as Ad Brown, Matan Caspy, Ben Coda, Ronski Speed, Chris Ortega, Kelly Marie, Chris Montana, Arjun Vagale, Ma faiza, Jalebee Cartel, Dualist Inquiry, Shaair & Funk, Lost Stories, Tuhin Mehta, Sanjay Dutta, and DJ Ivan.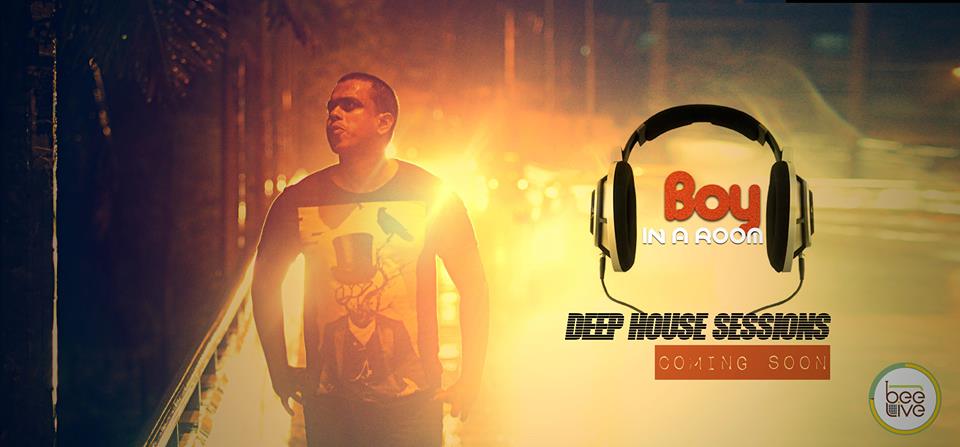 DJ NASH aka BIAR (boy in a room):   Nash has an experience of 11 years in DJing and has successfully played all sorts of music for the his audiences. He was the first person in Kerala to start as a resident DJ for Tandav nightclub/discotheque at Le Meridien Kochi, even the place was first of its kind in whole of Kerala, way back in 2006. He is one of the pioneers in introducing the concept of electronic music to God's own country.  His electronic project called 'Boiler room' won the best DJ award in 2015, this competition was held in association with Tenzi Fm and point Blank Music School London. He has been the resident DJ for almost all the clubs in Kerala. To name a few, resident DJ for Longevity Club, resident DJ for AVA Lounge in Dream Hotel and Resident DJ for Club 1100 in Ramada Resort in Kochi. Currently working as resident DJ of a night Club by NOI( Naval Officers institute).
Nash has shared the stage with many biggies of the industry like: Tenishia, Ad Brown, Alexe Sonar, Rohit Barker, Tuhin Mehta, Vachan Chinnappa, Vijay Chawla( Chennai) and Vinayaka( Bangalore).