Kareena Kapoor Is Resplendent Showstopper For Manish Malhotra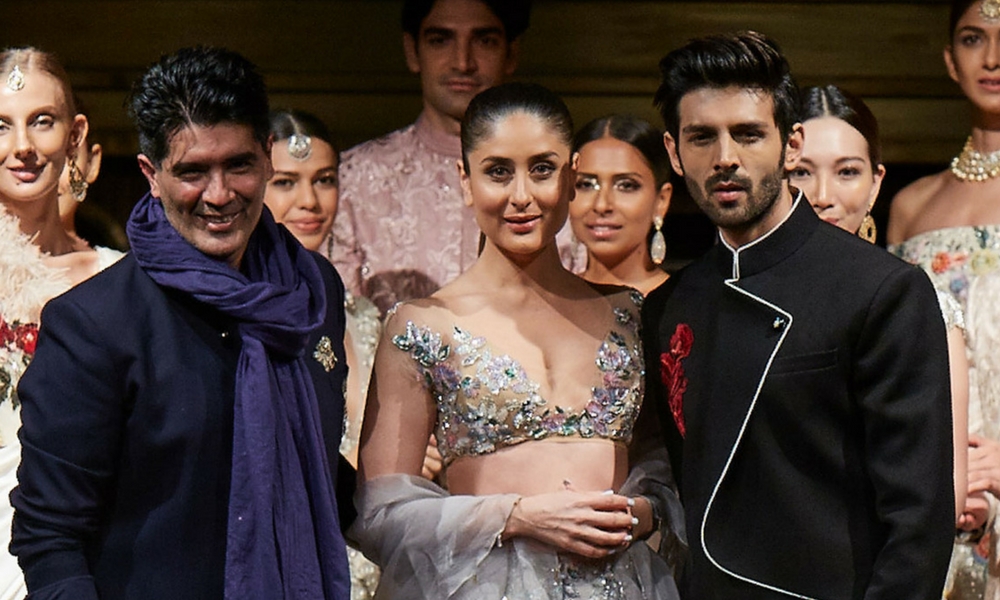 Kareena Kapoor was luminous as she turned showstopper, along with Kartik Aaryan, for Manish Malhotra's exclusive Singapore fashion show
Text Credit: Rheanna Mathews
Kareena Kapoor has walked ramps as the showstopper many a time, and in keeping with her reputation, she executed another flawless walk recently at Singapore. Kareena sashayed down the catwalk this time for Manish Malhotra's exclusive and grand fashion expo, #MMLXSingapore.
Kartik Aaryan was her fellow showstopper, looking regal in a largely black costume with a faux lapel design and floral applique.

Kareena's outfit, on the other hand, was in keeping with the current fascination with subdued pastels, but featured Manish's signature taste for glitter. The gauzy material and it's colour seems better suited to a winter collection, until you notice the coloured tones of the shimmering ensemble.
Kareena herself, seemed happy about how the show went.
Amrita Arora also made a feathered apperance in label Manish Malhotra. Feathers seemed to be a recurring element in the collection.
And Manish, in his signature shawl-draped look, was basking in the glow of a job well done. His Summer 2018 Collection had received positive reviews a few days earlier and this fashion expo seems to have gone according to plan too. Small wonder a star such as he was invited to the India Fashion Summit held at Kochi earlier this month.
Why péro Should Be Your Go-To Brand This Summer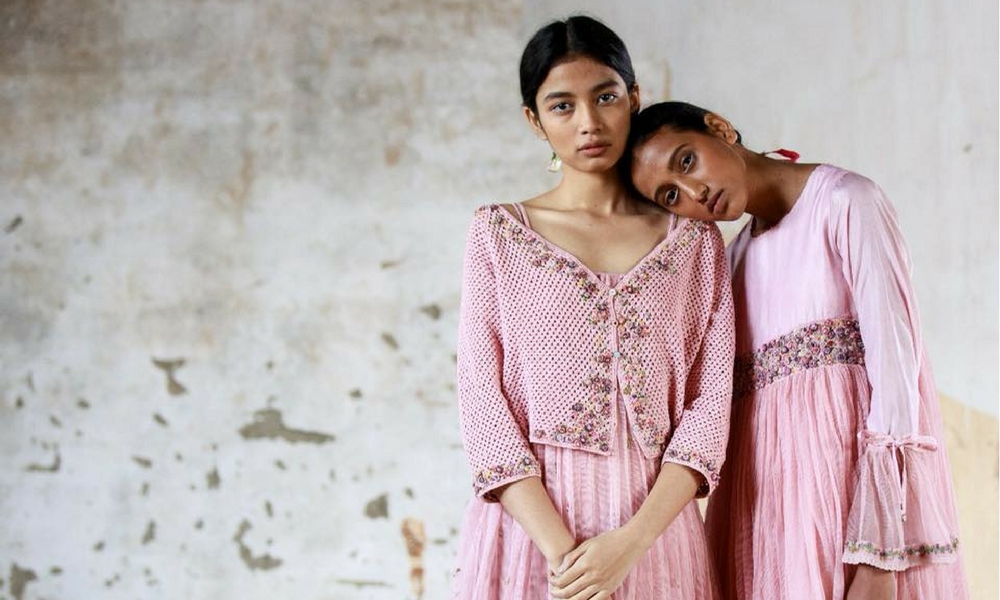 péro by Aneeth Arora has made its mark globally, being sold in 20 countries, and small wonder. With its cutesy, whimsical aesthetic and its light, airy fabrics, péro, this summer, is a dream
Our tropical summers call for thin, airy fabrics, light to touch, cool to wear, and quick to dry. Brand péro by Aneeth Arora does not forget this important detail in their Spring Summer 2018 collection. In whites, pinks and red gingham, the dresses are delightful combination of rustic and cute.
Staying true to their whimsical aesthetic, péro has incorporated delicate floral and ladybug embroidery into rustic lace dresses.
Upcycling like usual, péro has also created adorable footwear with archival fabric. This is particular seems to lend a childlike air of innocence to the entire collection.
And the quaint headgear really brings the rustic element home.
Whether you're enjoying a cool drink in the shade of a sheltering tree, or gliding from room to room in your dusky, curtained home, whether dozing in the sultry afternoon heat or even venturing out into the glaring light, these lacy confections seem perfect for any and all scenarios.
The Raja Kumari Is Looking To Make Music In Bollywood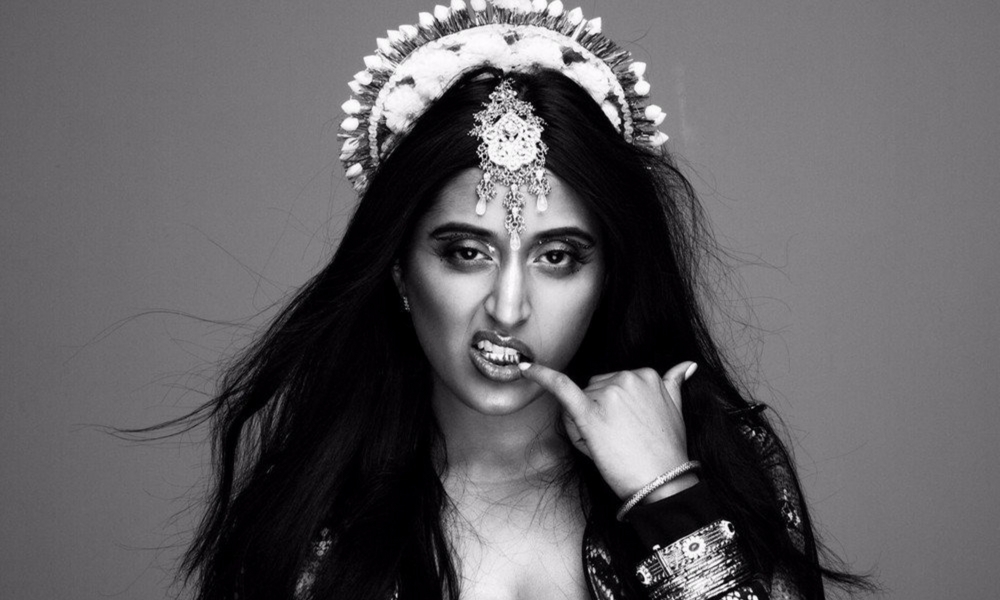 Grammy nominee Raja Kumari, dropped into the Indian music scene with her single, "City Slums", a collaboration with rapper, Divine. Now, she's planning to make Bollywood her playing field too.
Text Credit: Rheanna Mathews
American born Svetha Rao, known globally as Raja Kumari, has been living in Mumbai for around a year now. She dropped into the Indian music scene with her hit single, "City Slums". The song, which she created in collaboration with Mumbai rapper, Divine, has had over six million views on YouTube so far.
Source: lyricsmania.com
A child of privilege, maybe she isn't qualified to talk about the "hard knock" life in Indian slums, but she certainly can talk about Indian culture. She has a degree in Ancient Indian History, studied Ancient Religious Studies in college, has learnt Sanskrit and three different forms of Indian dance. And if she draws on her cultural heritage to make spectacular fashion statements, well, nobody's complaining (too busy drooling over the jewellery, we suppose).
Source: Twitter (@TheRajaKumari)
Raja Kumari is known for her unique style and the niche she has claimed in the music world. But she had her start as a songwriter for other famous artists like Iggy Azalea and Fall Out Boy…an award-winning songwriter. Small wonder that she has already been signed by Sony Music Entertainment, here in India.
Source: Twitter (@TheRajaKumari)
Having already worked on the music for a number of South Indian films, she has set her cap for Bollywood because of the "great impact"it has on the world. "I want to use my time in India wisely and explore the opportunities and try something new. I want to do more stuff in Hindi films. It (Bollywood) has such a great impact on the entire world. The idea that something I write can reach so many more people, that's exciting for me as a musician", said the artiste, who dreams of bridging the East and the West.
Manjulakshmi Bharathan Treads The Highway To Fashion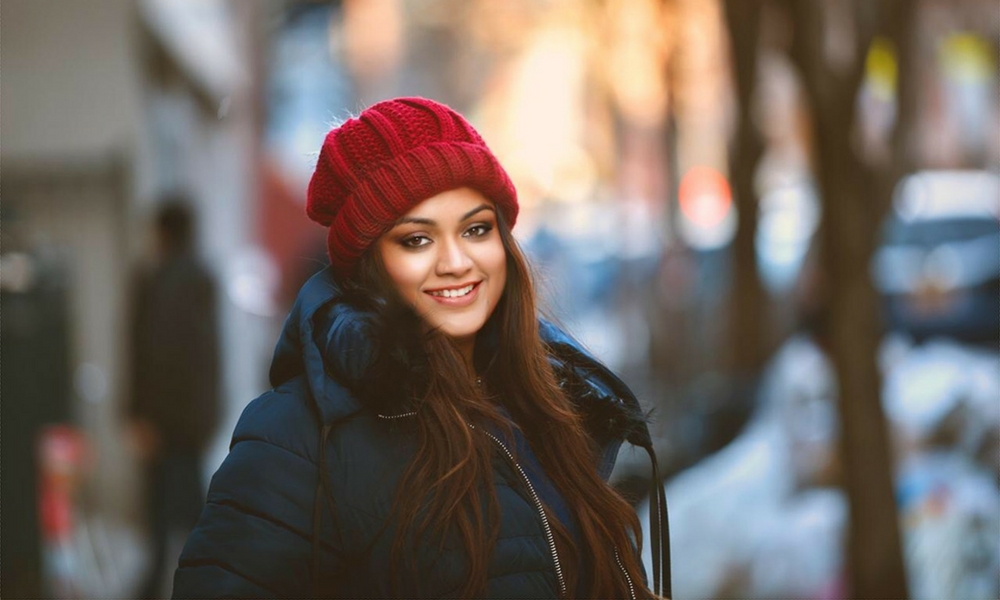 The designer with her label Gills Manjulakshmi became the first Malayali designer to showcase her collections at New York Fashion Week this February
From God's Own Country to the fashion capital of the world, Manjulakshmi Bharathan's journey has been one of determination, hard work, and success. Earlier this year, she became the first South Indian fashion designer to display her works at the prestigious New York Fashion Week. In an exclusive interview with FWD Life, Manjulakshmi tells us all about her journey and her dreams.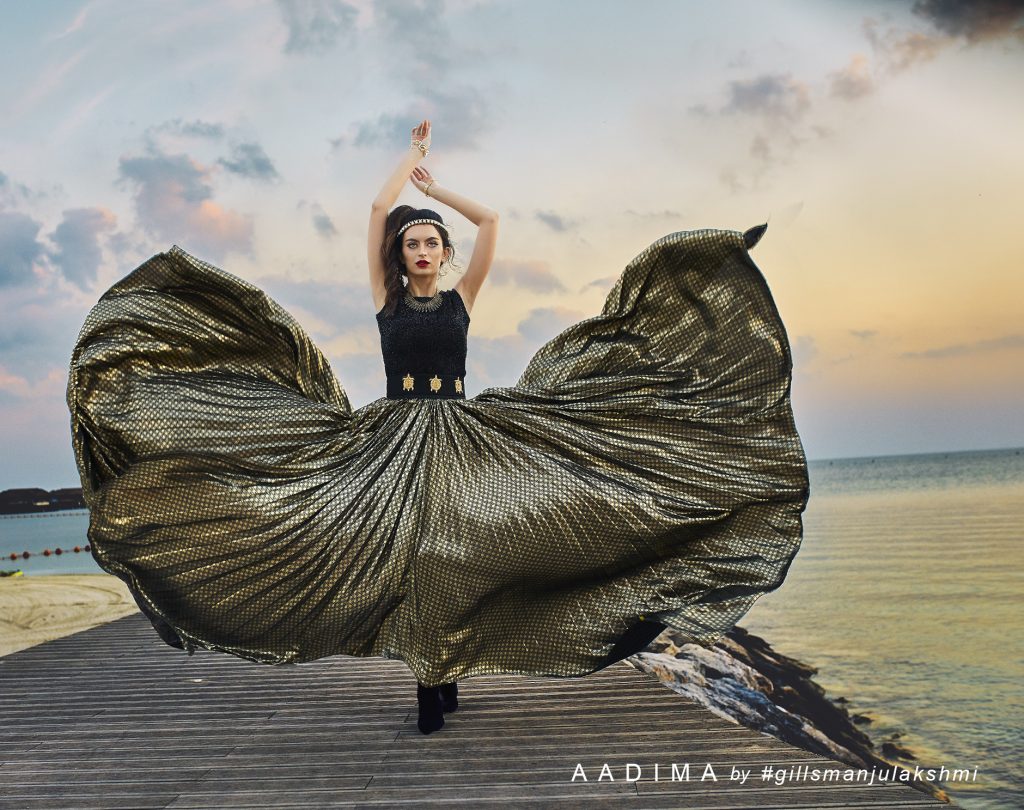 How was the experience, showcasing your designs at New York Fashion Week?
New York Fashion Week was a totally different experience. It's a city that welcomes fashion, where designers work together and the whole city was in a festive mood. Fashion is a part of everyday living there. It's a most prestigious event where we get to meet international celebrities, high profile professionals, and established and emerging artists. They all work under one roof without any conflict.
Tell us about the collection that you exhibited.
I exhibited 40 outfits including three of my collections from both womens and menswear, each were themed differently and according to the styles and fabrics used. There were three categories: 'I love the Roses Red', which comprised hand worked and embroidered 3D roses, colours of reds, kohl blacks and butter creamed organza silks. All were composed in vintage frames and romantic cuts focusing more on evening wear. Corset cuts were the main highlights. The second group was about 'Sun To Moon, All The Things I Love'. This collection was more of elegant women's wear with bridal and haute couture dresses which featured colours from milky whites to deep navy blues coordinating the flow of time from sunrise to the night sky. The third section was called 'My birds are humming your name'. This collection focused on the despair of waiting for love, the changing seasons, how colours changed from Spring to Autumn and how the humming birds played the music of love. Each dress was cultivated in pastel tones embellished with golden humming birds in its different moods. There was also menswear which was composed of themes ranging from stars in the sky to the deep underwater life of fish and turtles with metallic tunes and hand worked details, use of linen and taffetas and use of cuts from Middle Eastern menswear.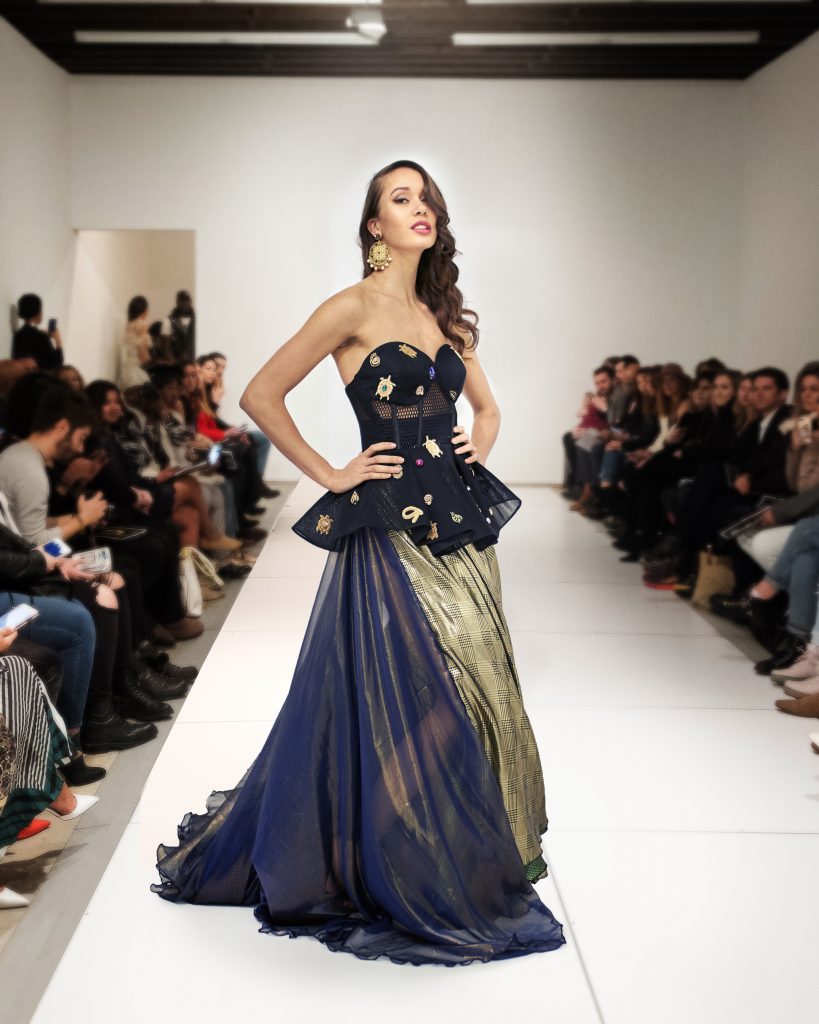 Do you work around sustainable fashion? How do you incorporate it into your designs?
Yes I have been in love with everything natural from my first collection and due to that pursued passion I have been continuing my research studies on organic fabrics including linen, silk, and wool. I had even started an awareness program 'Think Pink Wear Green', by taking a small promise from everyone with their thumb impression to wear anything natural once a week. Dedicated to natural fabrics, label Gills Manjulakshmi has started a new line named AADIMA BY GILLS MANJULAKSHMI.
Do you include any elements from God's Own Country in your designs?
Yes, every collection of mine has been connected to my roots; the use of silks and handlooms have been a never ceasing part in my design collections.
What are your inspirations for your work?
Love in its every form has always been the inspiration for my work and textiles, and its aura has always inspired me. Apart from that, histories and places are my other pathways. I do have a collection of vintage fabrics and textiles collected during my travels which I have treasured.
Tell us about your mother's role in your work.
My mother instilled in me the love for textiles and its drapes. From childhood, she used to design for me dresses with different cuts from the trends of the time. She is a great designer herself and has a special eye for textiles, its flow and colour mixes, and my passion grew more into designing and making and styling when we started designing costumes for the dances choreographed thematically. She used to study the character and substitute colors, fabrics and styling for it.
What do you aim for as a designer?
I would like to bring new perspectives into the use of textiles, its forms, and how people could associate fashion easily with their personality and everyday life. I would like to see the future of fashion applied with sustainability and value for its existence. Fashion has been used as a tool to express ourselves and it has been the easiest way to convey messages to the public. I love vintage and reviving fashion and textiles that have proved as brands themselves. I would like to establish a fashion which is timeless and can be passed on for another generation and develop a fashion styled community.
How difficult is it for an Indian designer from India to showcase at international fashion weeks?
I would not use the word difficult but there are a lot of criteria to go through when a brand is selected for showcasing at the international fashion week. The whole fashion scenario is different from buyers to users, the styles have to be researched and adapted to its demand to meet the competition.