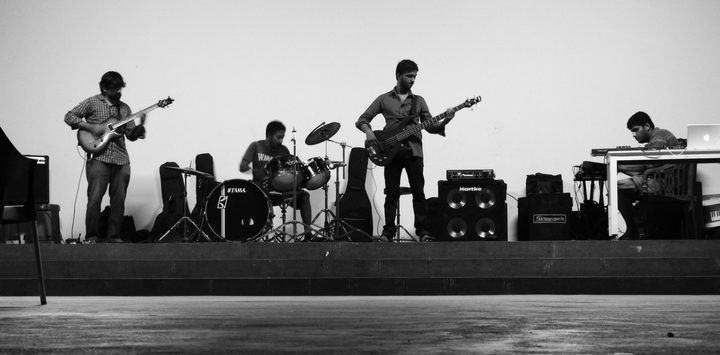 FWD Life has a chat with OLAM, one of the first bands from Kerala to emerge out of an Artist Residency Programme
Text credits: Nikhil Wilson    Image credits: OLAM
Arun S Kumar, Syam N Pai, Ajoy Jose and Manu Ajayan a four-piece band has a friendly chat about their band 'OLAM'
Q)How did the name OLAM come up?
There wasn't much of thinking done to come up with a name. I think it was URU the name OLAM came up and we loved it, as we felt some kind of similarity with the names URU and OLAM.
Q)How excited were you about your first gig and your preparations for the show?
We were very excited about our first gig and we have been preparing for the last one year. URU has provided us space and support to work on our music and we think we have some good compositions with us. We have been having a late night and sometimes early morning practice sessions preparing for the gig.
Q)What genre of music do you play?
We are an instrumental band and we have elements of psychedelic rock and progressive rock music in our songs. So when people ask us what kind of music or type of band we are we say " We are an instrumental band".
Q)How did you guys meet up?
Myself (Arun) and Syam were bandmates from years back. We used to play in the same band and after a few years, when the band split up, we made sure we never lost contact and kept working on our music. We also knew Manu and Ajoy as we four belonged to the music band field.
Q)How was your entry into URU?
Syam knew Riyas Komu, the curator of URU. One day Syam told Riyas that we were looking for a space to jam, and he offered URU as a space for us wholeheartedly. We never knew it would become our home and we would get this kind of support from the team.
Q)How has URU been a place of support and motivation for you?
Getting a space and technical support is one of the major hurdles every band faces and URU has provided us both. URU has become a home for us, where we meet up and escape into a world of our own with our music. Just 15 days before the inaugural ceremony of the URU art exhibition, we started our jamming sessions. We were given a chance to play at the inaugural ceremony and that gave us a big boost to create more songs and work even harder.
Q)Have you all taken music as your career?
Well, most of us want to take music as a career. Syam is a graphic designer and he has book designing shop. I used to write for Deccan Chronicles for a few years. I also work with films in Sync sound projects and I have also directed some video songs. Ajoy works as a music composer and Manu is a sound engineer.
Q)Tell us about your practice sessions
We usually practice for 3-5 hours and sometimes we practice really late if we are really hooked upon completing a track. There are sometimes when we adjust our timings because URU is also a venue for talks and camps. We adjust our practice sessions according to the crowd for the exhibition at URU.
Q)Has your family's been full on support from the start, or where there any issues with you guys spending a lot of time at URU?
Well, our families don't have an issue with us spending a lot of time and they have been supporting us. Even though they are concerned about us, they have never discouraged us.