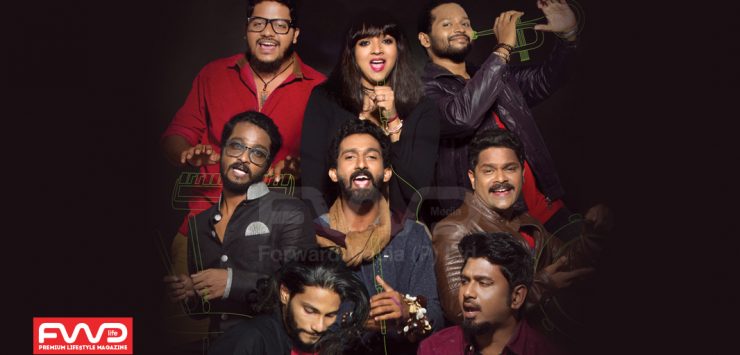 We find out what band Vidwan and its members have got midst their guitar strings
The "shooting studio" has always remained hidden, with its walls masking the manipulative lights and vibrating sounds it creates. For any outsider, they remain oblivious to the magic that unfurls within. Unassumingly, I have often passed the house while in the neighbourhood. It was only when I visited "Vidwan" that I realised that here was a studio with the 'sound of music'. I could hear faint harmonics in the background. As I walked into their studio, I knew that the rhythm was going to get me, and decided I would join the 'band'wagon.
Vidwan started just like any other band. They have performed in more than 100 venues around the world including the Woodford Folk Festival in Australia and Alchemy Festival in the UK. The band was started by Yakzan Gary Pereira who plays the keyboard and synth with former member and drummer Tao Issaro. Vocalist  and acoustic guitarist Vivek Thomas,lead guitarist Vivian Varghese, bass guitarist Ben Sam Jones, percussionist Sajith Padmanaban, drummer Pranoy drummer and lead vocalists Neha Nair and Anoop Mohandas are all friends who became a part of "Vidwan" along the way.
What does your band name mean and where did it come from?
Anoop: "Vidwan" means one who has mastered his art. None of us are Vidwans, but we decided to use it for our band.
How did the your team get tuned to each other?
Band: We have known each other for a very long time, we were friends who shared similar tastes in music too. So it was natural for us to get together for jam sessions and create music.
And now that you all found music, have you ever wondered what you would be doing if you were not musicians?
Anoop: Exactly what I am doing now. Sit at home thinking of an alternative.
Who are your greatest musical influences and why?
Vivek: Our influences cover a very wide spectrum we listen to – everything from jazz to rock to synth pop!
How did you decide your instruments?
Vivian: A lot of factors contribute to help us choose our instruments – sound, playability, versatility, etc comes first and it helps if it's a trustworthy brand; especially when buying them online.
Could you briefly describe the process of creating a new song?
Neha: There isn't a fixed format for composing. It could start with an interesting bass line, or a riff or a chord progression or a vocal hook, etc. We keep building on from there till we all are happy with the final product
How has your music evolved since you first began playing music together?
Yakzan: We have evolved individually, as artists, as human beings, that have contributed to our creations. What has been your biggest challenge as a band? Yakzan: Biggest challenge is when a member of the band moves away due to personal reasons.
How do you welcome a new member into the band?
Band: We welcome a new addition to the band by jamming and creating a connection with them so that they can blend into the band's pre-existing sound.
What advice do you have for people who want to form their own bands?
Yakzan: When forming a new lineup, look for people who gel as individuals and not just as musicians. Making music that lasts is going to take time, so have patience.
What's the most bizarre thing that happened while you were on stage?
Vivian: A couple of years back, at M.E.C Cochin it was raining and there was a power failure during the last song. All the lights went off but the sound was fine. It was pitch black but we continued playing the song without stopping. The crowd loved it, that was a fun gig.
Anoop: Personally the most bizarre experience was when I was on the ramp and the boys in the crowd tried to pull down my harem pants.
If you had a band pet, what would you name it?
Vivian: Yakzan's dog Disco is pretty much the band pet. He's the best mascot any band could have.
What's the one song that jam on as soon as it comes out on
the radio?
Neha: Any Coldplay track!
What is the best compliment you have received about your
music so far, and from whom?
Ben: At the Woodford Folk Festival 2013 where we played and the reports were that we were among the seven best bands who performed. There were more than 4,000 artists who played there that evening.
How do you prepare before a big event?
Ben: We do at least two rounds of practice with the full setup which makes the band sound tighter. Also we constantly tweak the songs and include thing that come up while weplay, and which sound good.
To derive some perfection, how often and for how long do you practice?
Band: As a band, we are very specific with our songs, so strict band practice happens only before shows , and individually we continue to practice on our instruments and hone our skills.
Which is the most unusual venue you have played at?
Yakzan: Beachside in Trivandrum, right after the midnight mass on Christmas.
What are your favourite venues?
Anoop: Music festivals and pubs are definitely our favourite venues. I love college crowds too as they are alwaysbustling with energy!
Where do you dream to perform?
Ben: My biggest dream would be Vidwan performing at the Grammy awards
What do you think about the current indie music and live performances in Kerala right now?
Vivian: I hope the new government does something about the rules on banning performances in colleges. It is affecting a lot of artists, technicians and the independent music scene. We have to encourage the public to listen to
good indie music.
If you would want to open for another band/artist, who would it be and why?
Yakzan: Coldplay, because the audience will be unbelievably huge and it's high time they performed in India. Also, we love them!
Who writes your lyrics?
Neha: Anoop, Vivian and I are the chief songwriters. But even the rest of the band contribute. I guess that's what makes the band successful!
What is your opinion about online music sharing?
Neha: As musicians, it is helpful for us to put our music out there, while as listeners, we want to update on what's happening on the other end of the world, as long as it keeps plagiarism at bay.
If you could go back in time and change something when you were starting out as a band, what would it be?
Neha: If I could give us an advice while starting out it would be to not procrastinate. We end up making a lot of new song scratches but become hesitant to work on it and release it.
What is your favourite thing to see in the audience while you are on stage?
Everyone answers: When the audience mouths along to our original songs
If you had the option to do the Original Sound Track for a movie, across genre and time, which one would it be for?
Yakzan: 'Pulp Fiction', because presumably we would be allowed to do what we like, and it's an unbelievably fresh genre.
If you could have any band cover one of your songs, which one would you prefer?
Neha: More than wanting a band to cover our song, we would like to collaborate with other artists to bring in a new flavor. It could be an instrumentalist, or a dancer, or maybe a string section, anything!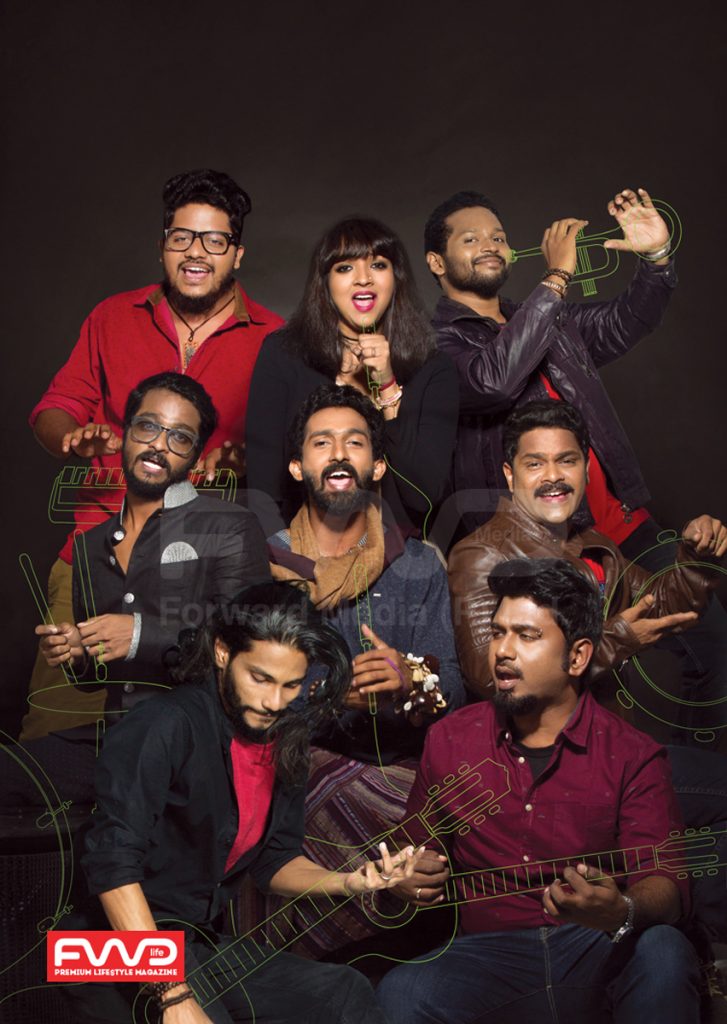 Where do you see the band in 10 years?
Neha: I hope we are an album and couple of EPs old, and toured at least half the world.
What do you think is the reason that your band has been well received by the audience?
Neha: We are very interactive and musically adaptive. We don't fit into any particular genre and have elements that go back to our folk roots, but is experimental at the same time, which makes it appealing to the audience on a whole.
Do you feel skeptical about releasing music albums in a film song-centric place like Kerala?
Ben: Releasing an album in Kerala right now is a rickety scene since most people still consider the music industry as the same as film music industry, but we have hopes that this trend is changing.
What is your advice for other bands that are just starting out?
Yakzan: Take time and create your own music. Don't take a shortcut by playing covers, because that won't last. At the end of the day, do what you love and make sure you are happy doing it, no matter how many negative opinions you get. If you work hard enough, you'll definitely be rewarded. There is no shortcut to success. Simple as that.
Words by Fathima Abdul Kader         Photographs by Carrot GK Styling: Lakshmi Babu
Makeup & Hair: Ramesh Kannan
Location: Camleon Studio, Palarivattom