As Friday's enthusiasm was knocking our doors with weekend plans, we, five friends, sat together to plan something out-of-the-box for the weekend. Selez, who never gets tired of her routine stress buster, surprised us saying, "Too many parties, crowd and noises. I am sickened of it. Let's do something different. A short trip to a peaceful destination would be nice." As we decided to get rid of the kerfuffle of city, we began surfing the Internet for serene hangout spots to spend a day. Backwaters were everybody's choice; so we constrained our Google search to Kumarakom.
Abhishek whose choice is always thumbs up said, "Hey, how about this place, Kayal Resort at Kumarakom. The feedback seems to be good. And guess what… Rahul Gandhi had been here last year to attend a wedding. It should fairly be a decent place." What a reason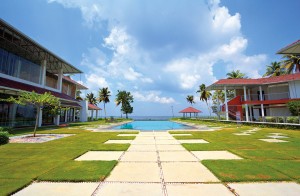 for him to presume it to be good? Going through their website, we fell in for its description. Keeping our fingers crossed, we decided our weekend destination. Wishing good night we dispersed with a lot of expectation and excitement thinking about the next day.
By 6.30 am the quorum was complete and we started off keeping in mind that we need to halt at a food station. So before we drove off the outskirts of the city, we stopped the car at a restaurant. We ordered for egg roast with appams. After a few minutes, steamy hot appams and spicy chilli red egg roast were served. The flavour of spices was so much that we all thought it to last on our palms for hours.
Destination
Clarifying routes with the help of local smokers at the roadside and the people at tea shops, around 8 am we entered the long stretch of road with glistening paddy fields on both sides.
On the way, we saw men climbing areca palm and swaying it to hop on to its neighbouring palm. As there were many dilapidated shacks all around (read toddy shops!), we got to see a good number of bare-bodied toddy collectors with plastic barrels tied around their waist hurriedly climbing palm trees and dropping-off sliding with the grip of a handmade coconut leaf which functions to be a safety belt for smooth landing.
After some visual rejuvenation, we moved on. But it was a bumpy ride in the next one-and-a-half hour and we reached the wooden entrance of the water engulfed Edassery Kayal Resort. The gates creaked open painstakingly to an unsullied gift of nature.
The resort
After parking our car, we treaded on to the gaped stony bridge, an architectural opening which showed us the dawdling water underneath. On arrival, we were served with a glass of tangy fruit juice, the welcome drink. We sat at the reception enjoying the breezy air which carried along with it a strong fragrance of the backwaters.
The silence of the place was often rhythmically disturbed by the shell chandelier which swayed to the moods of the wind. The foyer was craft fully adorned by wooden tress, brass accessories and water-filled antique vessels sprinkled with rose petals, adding grandeur to the ethnicity of the building. Its walls have indigenous terracotta murals depicting birds in the lakes perching on tree trunks pecking on tiny fish. As we were admiring the artist's creativity and imagination carved on the wall, Shaji, in-charge of the resort, joined us. He gave a vivid description of the uniqueness of the resort.
"All the 24 well-planned cottages are built in slanted parallel rows which make it possible for all our guests to have an uninterrupted ringside view of the serene backwaters. This construction is one-of-its-kind," says Shaji. The credit for this architectural masterpiece goes to architects Ramesh J. Tharaka and Monalitha Chatterjee who won the IIA Asia Gold Leaf Award for Resorts in 2009.
A stony passage from the reception led us to the six-feet deep crystal clear swimming pool and then to the accommodation. We were escorted to the resort boudoir which looked modern and luxuriously spacious with uncluttered styling, well-groomed wooden furniture with a semi-open air bathroom decked with bamboo shoots and white pebbles scattered around its roots. I slid open the white frilly curtain and there I saw how close we were to the edges of the water body.
Getting out of the room, we walked to the sheltered deck where we could sit down for hours together enjoying the incredible boundless beauty. The peace and solitude we enjoyed there got spoiled with the interruptions caused by 'Anthoni', 'Thoma' and more of their kind. These were passenger boats commuting people.
As it was hot and humid, we took cover under the canopy of trees.  We sat down and chatterboxes continued jabbering with no room for gossips. It was more of childhood talks about how we used to fish with towels, collect pebbles and some dangerous encounters we had with water. We had a whale of time there.
Bon appétit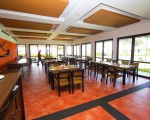 As we had already decided to have authentic Kerala fish curry rice, we didn't take much of captain's time. Masala pappads, fried fish, fish curry, salads and rice filled our table. It was a hearty meal, freshly cooked and served at Rani Restaurant. To sum up our meal, we ordered for some puddings and payasams. An hour back, we were tired of the heat, but now it was heavy stuffing which made us feel exhausted.
Then we went to the banquet hall 'Marthandam,' coffee shop 'Spain' which is furbished with cane furniture, an entertainment zone and an executive bar furnished with rugged cart wheel designed furniture. This place provides a romantic milieu to surprise your loved one by gifting her a romantic candle-lit dinner by the waterside.
Twilight beauty
The sweltering heat prompted us to take a dip in the pool. There we met Steve, Anne and their twin girls, from the UK. We became friends. It was a kaleidoscopic view to see the herons flocking across the sun, which was about to be swallowed by the waters, and the far off palm trunks kissed by water fading overtime in darkness.
It was around six in the evening, so we thought of having some high tea before we return to Kochi. It was hard, but time was up for us to pack our bags. The twilight lent an ornate appearance to the resort and our footsteps bid adieu to the beautiful place.