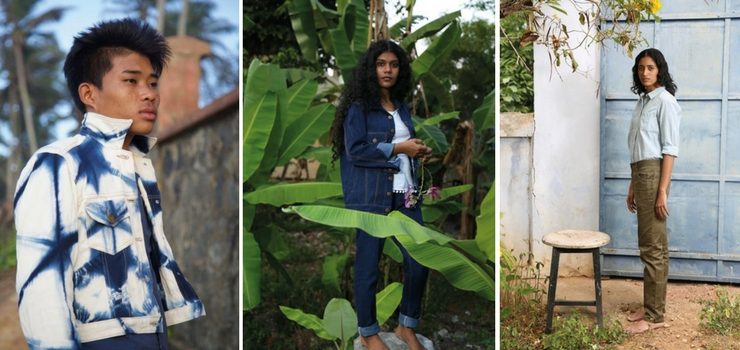 Khadi jeans is the newest entrant in the fashion circles as Siddharth Mohan Nair tries to make a difference with his brand 'DesiTude'
Text Credits: Charishma Thankappan               Image Credits: DesiTude
His face is a curious combination of contradictions. With a clean-shaven look and well-kept hairstyle, he exudes a look of seriousness; his wide, exuberant smile though, is exceptionally warm and friendly. All of 26 years, Siddharth Mohan Nair might give off politician or government official vibes due to his appearance, and it comes as a big surprise to know that he is behind a fashionable brand that is making a change or two in society.
And making a change is what drives Siddharth, who follows the ideals of Gandhism in steering his almost two year old venture, DesiTude – a clothing brand, which has Khadi denim as its USP.
What does being a Gandhian, as Siddharth proclaims himself to be, mean in today's day and age? "I relate to Gandhi on a personal level and not political," he says. "Speaking the truth and the concept of 'swadeshi' are what I value most." However, the youngster is clear-headed about the practicalities of the school of thought. "Some of the things that Gandhi professed are not valid in today's time and age. He emphasised on complete use of swadeshi, but it is impossible for us to follow that today as a lot of things we use today are foreign-made." Siddharth cites his own example, where he says he is a consumer of internationally made products when it comes to electronics.
But the idea of promoting something indigenous to his land motivated him to venture into the production of garments made out of khadi denim. The idea struck him when he was pleasantly surprised by the khadi jeans that he came across at a Khadi Bhandar store. Khadi also reaffirmed another principle of Gandhism that he follows – that of minimalism. He took it upon himself to further the idea, and started his own label called DesiTude.
Jeans has lasted over the ages as the favoured attire for its characteristic of being a hardy garb, which is durable, needs very little maintenance, and is washed infrequently. Does khadi have the same features? Siddharth puts all doubts to rest. "DesiTude khadi denims are extremely durable despite being pure cotton. Its durability is because of its weaving; there is no additional fibre that is added." Which is also why the brand proudly declares that their apparel don't need to be starched or ironed.
Siddharth dispels the notion of khadi being a 'common man's cloth'. In the days of yore, the cloth was really cheap and was spun and woven by individuals; but today, handicrafts are expensive. He explains the logic behind DesiTude's pricing of their garments, which is on the higher side, "The conventional jeans is mill-made, where the fabric is not expensive, and is mass manufactured – so the manufacturing cost per piece is very low. For us, our material is not mill-made, and is very time consuming to be made as it is still spun and woven by hand by workers. Therefore, the fabric cost is very high. And since it is denim, the weaving is difficult. The highest cost that we incur is the fabric cost, which is sourced from Rajkot. Also, we are not manufacturing it on a large scale, as we make it only on a made-to-order basis."
One of the striking features about the brand is their use of common people in the photographs on their website. Siddharth says, "All advertisements show people as flawless, fair, and tall. Because of that, there is a pressure on people to look like that. We are made to feel bad about our looks and such advertisements want us to aspire to become like those people by using their products. I didn't want to do anything like that. I want people to buy DesiTude seeing the products worn by ordinary people like them with whom they can relate."
DesiTude's buyers are mostly from Bangalore and Mumbai, and as of now, Siddharth is promoting it online. He hopes to have a store soon, and start functioning in Kochi as well.