DOWN THE ART LANE WITH 5 ARTISTS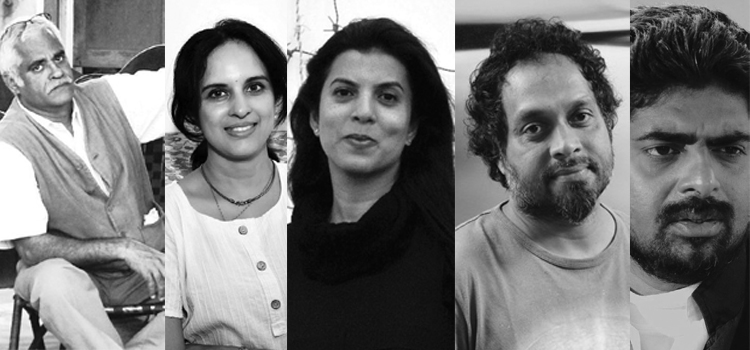 FWD tries to find out what the world looks like through the eyes of five artists
An artwork that invoked an influential experience?
The human life on earth inspires art and expression. Creative individuation and conceptual growth cultivate comprehension of the existence of mankind. Works of art such as 'Man on the Chair', 'Man on Cube' from the mid 70's captured the feeling of struggle and strife in plaster. 'Man with Dog', a life-size work of 1981 reflects the reformulated concept of sculpture as a form that shares the same space, that of a viewer. This installation presented a kind of self-realisation in the image of man, and was a revelation.
What kind of art do you most identify with?
Intentional works of art enliven cultural and visual musings. My visual findings enrich communicative ability and transformative skill of abstract concepts of nature as the soul of  figuration. The history of art presents genius of artists, known or unknown, whose work reveal human comprehension of their environment and life. I identify with figurative art, either representational or abstract as the expression of curious minds and inquisitive souls, revealing life's beauty . Name three artists you would like to be compared with. To compare myself with artists or another era today may be presumptuous. However, I admire contemporary and painterly findings of poet Rabindranath Tagore, as well as the sculptural curiosity and visual ventures of sculptor and painter Ramkinker Baij. I respect the conceptual beauty and mindfulness of sculptor Krishna Chhatpar, my mentor at the Faculty of Fine Arts, Baroda.
If you had to revisit an art piece, which one would that be?
I think Lord Shiva Nataraja as a conceptual work of art is worth looking into. The diversity of my visual interest and taste for forms, materials, processes and work attract me to look at wide variety of works from the ancient world, old civilisations, and contemporary cultures.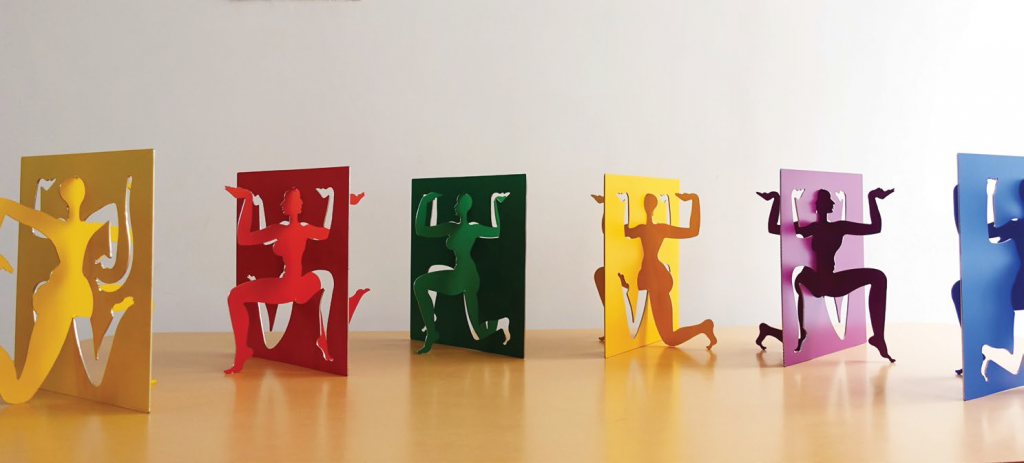 Which is your most recent artwork?
In 2015, I made a metaphorical set of work titled 'Earth, Water, Fire, Air and Ether' as emptiness or Sunyata in 8mm medium scale laser cut sheets. In Sanskrit, they relate to five aspects of god or absolute truth. Late that year, I made Spatial Diagrams of the six seasons or Vasant (Spring, mid February-mid March), Grishma (Summer, April-June), Varsha (Monsoon, June-August), Sharad (Autumn, August-October), Hemant  (Pre-Winter, October-December) and Shishir (Winter, December- February) in 2mm stainless steel as an anthropomorphic experience.
___________________________________________________________
An artwork that invoked an influential experience?
If you allow me to pick two artworks by the same artist, I would pick Vincent Van Gogh's 'Café by Night' and 'Starry Night'. I saw images of them when I was really young, 13 I think, and remember having a moment of epiphany; of thinking, this person inhabits the world that I do, but he 'sees' it so differently. I felt that moment of wonderment at being able to see through another person's mind and heart and head, a different view of the same world.
What kind of art do you most identify with?
I identify most with contemporary art, for it is the art of our time that speaks about the times in which we live in.
Name three artists you would like to be compared with.
That's a tough one. I have always admired artists across different disciplines who have had a specific vision of what they want to say – and have been able to say this through multiple styles/media – like filmmaker Peter Weir. His various films have different subject matters, but a particular ease of storytelling; or musician TM Krishna who articulates with such power. His belief in the music in changing times and landscapes; or writer Vikram Seth, who can equally harness prose and rhyme and images to tell his stories.
If you had to revisit an art piece, which one would that be?
Mick Jagger once said, "I haven't had the time to plan returning to the scene because I haven't left it." I would rephrase that to say that while the works have moved and changed  enormously, and art continues to be an ongoing process of play, experimenting and consolidating, I never want to revisit a particular artwork. However, I do like revisiting ideas and I see myself perhaps wanting to revisit the idea of gender some time from a fresh perspective.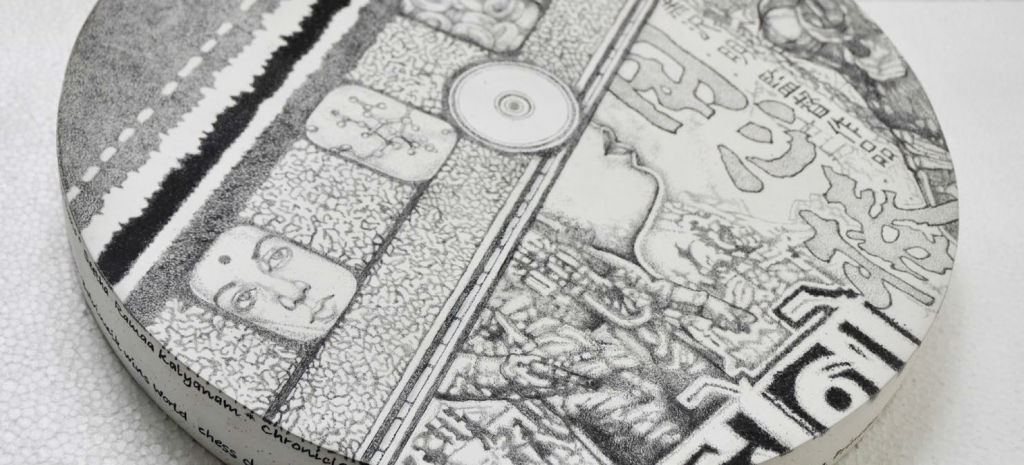 Which is your most recent artwork?
There are, at any given time, several on-going pieces that I work on, at different stages of completion. So it's a continuum in that sense, the artist's equivalent of a stream of consciousness that has freeze-frame moments when particular works unite. One of my recent works I completed is a series on carbon, both as carbon footfall and carbon as an organic source.
___________________________________________________________
An artwork that invoked an influential experience?
A work by artists Jeanet Cardiff and George Bures Millerpresented at the Documenta 13 held in Kassel, Germany was a personal highlight in terms of the experience it provided, wherein viewers were given an iPod with headphones and asked to follow a prerecorded audio-video clipping. As one begins to navigate through different spaces that simultaneously play on the iPod, our experience in the present moment is constantly interjected and
overlapped with the past, shifting our perceptions between fiction and truth, myth and reality by the interweaving of some surreal moments.
What kind of art do you most identify with?
While I most closely identify with art that has a strong conceptual core, I find artworks that can transcend beyond the idea, through the ingenuity of approach in their making (whether that might have to do with the process, language, form) usually engage the viewer more successfully, helping experience it both sensually and intellectually.
Name three artists you would like to be compared with.
I don't like the idea of comparing one artist to another, since each one intrinsically has his or her own unique qualities. Certain works are more accomplished than others and there are certain artists who've redefined art giving it a new language. I would hope that my contribution to the field is valued for its nuanced approach and my work is remembered along with artists such as Rachel Whitread, Louise Bourgeoise, and Mona Hatoum, whose work I deeply respect.
If you had to revisit an art piece, which one would that be?
I'm looking forward to the forthcoming Lahore Biennale that will take place in November 2017 with artist Rashid Rana as the curator of the first edition. After the success of the Kochi Biennale and the Dhaka Art Summit in Bangladesh, that have established themselves as seminal platforms for art within South Asia, I think Pakistan can play a vital role by working closely in contributing to the collective richness that the region has to offer.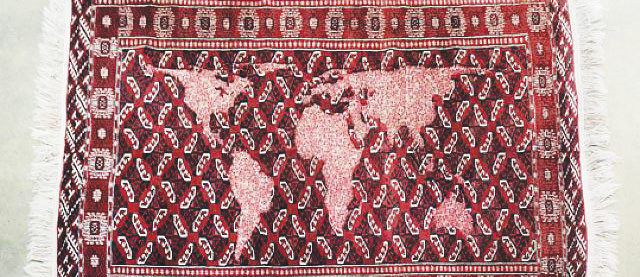 Which is your most recent artwork?
My last body of work titled 'Hyphenated Lives' is a reimagining of fantastical mutations within the natural world, where new hybridised species of birds and animals, trees, and flowers, otherwise fore-grounded as national symbols from countries politically-partitioned and proclaimed by nations as their own get combined, symbolically unifying the nations they represent. I felt the need to turn to a species other than the human race to tell us how to share the planet, where the existence of one species depends on the other, or the disappearance of one affects the other adversely.
___________________________________________________________
An artwork that invoked an influential experience?
It's easy to beat the same drums again and go on about "classic artists" and how we all were inspired by the same familiar names. So, I shall use this space to pay homage to the new, specifically a film called Fandry – an exceptional, debut film written and directed by Nagraj Manjule and released in 2013. I think this is a film that can produce a seminal experience. Fandry is a multidimensional portrait of the caste system at work – in all its inhumane and brutal ways.
What kind of art do you most identify with?
I am most influenced by music and cinema. When I say music, I am not talking about its therapeutic properties, but rather the ones which define a generation, or a culture or the medium itself. I grew up on the music of protest. I am not saying that's the only thing that influenced me. But it's amazing to think how a piece of music stays with you and help define a certain worldview or define a character or brings people together. The Malayalee is energised by Bob Marley's music not just because of his politics but also because somewhere we feel a connect and see him as a "redeemer" through his music. The same is true with classical music in India. It's not just music – it transcends the medium and creates a common connect for us all.
Name three artists you would like to be compared with.
This could be seen as pure vanity. In the context of art I'd like to think that there is something unique in every artist's work. So comparison would be superficial. I love writers, storytellers, poets, musicians and everybody who creates art. I love the artists who take risks for their conviction and are politically and aesthetically powerful. So the artists I admire are complex and layered and takes you into many different directions and streams of thought. I am mostly an observer – to their process, art and life. To name a few, I like the practice of Santiago Sierra, the political interventions of Alfredo Jaar and the clarity of Amar Kanwar's thought process. However,  this is not a comparison.
Which is your most recent artwork?
My last work was titled "Get a Dark Cloud Free" and is part of my ongoing Experiments with Gandhi. It was exhibited at the Delhi Art Fair in February this year.
If you had to revisit an art destination, which one would that be?
One place I want to visit again is Barcelona. Not just because of the art, but because it is home to one  of the world's best football teams, and my personal favourite, Real Madrid; because it offers amazing architectural  asterpieces; because of its outstanding culinary experiences and because it is packed with creative people.
___________________________________________________________
An artwork that invoked an influential experience?
Artworks from the baroque period. It is hard to point out a single work among those treasures. Albert Camu's "Happy Death" in literature and Andre Tarkovsky's film "Ivans Childhood" have really invoked great experiences in me.
What kind of art do you most identify with?
As a sculptor dealing with time and its constant negotiation with the surroundings, I try to understand and identify myself with films and architecture. Both articulate time and space in its own way and brings new meanings and experiences to everyone.
Name three artists you would like to be compared with.
The practice of art to my perception is a process of realisation that cannot be compared or gauged. Each artist tries to bring their own experience and interpretations. And for this same reason, I would not want to be compared with any other artist.
An artwork that has surprised you?
An early eighth-century bronze sculpture of Shiva and Parvathi from the Thanjavur museum. Its enigmatic revelation about the art practice is prodigious.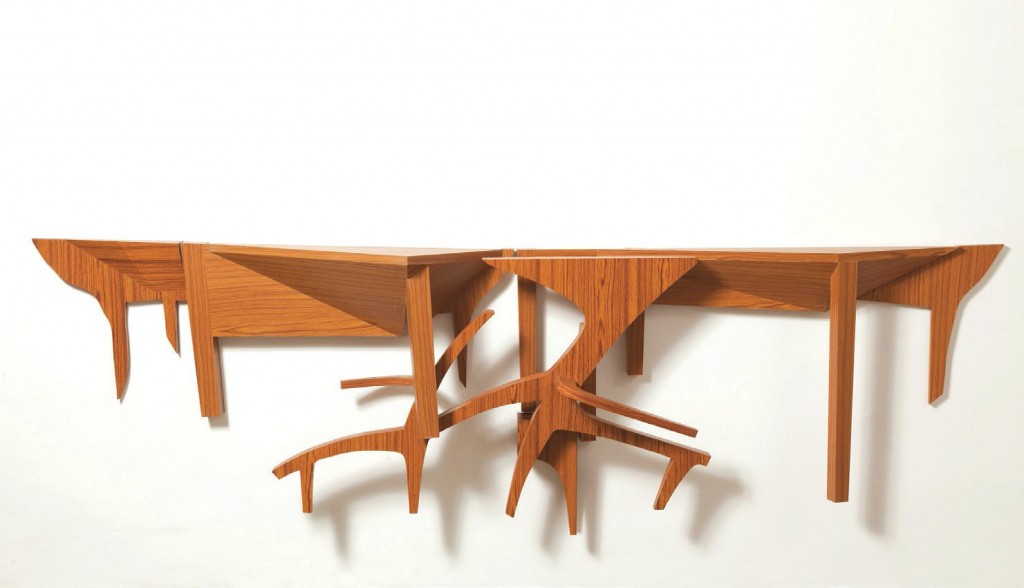 Which is your most recent artwork?
My latest work is "Half Real" which is about things that lose its real meaning of existence and transform into another; those that end up carrying a fabricated memory.
Words by FWD Media      Photographs from Various Sources
An Ode To Raja Ravi Varma – These Memes Are Definitely Your Daily Woes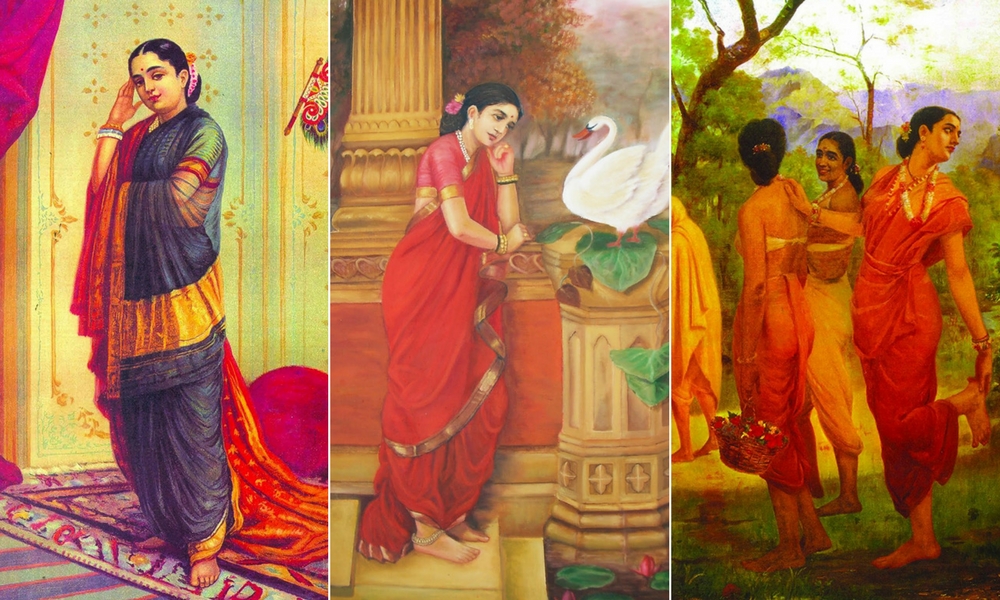 By drawing a modern version of the paintings of renowned artist Raja Ravi Varma, this Instagram page depicts the everyday struggles of women through memes
Be it Damayanti and the royal swan or Shankunthala looking for Dushyanth, Raja Ravi Varma, the renowned artist with his magical brush had bestowed the epitome of beauty upon women. Even after ages, his remarkable paintings are greeted with the same awe-struck gaze from people. But little would you have imagined a modern version of his gorgeous women. The Instagram page 'Raja Ravi Varma Memes' is up with the hilarious memes of his historical paintings with a tinge of humour. These memes are absolutely the everyday struggles of the modern women.
The owner of these witty memes is Soumya, who created them as part of her portfolio for an art course. Begun last December, this page is grabbing attention from all the meme lovers on Instagram. Her memes don't limit to daily woes but also takes a sarcastic glance into the contemporary quandaries. Here are some of her funniest memes for you to tickle your funny bones.
That tireless moment of posing even after your husband clicked your 100 photographs
That moment when you have to act 'fine' even when the stress is killing you into bits
The 'high'est moment of solace
Monday Morning: Come on baby
Me: No. 🙁
The Monday Morning Blues
The IDGAF look
The Hungry mode-on moment
When even the spell-check betrays you
And the last one on immigrants
Memes have undoubtedly conquered everyone's heart, mainly because of its witty approach towards everything in life. They not only fill us with waves of laughter but makes us take a moment to think about the matter intensely.
Talking about why Soumya choose Raja Ravi Varma for the creation of memes she said to The Better India, "There's always room for more humour in the world. I have always been very fond of memes and was confident that people in India (and the world) would appreciate art served with a side of humour. What I came up with for the portfolio made me laugh, so I decided to share it on my personal social media handles. I was highly encouraged by those who saw my posts to create an account for the same. The rest, as they say, is history."
Raja Ravi Varma's paintings are known for their realistic and original presentation. By blending the European techniques with Indian sensibilities in his painting, his artworks have travelled beyond borders. Through these memes, Soumya proves that 'Art is Freedom', and she uses this freedom to express herself the best.
Vipin Dhanurdharan's Petrichor – A Reflection On The City's Water Bodies
On World Water Day, Vipin Dhanurdharan's Petrichor creates awareness about water contamination and talks about the importance to save the depleting water resources
Text credit: Roshan D
Seventy percent of the earth's surface is covered with the elixir of life, which serves as a crucial lifeline to almost all the living species on the planet. March 22nd of every year is observed as World Water Day to highlight the importance of groundwater and advocate for the sustainable management of freshwater resources. While it is observed and celebrated across the world with a variety of events, this year's statistical reports regarding the water level sources in India are nerve-racking.
As per UNESCO's report, the nation will face an intensified water crisis by 2050. Many parts of central India are engaged in the withdrawal of 40 percent of their renewable surface water resources. With more than half of the country's water bodies being heavily polluted, surface water along with groundwater resources have been heavily contaminated with metallic residue and improper disposal of human waste. As a country which is mainly dependent on rivers and groundwater for drinking and other domestic purposes, this will be an alarming wake-up call for the citizens of the nation.
While the world celebrates in various ways by spreading awareness about the importance of water conservation, Kochi Biennale Foundation put up a pop-up gallery showcasing artist Vipin Dhanurdharan's Petrichor at LuLu Mall, Ernakulam. Vipin is a young artist who hails originally from Kollam, he has been living in Kochi since 2012. He had his first major breakthrough during the 2012-2013 edition of Biennale, where he presented his water installation. Petrichor is a video archive that tells the story behind this installation, beautiful memories about the canals recounted by the people of the area and the current status of the water bodies in and around the areas of Fort Kochi and Mattancherry.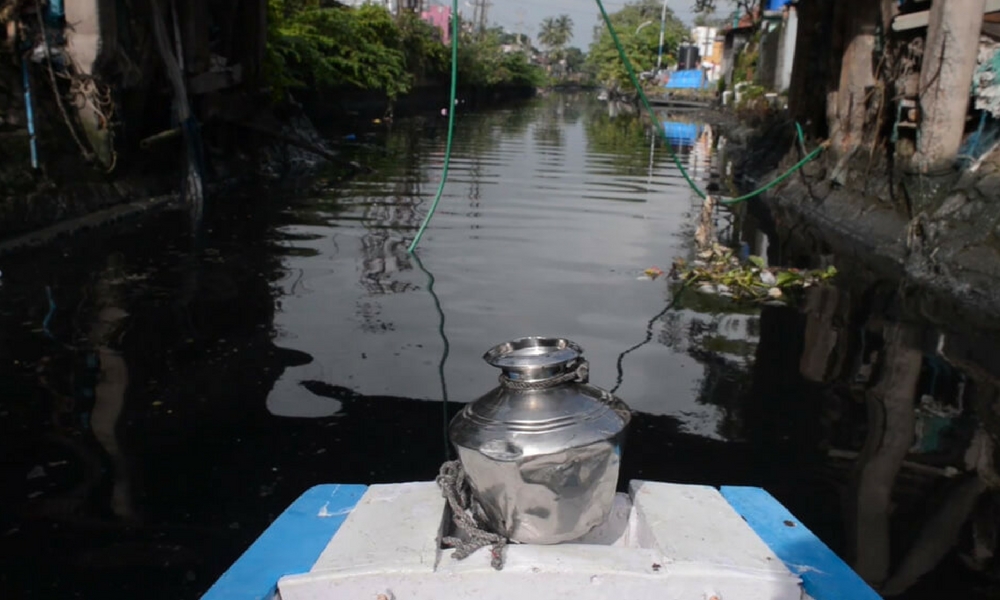 As the inhabitants of the area recounted the tales about these canals, they recollected how clean and clear the canal used to be and some said that they were even able to see fish that lay in the bottom of the canal. Vipin, as a part of his art project, documented the water from various water bodies of the areas to create an awareness about how polluted and contaminated the water bodies are. Reportedly, he happened to even find faecal matter in the water that he collected.
Vipin, through this, wishes to communicate the importance of preserving water bodies and steps to eradicate it. While there isn't an immediate solution to the issues related to the contamination of the water bodies, Vipin believes that documenting issues like this is necessary to create awareness and ultimately reach a solution.
Petrichor by Vipin Dhanurdharan will be showcased at LuLu Mall, Ernakulam from March 22, 2018, to April 8, 2018.
French Designer Sylvie Facon Creates 'Wearable Storybook' dresses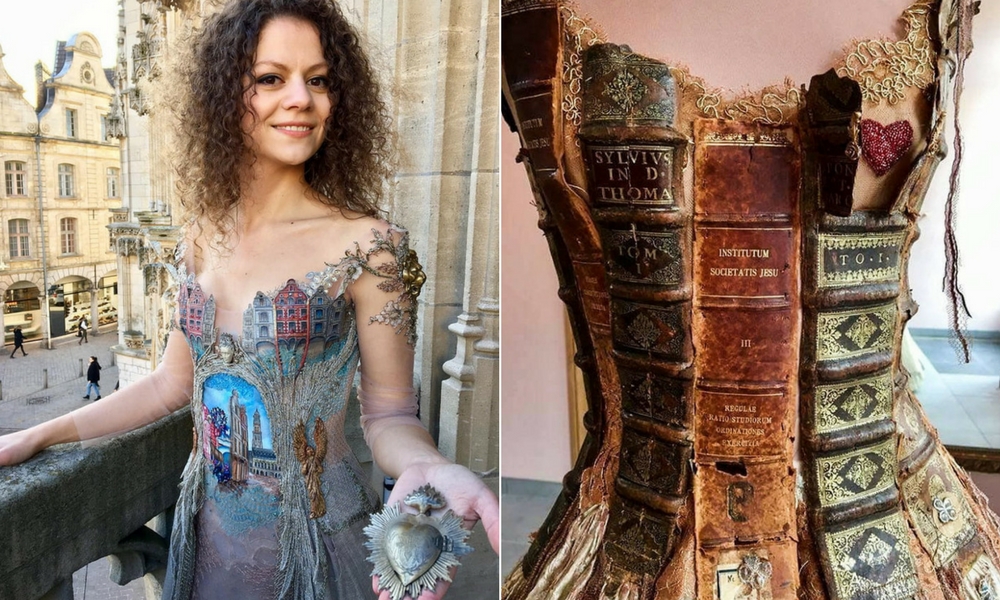 French fashion designer Sylvie Facon has created Homage to Arras, a historic town in France through a series of dresses made from spines of old books.), an exquisite evening gown that pays tribute to the historic town
This must be a "first" in a fashion where incredible skills meet usual materials and steampunk designs. Sylvie along with costume designer Morgane E. Grosdemange has created a series of dresses that looks straight out of a fantasy fiction world. On close examination, it is revealed that the real world town of Arras is depicted on these dresses, not just its architectural marvels but also minor features like plants and pavement.