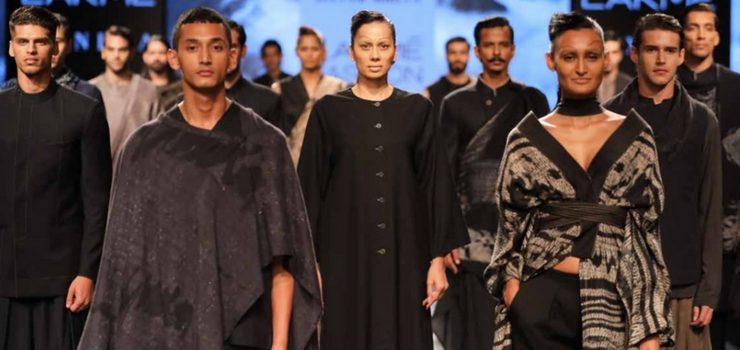 The Black Monk is the brand new collection from designer Divyam Mehta for Autumn Winter 2017.
Text: Namrata George     Image Credits: Divyam Mehta
When you're pouring water, just pour water" the way of the monks is simply to become a part of the act. This very meaning has served to inspire and experience the crafts and its processes. The complete look seen throughout the collection is interpreted from the distinct layering and draping styles of the Buddhist Monks.
A monk's kasaya (clothing) usually consists of three layers namely antarvasa (covering the lower body) uttarasanya (covering the upper body) and samghati (final layer Robes). In addition to this some of them also wear a waistcloth (belt).
The looks include the simple yet complex drapes and layers that are synonymous with the monks' way of life. This dressing style has been reinterpreted with
draped layered skirts, wide leg monk trousers, pleated wrap skirts, smocked stole gilets, wraps, long shirts, and stole attached kurtas and robes.
The collection merges subtle detail with spontaneous designs exquisitely, taking cues from the works of French artist Jean Degottex and the Buddhist Monks. The garments feature predominantly black, cement grey, indigo blue to harmoniously form shibori patterns and block prints. Dating back to 8 th –century Japan, shibori is the Japanese art of resist dyeing, which is the binding, clamping or gathering of cloth to skillfully dye and decorate cloth. The collection also features textural handloom wool and matka silks Bengal kantha and thread embroidery to add on to the texture of the textiles.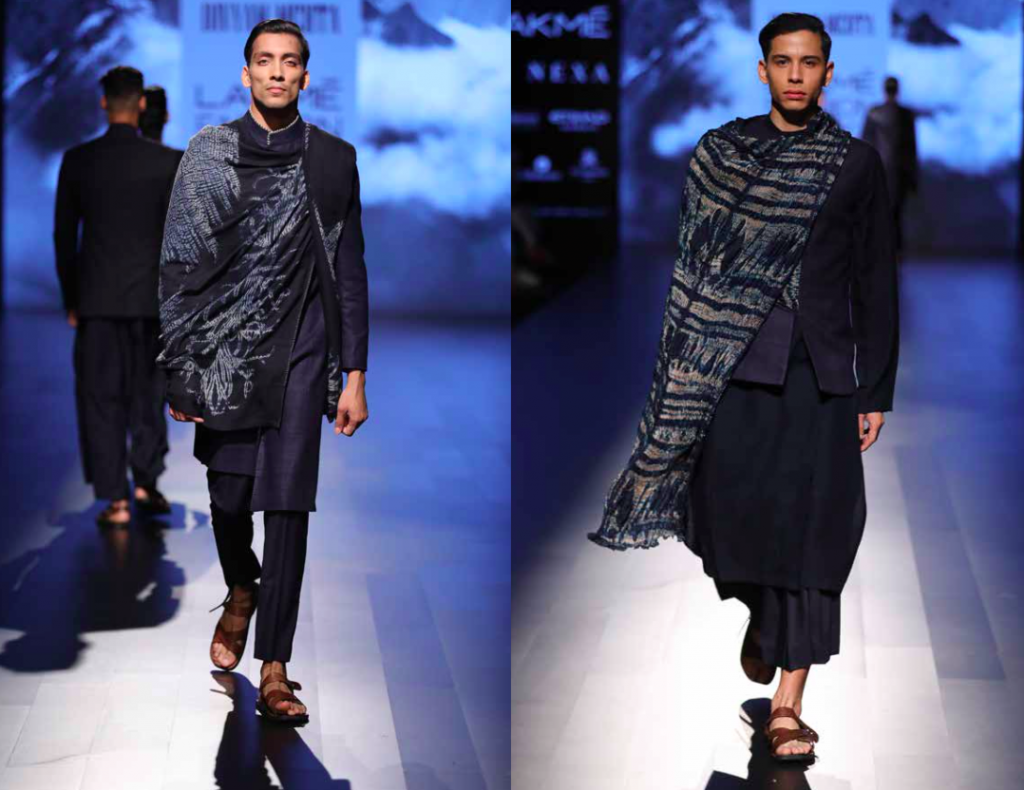 Indigo blues have been used as the color scheme to represent the inspiration taken from Japan and also Japanese tie and dye method of Shibori has been implemented on the shawls, which are layered over the garmetns to add a more textured look.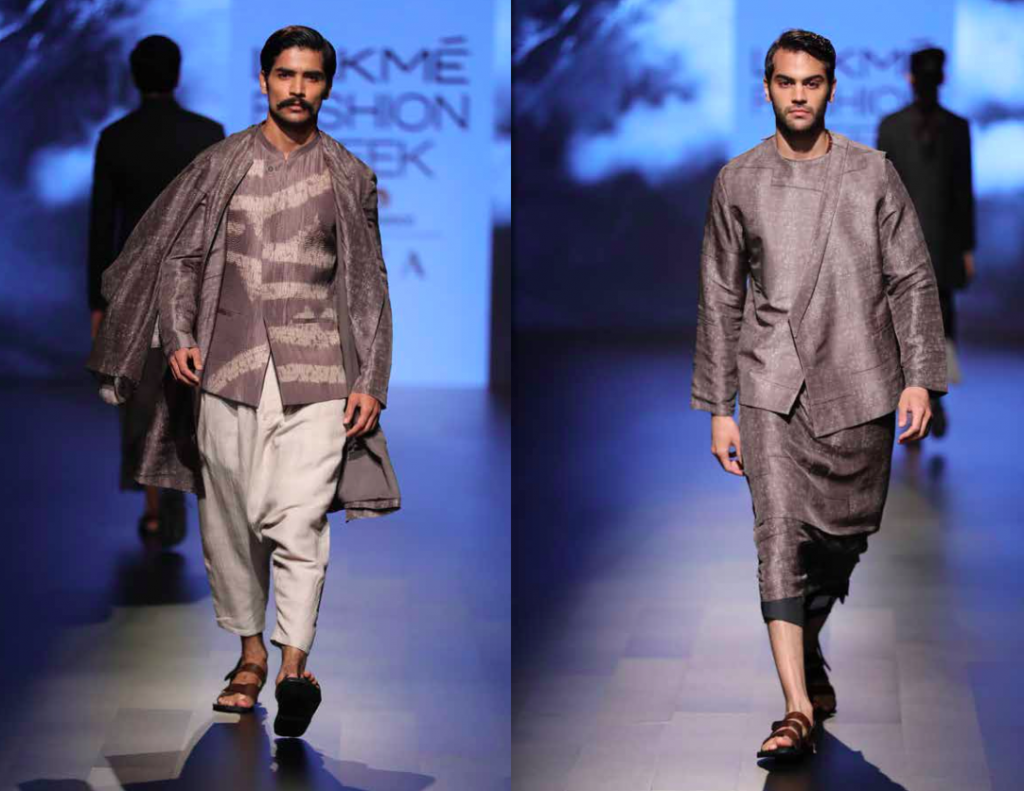 Cement grey outfits that are layered with asymmetrical jackets both in block color and hand printed motifs.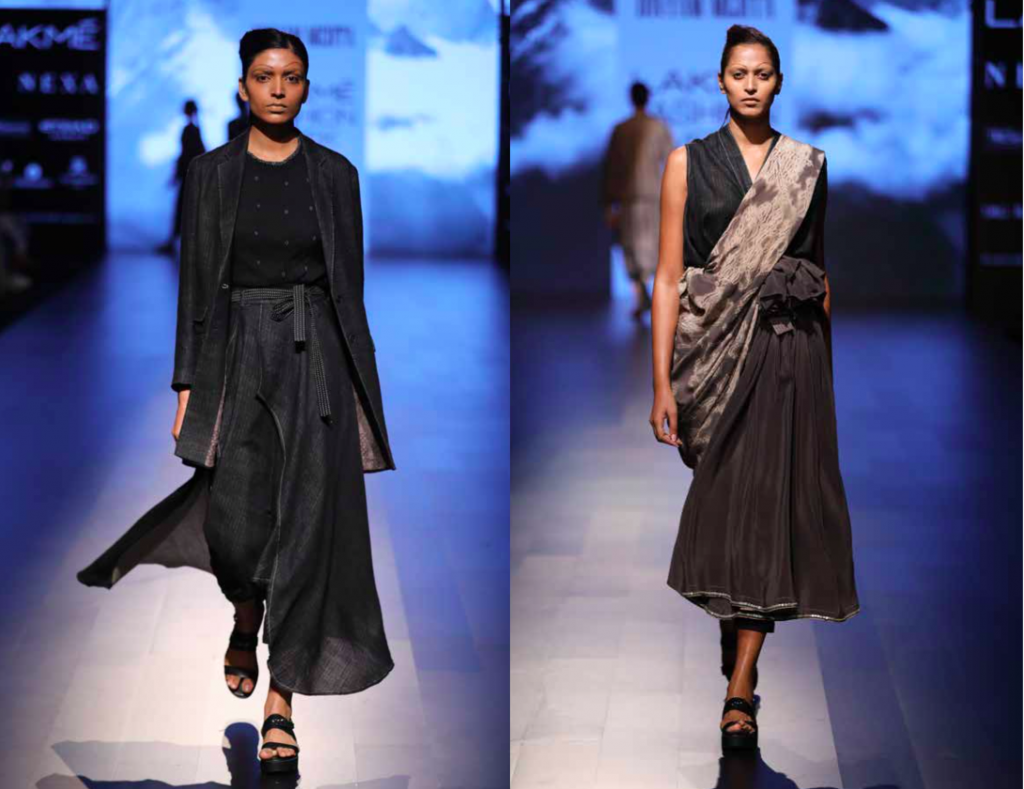 Dark colours are used, long jackets and shibori, hand blocked shawls draped over for the aesthetic of layering that of the monks. Asymmetrical Detailing on trousers and tops. Make up done on the women is a very natural look with minimal product on face other than concealing the natural eyebrows and drawing high thin black brows over it.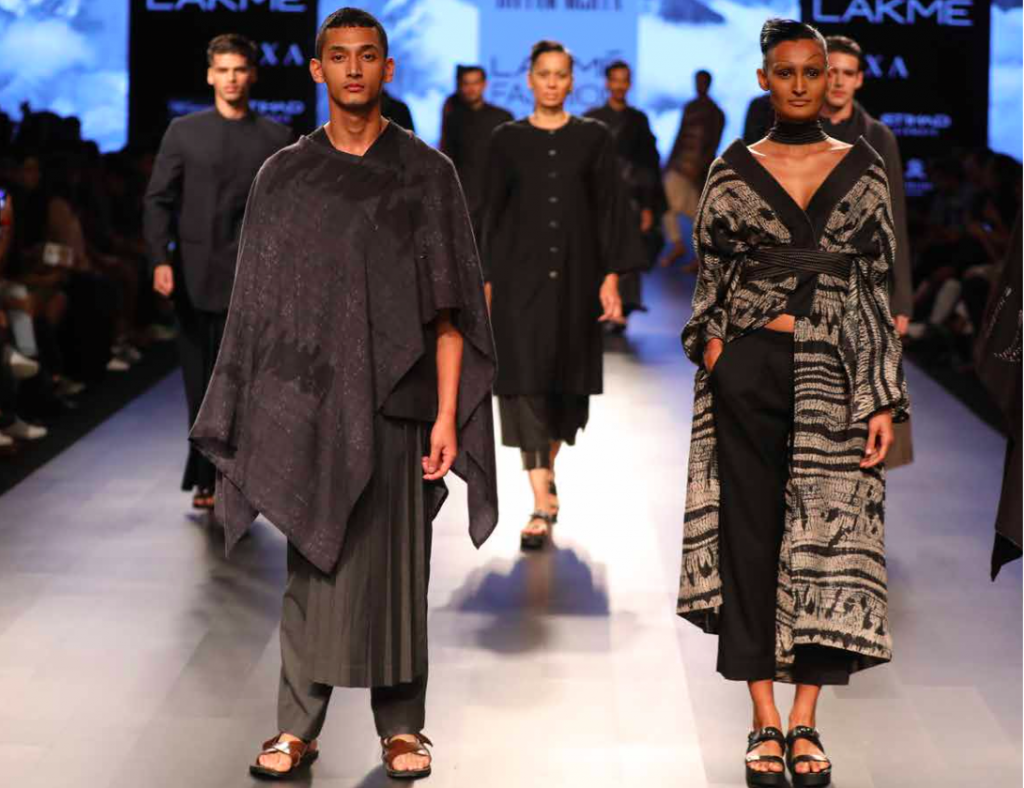 As a whole the collection complimented each piece very well, layering is key, shawls and belts added more character to the costumes keeping to the outfits worn my the monks, added details like hand block prints and shibori elevated all the looks to a more runway high fashion look.