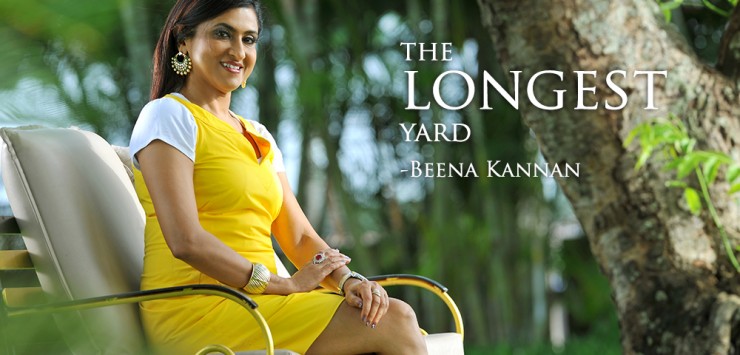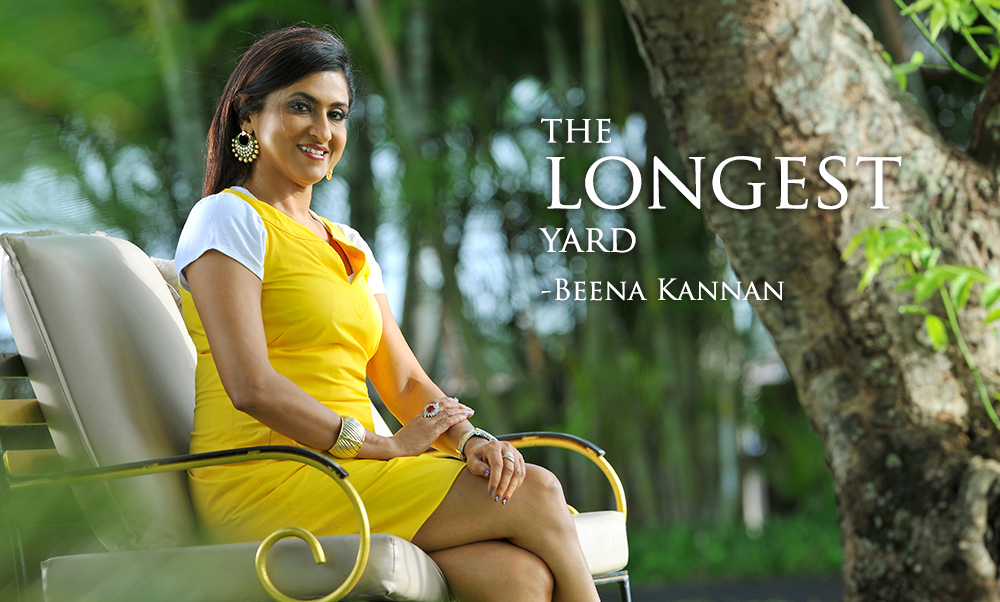 A short phone call started off the chain of events that led to the wonderful photo-shoot and interview. When Beena Kannan agreed to meet up and discuss the possibility, we had a stirring brainstorming session. Within 24 hours, the team at FWD Life had to come up with a scribble (the concept, theme, and reference for the photo-shoot and interview). We thought our biggest challenge would be to convince her to deviate from the saree route according to which she is always depicted in the mainstream media. The meeting in her house was a pleasant surprise, she greeted us with piping hot tea and freshly fried dal vada. She was surprisingly fresh and energetic for someone who's just back home in half an hour after the 21 day tour.
We did not have to beat about the bush so much, she was game for the non-traditional photo-shoot. Her zestful energy led us to conversation and narration of vivid tales about her grandfather, the famous textile king, Veeriah Reddiar . She narrated about the bullock cart rides to his stores, the expansion of the stores and the challenges of taking a leading role in a male dominant society. Her fervor for sarees was easily discerned as she talked about the life of creating fabulous clothes and fulfilling the dreams of all the  women who swear by the name of Seematti.
When we met her at Taj Vivanta, it was the head start for an exciting photo-shoot and her sprite did not seem to shake off even after a Zumba class the evening before. Her panache was reflected in her African print asymmetrical dress and her electric blue eyelashes. Even between the shoots she was bustling with energy and while taking an interview there she was efficiently multi- tasking and talking in so many languages with different clients. Her conversation usually ends with a punch line , followed by a laugh or a moment to muse. She's got the confidence and it was evident as it unfurled in a candid conversation. There were so many thoughts exchanged and there was so little time to hear all she had to say, but an interview came along before she whizzed off for the next shot.
In the earlier days what was your impetus to become an entrepreneur?
Earlier as a young child, I was addicted to the brand Seematti. I was growing up with the brand and I wanted the brand to grow too. The other option was working for someone but I wanted to support my family by all means.
Any distinct memory that you can share with us?
We used to travel quite a lot especially in South India. Those days the roads were empty and I could distinctly remember Mount Road Chennai. It had a different rush from Kerala. I used to look at females at the counter as a cashier woman. I was surprised with this concept because in Kerala this was not encouraged and still not an accepted notion. I used to ask other females, how does it feel like to work? That was my earliest and most distinct memory that I could recollect a woman working and earning. Especially during a time frame that did not encourage it. I then used to constantly question, "Can women work?"
What was the one entrepreneur 'funda' that you disagreed with?
( She slowly laughs) The very fact that woman cannot work. Earlier, many people doubted my capabilities. As I was seated in this position, it was a step taken seriously by showing my people I am really serious about the game. Many of them did not expect me to be professional but I take time seriously and work well under deadlines and prove to people the value of time.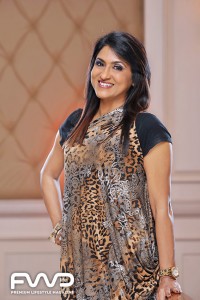 You're famously known as a business woman, how do you stand out as a designer?
I understand people and I got the capacity to create out of the blue. I have an authentic power over Kancheepuram. For the last ten years, Kerala was being too simple minded about their fashion sense in sarees. While women from other parts in India wore sarees that had bhutta work on the body , Kerala was still being conventional. They stuck to bordered sarees. Finally there came a change when they started wearing jalli to bhuttaas, and the introduction to wearing brocades. That's when I launched Jhal go Raang, the introduction of jeri embroidery to the body, it was there for six months and Kerala shifted to another trend. Bringing out a fearless nature and making them mentally ready was a great achievement. For example introducing with stripes was another venture of mine, I know how to drift into various styles. I found myself a big failure when I tried to impose.
What's the most pivotal factor that taught you to go through the challenges of mixing business and fashion?
Time! It's important to be a regular and punctual person. Appointments and dates to what I need and what I don't need. I make sure everyone is assured; they used to say this female wouldn't be that understanding. But I say women are more understanding.
It's a challenge to be fashion fearless, what about bringing out a twist and innovation in textiles?
When it comes to innovating textiles, you cannot put a flag down slowly with them and run in the weavers' shoes. Many customers and designers have taken it for granted and do not understand that weaving is a very difficult process. The industry is thriving on their existence within the counterparts of our country.
Many designers themselves classify himself or herself as designer and they mostly cut, paste and undo without understanding that weaving is a major part of designing too. Only if you take an effort to understand the process and technology you bring out different patterns and color schemes. Thus the idea of changing a heritage of what they weave and what we create only comes with a fine understanding with the hardships they go through. It's harsh, but there's a hard scenario that wages have to be cut down, but in the end the success lies in the hands of the weaver. Thus when you talk about bringing innovation it doesn't happen quickly and it's a learning process that you have to go through before you can be a master of change.
Seematti as a brand has grown and developed a personality, is the success parallel to the brand personality of yours?
The brand was there before I was born, so it works the other way. My grandfather had 20 branches in his credit from Bombay to Quoilon. It was his nature of being a good human being and his good values that helps Seematti to prosper as a successful brand. These values were passed on to my parents and then to me. The family served as a good value system was just served a platform. Seematti always existed as brand, which I was very aware of, all I did was just embellish it.
So what's the quintessential factor that transformed Seematti and you?
The principle is simple, customers are my God. My people and I are in the service industry. My motto is to get all the girls to look their best on their unforgettable day whether it is a farewell and engagement or a wedding. The customer service part is crucial, that why I have made it a point that the sales team have been motivated to style and help at all costs.
In this fashion commotion, when you bring out your authentic designs, how do you stand apart from other designers promoting it as fad?
Followers will always follow, but I can say that I travel at the speed of sound and always work two steps ahead. My brand works like a whirlwind and that's the world of fashion.
You tend to always be on the edge whether it's a saree, the way you brand yourself. Recently you put a different spin in textile advertising, what's the thought process behind your concepts?
( She breaks into a small smile) I'll tell you the secret on how we stuck to the idea of selecting customers as models. I was at the Seematti store and there was a journalist standing behind a poster at the Kottayam showroom. She looked at the model wearing the saree. It was simple one, a plain colored one with a duo colored border. She was thinking if she could pull it off. That's where we got the idea. It's not only a model who can pull of a saree, you can too .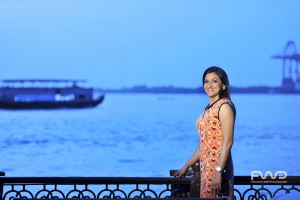 Kochi's progression is economically evident, how about the fashion scenario?
It was funny earlier, it took 12 years for Kochi to adapt to a fashion trend but it took lesser time for a fashion fad to die . Luckily Kochi's adaptation to fashion trends is now speeding up. Women are changing their appeal for sarees and are becoming more aware on how they have to look. The play of traditionalism is still persisting but they are up for reinventing to an extent. Even if a bride stays in different parts of the world or wherever, they would not settle for their saree at Kerala.Thus we can see a change in trends of sarees and Kerala is ready to move faster.
Seematti is synonymous to Kancheepuram., do you intend branching out?
I am specialized in kancheepuram but I have delved into other categories such as cotton, silk and lehangas .The Beena Kannan boutique has focused on private collections and catering my energy into designs that can be worn for special moments.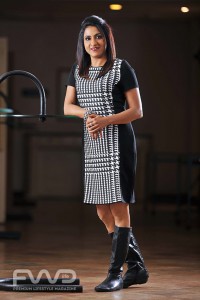 Quickies
Your first saree : My mother's, but it must be known that we hardly shared our sarees. It was an orange chequered saree with a multi- colored body
3 things you always must carry : my phone, ipad and the garments
Favourite Holiday Destination : Europe
The best Stressbuster : Dance
Music you have to feed your Soul : AR Rahman
Next most elegant thing after a saree : Any garment with an unconventional cut
The celebrity who truly dons a saree : Mandira Bedi

Text : Atheena Wilson
Photgraphy : Rejibhaskar
Location Courtesy : Vivanta by Taj Malabar