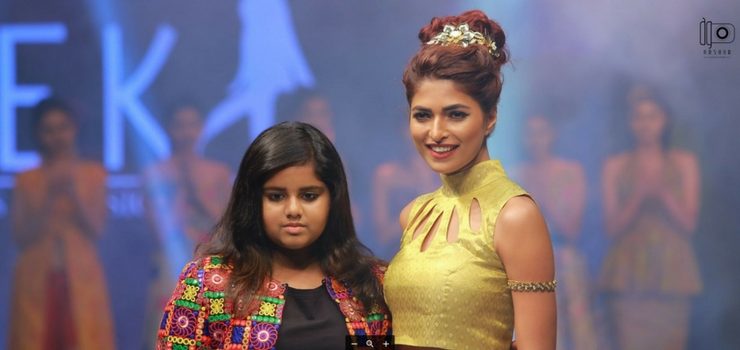 FWD gets up close and personal with India's youngest fashion designer, Apeksha Binoj from Kerala
Words by: Aiswarya John      Photographs from: Apeksha Binoj
Many budding fashion designers have at some point, dreamt of owning their own fashion line and posing as 'dictators of taste' whilst sashaying down the ramp with a widely recognised showstopper. Fashion designer ApekshaBinoj did just that at the tender age of seven, when she first discovered her passion for the industry; and now at the age of twelve, she tells us why fashion will always be her first choice.
What kick-started your passion for fashion designing?
It started out when I was seven years old and had decided to design my own birthday outfit, which my parents happily agreed to. I immediately got down to it and finally came up with the sketch of a purple dress, embellished with flowers. It would be safe to say that it was a hit with my parents! There's been no looking back since then.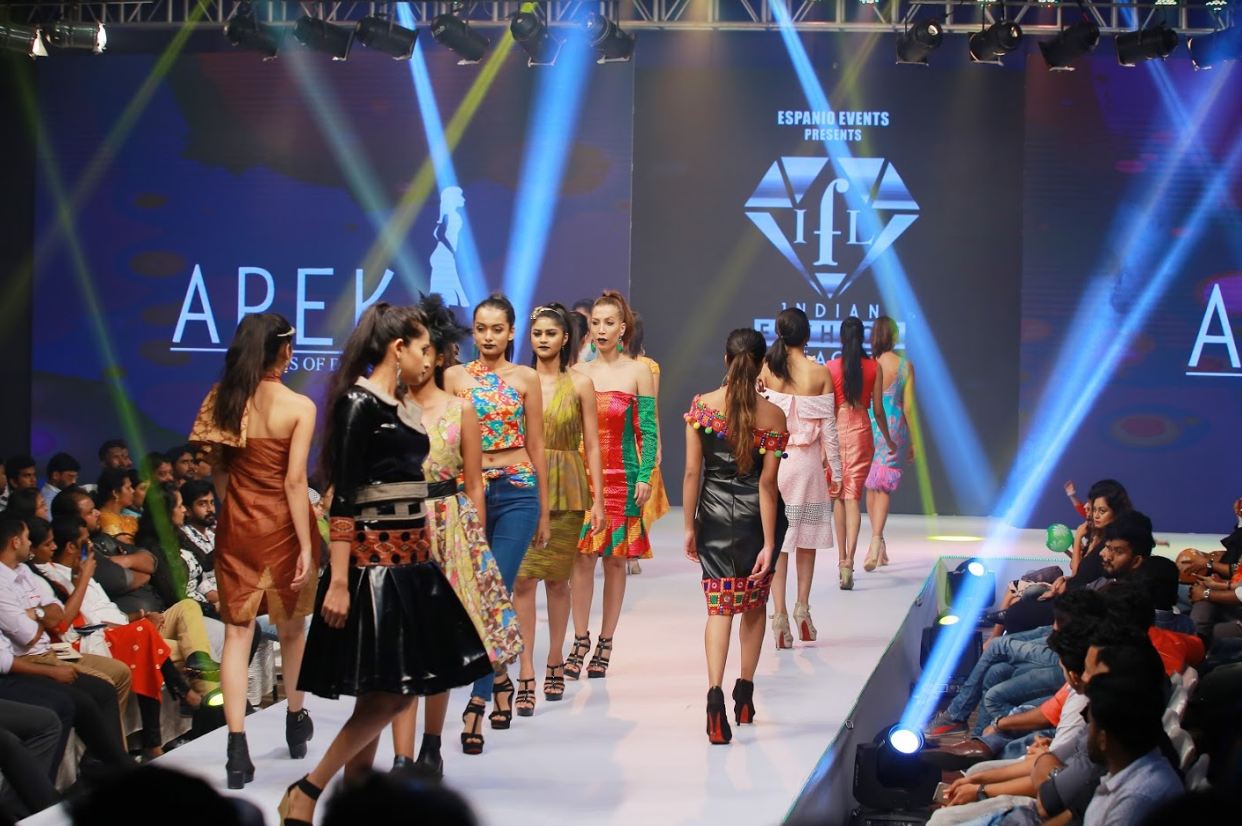 When did you decide to transform this passion into a full-fledged career?
I always loved drawing and after the response I got for my custom-made birthday dress, I decided I wanted to continue designing. Seeing my deep interest in the field, my parents enrolled me at the Dubai International Arts Centre where I completed a course in fashion designing.
Name one fashion icon that has greatly inspired your style.
I would have to say, Marilyn Monroe. Her timeless beauty, classic hairstyle and of course, the white cocktail dress with kitten heels she donned for the movie The Seven year Itch is perhaps one of the most iconic moments in fashion history.
The one animated character you think nails the 'fashionista' quotient.
Sadly, I don't find time to watch cartoons as my schedule is completely packed, trying to balance my school life and career at the same time.
Which Indian and international designer have made it to your list of 'most aspirational' and why?
I really appreciate Manish Malhotra for his majestic and royal designs. The Indian elements he inculcates in each of them prove his creativity. From international fashion, I would happily choose Coco Chanel, purely for the sense of elegance each of her runway looks exudes.
What are the ideal fabrics and surface ornamentation you love working with?
Satin is definitely at the top of the charts when it comes to fabrics. There's a lot you can do with this material. Quite a few of my designs use satin for the rich, luscious feel it gives the garment and the person carrying it. I also love working with different kinds of embroidery, particularly stone and pearl embroidery.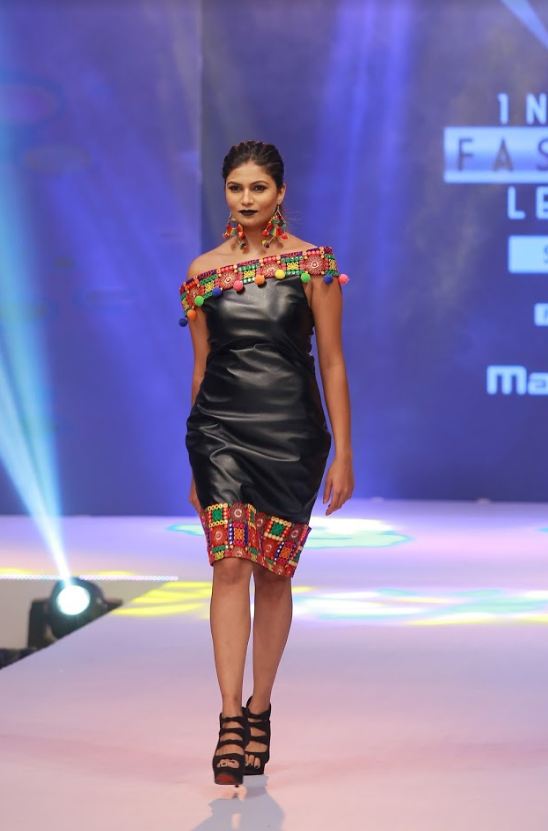 State your reason for focusing on evening wear.
Who does not love a great party?
How do you balance academics and your designing career?
It is a challenge but I do somehow manage to maintain the equilibrium. I dedicate the weekends solely for designing and fashion.
Name one fashion accessory that you think should never go out of style.
I absolutely love chokers inspired from the '90s and am glad they've made a comeback. What's great about them is the variety available for different looks and outfits.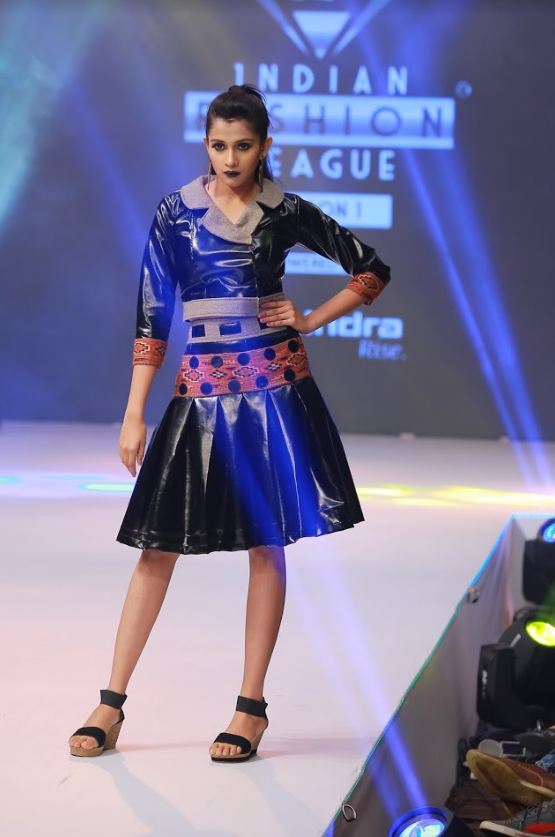 Tell us about your experience as being the youngest Indian designer to showcase at the Indian Fashion League.
It was at the Indian Fashion League that I showcased my first casual wear collection that received a phenomenal response from prominent figures in the industry. The experience was really overwhelming and I'm glad I was able to be a part of it.
Describe a day in Apeksha's life.
It is not as glamorous as you would like to believe. The weekdays are for school. I try and keep up with my academics and don't really have the time to spare for any other co-curricular activities or sports.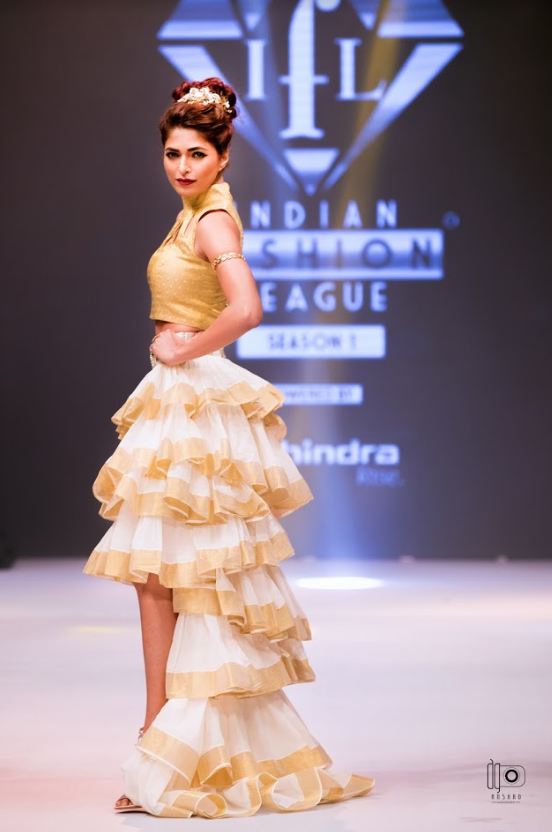 Tell us about the latest collection you worked on.
All my previous collections primarily focused on evening wear, so I decided to do a line on casual wear this time for the Indian Fashion League. I was inspired by specific fabrics paying homage to certain regions in India, like kasavu from Kerala – which was my show stopper garment. I used fifteen different fabrics, each inspired by 15 states respectively.
What lies ahead for your label, APEK?
I definitely want to go abroad and learn in detail about fashion designing and the various aspects of it. France is my dream destination as it's the "capitale de la mode". While I'm there, I would also like to venture out into accessories, namely shoes and handbags. I'm really interested in working with leather.