An Essential Classic with DelightFULL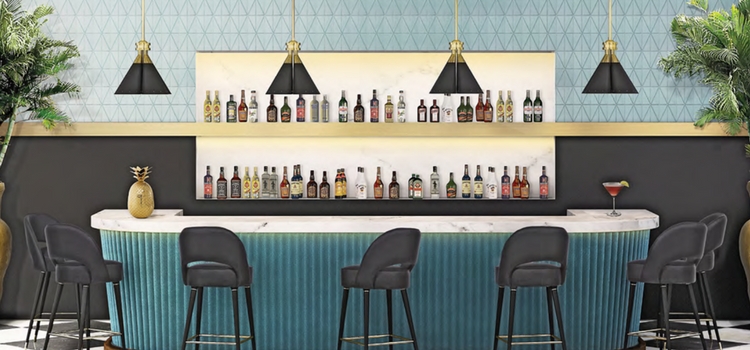 The modern mid-century style never seems to go out of fashion; constantly reinvented, yet always true to its form
Text: DelightFULL    Photos: DelightFULL and Essential Home
Think back to the mid 20th century. Think back to the time when Hollywood glamour was at its peak and all the movie and jazz stars such as Marilyn Monroe, Frank Sinatra, Etta James and many more were living the life in California. It was around that time that what we now know as midcentury modern design and architecture first saw the light of day. But, what is mid-century modern design, after all?
Tracing the Movement
Mid-century modern design is an architecture and interior design movement that began in the late 30's with grand names leading the way. Architects such as Eero Saarinen, Ludwig Mies van der Rohe, and Oscar Niemeyer, as well as nordic product designers like Arne Jacobsen and Charles and Ray Eames are just some of the names that helped make this style one of the most acclaimed in the world. To help you picture it, these designers conceptualized and delivered some of the most iconic mid-century furniture pieces of the modern world like the Egg Chair, all of Ray Eames chairs and his timeless Eames Lounge Chair and Ottoman duo. You might be very familiar with one of Eames' designs, seeing as it is one of the most famous chairs of all times, used in multiple interior design projects featuring various styles.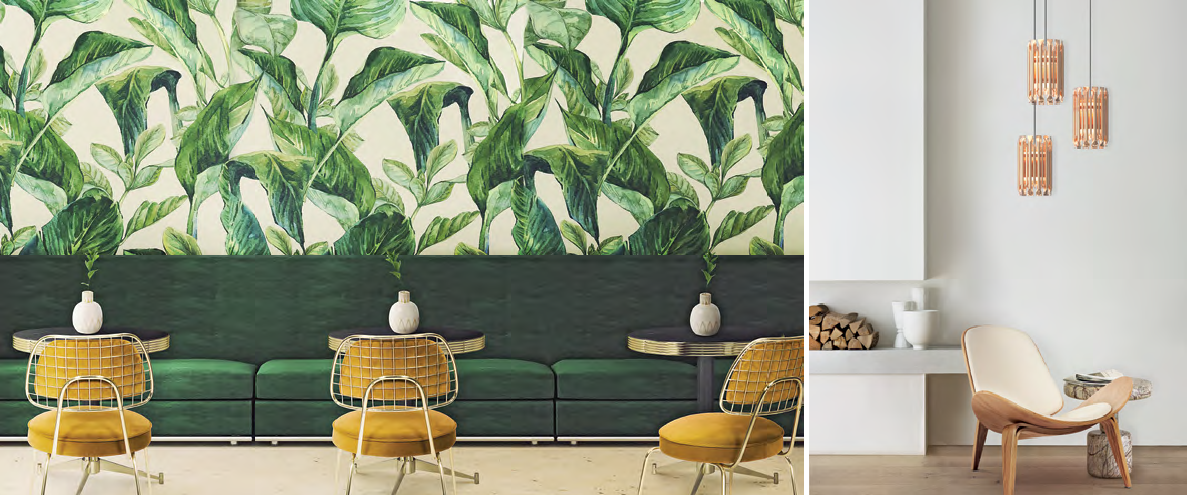 And, of course, you have heard about Palm Springs before. But what does this desert and retro part of California have to do with the midcentury movement? Well, think of Palm Springs as the sacred place for mid-century modern architecture. If you were on a journey to find the best and most iconic architectural examples of this style, then one of the mandatory stops would definitely be Palm Springs. Examples of 1950s Palm Springs mid-century modern architecture include Frank Sinatra's house by E. Stewart Williams and Kaufmann Desert House. However, you can find many more examples of this style across the US, such as the Farnsworth House in Chicago, and even some more in Europe. Although in a smaller scale, in Europe the mid-century modern movement rose thanks to the influence of Le Corbusier and the scandinavian architects that were in vogue at the time. As you are realizing by now, this an artistic movement that although inspired by many of the scandinavian and nordic design movements happening at the time, it gained its core strength in American soil, walking up to becoming one of the most popular interior design and architecture styles of all times. And, in spite of it having been conceived in the 20th century, this design movement didn't see its end at the time. Instead, it made its way through the years, gaining more and more followers as the years went by, reaching a point of absolute admiration in the current years. So, one of the best questions we can ask ourselves at this point is, which are the main traits we should be expecting to find when looking for a mid-century interior design project?
Characteristic traits
First of all, look for solid woodwork. Teak, oak and chestnut are the most popular types of wood when it comes to mid-century design. You will find it in cabinets, sideboards and in many different types of upholstery items. You will also notice how all the sofas, accent chairs, ottomans and stools will have either wooden details or a golden brass finish, creating a nordic vibe mixed with all the Hollywood glamour we are used to.
Strong and bold colors are also a very important characteristic of this style. When you think midcentury design, you will inevitably think about bold colors such as tangerine, avocado, mustard and pretty much any powerful colors that have ever existed. Neutral shades were replaced by an explosion of color that helped shape the rooms and give them a whole new life.
Another thing that clearly sets this style apart is the use of simple and uncomplicated lines everywhere. The designers embraced the motto 'less is more', thus creating clean-lined furniture with a few curves and smooth surfaces that were paired up to create minimalist interiors, as opposed to the pre-existing maximalism trend.
Finally, you have to look for textures and patterns. You will see that every mid-century modern interior features some kind of statement texture or pattern, which can either be a shag rug, a geometric patterned wallpaper, or even a ceramics or aluminum lighting piece. Which takes us right to the next topic on this journey through mid-century design…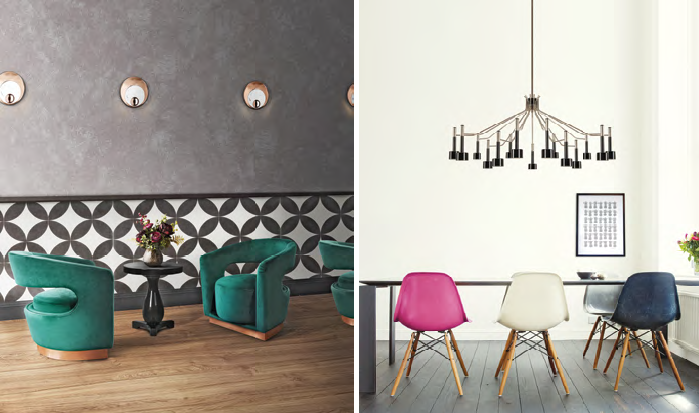 There is a particular mid-century and retro chic interior design brand that uses oak and chestnut woods in the most wonderful way, creating authentic mid-century designs, inspired by the golden Hollywood years. Essential Home's pieces are also colorful, exuding an elegant and playful vibe, with clean lines, graceful curves and textures such as velvet that are a homage to the 50s, 60s and 70s. All in all, Essential Home is the personification of 'glamour meets mid-century design', with many oak details, as well as brass with golden and copper finishes, which definitely create a nostalgic feeling towards all the big Hollywood stars' homes in Palm Springs.
And it shined
Another huge movement that took place by the time mid-century design started to appear and sweep everyone away was the mid-century lighting design movement. Once again, incredible designers shared with the world their iconic pieces. This is when the timeless Arco floor lamp by Achille Castiglioni and the Spider ceiling lamp by Serge Mouille were presented and set new rules and boundaries to the lighting design world. From then on, the world would come to know major mid-century lighting design brands, with inspiration drawn from the classics and some of the biggest icons of the pop culture. One of those brands is DelightFULL. Created in the early 2000's, DelightFULL set out to be an example and a reference in the mid-century lighting design world. Their designs draw inspiration from the best the mid 20th century had to offer, creating an inspiring and magical feeling that takes us right back to the nostalgic 50s and 60s. With a retro chic feeling to it, channeling the DelightFULL's high-end trait, two of the brand's most popular designs include the golden brass saxophone-inspired floor and suspension lamps called Botti.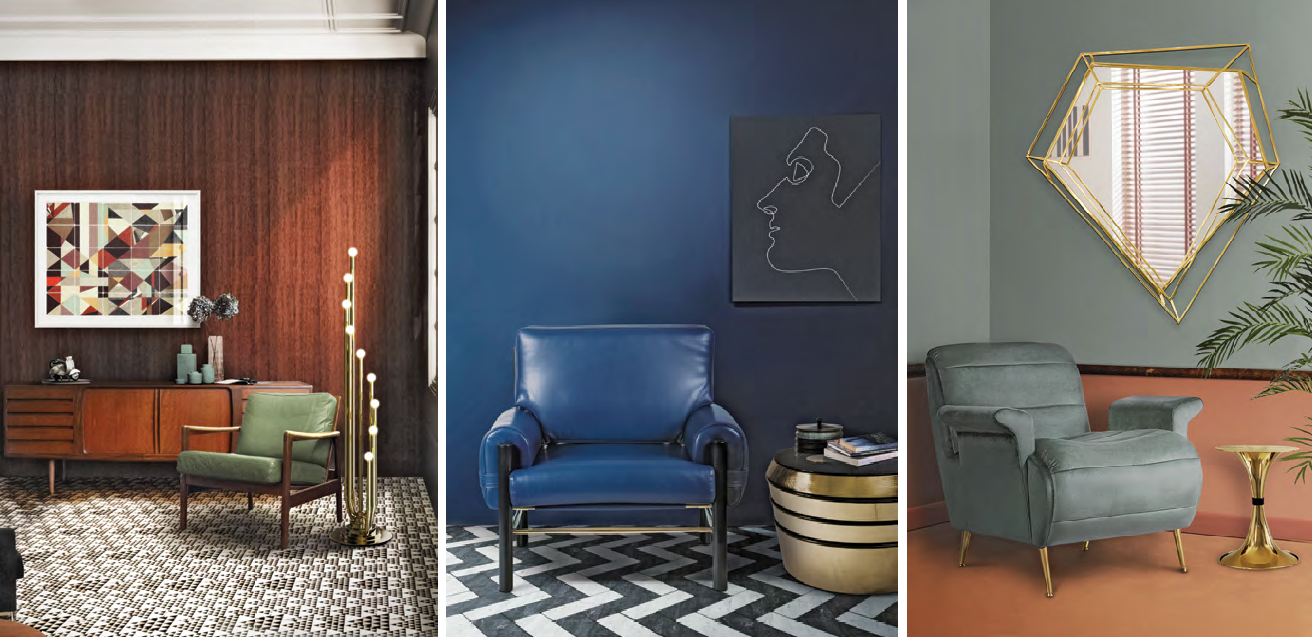 As it is clear by the pictures, DelightFULL takes advantage of the more glamorous side of the midcentury modern design, choosing to play with materials such as brass and aluminum. The brass elements can also be finished in gold, nickel and copper, enabling all mid-century design lovers to achieve the best and most customized look they can think of for their homes. Additionally, materials such as marble are also featured in many of the brand's designs, which only comes to show the importance of textures and materials in the mid-century modern design world.
Nothing in a mid-century modern interior design is done by chance, and although it may seem quite a minimalist and simple style, the truth is, details are everywhere and they are a very important part of the complete look. So, keep in mind that this is a style that has still much more to give and it is definitely here to stay and inspire everyone!
Digital Version: https://goo.gl/Bs9vlq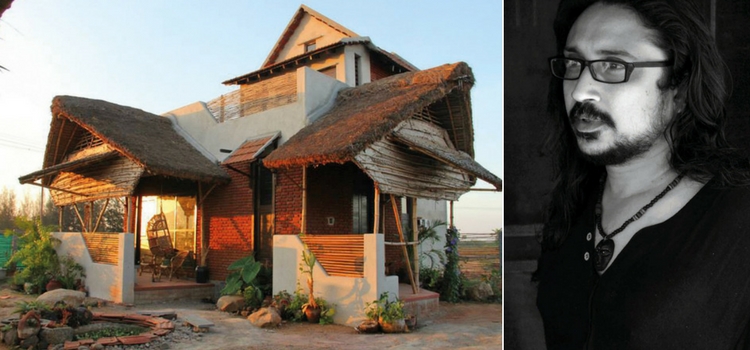 Biju Bhaskar is promoting the concept of natural building through his venture, Thannal
Text Credits: Charishma Thankappan       Image Credits: Thannal
Architecture does not just entail the construction of a building, but it is the setting up of a philosophy, thought process, values, and ideals. While conventional architectural models may be an inanimate block of concrete and cement that are 'finished' at the end of the erection; there are, however, alternate forms of edifices that are more alive through their symbiosis with nature. And Thannal is one such body that works for the assimilation of nature with human dwellings.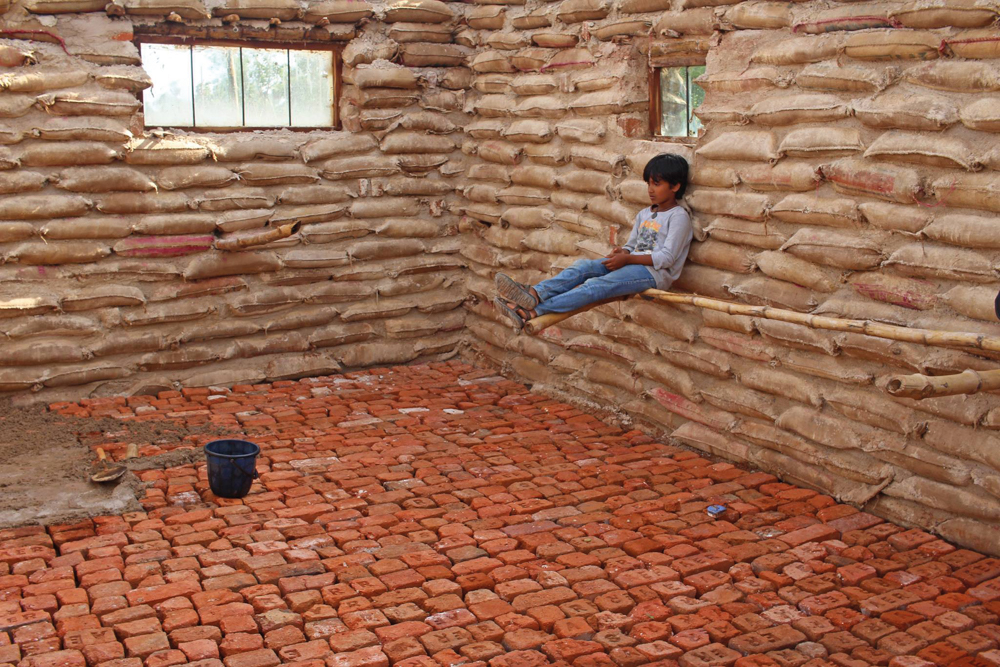 Biju Bhaskar worked in regular architecture for a long duration before quitting it ten years ago. He started Thannal in 2011 with the objective of trying to explore alternative architecture, which consists of green, sustainable, traditional, and vernacular architecture. "We do not compare our works with architecture, but we call it natural building. It's a term that's not well-known in the media. The natural building movement is gaining momentum internationally, but is not that progressed in Kerala," he says. "We have to rethink the subject of mud architecture, which is in practice in Kerala currently, about whether we are doing it through pure sustainable methods," says Biju, who specializes in mud architecture and operates in the village of Thiruvannamalai in Tamil Nadu.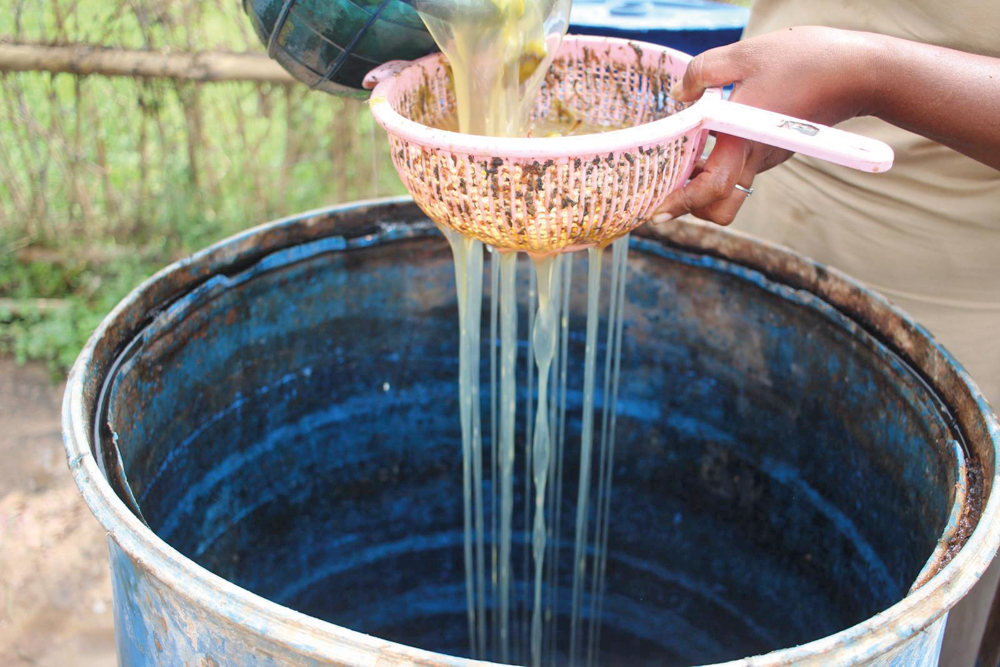 Building homes was a community-based activity where if you wanted to build your home, your friends, family, neighbors – everyone – came to help you; but today that's not the case, and one takes huge loans to build their homes. "Kerala is a state that has a large population belonging to the high-income group, so there is a huge potential of using your money to build your home sustainably," observes Biju. "In the current architectural scenario in Kerala, none of the materials used in building homes is from your native land. Some of the others who proclaim building mud homes are not doing it through pure natural methods, as they are mixing cement with the mud, which lessens the quality of the mud."
Accessible to all
The beauty of mud building is that it can be built for anyone, rich or poor; the difference comes only in the finishing, says Biju. "It has been only 90 years since cement came into Kerala, and today we are in a stage where people think that they cannot do without it. But don't we see buildings that are over a hundred years old that are still going strong – temples, churches, manas, etc.? The concrete buildings of today can last only about 20 years before cracks start developing in it. No concrete building has completed 100 years in Kerala."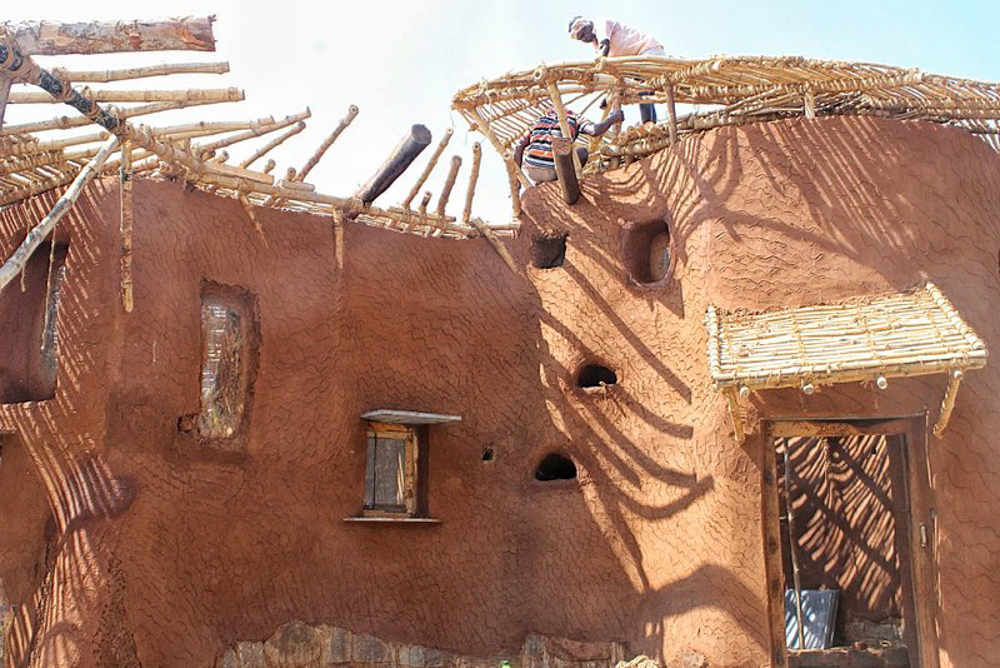 A building's walls are like the skin on your body – they are porous and have a breathing quality, says Biju. Only the buildings of olden times had such walls and construction; they kept the building naturally cool. "Today's buildings don't have such a quality, and instead make the interiors of the building hot. Enormous power is used through air-conditioning to keep it cool."
Hand in hand with nature
Another focus area for Thannal is the communion of plants and buildings. "In our research, we have found that plants have a lot of importance in buildings. The bark and sap of plants can be used in various ways in the construction of a building." And there is no bigger example for this than Biju's own abode, which is an earthbag home. "It has about 12 varieties of herbal ingredients in it. So the air that passes through the walls is diluted with the essence of these herbs." Biju points out that cement companies today are one of the major sources of air pollution. The paints used nowadays are also mixed with toxins that are dangerous to people's health.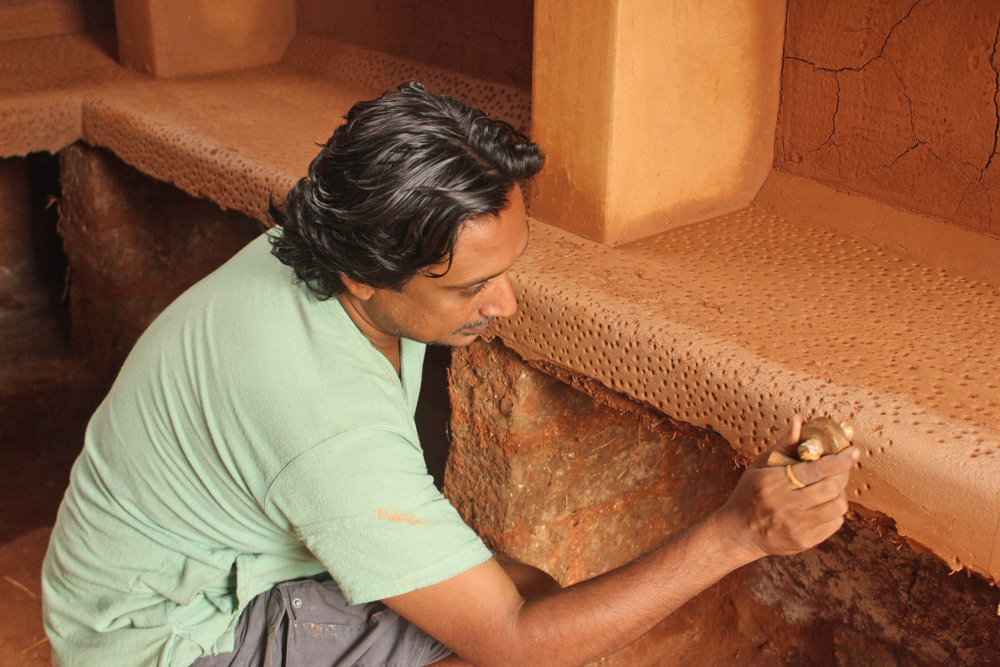 Biju says that there are a lot of positive changes happening in India and with the younger generation of architects for the past ten years. "The green movement in agriculture – organic farming, is coming along very well, what with the involvement of renowned people such as the actor, Sreenivasan. A lot of farmers come to meet us." But at the same time, Biju rues another fact. "What is saddening is that villagers are lured by the urban living styles and moving towards it, discarding their natural means of life. So we are building free homes for them to bring them back to it and make them realise the importance of it."
Towards growing more villages
Biju talks about his philosophy at Thannal. "We believe that instead of growing more towns, we should grow more villages because today, the times have changed, and one need not live in an urban scenario for sustenance. Villages and pure natural building should thrive."
At Thannal, which Biju set up with his wife Sindhu, they give a lot of prominence to research and documentation. With the aim of growing more natural builders, they hold workshops to disperse the awareness. "We have created a hub called Natural Builders of India. Those who pass out have to complete a project in two years that is completely based on natural building. I also bring two-three projects as there are no examples for students in India. And at the end of the project, each student has to bring another student to enroll in it. So according to our calculation, the natural building movement is going to bloom in five years' time in India. "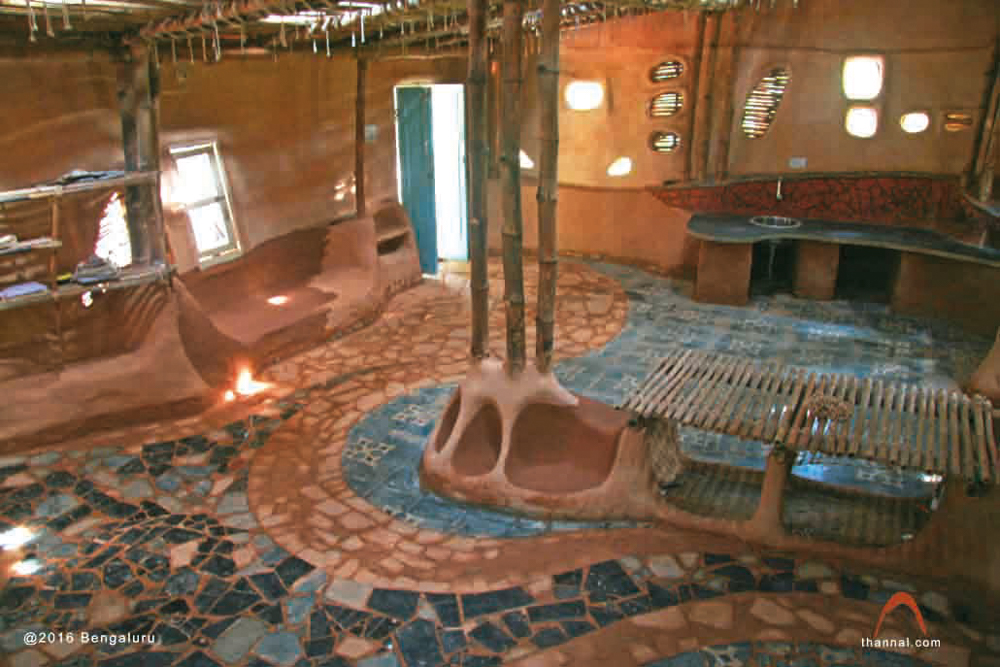 Biju takes up only a maximum of two or three projects in a year. Receiving volunteers from all over India, their income is only from the workshops that they hold, claims Biju. A naturally built home of 500-1,000sq ft can be completed in four to five months. The costs, naturally, are always lower than conventionally built structures.
Thannal works across India and they choose villages after extensive studies. "In our travels, we discovered that all these people who are knowledgeable about natural building in the villages, are all 70-80 years old. We are trying to revive their knowledge, for which, we are living with a master mason every year. We use local people from the particular areas, as that way, there is exchange of information."
Biju is an avid traveller and a devotee of Ramana Maharshi. Asked why he chose to settle in Thiruvannamalai, Biju says, "It is a place of gurus and a place for self-enquiry. It is one among the Pancha Bhoota Sthalam, and is symbolic of fire. And all gurus have taught that one should build mud houses."
The House With The Breathing Wall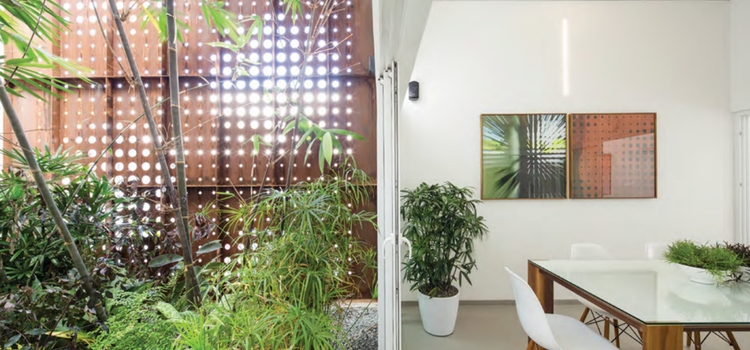 Defining Spaces, Blurring Boundaries
Text: Maria John   Photos: Various Sources
The breathing wall house is a prototype of a narrow plot, uncommon in Kerala, with an extensive long space that can be closed off into smaller, private pockets. The Breathing Wall residence, moreover, has a central atrium on the ground floor with balconies, attached to first floor bedrooms, overlooking it. This is remarkable as an evolution of the traditional nalukettu space into a green courtyard that blurs the boundaries between the external and inner spaces.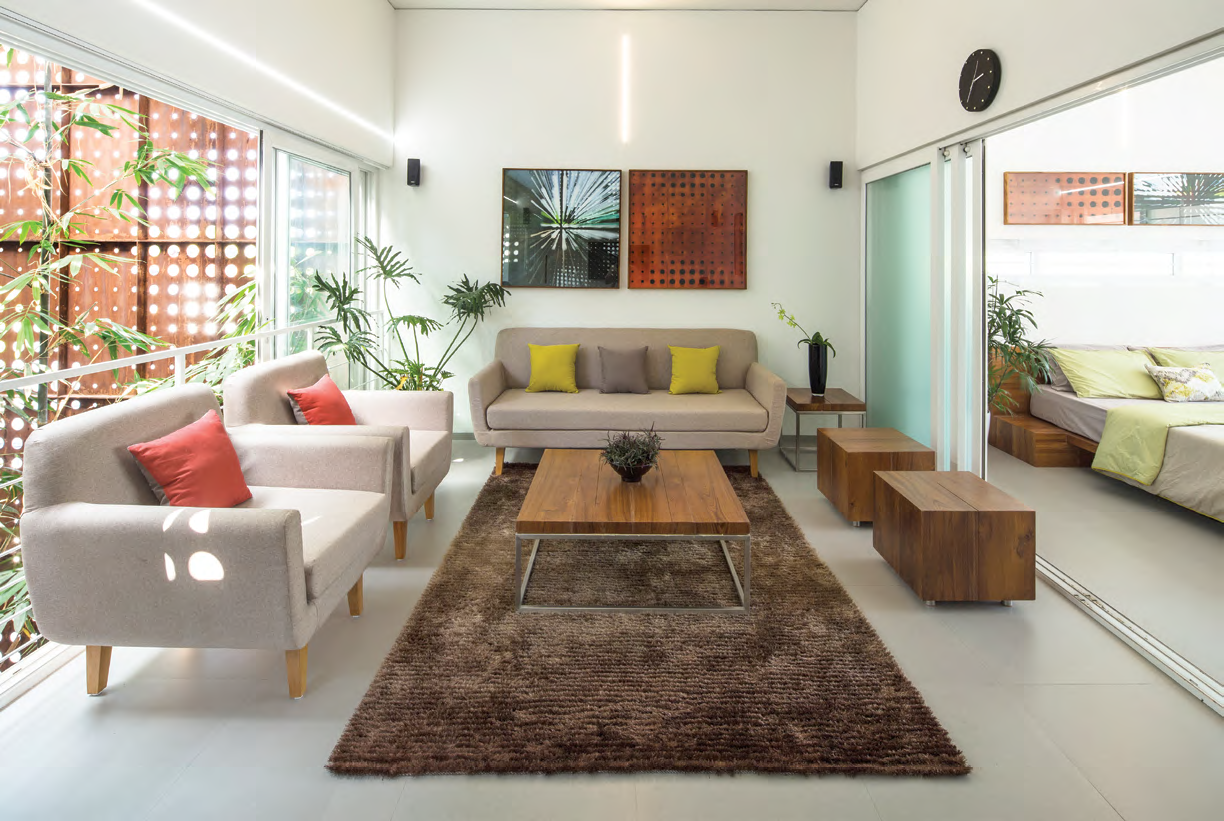 Earlier, we had rigidly defined internal and external spaces, and the in-between spaces like verandas, with clear boundaries that created compartments and ensured privacy. When you look at layouts being churned out by the younger generations of architects in Kerala, you see a large sense of openness. People are opening up, and that is reflected in the designs – kitchens have an open layout, bedrooms are opening up…there is a blurring of boundaries.
Project Brief:
Architect: LIJO.RENY.architects, Thrissur
Location: Thrissur
Site Area: 1819 sq ft
Total Built Up Area: 2200 sq ft
Year of Completion: 2015
Interiors: LIJO.RENY.architects
Landscape: LIJO.RENY.architects
Structural Consultants: Romsey, Keystone Engineers
Photographs from: Praveen Mohandas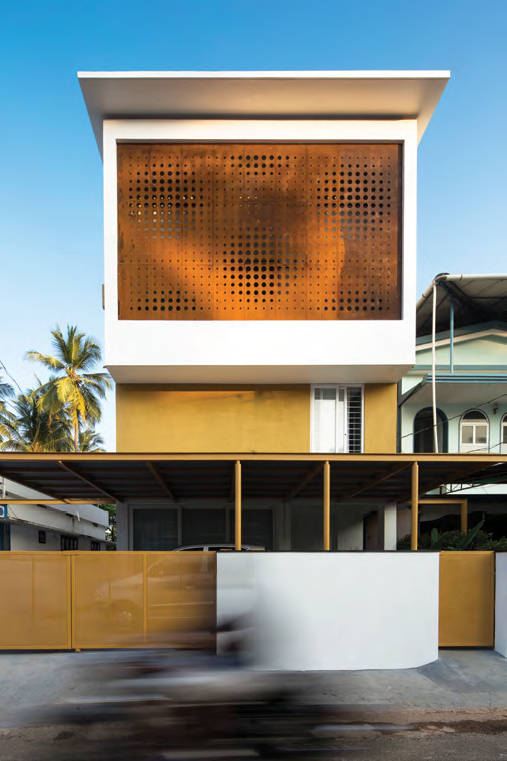 The Team:
Founded in the year 2005, LIJO.RENY.architects is a multiple award winning design studio based in Thrissur, Kerala, by Lijo Jos and Reny Lijo. The works that come out of their small studio have been instrumental in influencing the way architecture is practiced and viewed in the state. Apart from their consistent experimentation with architecture, they are also responsible for several site/space specific art installations. It's their love for art that keeps them inspired and charged to introduce interesting contemporary sensibilities in the architecture they practice. They have won numerous awards for the Breathing Wall Residence, including Monsoon Architecture Award – 2017 WINNER (Excellence in Architecture of the Monsoon Region) and IIA State Award – GOLD LEAF for Excellence in Architecture (Residences) (2015). They were also one of AD50 – The 50 most influential Architects and Interior Designers (2017). Connect with them at www.lijorenyarchitects.com.
Digital Version: https://goo.gl/Bs9vlq
Check out your favourite celebrities and their favourite holiday destinations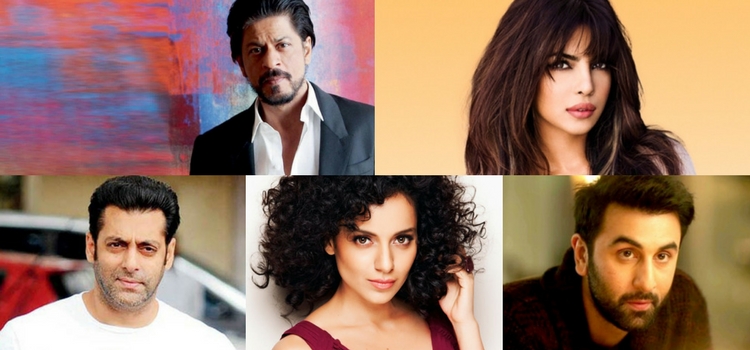 These celebrities are sure used to the luxe life, and the photos are here to prove that
Words: Devika V Menon   Images: Various Sources
Holidays are always a special occasion for all of us, since it's always a place that we've wanted to go to to make memories and spend some quality time with our dear ones. But haven't we always thought how it would feel like to be a celebrity so that there would be no need to save up for months, we could just pack our bags and fly to our favourite destination without a care in the world. Yes, exactly like how Blair and Serena would order Dorota to pack their bags and have the car pull around the curb and then fly off to exotic destinations in their private jet. Here are a few of our favourite celebrities and their favourite holiday destinations.
Salman Khan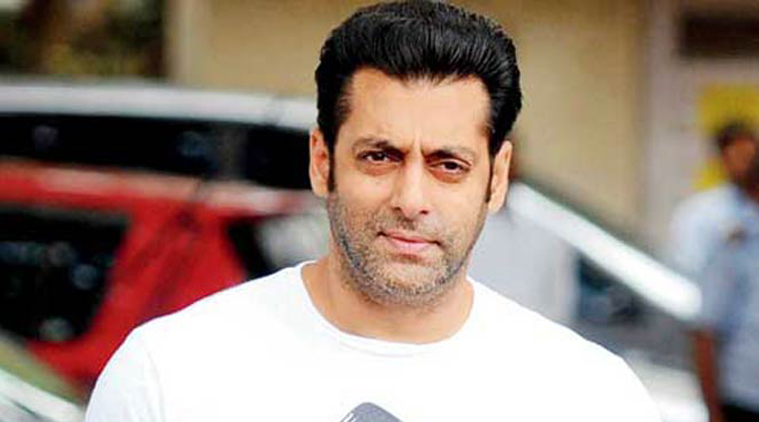 Bollywood's most eligible bachelor loves to party in Dubai, but his favourite destination is in Panvel where he owns a farmhouse. It is less than two hours from Mumbai but it is quite another world. The weather is cool, the air is clean and crisp, there are vast open spaces, the landscape is a gorgeous green.
Kangana Ranaut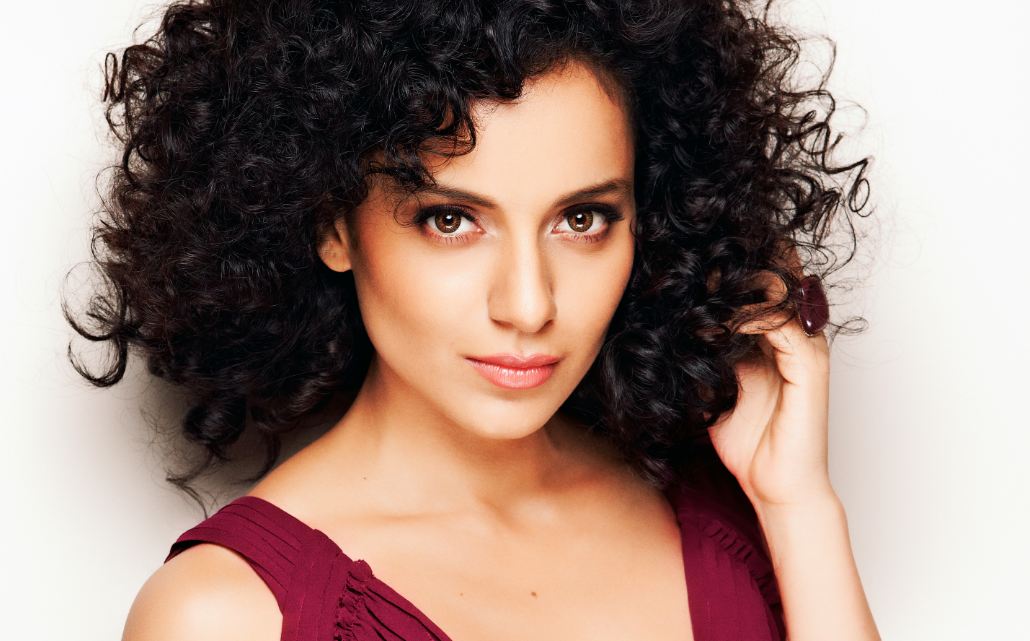 The Queen of Bollywood cinema likes nothing less than royalty, and where does she find herself being pampered like a queen? Where else, than the most romantic city in the world, Paris! After all, she did head to Paris to visit the Eiffel Tower all alone on her honeymoon nonetheless.
Priyanka Chopra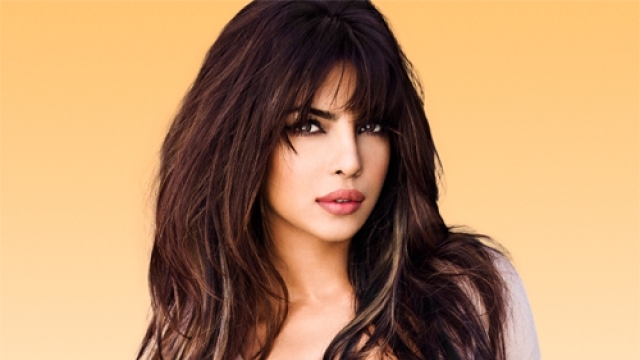 It is no surprise that PC is a beach bum. I mean, it was quite obvious when she donned that golden one piece and looked like a million bucks in Dostana all those years ago. Her favourite destination is, not surprisingly, Koh Samui and Phuket, in Thailand. The Baywatch babe loves relaxing by the beach.
Shah Rukh Khan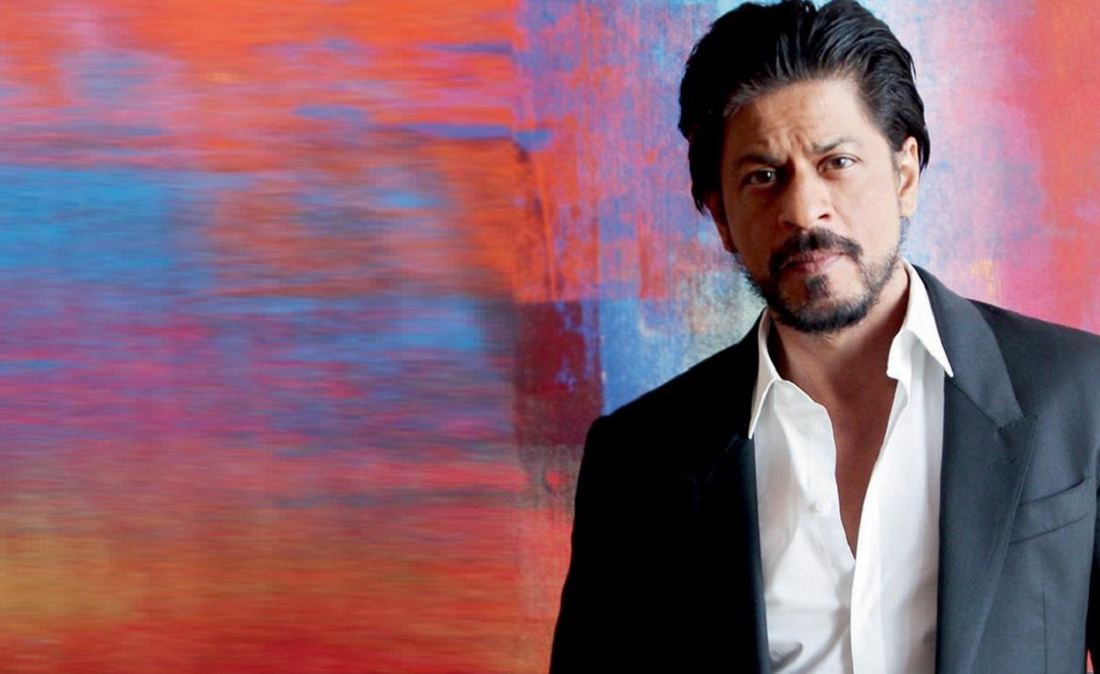 The Baadshah of Bollywood is a huge fan of luxury. Surprisingly enough, he heads to London with his family to have some quality family time. Second on his list of favourite holiday destination is Dubai, where he is said to own property, too.
Ranbir Kapoor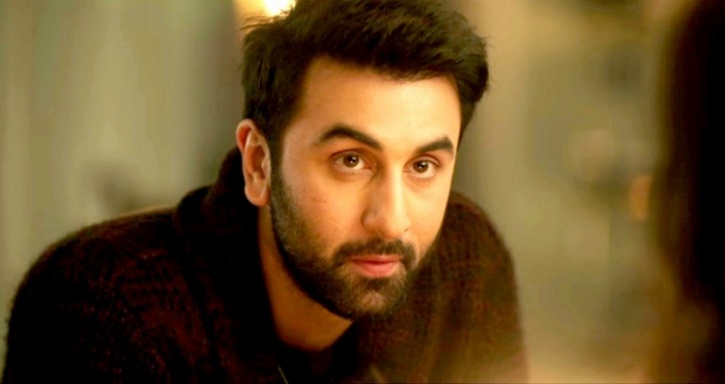 Being the chocolate boy that he is, I'm sure nothing but the Upper East Side will satisfy him. Nostalgia is the word he'd use, having spent a long time in the Big Apple, studying there. He is said to visit often to spend time with his friends.
So, where are you headed to next?