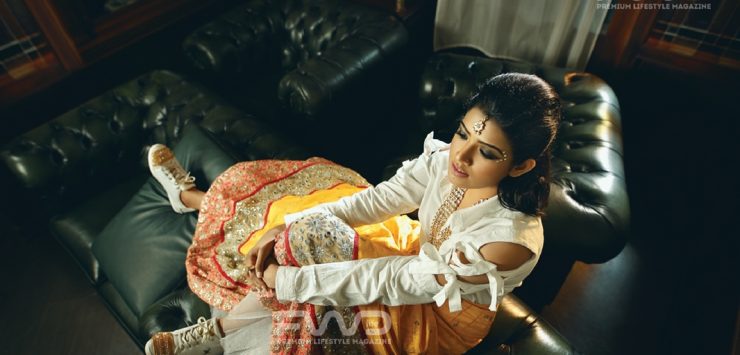 If you always dream high, you will definitely reach higher
Amrutha Suresh shot to fame during her stint on a TV reality show, quickly becoming a fixture in Malayali hearts. Her voice won her accolades and her band, Amrutam Gamaya gained international fame. But all of that faded for a while as marriage, and then pregnancy and motherhood, took centre-stage in her life. However, the siren call of her music wasn't to be denied and now she's back, with a music video proclaiming her return, shooting into the hearts of women with canny precision, singing to them that they are to find strength within themselves, as she did.
Does one ever get used to fame? What was your first taste of it like?
I think no one has ever really asked me this question before. I started singing at the age of three and from then on, my passion was music and my dream was to become a singer. And, I loved the applause – I even longed for it. And now that I'm here, I'm always grateful, because this is what I've always wanted. And fame that comes along with it is also something that I've always enjoyed. But, I think people see me more as a family member than as a celebrity, and that, I consider a true blessing.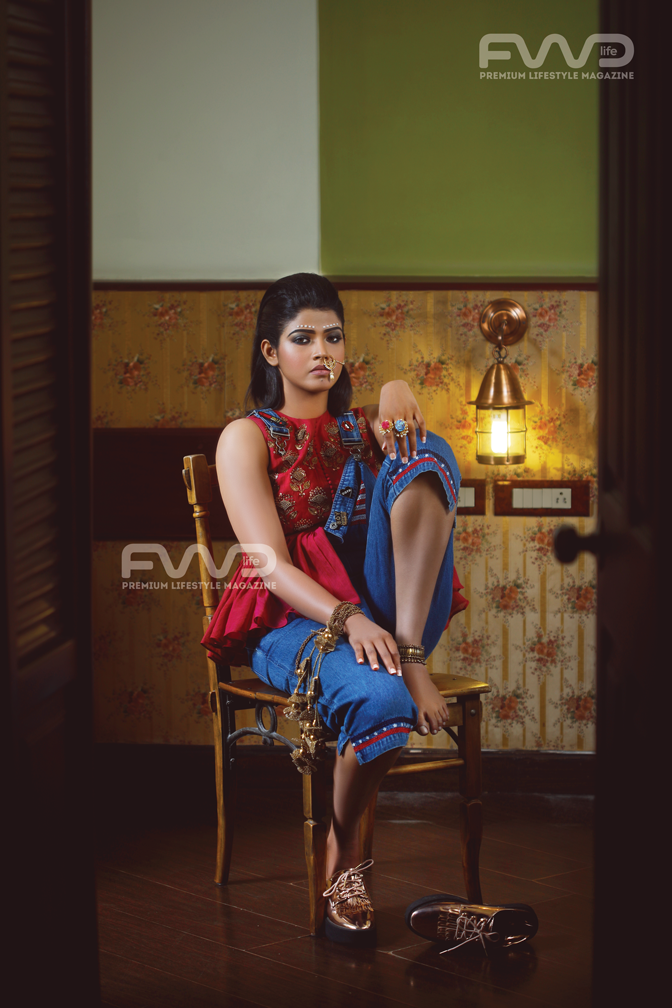 Top: Salt Studio
Rings: Pure Allure
Your star was on the rise. Do you ever feel like you cut everything short too quickly?
I believe in destiny. I think everything in my life was destined by God, it's all been written somewhere and that's why it's all happening. I got married early and everything to do with pregnancy and the challenges that come with it, are done with. My baby is four now and very mature for her age. So even though she accompanies me whenever it is possible, she never causes any problems and I can concentrate on my music. I believe that everything happened the way it did for good.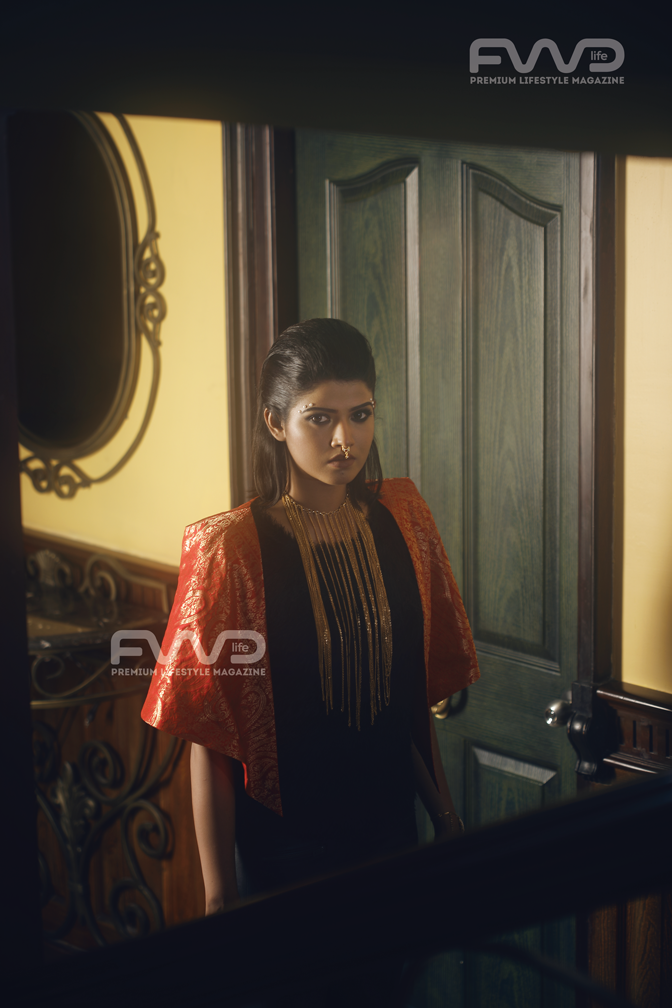 Cape: Salt Studio
Your new single, "Anayathe", is termed your comeback. How symbolic is it?
It's my first single and as I'd always wanted to do something for women. Through this music video, I want to convey a message to all the women out there that there's been enough of crying. There's a spark inside all of us and it's about time we let it blaze into a fire, without watering it with our tears.
What inspired you to make this comeback?
Again, my baby. She is my everything. Whenever I'm feeling low, I think of her and instantly become happy. I took a small break, because of my marriage and my pregnancy, but I was always involved with music. I never really went away.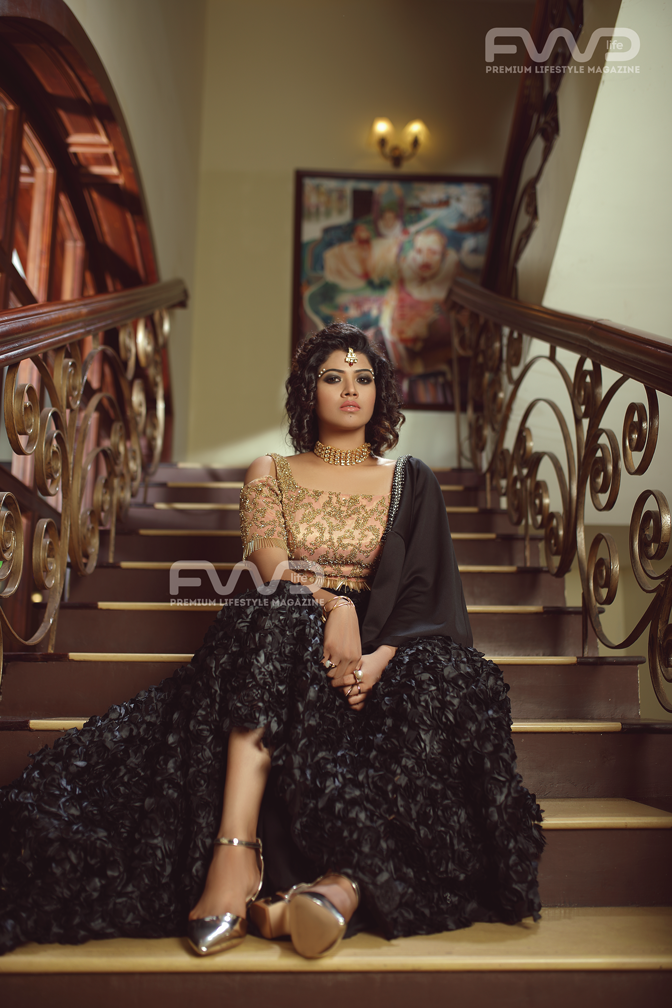 Blouse: Salt Studio
Skirt: Soucika
Sandals: Aldo
Jewellery: Pure Allure
What then, is music to you?
All I know in life is to sing. My entire life, to be honest, has revolved around music. If you ask me who my best friend is, I'll say it's music. Because, you share everything with your best friend and that's what I do with my music. I express my feelings through music.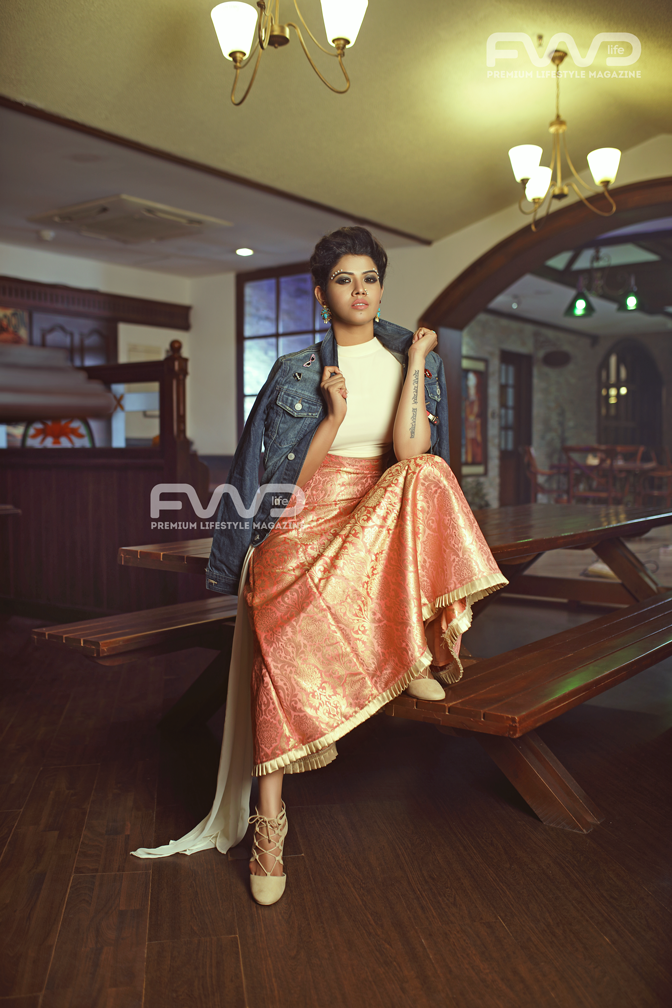 Is there more music in the works?
I'm currently working on an international project with producer Luckz from Sweden, but I can't really give out (more) details. It's a dream come true, for me, as I've always wanted to be an international musician. Like Celine Dion. (laughs) I've always dreamt of performing like her, and Michael Jackson. This is proof for my belief that if you always dream high, you will definitely reach higher.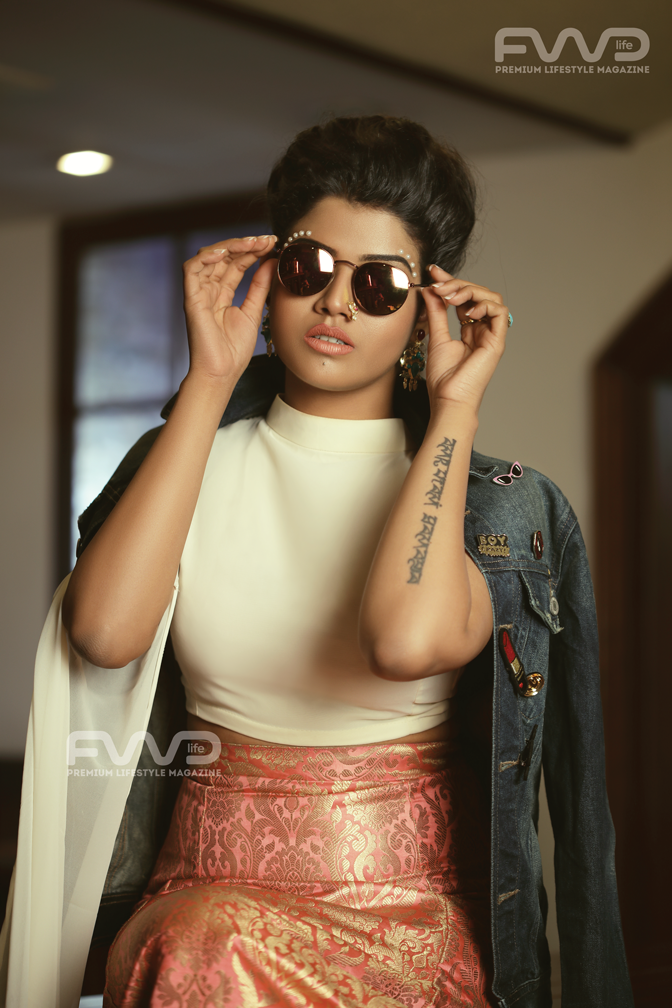 Blouse: Amra Boutique
Jacket: Stett
Skirt: Ioara
Earrings: Pure Allure
Pins & Patches: Aldo
When it comes to your band, Amrutam Gamaya, have you chalked out its future? Or will you be carrying on solo?
Amrutam Gamaya is in my blood (points to her tattoo) and it will always be there. I'll be doing solos, but if possible, I'll try to merge both. Even though I love doing solos more, Amrutam Gamaya is very important to me. Moreover, it's the first sister-duo band from Kerala. For that reason alone, I'd keep my band alive.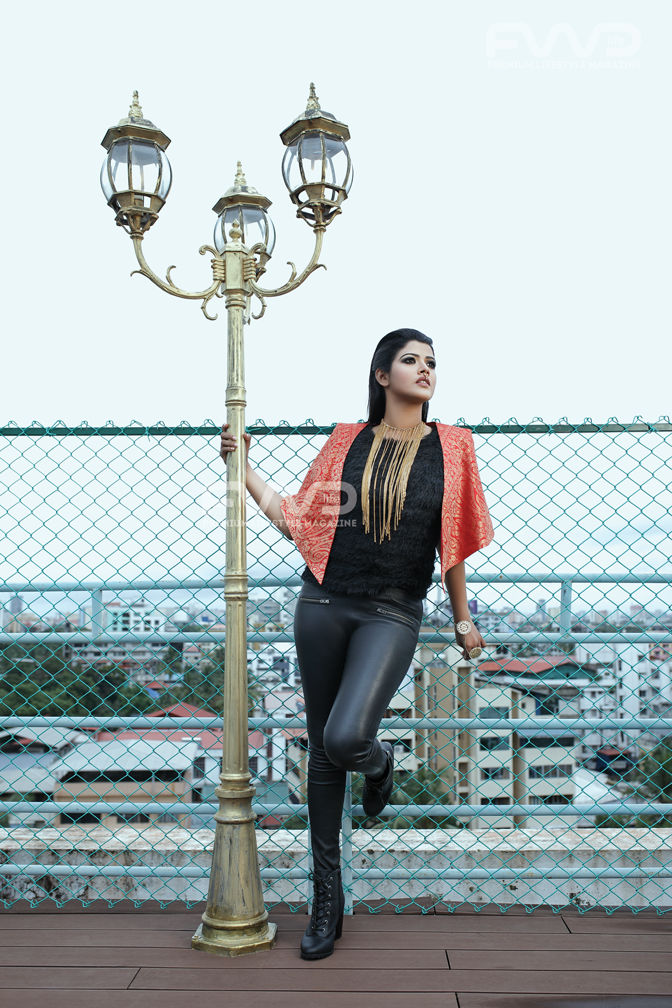 Cape: Salt Studio
Boots: Payless
How do you keep yourself motivated?
I have some good friends surrounding me and my family is always around to support me, to give me that push. I'm a daydreamer and I think up positive as well as negative things. Sometimes, when I wake up with a lot of negative energy, I think about them. I have a good set of people around me who help me, especially my parents, sister and daughter.
Is it hard, finding time for Avantika, as you reshape your career?
Not at all. She is always with me. If I'm at work at the studio, she's mature enough to understand that I'm not to be disturbed and that she should be quiet while I'm singing. She is very understanding even though she's only four. I take her along with me whenever I can. My world revolves around Avantika.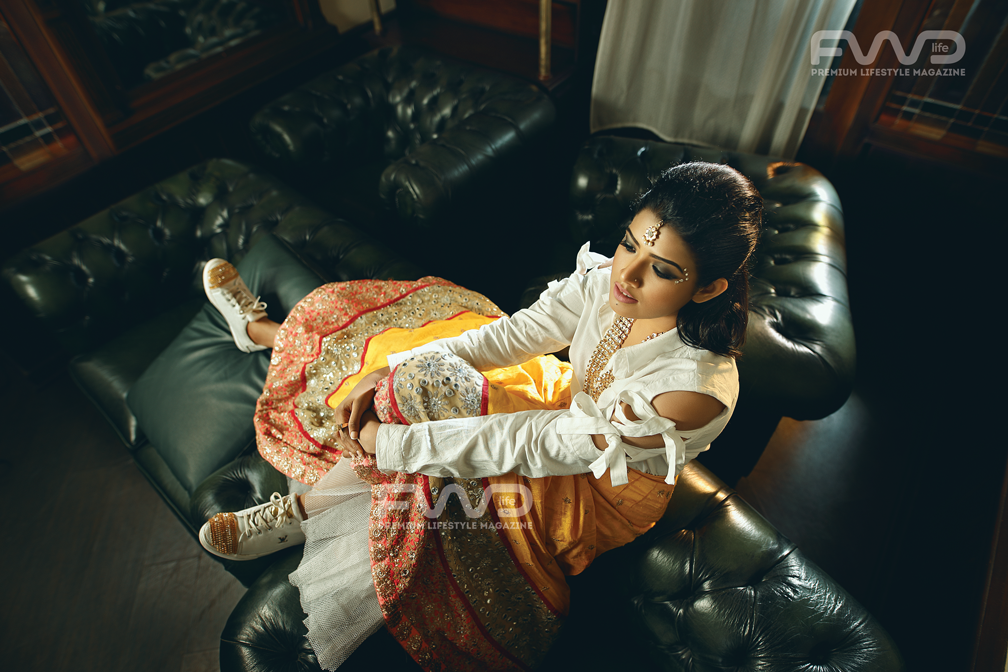 Top: Vero Moda
Skirt: Soucika
Shoes: Others
Jewellery: Pure Allure
If you could give your younger self a piece of advice, be it about music or about life in general, what would it be?
Always be positive. Keep smiling. Everyone makes mistakes, but repeating mistakes is a choice. Make sure you correct the mistakes of your past, that you take a different route and not repeat them. You decide what you want in your future and how you want to be in it.
Model: Amrutha Suresh
Words by: Rheanna Mathews
Photographer: Jinson Abraham
Styling: Lakshmi Babu
Makeup: Renju Renjimar
Hair Styling: Sudhi
Retouch: Jemini Ghosh
Location: Travancore Court by Spree, Cochin
Costumes: Salt Studio, Soucika,Vero Moda, Ioara, Amra Boutique, Stett
Accessories: Pure Allure & ALDO
Shoes: Payless & ALDO
Digital Magazine: https://goo.gl/uorGj9