Amrutha Suresh Is Back With A Breath Of New Life
If you always dream high, you will definitely reach higher
Amrutha Suresh shot to fame during her stint on a TV reality show, quickly becoming a fixture in Malayali hearts. Her voice won her accolades and her band, Amrutam Gamaya gained international fame. But all of that faded for a while as marriage, and then pregnancy and motherhood, took centre-stage in her life. However, the siren call of her music wasn't to be denied and now she's back, with a music video proclaiming her return, shooting into the hearts of women with canny precision, singing to them that they are to find strength within themselves, as she did.
Does one ever get used to fame? What was your first taste of it like?
I think no one has ever really asked me this question before. I started singing at the age of three and from then on, my passion was music and my dream was to become a singer. And, I loved the applause – I even longed for it. And now that I'm here, I'm always grateful, because this is what I've always wanted. And fame that comes along with it is also something that I've always enjoyed. But, I think people see me more as a family member than as a celebrity, and that, I consider a true blessing.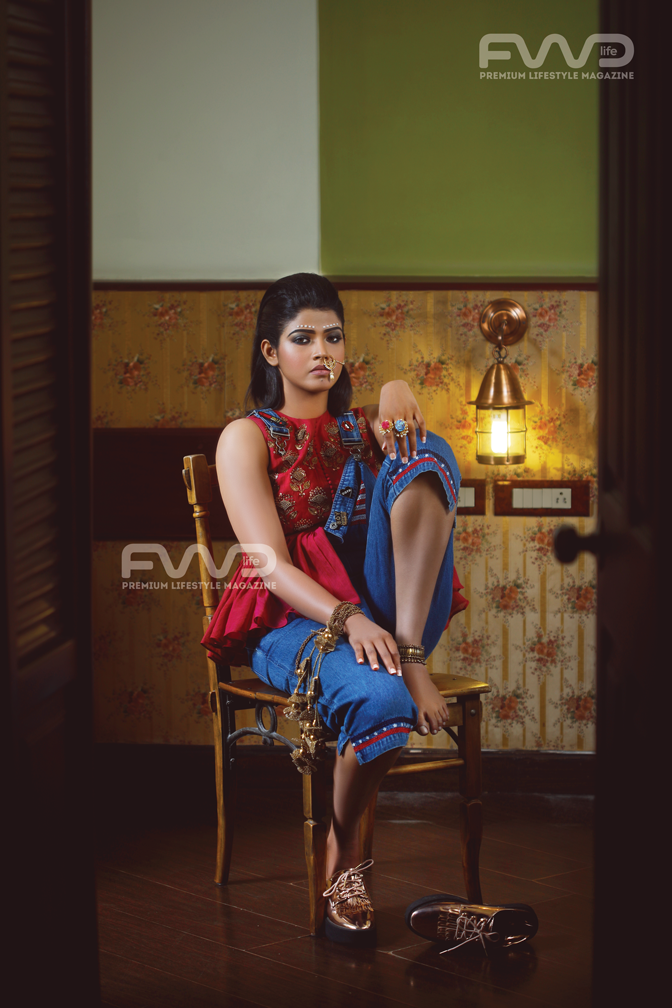 Top: Salt Studio
Rings: Pure Allure
Your star was on the rise. Do you ever feel like you cut everything short too quickly?
I believe in destiny. I think everything in my life was destined by God, it's all been written somewhere and that's why it's all happening. I got married early and everything to do with pregnancy and the challenges that come with it, are done with. My baby is four now and very mature for her age. So even though she accompanies me whenever it is possible, she never causes any problems and I can concentrate on my music. I believe that everything happened the way it did for good.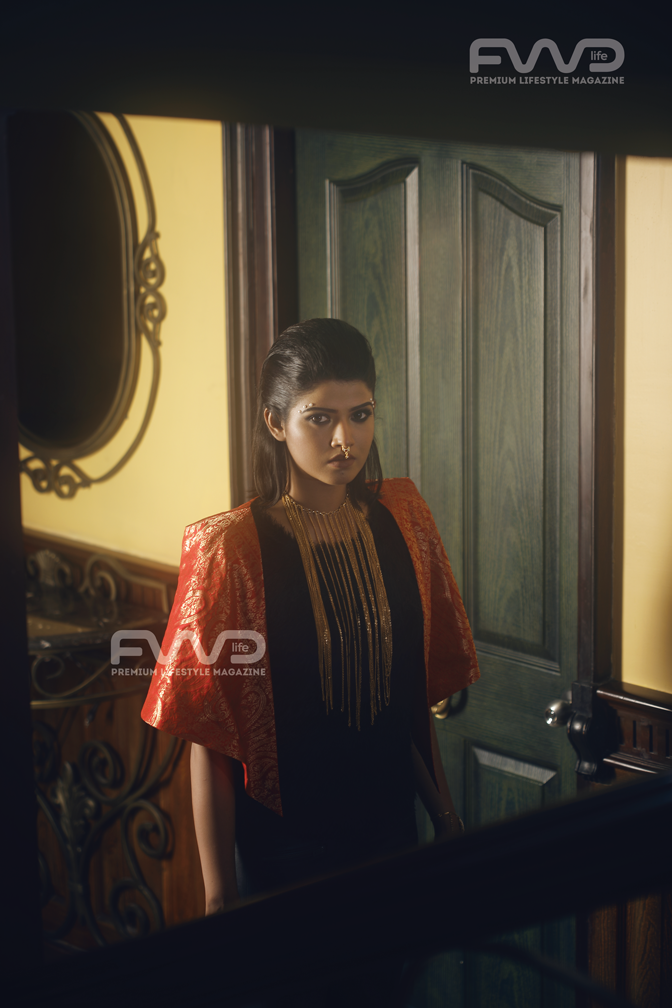 Cape: Salt Studio
Your new single, "Anayathe", is termed your comeback. How symbolic is it?
It's my first single and as I'd always wanted to do something for women. Through this music video, I want to convey a message to all the women out there that there's been enough of crying. There's a spark inside all of us and it's about time we let it blaze into a fire, without watering it with our tears.
What inspired you to make this comeback?
Again, my baby. She is my everything. Whenever I'm feeling low, I think of her and instantly become happy. I took a small break, because of my marriage and my pregnancy, but I was always involved with music. I never really went away.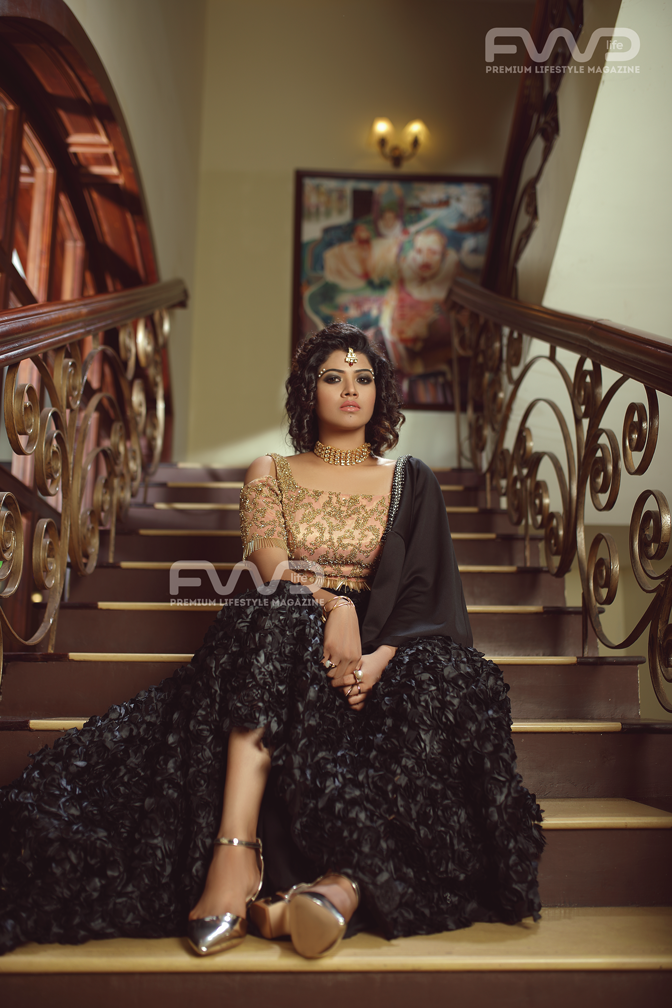 Blouse: Salt Studio
Skirt: Soucika
Sandals: Aldo
Jewellery: Pure Allure
What then, is music to you?
All I know in life is to sing. My entire life, to be honest, has revolved around music. If you ask me who my best friend is, I'll say it's music. Because, you share everything with your best friend and that's what I do with my music. I express my feelings through music.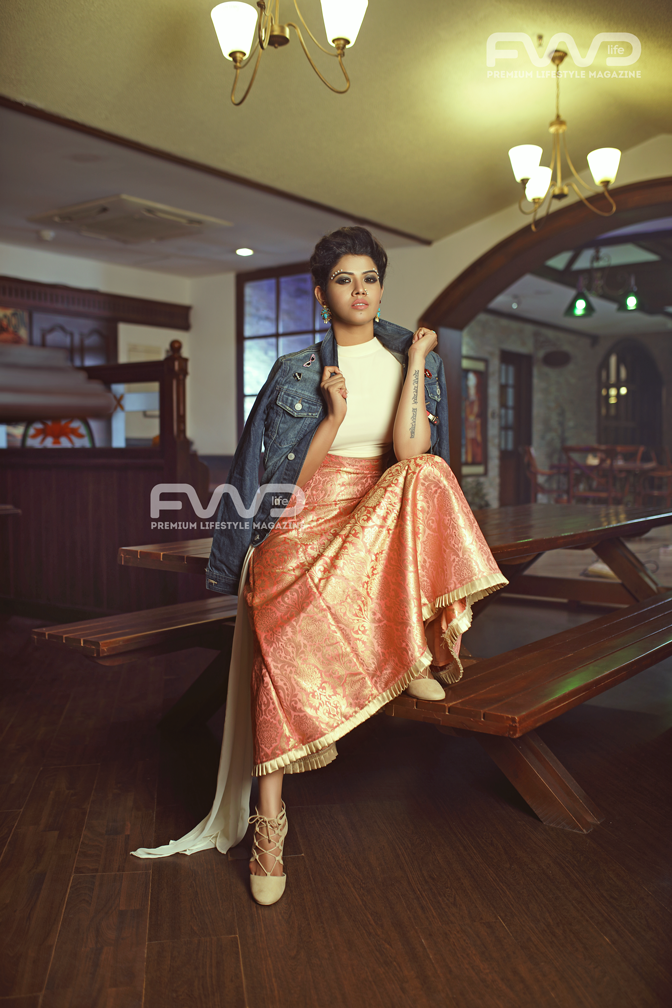 Is there more music in the works?
I'm currently working on an international project with producer Luckz from Sweden, but I can't really give out (more) details. It's a dream come true, for me, as I've always wanted to be an international musician. Like Celine Dion. (laughs) I've always dreamt of performing like her, and Michael Jackson. This is proof for my belief that if you always dream high, you will definitely reach higher.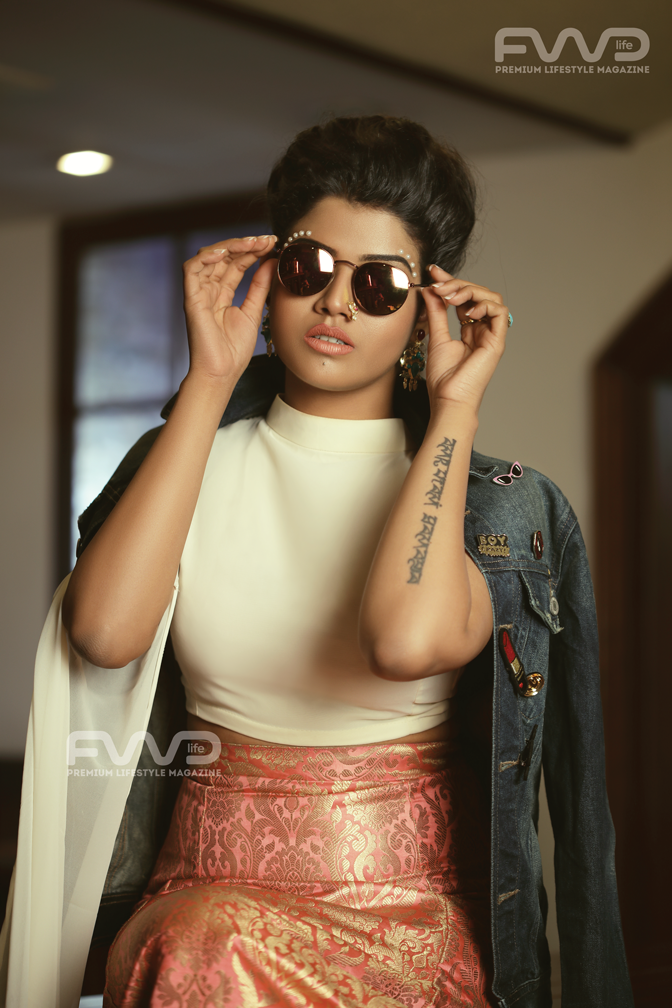 Blouse: Amra Boutique
Jacket: Stett
Skirt: Ioara
Earrings: Pure Allure
Pins & Patches: Aldo
When it comes to your band, Amrutam Gamaya, have you chalked out its future? Or will you be carrying on solo?
Amrutam Gamaya is in my blood (points to her tattoo) and it will always be there. I'll be doing solos, but if possible, I'll try to merge both. Even though I love doing solos more, Amrutam Gamaya is very important to me. Moreover, it's the first sister-duo band from Kerala. For that reason alone, I'd keep my band alive.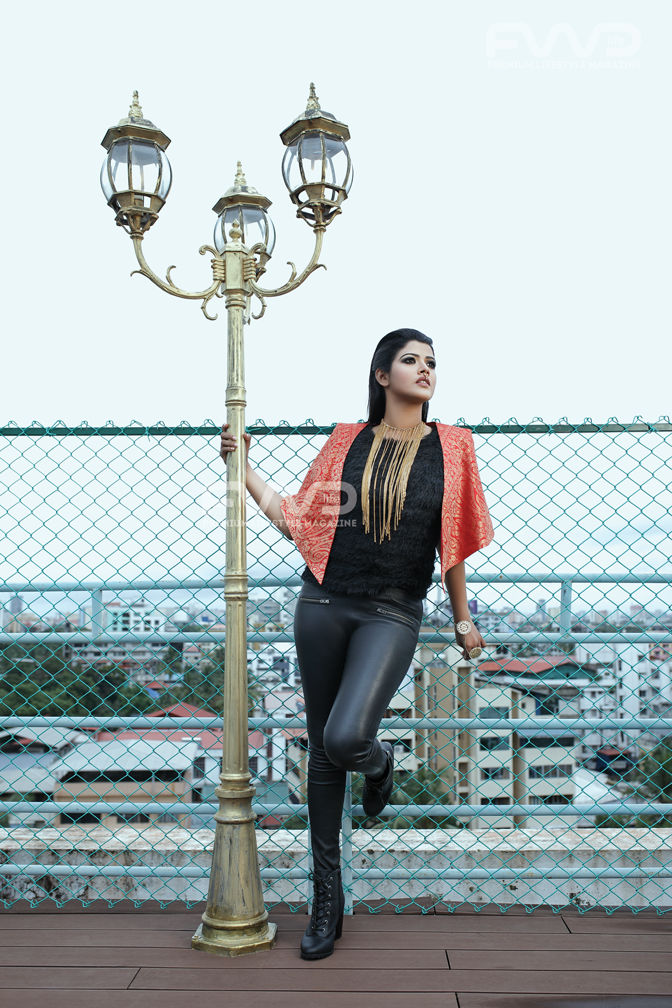 Cape: Salt Studio
Boots: Payless
How do you keep yourself motivated?
I have some good friends surrounding me and my family is always around to support me, to give me that push. I'm a daydreamer and I think up positive as well as negative things. Sometimes, when I wake up with a lot of negative energy, I think about them. I have a good set of people around me who help me, especially my parents, sister and daughter.
Is it hard, finding time for Avantika, as you reshape your career?
Not at all. She is always with me. If I'm at work at the studio, she's mature enough to understand that I'm not to be disturbed and that she should be quiet while I'm singing. She is very understanding even though she's only four. I take her along with me whenever I can. My world revolves around Avantika.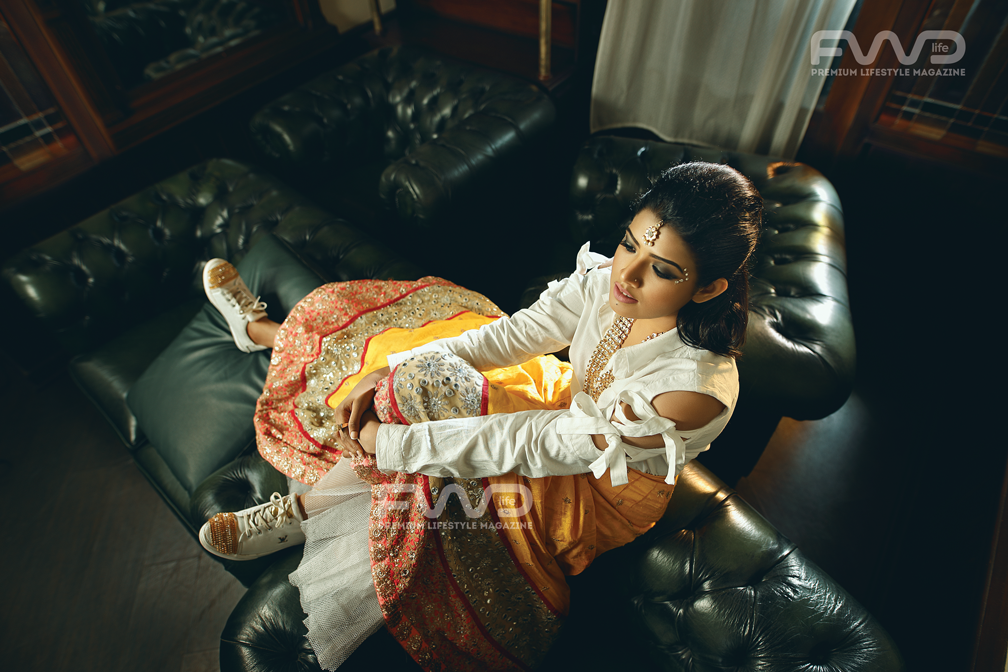 Top: Vero Moda
Skirt: Soucika
Shoes: Others
Jewellery: Pure Allure
If you could give your younger self a piece of advice, be it about music or about life in general, what would it be?
Always be positive. Keep smiling. Everyone makes mistakes, but repeating mistakes is a choice. Make sure you correct the mistakes of your past, that you take a different route and not repeat them. You decide what you want in your future and how you want to be in it.
Model: Amrutha Suresh
Words by: Rheanna Mathews
Photographer: Jinson Abraham
Styling: Lakshmi Babu
Makeup: Renju Renjimar
Hair Styling: Sudhi
Retouch: Jemini Ghosh
Location: Travancore Court by Spree, Cochin
Costumes: Salt Studio, Soucika,Vero Moda, Ioara, Amra Boutique, Stett
Accessories: Pure Allure & ALDO
Shoes: Payless & ALDO
Digital Magazine: https://goo.gl/uorGj9
Sunny Wayne and Reba John: Up close with the future of Malayalam cinema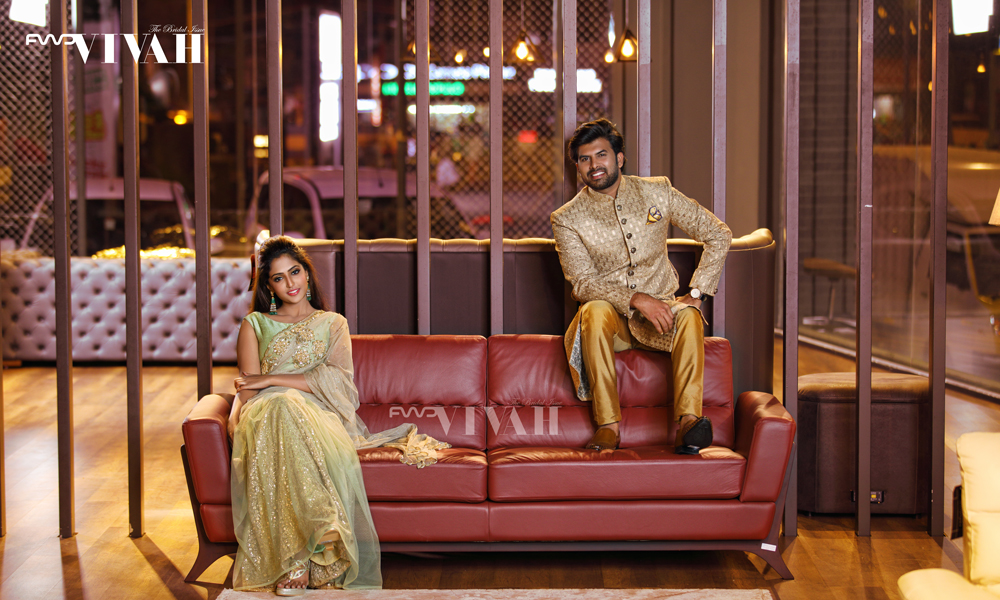 Actors Sunny Wayne and Reba Monica John talk about their journey in film industry and share their thoughts on weddings and relationships for FWD Vivah
Words by: Shibul Pavithran
Sunny Wayne has acted in many big movies as lead and supporting actor. Some of his memorable performances were in movies like Second Show, Annayum Rasoolum, Neelakasham Pachakadal Chuvanna Bhoomi, Aadu Oru Bheegara Jeeviyanu, Annmariya Kalippilannu and Aadu 2. He is a trusted name in the Malayalam film industry and is known for his versatility and genuine portrayal of his character.
Reba Monica John has the ability to perform diverse roles with grace with effortless ease. She stands out in the list of newcomers in the Malayalam film industry. Reba rose to fame with her debut role in Jacobinte Swargarajyam. And in her second movie was Paipin Chuvattile Pranayam, in which she donned a very different role as compared to her previous film. She currently has plans to venture into Tamil Cinema
FWD Vivah asks both the actors some pertinent questions about their film career so far, their personal preferences and some questions about their wedding plans. Buy our latest copy to read the full-fledged interview with the charming stars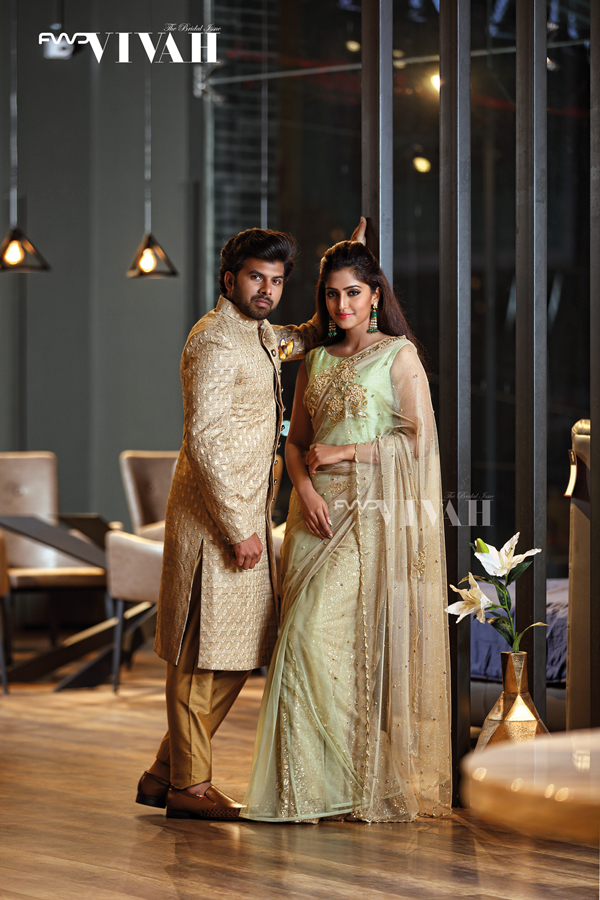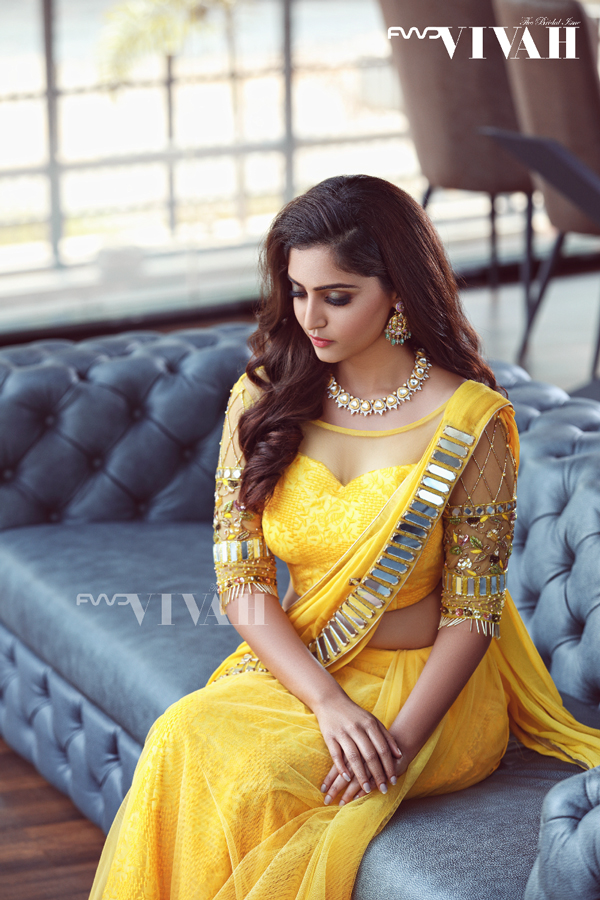 Models: Sunny Wayne & Reba Monica John
Photographer: Jinson Abraham
Styling: Namrata George
Makeup & Hair: Unni Ps
Retouch: Jemini Ghosh
Location: Homesoul Theyyampattil, Ernakulam
Production: Maxxo Creative
Costume – Reba John: T&M By Maria.Tiya.Maria, Kochi
Sunny Wayne: The Raymond Shop, M G Road , Marine Drive, Lulu Mall and Tripunithura
Jewellery Courtesy: M.O.D Signature Jewellery, Kochi
Footwear: Sylcon
Triumphing Over the Odds – Vijay Babu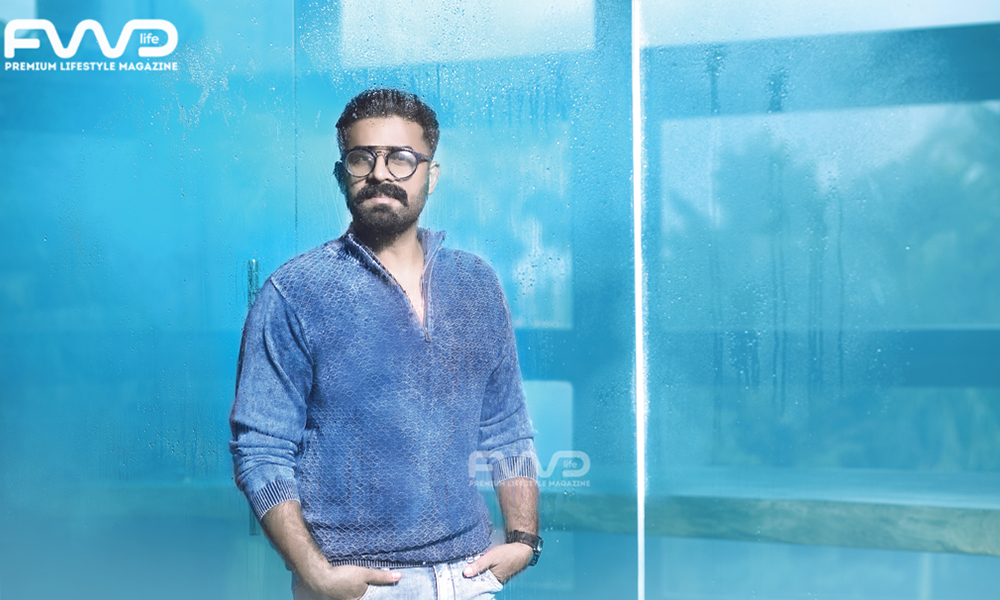 Vijay Babu is a tower of confidence, having established himself as a producer with his company Friday Film House, and is on the way to making it big as an actor
Words by Charishma Thankappan                                                Photographs by Jinson Abraham
"When you go through a lot of pain and then achieve a huge success, it is extremely rewarding." And none other than producer and actor Vijay Babu can vouch for this truth of life. After facing a setback with the initial release of the film Aadu Oru Bheekara Jeevi Aanu, 2015(Aadu), Vijay is now basking in the success of Aadu 2, a product of his production company Friday Film House. Riding high on the wave of accomplishment, the past year was one of the best for Vijay, who was part of one of the biggest hits of 2017 – Angamaly Diaries.
Read on to learn Vijay Babu's experience in the Malayalam film industry so far, in the latest issue of FWD Life, Dec-Jan 2018 edition
The Lucky Pair – Jayasurya and Ranjith Sankar
This awesome twosome, Jayasurya and Ranjith Sankar, reunite to make yet another movie, Punyalan Private Limited
Words by Rheanna Mathews   Photographs from Jinson Abraham
No Malayali is unfamiliar with Mollywood's power combination of much loved actor Jayasurya, and Ranjith Sankar, a director who has a number of successful movies on his mantel. Their fourth movie together, Punyalan Private Limited, released this November, as delighted audiences saw the actor revisit the role of Joy Thakolkaaran, from Punyalan Agarbattis.
Conversation with the duo goes as any fan would expect, with Jayasurya being his humorous, yet no nonsense self and Ranjith, with his gravitas, being a perfect foil to the actor. They spoke little about the new movie, believing their work would show for itself when theatres across the land screened it to the public, but were more forthcoming about their creative collaboration, on and off set, and the camaraderie they share with each other in real life.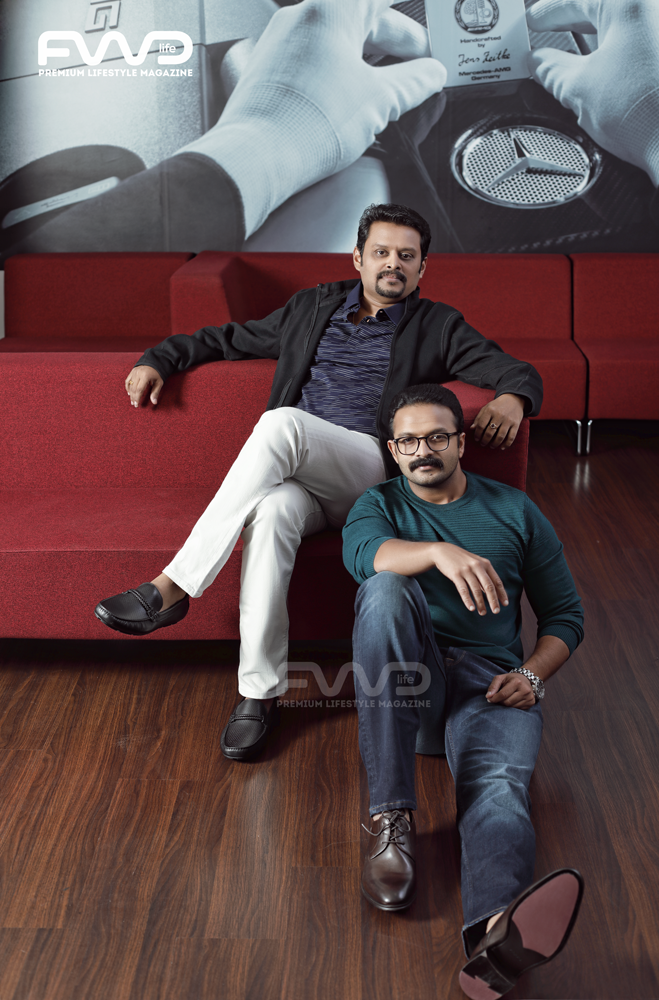 One is offered a true, but brief, glimpse into the relationship that an actor and director build over the years, perhaps offering a formula for what goes as success in the Malayalam film industry.

Find out who is the bigger foodie between the two, and who is more of a gadget geek; how does Ranjith Sankar go about his shooting schedules, and what would Jayasurya have been doing in a parallel universe. Read about all this and more in the November issue of FWD Life magazine, in stands now.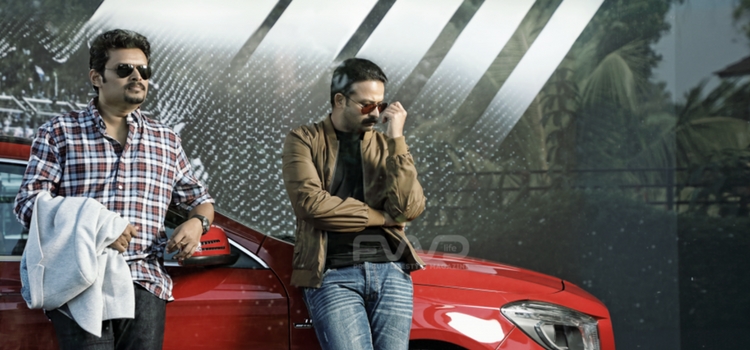 Photographed by Jinson Abraham
Makeup: Kiran Peter
Styling: Namrata George
Costumes: Marks and Spencer
Accessories: Top Grain
Watches: Oris, Swiss Watch Boutique
Shoes: ALDO Shoes – India
Retouch: Jeminighosh S
Location Courtesy: Mercedes-Benz Rajasree Motors, Aluva
Production: FWD Media