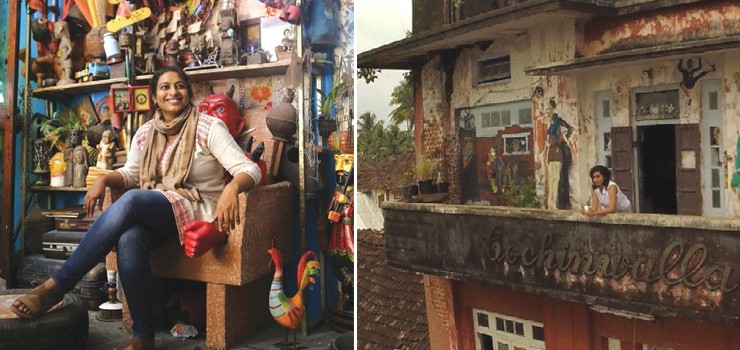 For art director Jayashree Lakshminarayanan, the world is one beautiful set of a movie
It's a wordless wonder when a cinema setting brings life to characters, but what could only be more enigmatic is the mindscape of an art director. Sifting through Jayashree's sketchbooks, you would see the effortless pencil strokes of audacious settings and a world of unremitting colors meticulously painted by her color pencils. A conversation with Jayashree is like being entrenched in a utopian world of beauty.
If you chose to explore the world with her,she'd take you through labyrinth markets like in the wild spirited sets of Charlie, or the rugged landscapes of the explosive sets of Street Smart Jayashree Lakshmi Double Barrel or the morbid haven in Nee-na, to the bubblegum pink exteriors of neo-baroque corridors of the Grand Budapest Hotel in Wes Anderson's whimsical murder movie. Your portmanteau would be filled with antiquities to 'glorified junk art and you'll find yourself welcome in the world of her borderless imagination.
Rendezvous with Art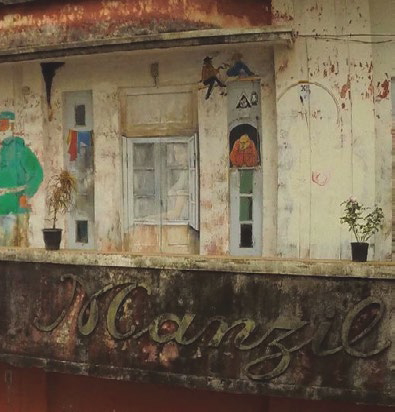 As popular as Charlie, the room of his made its mark like the actor himself. Jayashree recently bagged the State award for art direction in the movie. She has weaved into her love of movies and interior designing, her fascination for art beyond just a canvas. Her most vivid recollection is an installation by an artist, Candy Chang from New Orleans, who featured a crumbling house with chalkboard paint and stenciled with a prompt, 'Before I die'. "In India,
art is always thought of as work on a canvas. So, I love how Mumbai is trying to change this conception and strives to instigate a different mentality for art culture. The annual art show Kala Ghoda is a clear example, highlighting the new concept of interactive art. I discussed this with Martin Prakkatt, director of Charlie, and said for the movie I wanted to create an interactive space."
Spin the Colour Wheel
Jayashree loves to experiment with colour as much outside the easel, as on it. She is constantly seeking inspiration, and studying the effects of colour on sets from movies. From the tepid tinted walls in the Oscar-winning Room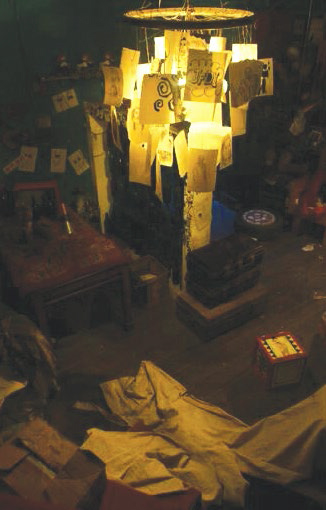 to the flamboyance of pastels in Grand Budapest Hotel, Jayashree loves films' frames steeped in realism and colors.. If you chance to snoop around her bookshelf, you would spot titles such as 'If it's purple someone's going to do die' by Patti Bellantoni. A book that transposes you to a world of color and its impact on our emotions. Jayashree picks an example, "Do you know why Lola's hair was colored red? It seems red blazes faster than all colours, and she had to be one fast runner in Run Lola Run!" She explains that just like sound is the most crucial thing in horror movies, the characterisation and cinematography is nuanced by the art direction. "I started creating a colour wheel for every particular character – from where they travel, what they do, what all colours they might wear, and not wear, and so on." In the second half of the movie, the emotions were enhanced by punctuations of vibrant colors in a lot of the scenes to take the suicidal character- played by Aparna Gopinath in Charlie -out of her claustrophic mindset."
The Real in Reel
Although completely colour coordinated, Jayashree feels that the sets should also look realistic. Her accolade was well-deserved for it went beyond depicting her design skills, but how she was able to invoke a sense of enigma amongst the characters in the film and also the audience. Many times movie sets fail to appeal by looking artificial, and the biggest challenge for films is to evoke a sense of familiarity. Thus, the whole point of setting something decadent is equally challenging as creating something relatable. In many Indian movies, the design team looks into aesthetics at a bigger level and focuses a lot on extravagance, till now the difference between production design and art direction seems hazy according to her view. With a very honest insight, she remarked, " There are many movies that want to make the sets look beautiful but sometimes depicting realism seems like the biggest challenge. When it comes to realism it seems so uncertain, unlike depicting fantasy. I think the success of art direction lies in making every frame visually and emotionally appealing."
An Artistic Eye
Another example she quotes is the sets of movie Se7en whose art direction was done by Gary Wesser. She loved how the story was narrated in vignettes that symbolised the seven deadly sins. Each sin had a particular tone and created a sinister appeal (gluttony was her favourite). Even bringing life to something mundane, is the test of an art director's forte. She brings back her fascination for Michelle Lannon's art direction in Room which was directed by Lenny Abrahamson and written by Emma Donoghue based on her novel of the same name. "The whole movie revolves around the mother and son locked in a room. When the characters step out of the room, the juxtaposition of the frames depicted freedom, you feel like a gasp of fresh air let out. That is what a great a art director is supposed to do."
For someone who appreciates the finesse of details, going on a journey with Jayashree would be a delight. She recently opened a design studio in Chennai to share her interpretations in her explorations with art. With Jayashree, you not only get transported in the fascinating world of movies, she also draws your attention to the beauty in the largest set in life, the big, wide beautiful world we live in.
Quickies
A movie that got you colour-psyched?
'Blue is the warmest Colour',
directed by Abdellatif
Kechiche.
A place of inspiration.
The alleyways of a flea market;
I am not much of a mall person.
If we had to board on a trip
with you, where would we go?
Markets in Cambodia, Mumbai,
and Ullas Nagar in Ahmedabad
A place you love.
Istanbul; its natural beauty and
the stunning turquoise blue
glass work and the lamps
Words by Atheena Wilson Photographs from Various Sources