A Conversation with Vijay Yesudas
In conversation with Vijay Yesudas on Life, Music, Freedom and Philosophies. When Vijay Yesudas made his entry into Malalayam Film Music with 2000 popular movie
Vijay Yesudas on life, music, freedom and philosophies
When Vijay Yesudas made his entry into Malayalam film music with the 2000 popular movie, "Millennium Stars", about two decades ago, one question loomed largely. Did this charming, young man have it in him to live up to the legacy of his father, and eminent singer Dr K J Yesudas?
At that point, Vijay embarked on a musical career that has seen several ups and a few downs. But 17 yearsafter "Millennium Stars", having aconversation with him makes it hardnot to appreciate how he outgrew the shadow that was once cast on him, even before he took to the battleground. Vijay Yesudas has most definitely made a place for himself in music and cinema; one that is unique and irreplaceable.
Everyone knows a good deal about Vijay Yesudas, the singer. Let's begin with the unknown – Vijay, the actor. Tell us how "Maari" happened.
I still don't know if I should be acting (laughs). "Maari" happened out of nowhere. I was vacationing with my family in Spain. Dhanush (Tamil actor, and a good friend) randomly calls me up and tells me he would want me to play the role of a villain in his next movie. He said the role was of a cop. I was shocked, I asked him if he was serious. And, apparently he was.  This phone call was followed by a series of discussions with him and the director Balaji Menon, and that is how I eventually decided to do "Maari". It was a not an easy role to play as the character had both positive and negative shades.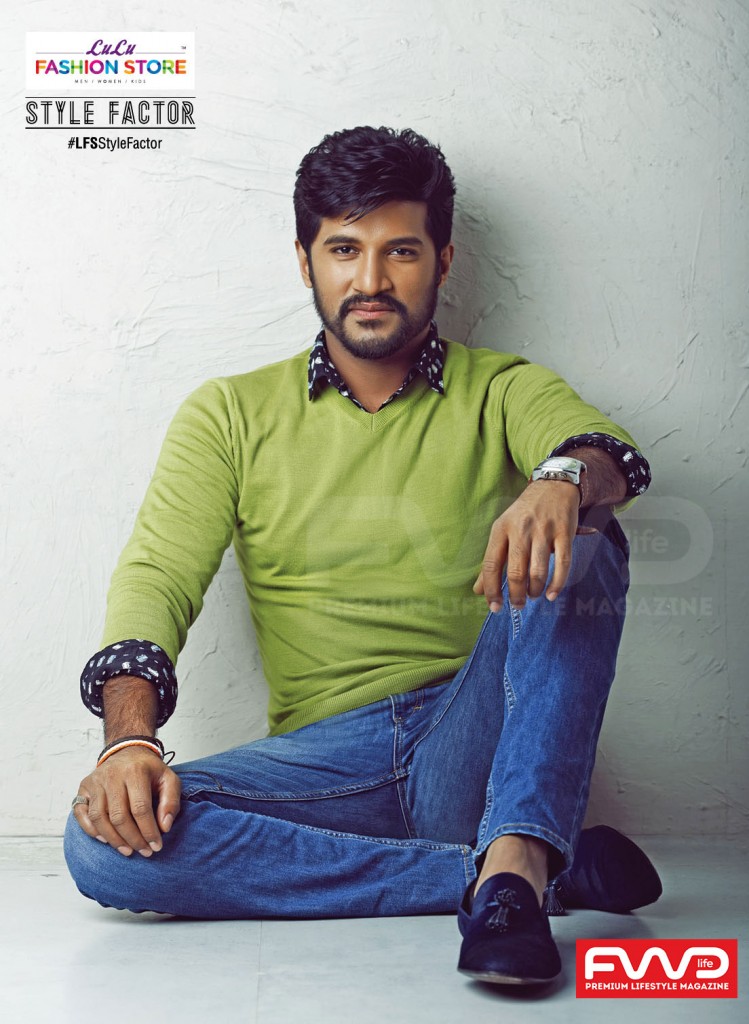 But even with all the doubts and apprehensions, I still wanted to do it. I should thank Dhanush and Balaji Menon, the director of the film, for  helping me get into the skin of the character with workshops and some very valuable inputs.
Truth be told, I have always wanted to give acting a try. But I had decided that I would not venture into acting  before I cemented my position as a singer. But where it would go from here, I still do not know.
Many of your songs have grown to become anthems, such as gone on to be anthems, be it "Malare" (from  the movie Premam) or "Maangalyam" (Bangalore Days)? Do you know how big these songs would when you are singing them?
This is sort of clichéd, but the truth is when a singer or an actor, performs he/she is not thinking of awards, accolades or even acceptance. When I record songs, it's just about the studio, the music and about rendering  the song the way the music director and the lyricist want it. Even if it's not a good song, you still record it and come out. When I recorded "Malare", it did not feel any different from my  earlier songs as far as its acceptance was concerned. Yes, I may have had a hunch but one can't gauge the scale of success from the recording booth. So when you get an overwhelming response like in the case of say, "Malare", you enjoy the glory. When that doesn't happen, you simply move on.
Actors talk about the art of picking good scripts, is there an art to picking great songs too?
Sadly, in our industry singers don't have the luxury of choosing songs unless you are a Yesudas. And even with Yesudas, it was only recently  that he started choosing his songs.  Otherwise, it is the music director calling you, and you singing for him – that is playback singing. That is how it has been happening historically and  that's why you could say it is more like the song choosing the singer.
What is your opinion on actors taking to singing?
There are quite a few actors who have taken to singing and most of them do a decent job. The audience love  listening to their stars singing and so more and more actors are willing to wield the mic. Honestly, I am totally for it. I believe all artistic expressions and experimentation should be encouraged. That's how I do it too. As a person, as an artist, as a musician, I am constantly experimenting. So when I hear scornful remarks aimed at these actors, I honestly don't get it. It is not like they are going to rob us of our chances.
Is there something that your father and legendary musician Dr. K J Yesudas is constantly reminding you?
He doesn't always remind me of it, it is more like me picking it from his work ethic; the need to focus singlemindedly once you have picked up a task. When you are constantly multitasking and with eggs in so many baskets, even the slightest slip can have you labelled as lazy or lackadaisical. So when I am at something, I give into it totally; be it at the recording studio, a shoot or spending time with family. It is now a golden rule, to focus intensely on the task at hand, get it done and move to the next.
What is music for you? How would you define it?
Music is what moves me – literally and figuratively. Wherever I am, in a car, at the studio or on stage, I am always connected to music. It transports me to a different world, a world of my  own. On a flight with my headphones
plugged in, when I look at the clouds, it feels like it is the music and not the flight that is taking me from Kochi to Chennai.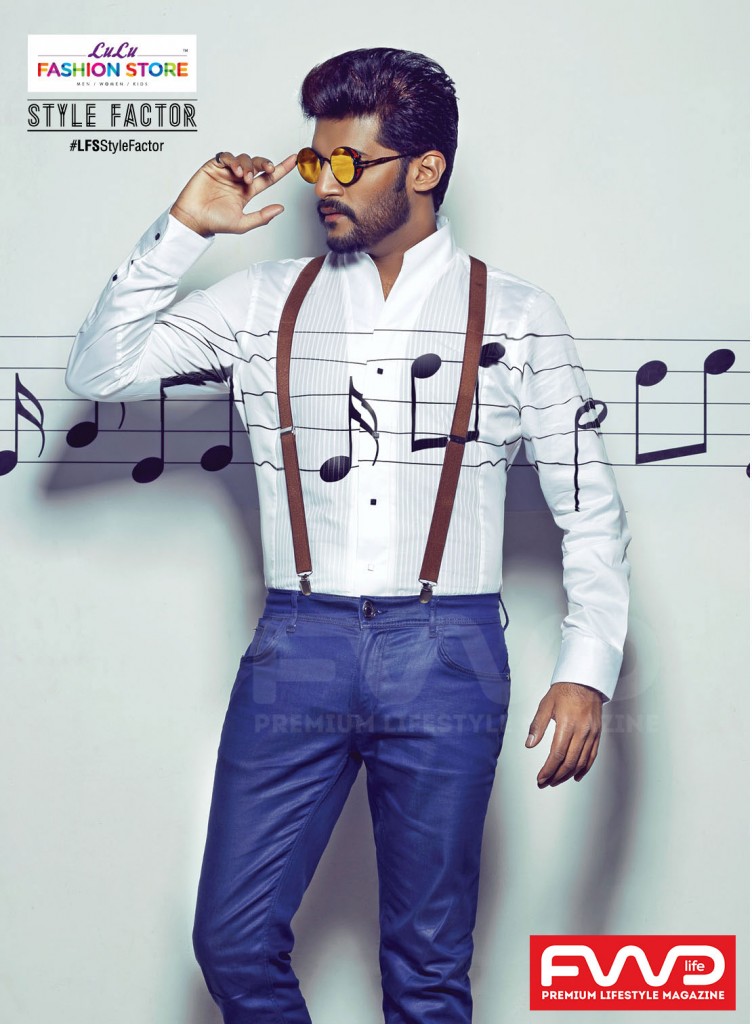 Music lets me run my imagination wild and aids me in my day-dreaming. I have always been a shameless daydreamer. If you talk to someone from my schooldays, they will have stories to tell about the kid who was always
lost in his own world, drumming on the benches or humming a tune. I have made sure that part of me has stayed alive.
You are part of celebrity cricket teams in both Chennai and Kochi. Tell us about your love for cricket.
I love all kind of sports, not just cricket. I think I have always been a sportsman at heart. I am a die-hard basketball fan and have also trained tennis when I was younger. But unlike many of my teammates at C3 (Celebrity Cricket League), I have not played cricket at competitive levels in school or college. I just do it for the love of the game. It all started with the Madras All Stars Club and then C3 followed. I enjoy playing the game as well as spending time with the guys.
When you entered the industry, you had a legacy to live up to. How have you been able to handle that? What plans for your future?
See, I am a vagabond, in many ways. Five years ago, I had no clue that I would be where I am right now, the same holds true now. I have no agenda and am someone who doesn't plan too much, nor do I have humongous expectations. The first seven years that I spent in the Malayalam industry, success was sparse. but then things took a turn and I can call myself 'fairly successful' now. Tamil, on the other hand, was more welcoming right from
the beginning.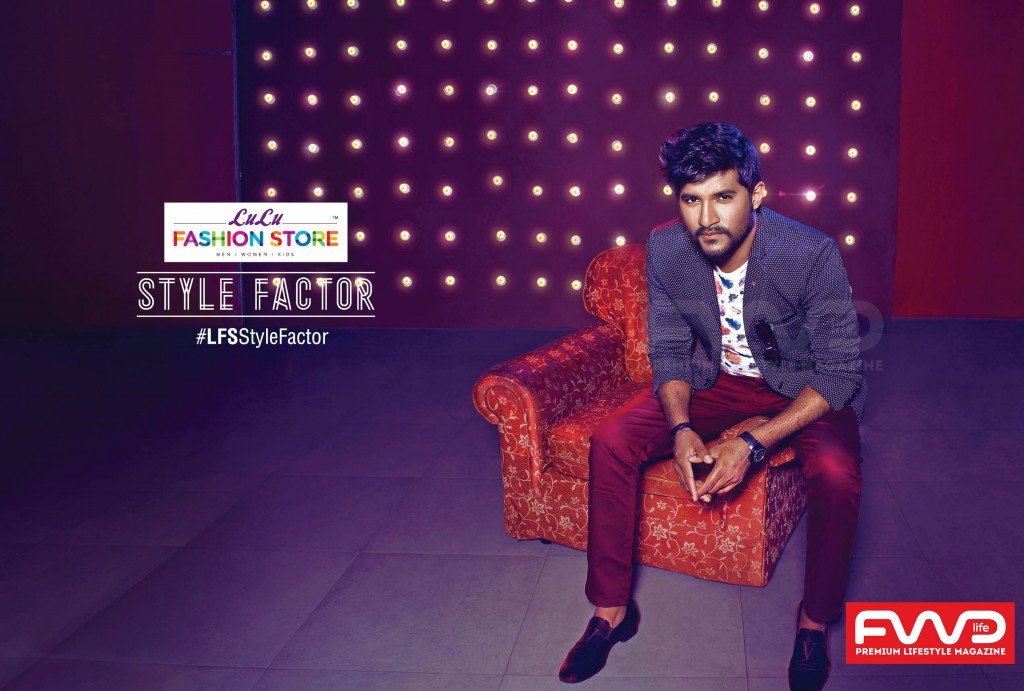 I love my music and enjoy working with multiple generations of musicians – from Illayaraja to the newest music director in town. I am a fan of what I do and so I am not one to be worried about the future.
Model: Vijay Yesudas
Photographer: Toonus
Styling: Lakshmi Babu
Makeup & Hair Styling: Jeena
Costumes: Lulu Fashion Store, Lulu Mall, Kochi
Retouch: Jemini Ghosh
Location Courtesy: Camleon Studio, Palarivattom, Kochi
Words by Varun Kannan
Transcription by Aswati Nambiar
Production: FWD Media
Digital Version Available on :http://goo.gl/utB6z9
Sunny Wayne and Reba John: Up close with the future of Malayalam cinema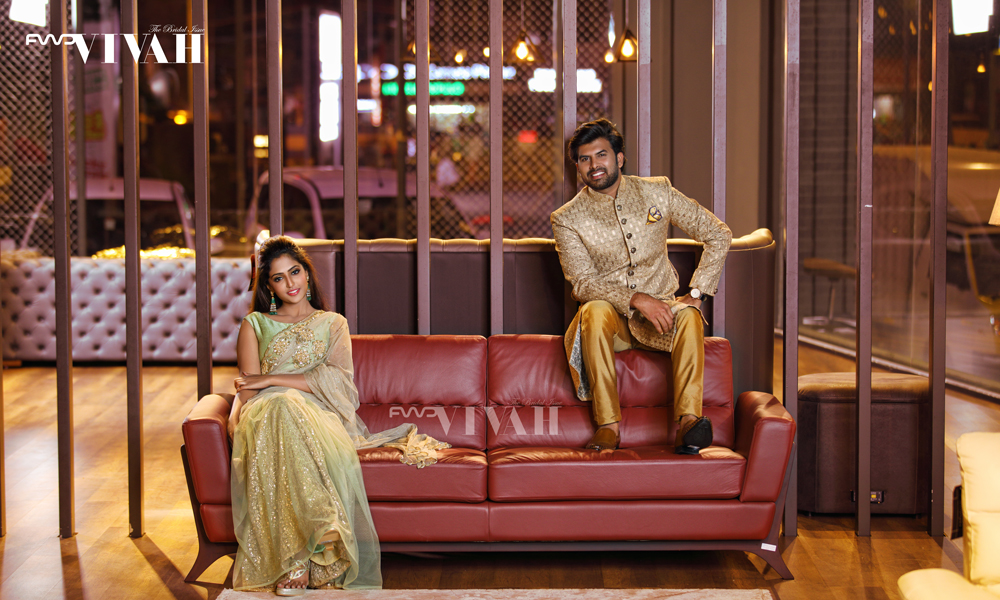 Actors Sunny Wayne and Reba Monica John talk about their journey in film industry and share their thoughts on weddings and relationships for FWD Vivah
Words by: Shibul Pavithran
Sunny Wayne has acted in many big movies as lead and supporting actor. Some of his memorable performances were in movies like Second Show, Annayum Rasoolum, Neelakasham Pachakadal Chuvanna Bhoomi, Aadu Oru Bheegara Jeeviyanu, Annmariya Kalippilannu and Aadu 2. He is a trusted name in the Malayalam film industry and is known for his versatility and genuine portrayal of his character.
Reba Monica John has the ability to perform diverse roles with grace with effortless ease. She stands out in the list of newcomers in the Malayalam film industry. Reba rose to fame with her debut role in Jacobinte Swargarajyam. And in her second movie was Paipin Chuvattile Pranayam, in which she donned a very different role as compared to her previous film. She currently has plans to venture into Tamil Cinema
FWD Vivah asks both the actors some pertinent questions about their film career so far, their personal preferences and some questions about their wedding plans. Buy our latest copy to read the full-fledged interview with the charming stars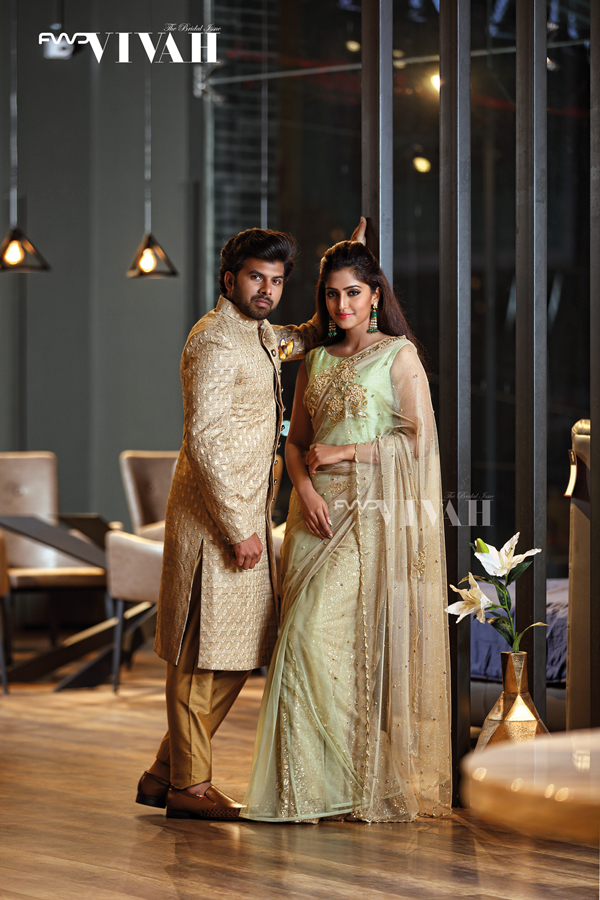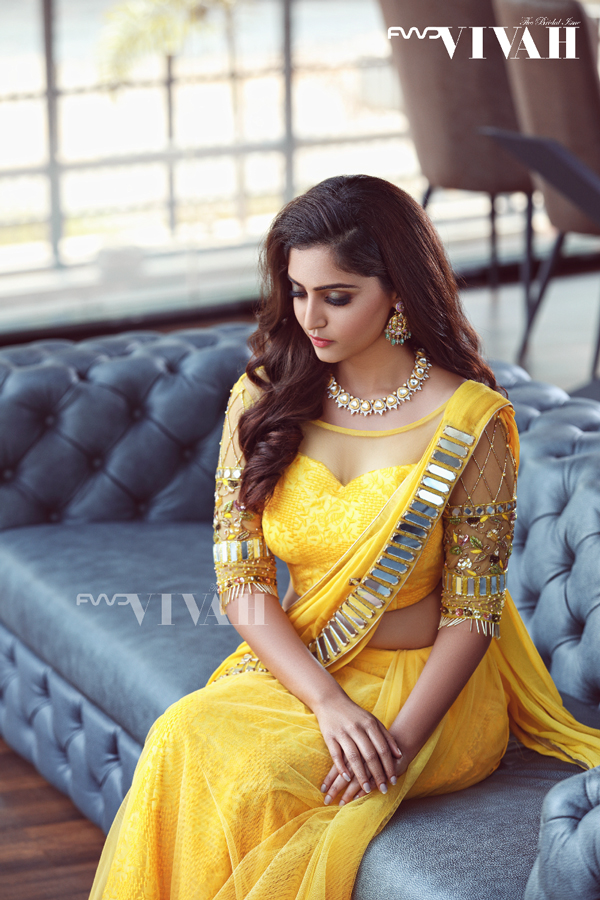 Models: Sunny Wayne & Reba Monica John
Photographer: Jinson Abraham
Styling: Namrata George
Makeup & Hair: Unni Ps
Retouch: Jemini Ghosh
Location: Homesoul Theyyampattil, Ernakulam
Production: Maxxo Creative
Costume – Reba John: T&M By Maria.Tiya.Maria, Kochi
Sunny Wayne: The Raymond Shop, M G Road , Marine Drive, Lulu Mall and Tripunithura
Jewellery Courtesy: M.O.D Signature Jewellery, Kochi
Footwear: Sylcon
Triumphing Over the Odds – Vijay Babu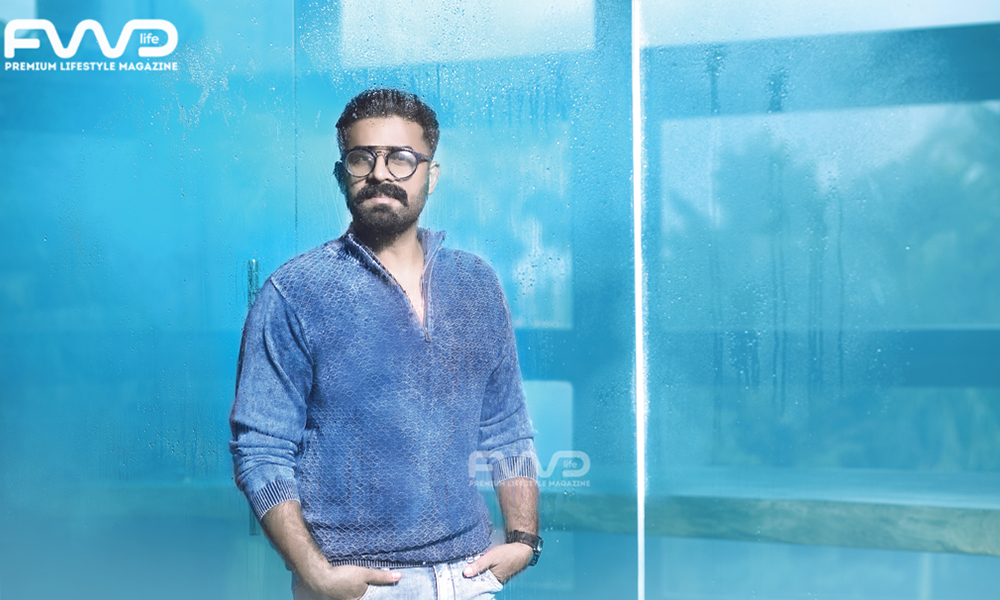 Vijay Babu is a tower of confidence, having established himself as a producer with his company Friday Film House, and is on the way to making it big as an actor
Words by Charishma Thankappan                                                Photographs by Jinson Abraham
"When you go through a lot of pain and then achieve a huge success, it is extremely rewarding." And none other than producer and actor Vijay Babu can vouch for this truth of life. After facing a setback with the initial release of the film Aadu Oru Bheekara Jeevi Aanu, 2015(Aadu), Vijay is now basking in the success of Aadu 2, a product of his production company Friday Film House. Riding high on the wave of accomplishment, the past year was one of the best for Vijay, who was part of one of the biggest hits of 2017 – Angamaly Diaries.
Read on to learn Vijay Babu's experience in the Malayalam film industry so far, in the latest issue of FWD Life, Dec-Jan 2018 edition
The Lucky Pair – Jayasurya and Ranjith Sankar
This awesome twosome, Jayasurya and Ranjith Sankar, reunite to make yet another movie, Punyalan Private Limited
Words by Rheanna Mathews   Photographs from Jinson Abraham
No Malayali is unfamiliar with Mollywood's power combination of much loved actor Jayasurya, and Ranjith Sankar, a director who has a number of successful movies on his mantel. Their fourth movie together, Punyalan Private Limited, released this November, as delighted audiences saw the actor revisit the role of Joy Thakolkaaran, from Punyalan Agarbattis.
Conversation with the duo goes as any fan would expect, with Jayasurya being his humorous, yet no nonsense self and Ranjith, with his gravitas, being a perfect foil to the actor. They spoke little about the new movie, believing their work would show for itself when theatres across the land screened it to the public, but were more forthcoming about their creative collaboration, on and off set, and the camaraderie they share with each other in real life.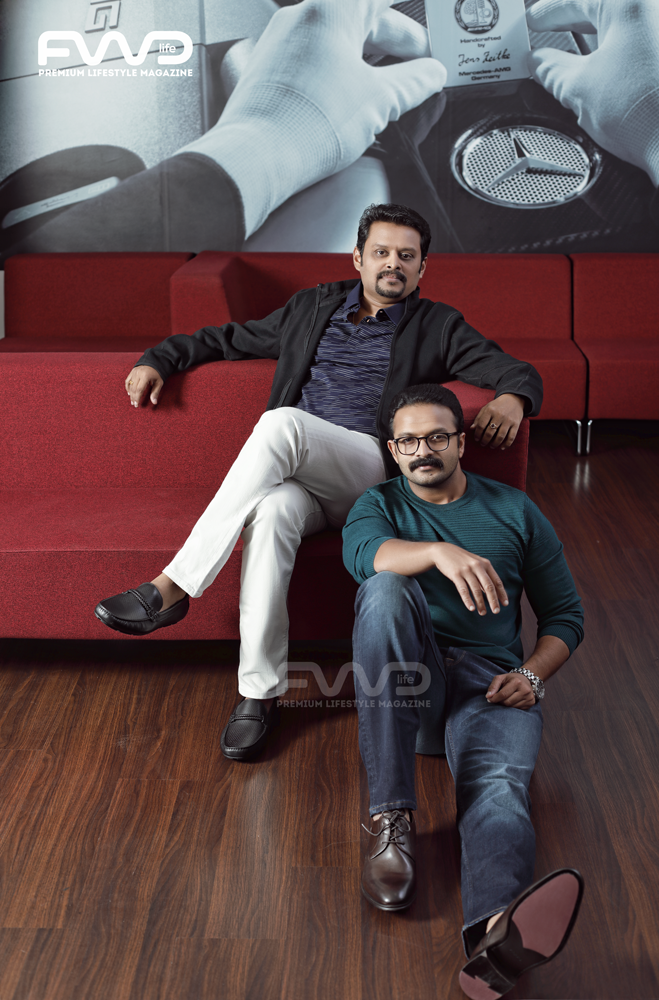 One is offered a true, but brief, glimpse into the relationship that an actor and director build over the years, perhaps offering a formula for what goes as success in the Malayalam film industry.

Find out who is the bigger foodie between the two, and who is more of a gadget geek; how does Ranjith Sankar go about his shooting schedules, and what would Jayasurya have been doing in a parallel universe. Read about all this and more in the November issue of FWD Life magazine, in stands now.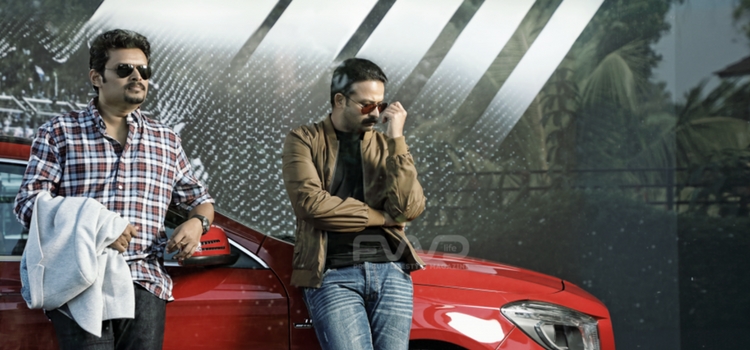 Photographed by Jinson Abraham
Makeup: Kiran Peter
Styling: Namrata George
Costumes: Marks and Spencer
Accessories: Top Grain
Watches: Oris, Swiss Watch Boutique
Shoes: ALDO Shoes – India
Retouch: Jeminighosh S
Location Courtesy: Mercedes-Benz Rajasree Motors, Aluva
Production: FWD Media